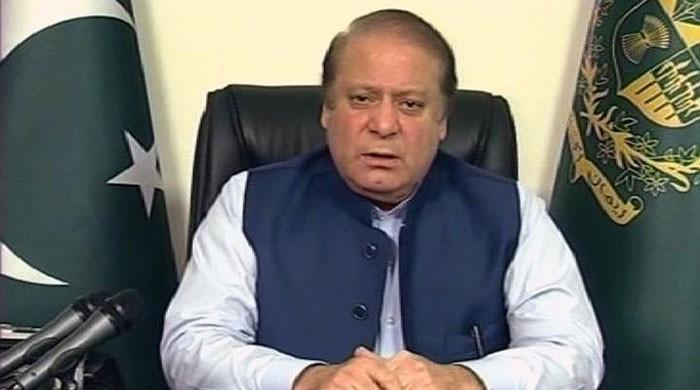 SARGODHA: Prime Minister Muhammad Nawaz Sharif on Wednesday said that Pakistan Air Force has played a pivotal role in the defence of Pakistan, adding that it has broken the back of terrorism in Operation Zarb-e-Azb.
Nawaz arrived at the Pakistan Air Force Mushaf Ali Mir airbase in Sargodha to witness the High Mark air exercises.
Nawaz addressed the officers at the PAF base and congratulated the troops on the successful culmination of the exercises conducted every four years to enhance the operational preparedness of the Air Force.
The PM said that the air exercises achieved the targets that they aimed for.
The Prime Minister upon arrival was received by Chief of the Air Staff Air Chief Marshal Sohail Aman and senior officers of the PAF.
Defence Minister Khawaja Muhammad Asif accompanied the Prime Minister.
The PM was presented a guard of honour and salute by a smartly turned out contingent of the PAF. The Prime Minister also reviewed the parade.
The Prime Minister witnessed the flypast of a formation of the F-16 fighter aircraft.
Later the Prime Minister had a group photo with the air crew and interacted with the air troops.