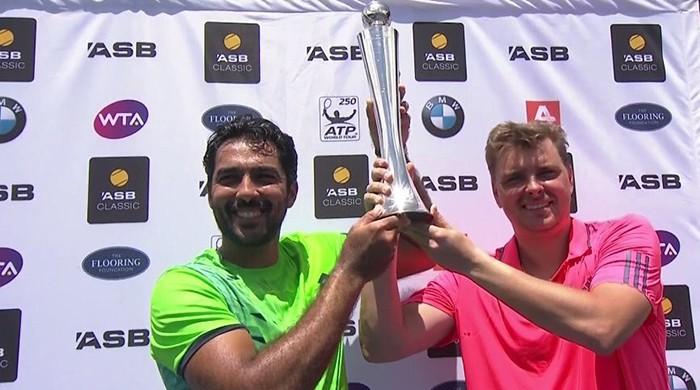 Pakistan's tennis ace Aisam ul Haq Qureshi won his 12th ATP double's title on Saturday with a remarkable win in the finals of ASB classic ATP tournament in Auckland and New Zealand.
The fourth seed team of Aisam ul Haq Qureshi and his partner from Poland Marcin Matkowski captured the ASB Classic crown with a 1-6, 6-2, 10-3 win over Jonathan Erlich and Scott Lipsky on Saturday.
The USA/Israel duo of Erlich and Lipsky won the first set within 23 minutes dropping just one game, but then Aisam and his polish partner staged comeback, breaking early in the second set.
The Polish/Pakistani duo capitalised on all three break point chances in their 61-minute victory.
"I'm really happy with our performances throughout the week and especially the way we found our way back into the matches and to win the title," Aisam said after his first title win in 2017, which is also his first since 2015.
"I'm really happy and proud with the way we handled the pressure and the situations in all of the matches," he added.
Aisam and Matkowski had defeated Ryan Harrison and John Isner 7-6(4), 6-1 in the first round, then downed Santiago Gonzalez and David Marrero 6-4, 3-6, 11-9 in the quarter-finals before brushing aside Marcus Daniell and Marcelo Demoliner 6-4, 6-4 in semi final for the final.
The 36-year-old Pakistani Tennis star Aisam ul Haq Qureshi is now 12-16 in ATP World Tour finals, As champions Aisam and Matkowski will split $24,380 and 250 ATP Rankings points.