Finsbury Park Mosque incident in London: How it unfolded?
Updated Monday Jun 19 2017
LONDON: A van rammed into pedestrians near the Finsbury Park mosque early Monday, killing one man and injuring eight other people in what Prime Minister Theresa May said was "a potential terrorist attack".
The 48-year-old driver of the van was detained by members of the public and then arrested by police.
Muslim leaders said worshippers were specifically targeted as they were leaving after the 'Taraweeh' prayers in north London, shortly after midnight and linked the incident to a recent rise in anti-Muslim hate crime.
London Mayor Sadiq Khan said it was a "horrific terrorist attack," calling it "deliberate" and aimed at "innocent Londoners, many of whom were finishing prayers during the holy month of Ramazan".
May was due to hold an emergency ministerial meeting later on Monday to discuss the attack.
Note: This story was updated in real time.
Update [09:50 AM PST]: London Mayor Sadiq Khan in an updated statement termed the Finsbury Park Mosque incident a "horrific terrorist attack", which deliberately targeted "innocent Londoners, many of whom were finishing prayers during the holy month of Ramazan".
The mayor said he talked to the area's community organisations, as well as MP Jeremy Corbyn and council leader Richard Watts.
Slamming it as "an assault on all our shared values of tolerance, freedom and respect", Khan stressed that "extra police to reassure communities, especially those observing Ramazan".
Update [09:25 AM PST]: Speaking exclusively to Geo.tv, Cynthia Vanzella – a journalist working with a private company who lives near the site of the incident and witnessed it partially – said that she was at home and preparing to go to sleep when she heard shouting outside.
"I ran to my window and people were shouting nervously," she explained, adding that it did not take long for the police reinforcement to arrive on the scene.
The traffic was not good, she mentioned, when "a lot of people started pushing one man [the alleged suspect] towards the policemen as if asking them to arrest him".
Vanzella lives at the corner of the street so she only saw the police taking the man into the car.
Update [09:10 AM PST]: In its latest statement, the Metropolitan Police says that one person has died in the Finsbury incident.
"One man was pronounced dead at the scene. Officers are in the process of informing next of kin. A post-mortem examination will be scheduled due course," the security authorities wrote on the website.

Moreover, eight people were wounded and have been moved to three hospitals. "Two people were treated at the scene for minor injuries," the British police added.

Security officers also mentioned that the man who has been arrested is aged 48. While the detainee is currently being attended to by medical professionals and "will be taken into custody once discharged", he will then be subject to "a mental health assessment".
Update [08:55 AM PST]: Harun Khan, the head of the Muslim Council of Britain (MCB), said the van had "intentionally" run over people leaving night prayers for the holy month of Ramazan.
"It appears that a white man in a van intentionally ploughed into a group of worshippers who were already tending to someone who had been taken ill," the MCB said in a statement.

It said the incident was the most violent manifestation of hate crime in Britain in recent months and called for extra security at places of worship since the end of the holy month of Ramazan nears.
A helicopter hovered overhead and several emergency vehicles blocked a section of Seven Sisters Road, a busy thoroughfare where the incident happened.

Police, including armed officers, could be seen manning a wide cordon around the area. Others searched the area with sniffer dogs.
A group of Muslim men were praying on the pavement nearby. Traffic was shut down along a one-kilometre section of the road.
CAGE, a Muslim human rights group, said there had been "an epidemic rise in anti-Muslim hate crimes".

"We urge all to remain calm and do their utmost not to inflame an already volatile and distressing situation," it said in a statement.
Update [08:30 AM PST]: A person who witnessed the only detainee being taken away by the Metropolitan Police said the assailant behaved in a surprising manner when he was arrested.
"By observing his attitude, […] he had a lovely smirk in his face… as if to say, you know, he achieved something. He wasn't sad, he wasn't drunk… he was happy, you know," the witness explained.
Update [08:15 AM PST]: British counter-terrorism police have joined regular police officers looking into an incident at a north London mosque, the Guardian newspaper reported on Monday.
Update [07:55 AM PST]: British Prime Minister Theresa May also released her comments through an emailed statement, saying her thoughts were with all those injured after a van rammed into worshippers leaving a mosque.
"This is a terrible incident," May stated, adding, "All my thoughts are with those who have been injured, their loved ones, and the emergency services on the scene."
Update [07:50 AM PST]: Jeremy Corbyn, the leader of Britain's opposition Labour Party, said he was "totally shocked" by the horrendous incident in North London.
"My thoughts are with those and the community affected by this awful event," Corbyn posted on Twitter.

The area is in Corbyn's Islington North constituency.

Armed police, ambulances, and the fire service are now in attendance.
A spokesperson for the British police commented that it is "too early to say" if the collision is a terror incident, CNN reported.

One witness told CNN it was clear that the attacker at Finsbury Park had deliberately targeted Muslims. "He tried to kill a lot of people, so obviously it's a terrorist attack. He targeted Muslims this time," the witness, identified only as Rayan, said.

Other witnesses told Sky television that the van had hit at least 10 people.
MCB assistant secretary-general Miqdaad Versi said the van had deliberately swerved into a group of people who were helping a man who was ill and had fallen to the ground.

"A number of passers-by, or friends, or people who had come by from the mosque, were gathering around him to help take him to his family, take him to his house," Versi told Reuters.
"At that moment in time, basically, a van swerved into them deliberately," he said, citing a witness at the scene.
Versi said the driver had run out of the van but a group of people caught him and held him until police arrived.
The van "came to a stop, and that's when they were able to apprehend the driver ... they were able to pull him out."

Another witness told CNN, "They were very nervous, shouting very loud, trying desperately to make some signs to a police car that was ... just passing the road."
With regard to doubts of whether this was terrorism, Hillary Briffa, a witness, said, "People were shouting this is an act of terrorism, even though he's white. […] These were the kinds of comments people were yelling out."
"There was a lot of shouting in Arabic, so I can't tell you exactly what was being said," she added.
Update [07:45 AM PST]: Mayor of London Sadiq Khan issued a comment on the Finsbury Park incident.
Khan said emergency services are "investigating a major incident at Finsbury Park".
Update [07:40 AM PST]: Following the horrific ramming incident, some of the worshippers started praying outside the mosque. The moment was captured by an LBC reporter.
Update [07:25 AM PST]: Two worshippers are feared dead, according to the Sun newspaper, but there was no immediate confirmation of this.
Update [07:05 AM PST]: A man leapt out of a white van and stabbed at least one person near a North London mosque, the Evening Standard newspaper reported on Monday, citing witnesses. However, this could not be independently verified.
Update [07:00 AM PST]: At least ten people were hit by a van outside a mosque in north London, witnesses told Sky News.
Police said several people were injured in north London early on Monday after reports that a vehicle rammed into pedestrians.
Speaking to BBC, a woman who lives opposite the scene said, "From the window, I started hearing a lot of yelling and screeching, a lot of chaos outside… everybody was shouting, 'A van's hit people, a van's hit people'."
The witness then went on to say that a "white van stopped outside Finsbury Park mosque that seemed to have hit people who were coming out after prayers had finished".
However, she didn't see the attacker.
According to the MCB, the "attack took place outside [Muslim Welfare House, London], which is nearby the Finsbury Park mosque". The MWH, as per a leading global media outlet, provides fitness services and also acts as a community centre.
Update [06:30 AM PST]: At least three people are reported to be seriously injured in the incident, a witness told BBC.

Numerous "ambulance crews, advance paramedics and specialist responses team" have been sent alongside air ambulances to Seven Sisters Road, London Ambulance mentioned in their latest statement.
Update [06:00 AM PST]: "There are a number of casualties being worked on at the scene," London police noted, describing the incident as a major one.
London Fire Brigade in an update on social media said they "have sent a number of resources to the incident".
Update [05:45 AM PST]: The Finsbury Mosque's Chairman, Mohammed Kozbar, on Twitter called the incident a "cowardly attack" that caused "many casualties in the floor".
Update [05:30 AM PST]: A van speeded towards and rammed into people coming out of a mosque following the 'taraveeh' prayers, which are offered at night after breaking fast during the holy month of Ramazan.
According to the police, a white man has been taken into custody; however, neither has his identity been revealed nor the registration number of the vehicle he was driving.
Unverified reports allege that at least 10-15 people have been wounded, but no official figure has been released by either the security authorities or the emergency and medical services.
The MCB also issued a comment following the vehicular incident. "We have been informed that a van has run over worshippers as they left Finsbury Park Mosque," it said on Twitter.

[Update [05:12 AM PST]: British police confirmed that they are dealing with a major incident at Seven Sisters Road in London.

A number of resources have been sent off to the incident at Seven Sisters Road, London Ambulance stated.
Traffic regulating authorities mentioned that the Seven Sisters Road "is now closed".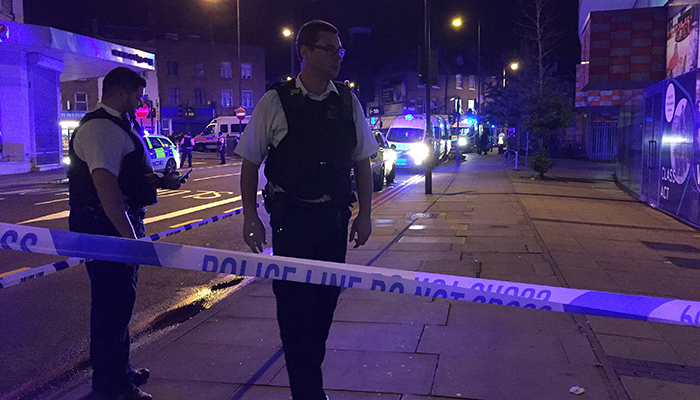 Initial reporting [05:05 AM PST]: LONDON: British police have sealed off Seven Sisters Road, which runs through the Finsbury Park area of the city, late Sunday night, local media reported citing a witness.
Police noted that "further details [are] to follow".
Security authorities stated that they were called minutes after 12:20 AM local time to reports of a vehicle in collision with pedestrians and that there are a number of casualties. One person suspected of being involved in the "major incident" has been detained.

As per various media outlets, the area is home to a large number of Muslims, while the nearby mosque has had a reputation for being a place of gathering for extremists.

Nevertheless, it has entirely changed in recent years under a new management. While its former imam was jailed for life in New York on terrorism charges, the mosque was one of around 20 that took part in an open day organised by the MCB in 2015 to urge better understanding of Islam following the Paris terrorist attacks.
Despite the change in leadership and new focus on community relations, the mosque reported it had received a string of threatening emails and letters in the wake of the Paris attacks.
"If this attack is confirmed as a deliberate terrorist attack then this should be classed as an act of terrorism," said Mohammed Shafiq, head of the Ramadhan Foundation community group.
"It was around 11.30pm, 12-ish. I've been living here all my life. As a community, everyone's a family here. I initially thought it was my cousin," Mohin, another witness, told LBC.

Those who were present at the scene started uploading video clips from the incident.

The incident follows a series of attacks in Britain.
Eight people were killed and 50 injured on June 3 when three militants drove into pedestrians on London Bridge and stabbed people at nearby restaurants and bars.
On March 22, a man drove a rented car into pedestrians on Westminster Bridge in London and stabbed a policeman to death before being shot dead. His attack killed five people.
On May 22, a suicide bomber killed 22 people at a concert by American pop singer Ariana Grande in Manchester in northern England.
It also comes at a time of political turmoil in Britain, as Prime Minister Theresa May plunges into divorce talks with the European Union weakened by the loss of her parliamentary majority in a June 8 election.
(Content shared by individuals on social media has not been independently verified.)
—Additional reporting by Tanveer Khatana; Editing by Haseem uz Zaman

TOP IMAGE: Police officers attend to the scene after a vehicle collided with pedestrians in the Finsbury Park neighbourhood of North London, Britain, June 19, 2017. REUTERS/Neil Hall