QUETTA: A huge suicide explosion, targeting Pakistan Army personnel in Quetta, left 15 people martyred – including seven civilians – and injured at least 20 people, ISPR confirmed on Saturday night. 

The blast, which reportedly took place in a vehicle, occurred at the Pishin bus stop, causing cars in the surroundings to catch fire soon afterwards.

"We can now confirm that 15 people have died in the explosion today. At least 32 others are wounded," Balochistan home minister Sarfraz Bugti said.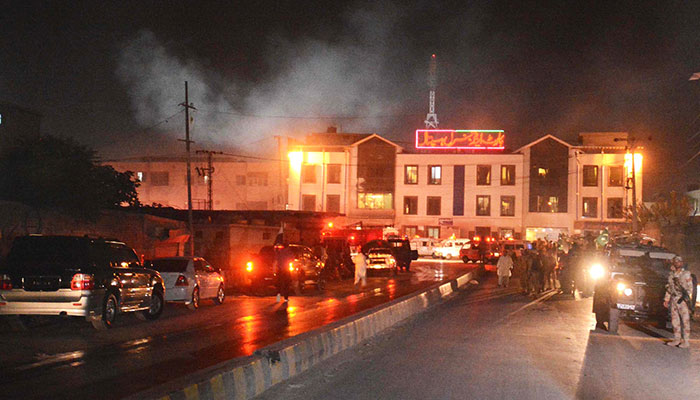 Anwar-ul-Haq Kakar – a spokesman for the Balochistan government – also confirmed the toll. 
Earlier, Geo News citing rescue and hospital sources reported 17 people had been killed in the attack. Sources added that the number of injured could be as high as 30. 
"An attempt to mar independence day festivity. Our resolve won't succumb to any challenge," DG ISPR Major-General Asif Ghafoor posted on Twitter.  
The Inter-Services Public Relations (ISPR) confirmed that an Army truck was targeted using incendiary explosives. 
The ISPR confirmed that seven civilians were among the 15 martyrs, while 25, including 15 civilians, were injured in the attack. 

Army troops reached the site of the incident soon after the attack and cordoned off the area.

The injured were shifted to the Combined MIlitary Hospital, added the ISPR.

Some of the injured were shifted to Civil Hospital Quetta and an emergency was declared in hospitals in the vicinity.

Speaking to Geo News, provincial Home Minister Sarfaraz Bugti said the explosion was intense and the death toll could rise further. 

"The target was a security forces vehicle," said Home Minister Sarfaraz Bugti.

Casualties were also confirmed by rescue and hospital sources.
Rescue services reached the site promptly after the explosion. A large contingent of security forces also reached the spot.

Fire fighting vehicles were able to douse the fire which had spread to multiple vehicles. 
Balochistan Assembly and FC Hostel are near the spot of the explosion and the area is categorised as sensitive.