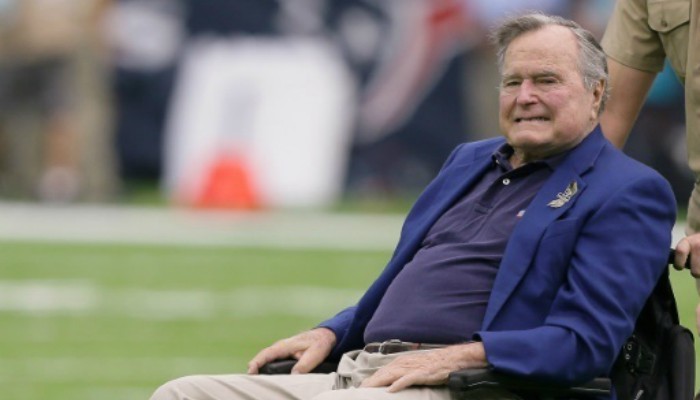 A woman has accused former US President George H.W. Bush of groping her during a photo session in 2003 when she was 16.
Roslyn Corrigan said in an interview on Monday to Time Magazine that Bush touched her from behind at a CIA event, where she accompanied her father to meet Bush. Bush was 79 then.
Bush groped her buttocks while she alongside her mother posed for a photograph with the former president, she said.
"As soon as the picture was being snapped, on the one-two-three he dropped his hands from my waist down to my buttocks and gave it a nice, ripe squeeze, which would account for the fact that in the photograph my mouth is hanging wide open," Corrigan told Time, her first public interview about the incident. "I was like, 'Oh my goodness, what just happened?'"
"My initial reaction was absolute horror. I was really, really confused," Corrigan said. "The first thing I did was look at my mom and, while he was still standing there, I didn't say anything. What does a teenager say to the ex-president of the United States? Like, 'Hey dude, you shouldn't have touched me like that?'"
She said that many people continue to doubt and dismiss her account but that she felt encouraged to speak out seeing other women come forward.
She told her mother right away about the incident.
"When he left, my daughter Rozi said, 'He grabbed me on the rear end.' And I said, 'What, what?'" Sari said. "And she said, 'Yes, he grabbed me when they were taking the picture. He grabbed me on my butt.' And I was like, 'Oh my god, are you kidding me?'
"I was really, really upset — she was very upset, she was really, really mad," she added. Sari said she would have tried to take action "had it been just some Joe Blow or something. I'd probably chase him down and yell at him."
"But, you know, it's the president. What are you supposed to do?" she said in a Oct. 28 interview. "And you've got your husband's job that could be in jeopardy. I mean, you just didn't then. You should—you should have always spoken up, always—but we didn't."
Corrigan is the sixth woman to accuse Bush of inappropriate behaviour.