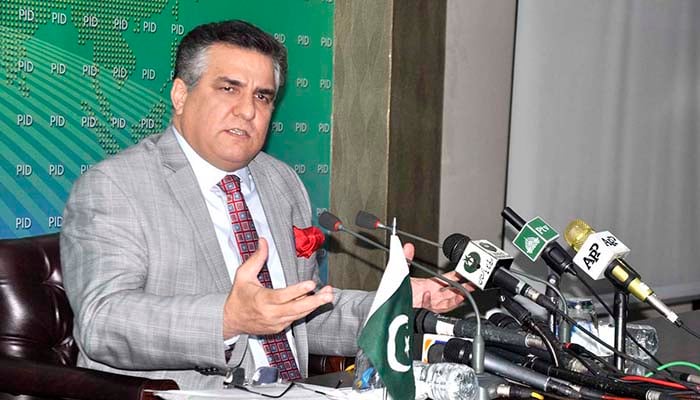 ISLAMABAD: The Supreme Court ordered on Friday that the counsel of Federal Minister for Privatisation Daniyal Aziz be provided with the transcript of statements by Aziz deemed contemptuous by court.
A three-member bench of the apex court headed by Justice Azmat Saeed  was hearing a suo motu notice taken against the minister for committing contempt of court.
The court also directed that the controversial statements made by Aziz be highlighted on the transcript.

Aziz's counsel Advocate Ali Raza asked the court for the video clips mentioned in the suo motu notice, after which the court told the lawyer to obtain the video clips from the Press Information Department.
The hearing was adjourned till March 6. 
Earlier, Aziz's counsel had requested a record of the instances in which, according to the court, his client gave controversial speeches and statements.
In a request submitted to the Supreme Court, Raza stated that the newspaper article from September 9, 2017 mentioned in the suo motu notice, is regarding a news conference in PID. He added that according to him, the news article was wrong and deceitful.
About another instance mentioned in the suo motu notice — a clip from September 12, 2017 aired on a private channel —Aziz's counsel has written that his client did not remember being on the programme of any television channel on that day.
The third reference in the notice is regarding news aired on September 15, 2017 on a private television channel.
Aziz's counsel requested for a record of the news article and video clips, stating that it was essential to examine them for the sake of justice and before a response to the apex court's show-cause notice is issued by his client.
The show-cause notice to Aziz was issued by the Supreme Court on February 19, after a contempt of court notice was sent to him on February 2 over his "controversial speeches and statements made during television shows".