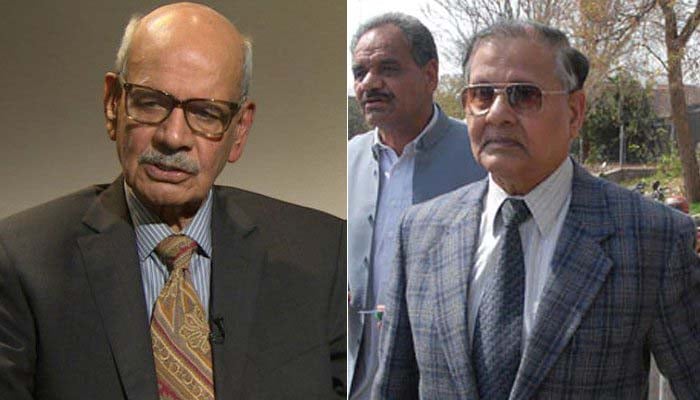 ISLAMABAD: Former army chief General (retd) Mirza Aslam Beg and former Inter-Services Intelligence DG Lieutenant General (retd) Asad Durrani appeared on Wednesday before a Federal Investigation Agency (FIA) committee constituted to investigate the Asghar Khan case.
According to sources, Gen Beg first appeared before the investigators and brought relevant documents with him. 
Later, after his questioning concluded, Lt Gen Durrani reached the FIA Headquarters. 
He is being questioned by the FIA committee at present. 
The FIA on Tuesday constituted a committee to conduct an investigation in the Asghar Khan case. The committee is being headed by Ahsan Sadiq, a grade 21 officer at the FIA.

Moreover, Dr Usman Anwar, Dr Rizwan and FIA Director Law Ali Sher Jakhrani are also a part of the committee.
CJP directs cabinet to decide case follow-up in a week
Chief Justice of Pakistan Justice Saqib Nisar on May 9 gave the federal government a week's time to summon a cabinet meeting to determine what action to take in light of the 2012 Asghar Khan case verdict.
The attorney general (AG) and head of the FIA appeared before the Supreme Court over the implementation, or lack thereof, of the apex court's verdict in the case filed by the late former air chief, Asghar Khan.
During the hearing, Chief Justice Nisar remarked that the court had given its order in the case and rejected the review petitions of Gen Beg and Lt Gen Asad Durrani, accused of illegally influencing the 1990 elections.
Case history
On October 19, 2012, the apex court had issued a 141-page verdict, ordering legal proceedings against Gen (retd) Beg and Lt Gen (retd) Durrani in a case filed 16 years ago by former air chief Air Marshal Asghar Khan.
Khan, who passed away in January this year, was represented in the Supreme Court by renowned lawyer Salman Akram Raja.
Khan had petitioned the Supreme Court in 1996 alleging that the two senior army officers and the then-president Ghulam Ishaq Khan had doled out Rs140 million among several politicians ahead of the 1990 polls to ensure Benazir Bhutto's defeat in the polls.
The Islamic Jamhoori Ittehad (IJI), consisting of nine parties including the Pakistan Muslim League, National Peoples Party and Jamaat-e-Islami, had won the 1990 elections, with Nawaz Sharif being elected prime minister. The alliance had been formed to oppose the Benazir Bhutto-led Pakistan Peoples Party.
In 1996, Khan had written a letter to the then Supreme Court Chief Justice Nasim Hassan Shah naming Beg, Durrani and Younis Habib, the ex-Habib Bank Sindh chief and owner of Mehran Bank, about the unlawful disbursement of public money and its misuse for political purposes.
The 2012 apex court judgment, authored by the then-Chief Justice of Pakistan Iftikhar Chaudhry, had directed the Federal Investigation Agency to initiate a transparent investigation and subsequent trial if sufficient evidence is found against the former army officers.
The investigation is yet to conclude.