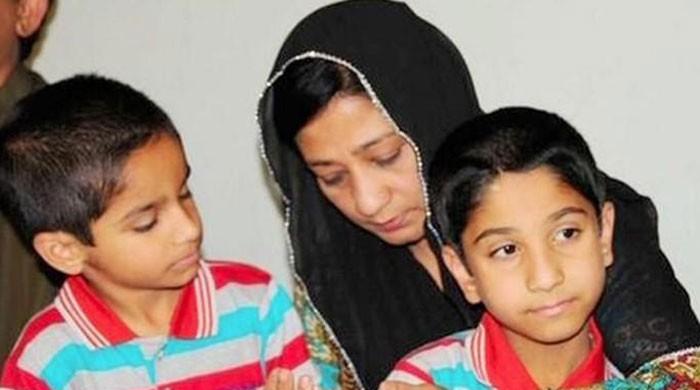 Shumaila Imran Farooq, wife of the former Muttahida Qaumi Movement (MQM) leader Dr Imran Farooq, exactly eight years after his husband's murder has called for the prosecution of alleged killers before a British court of law.

The widow in a message said that September 16 remains 'a very painful and sad day' for her, adding that her Alishaan Farooq, 13, and Wejdaan Farooq, 11, wants justice for their father who was assassinated in broad daylight.
"My wish is that those who killed him are caught. Ameen," she wrote in reference to Mohsin Ali Syed and Kashif Khan Kamran, who allegedly killed Dr Farooq and then successfully fled to Pakistan from Heathrow airport to Colombo, and then to Karachi where they were arrested by the Pakistani authorities.
Dr Imran Farooq was killed on 16 September 2018 on Green Lane in Edgware by Mohsin Ali Syed and Kashif Khan Kamran while he was walking home from his workplace.
Its believed by quarters that Kashif Khan Kamran died in the police custody while Mohsin Ali Syed remains in detention along with Moazzam Ali Khan and Khalid Shamim – all of them once linked with the All Pakistan Mohajir Students Organisation (APMSO) and then MQM, respectively.
Dr Imran Farooq's widow took her sons Alishaan and Wejdaan Farooq to Karachi to visit the grave of their father in Karachi last month.
Alishaan Farooq wrote yesterday on his Twitter: "Dear abbu, i hope you have a great time in heaven and are watching me and my little brother grow as people. I hope that you are seeing the struggles my Ammi has gone through."
On Sunday, the Metropolitan Police told Geo.tv "the Met Police investigation into the murder of Imran Farooq remains active and we are committed to bringing his killers to justice".
But off the record police sources have confirmed that the murder investigation has suffered a stalemate because of the legal wrangling between Pakistan and the United Kingdom.
The UK police believes that Pakistani authorities didn't help the case to reach at its logical end by refusing to share details of the arrest of the killers on time. They blame Pakistani authorities for not taking their law enforcement authorities into confidence and exercised delays in facilitating requests.
The biggest complaint of the Met police is that Pakistan started proceedings against the suspected killers inside Pakistan while the Met wanted the suspects to be handed over to Britain and to be tried in the British court of law.
When Dr Imran Farooq was killed, he reportedly had fallen out with the MQM founder and was in the process of making his own political party.
In media, the MQM has been widely blamed for the murder of its own former leader but the investigators in Britain said that there is no direct evidence establishing the party founder's link with the murder.
The founder's cousin, Iftikhar Hussain – along with at least seven others – remained on the police bail for around two years but were cleared after the investigation didn't move forward.
Pakistan on its part says that it doesn't have an extradition treaty with Britain. However, contrary to this view, there are many recent examples where Pakistan sent suspects to Britain, involved in serious crimes – who fled to Pakistan after committing crimes at the British soil.
Chaudhary Nisar, the former interior minister, actively pursued the case and wanted it to be resolved but on ground nothing much actualised as Pakistan and UK investigators continued to maintain divergent views over the issue.
Shaheryar Afridi, the state minister for interior has now the mandate to speak with British authorities on the case. It will be interesting to see if the new government takes steps to end the deadlock to play its role in providing justice to the family of Dr Imran Farooq.
The MQM leadership till date continues to deny involvement in the murder and calls it a conspiracy against the party.