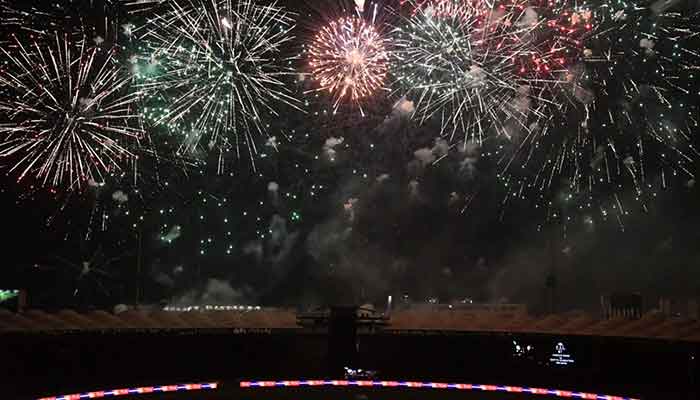 Opening ceremony took place at the National Stadium in Karachi
Atif Aslam, Imran Khan, Humaima Mallick, Naseebo Lal, Aima Baig and Young Stunners perform at opening ceremony
PCB chairman Ehsan Mani says more spectators may be allowed if COVID-19 situation improves
---
KARACHI: Pakistan's biggest T20 tournament, the Pakistan Super League kicked off in Karachi on Saturday with a star studded opening ceremony ahead of the opening match between defending champions Karachi Kings and one-time winner Quetta Gladiators.
This is the second time that an opening ceremony is being held in Karachi. The National Stadium had also played host to the opening ceremony for the 2020 edition. 
The opening ceremonies for the first four editions were held in Dubai.
Read more: PSL 2021 opening ceremony to feature Atif Aslam, Imran Khan, and Humaima Malik
The ceremony, which was being attended by a 20% crowd to fill the stands, was opened with the national anthem of Pakistan. 
PCB Chairman Ehsan Mani welcomed the overseas players, support staff and guests at the start of the ceremony . 
"This year's PSL is being played in only Karachi and Lahore and due to coronavirus 7,500 people will be able to [attend matches in] Karachi and 5,500 in Lahore," said Mani. He added that he is "hopeful" that if the situation remains stable then more people will be able allowed to attend the matches. 
Read more: PSL 6 anthem 'Groove Mera' featuring Aima Baig, Naseebo Lal releases nationwide
He thanked the fans for making PSL Pakistan's "biggest brand". He also extended gratitude to the government for allowing PCB to hold the PSL.
Mani wished all the six teams the best of luck in the competition and hoped that the best team wins the trophy. 
Following the welcome by Mani, the HBL president spoke to the audience.
With the formalities done and dusted, superstar Atif Aslam took the stage with his song Adat, that shot him to fame in the country.
Read more: Will PSL 2021 opening ceremony not take place in Pakistan?
With the audience left stunned by Atif's performance, in came singer Imran Khan with his hit song "Amplifier". 
The performance was arguably more "amplified" as actress Humaima Mallick danced to the track, besides swaying to "Bewafa" and other songs. 
With the audience pumped up by Atif, Imran Khan and Humaima Mallick. the stage was all set for Nassebo Lal, Aima Baig, and Young Stunners to come and enthrall the audience with the anthem for this year's edition "Groove Mera".

To top off all the celebrations, the PCB put on a fireworks display to mark the start of cricket festivities.
Now, the defending champions Karachi Kings will face off against Quetta Gladiators in a night match in the first match of the season.