KARACHI: Lahore Qalandars need 179 to beat former champions Quetta Gladiators in the fourth fixture of the Pakistan Super League's (PSL) sixth edition at the city's National Stadium.
Fakhar Zaman and Mohammad Hafeez smashed a partnership of 115 that helped Qalandars beat Sarfaraz's Gladiators.  
Fakhar Zaman (82) and Sohail Akhtar (21) got them 64 runs for the opening wicket before Hafeez's scintillating innings of 73 off just 33 balls made sure that Lahore got the job done with 10 balls and nine wickets to spare.
Both the teams have faced each other 11 times with Qalandars winning six of the matches.

Squads:

Lahore Qalandars: Ben Dunk, David Wiese, Dilbar Hussain, Fakhar Zaman, Haris Rauf, Mohammad Hafeez, Shaheen Shah Afridi, Sohail Akhtar, Rashid Khan, Joe Denly, Samit Patel, Tom Abell, Zeeshan Ashraf, Salman Ali Agha, Mohammad Faizan, Maaz Khan, Zaid Alam, Ahmed Daniyal
Quetta Gladiators: Sarfaraz Ahmed, Qais Ahmad, Anwar Ali, Saim Ayub, Tom Banton, Ben Cutting, Cameron Delport, Chris Gayle, Mohammad Hasnain, Arish Ali Khan, Azam Khan, Hassan Khan, Usman Khan, Zahid Mahmood, Abdul Nasir, Mohammad Nawaz, Faf du Plessis, Naseem Shah, Usman Khan Shinwari, Dale Steyn
The ball-by-ball updates of the match are available below the line.
---
Lahore Qalandars beat Quetta Gladiators by nine wickets
---
Lahore Qalandars: 179/1
Mohammad Hasnain to Mohammad Hafeez: 4 runs
Mohammad Hasnain to Mohammad Hafeez: No run

End of 18th over: Lahore Qalandars — 175/1
Usman Khan Shinwari to Mohammad Hafeez: 1 run
Usman Khan Shinwari to Mohammad Hafeez: 6 runs
Usman Khan Shinwari to Mohammad Hafeez: 4 runs
Usman Khan Shinwari to Mohammad Hafeez: 2 runs
Usman Khan Shinwari to Mohammad Hafeez: 4 runs
Usman Khan Shinwari to Fakhar Zaman: 1 run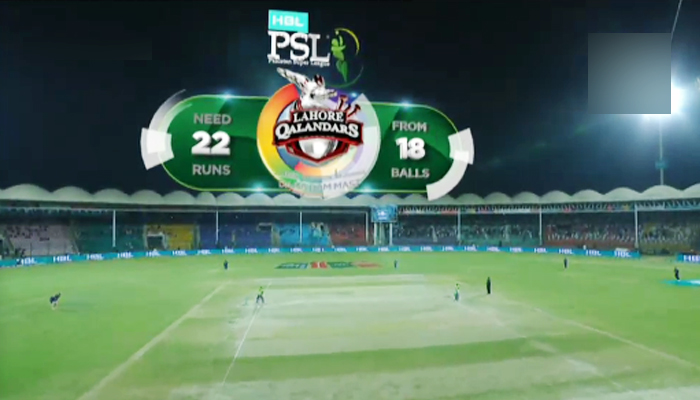 End of 17th over: Lahore Qalandars — 157/1
Mohammad Hasnain to Fakhar Zaman: 1 run
Mohammad Hasnain to Fakhar Zaman: 2 runs
Mohammad Hasnain to Mohammad Hafeez: 1 run
Mohammad Hasnain to Fakhar Zaman: 1 run
Mohammad Hasnain to Fakhar Zaman: No run
Mohammad Hasnain to Mohammad Hafeez: 1 run

End of 16th over: Lahore Qalandars — 151/1
Ben Cutting to Mohammad Hafeez: 1 run
Ben Cutting to Mohammad Hafeez: 6 runs
Ben Cutting to Fakhar Zaman: 1 run
Ben Cutting to Fakhar Zaman: 4 runs
Ben Cutting to Fakhar Zaman: 2 runs
Ben Cutting to Fakhar Zaman: 6 runs

End of 15th over: Lahore Qalandars — 131/1
Anwar Ali to Fakhar Zaman: 1 run
Anwar Ali to Mohammad Hafeez: No run

Anwar Ali to Fakhar Zaman: 1 run
Anwar Ali to Mohammad Hafeez: 1 run
Anwar Ali to Mohammad Hafeez: 6 runs

Anwar Ali to Fakhar Zaman: 1 run

End of 14th over: Lahore Qalandars — 120/1
Usman Khan Shinwari to Mohammad Hafeez: 4 runs
Usman Khan Shinwari to Mohammad Hafeez: No ball, 6 runs

Usman Khan Shinwari to Mohammad Hafeez: No run
Usman Khan Shinwari to Fakhar Zaman: 1 run
Usman Khan Shinwari to Fakhar Zaman: 2 runs

Usman Khan Shinwari to Mohammad Hafeez: 1 run
Usman Khan Shinwari to Mohammad Hafeez: 4 runs
End of 13th over: Lahore Qalandars — 101/1

Anwar Ali to Mohammad Hafeez: 1 run
Anwar Ali to Fakhar Zaman: 1 run
Anwar Ali to Mohammad Hafeez: 1 run
Anwar Ali to Mohammad Hafeez: 6 runs
Anwar Ali to Mohammad Hafeez: No run
Anwar Ali to Fakhar Zaman: 1 run

End of 12th over: Lahore Qalandars — 91/1
Ben Cutting to Fakhar Zaman: 1 run
Ben Cutting to Fakhar Zaman: 2 runs
Ben Cutting to Mohammad Hafeez: 1 run
Ben Cutting to Fakhar Zaman: 1 run
Ben Cutting to Mohammad Hafeez: 1 run

Ben Cutting to Fakhar Zaman: 1 run

End of 11th over: Lahore Qalandars — 84/1
Zahid Mahmood to Mohammad Hafeez: 6 runs
Zahid Mahmood to Fakhar Zaman: 1 run
Zahid Mahmood to Mohammad Hafeez: 1 run
Zahid Mahmood to Mohammad Hafeez: No run

Zahid Mahmood to Fakhar Zaman: 1 run
Zahid Mahmood to Fakhar Zaman: 6 runs

End of 10th over: Lahore Qalandars — 69/1
Ben Cutting to Fakhar Zaman: 1 run
Ben Cutting to Mohammad Hafeez: 1 run
Ben Cutting to Fakhar Zaman: 1 run

Ben Cutting to Mohammad Hafeez: 1 run
Ben Cutting to Mohammad Hafeez: No run
Ben Cutting to Mohammad Hafeez: No run

End of ninth over: Lahore Qalandars — 65/1
Zahid Mahmood to Fakhar Zaman: No run
Zahid Mahmood to Mohammad Hafeez: 1 run

Zahid Mahmood to Sohail Akhtar: Bowled out
Zahid Mahmood to Fakhar Zaman: 1 run
Zahid Mahmood to Sohail Akhtar: 1 run

Zahid Mahmood to Fakhar Zaman: 1 run

End of eighth over: Lahore Qalandars — 61/0
Mohammad Nawaz to Sohail Akhtar: No run
Mohammad Nawaz to Sohail Akhtar: No run
Mohammad Nawaz to Sohail Akhtar: No run
Mohammad Nawaz to Sohail Akhtar: No run

Mohammad Nawaz to Fakhar Zaman: 1 run
Mohammad Nawaz to Fakhar Zaman: 2 runs

End of seventh over: Lahore Qalandars — 58/0
Zahid Mahmood to Fakhar Zaman: 1 run
Zahid Mahmood to Fakhar Zaman: 4 runs
Zahid Mahmood to Fakhar Zaman: 4 runs
Zahid Mahmood to Fakhar Zaman: No run
Zahid Mahmood to Fakhar Zaman: No run

Zahid Mahmood to Sohail Akhtar: 1 run

End of sixth over: Lahore Qalandars — 48/0
Anwar Ali to Sohail Akhtar: 1 run
Anwar Ali to Sohail Akhtar: 2 runs
Anwar Ali to Sohail Akhtar: No run
Anwar Ali to Sohail Akhtar: 4 runs

Anwar Ali to Fakhar Zaman: 1 run

Anwar Ali to Fakhar Zaman: 4 runs
End of fifth over: Lahore Qalandars — 36/0
Usman Khan Shinwari to Sohail Akhtar: No run
Usman Khan Shinwari to Sohail Akhtar: 4 runs
Usman Khan Shinwari to Sohail Akhtar: No run
Usman Khan Shinwari to Sohail Akhtar: 2 runs
Usman Khan Shinwari to Sohail Akhtar:  No run
Usman Khan Shinwari to Fakhar Zaman: 1 run

End of fourth over: Lahore Qalandars — 29/0
Mohammad Hasnain to Fakhar Zaman: 1 run
Mohammad Hasnain to Fakhar Zaman: No run
Mohammad Hasnain to Fakhar Zaman: 4 runs
Mohammad Hasnain to Fakhar Zaman: 4 runs
Mohammad Hasnain to Sohail Akhtar: 1 run

Mohammad Hasnain to Fakhar Zaman: 1 run

End of third over: Lahore Qalandars — 18/0
Usman Khan Shinwari to Sohail Akhtar:  No run
Usman Khan Shinwari to Sohail Akhtar: No run
Usman Khan Shinwari to Fakhar Zaman: 1 run

Usman Khan Shinwari to Sohail Akhtar: 1 run
Usman Khan Shinwari to Sohail Akhtar: No run

Usman Khan Shinwari to Fakhar Zaman: 1 run

End of second over: Lahore Qalandars — 15/0
Mohammad Hasnain to Fakhar Zaman: 1 run
Mohammad Hasnain to Fakhar Zaman: 4 runs
Mohammad Hasnain to Fakhar Zaman: No run
Mohammad Hasnain to Fakhar Zaman: Wide
Mohammad Hasnain to Fakhar Zaman: 4 runs
Mohammad Hasnain to Fakhar Zaman: No run
Mohammad Hasnain to Fakhar Zaman: No run

End of first over: Lahore Qalandars — 5/0
Mohammad Nawaz to Sohail Akhtar: No run
Mohammad Nawaz to Sohail Akhtar: No run
Mohammad Nawaz to Sohail Akhtar: 4 runs
Mohammad Nawaz to Sohail Akhtar: No run
Mohammad Nawaz to Sohail Akhtar: No run

Mohammad Nawaz to Fakhar Zaman: 1 run

---
 Lahore Qalandars need 179 to beat Quetta Gladiators
---
End of 20th over: Quetta Gladiators — 178/6
Haris Rauf to Anwar Ali: 2 runs
Haris Rauf to Mohammad Nawaz: 4 runs
Haris Rauf to Mohammad Nawaz: No ball, 6 runs
Haris Rauf to Mohammad Nawaz: 2 runs
Haris Rauf to Anwar Ali: 1 run

Haris Rauf to Ben Cutting: Bowled out

Haris Rauf to Mohammad Nawaz: 1 run
End of 19th over: Quetta Gladiators — 161/5
Shaheen Shah Afridi to Ben Cutting: No run
Shaheen Shah Afridi to Ben Cutting: No run
Shaheen Shah Afridi to Ben Cutting: 2 runs

Shaheen Shah Afridi to Mohammad Nawaz: 1 run
Shaheen Shah Afridi to Mohammad Nawaz: No ball, 6 runs
Shaheen Shah Afridi to Mohammad Nawaz: No run
Shaheen Shah Afridi to Mohammad Nawaz: 4 runs

End of 18th over: Quetta Gladiators — 147/5
Ahmed Danyal to Ben Cutting: 2 runs
Ahmed Danyal to Mohammad Nawaz: 1 run
Ahmed Danyal to Mohammad Nawaz: No run

Ahmed Danyal to Ben Cutting: 1 run

Ahmed Danyal to Mohammad Nawaz: 1 run

Ahmed Danyal to Azam Khan: Caught out, c Shaheen Shah Afridi

End of 17th over: Quetta Gladiators — 142/4
Shaheen Shah Afridi to Azam Khan: 1 run
Shaheen Shah Afridi to Mohammad Nawaz: 1 run
Shaheen Shah Afridi to Azam Khan: 1 run
Shaheen Shah Afridi to Azam Khan: 2 run

Shaheen Shah Afridi to Mohammad Nawaz: 1 run
Shaheen Shah Afridi to Mohammad Nawaz: 6 runs

End of 16th over: Quetta Gladiators — 130/4
David Wiese to Mohammad Nawaz: 1 run
David Wiese to Azam Khan: 1 run
David Wiese to Azam Khan: 2 runs

David Wiese to Azam Khan: 4 runs
David Wiese to Mohammad Nawaz: 1 run
David Wiese to Mohammad Nawaz: Wide
David Wiese to Azam Khan: 1 run

End of 15th over: Quetta Gladiators — 119/4
Rashid Khan to Mohammad Nawaz: No run
Rashid Khan to Mohammad Nawaz: No run
Rashid Khan to Mohammad Nawaz: No run
Rashid Khan to Mohammad Nawaz: Wide

Rashid Khan to Chris Gayle: Bowled out
Rashid Khan to Chris Gayle: 4 runs

Rashid Khan to Azam Khan: 1 run
End of 14th over: Quetta Gladiators — 113/3
Haris Rauf to Chris Gayle: No run

Haris Rauf to Sarfaraz Ahmed: Caught out, c Ben Dunk
Haris Rauf to Chris Gayle: 1 run
Haris Rauf to Chris Gayle: Wide

Haris Rauf to Sarfaraz Ahmed: 1 run

Haris Rauf to Chris Gayle: 1 run
Haris Rauf to Chris Gayle: 6 runs

End of 13th over: Quetta Gladiators — 103/2
Rashid Khan to Sarfaraz Ahmed: 4 runs
Rashid Khan to Chris Gayle: 1 run
Rashid Khan to Sarfaraz Ahmed: 1 run
Rashid Khan to Chris Gayle: 1 run
Rashid Khan to Chris Gayle: 6 runs
Rashid Khan to Sarfaraz Ahmed: 1 run
End of 12th over: Quetta Gladiators — 89/2
Ahmed Daniyal to Chris Gayle: No run
Ahmed Daniyal to Chris Gayle: 2 runs
Ahmed Daniyal to Chris Gayle: 6 runs
Ahmed Daniyal to Chris Gayle: 4 runs

Ahmed Daniyal to Sarfaraz Ahmed: 1 run
Ahmed Daniyal to Sarfaraz Ahmed: No run

End of 11th over: Quetta Gladiators — 76/2
Rashid Khan to Chris Gayle: No run
Rashid Khan to Chris Gayle: 4 runs
Rashid Khan to Sarfaraz Ahmed: 1 run
Rashid Khan to Sarfaraz Ahmed: 2 runs
Rashid Khan to Sarfaraz Ahmed: No run

Rashid Khan to Chris Gayle: 1 run

End of 10th over: Quetta Gladiators — 68/2
David Wiese to Chris Gayle: 1 run
David Wiese to Sarfaraz Ahmed: 1 run
David Wiese to Chris Gayle: 1 run
David Wiese to Sarfaraz Ahmed: 1 run

David Wiese to Chris Gayle: 1 run
David Wiese to Chris Gayle: 6 runs

End of ninth over: Quetta Gladiators — 57/2
Rashid Khan to Chris Gayle: 1 run
Rashid Khan to Chris Gayle: No run
Rashid Khan to Sarfaraz Ahmed: 1 run
Rashid Khan to Sarfaraz Ahmed: No run
Rashid Khan to Sarfaraz Ahmed: No run
Rashid Khan to Sarfaraz Ahmed: No run

End of eighth over: Quetta Gladiators — 55/2
Mohammad Hafeez to Chris Gayle: No run
Mohammad Hafeez to Chris Gayle: No run

Mohammad Hafeez to Sarfaraz Ahmed: 1 run
Mohammad Hafeez to Sarfaraz Ahmed: 4 runs
Mohammad Hafeez to Sarfaraz Ahmed: 2 runs
Mohammad Hafeez to Sarfaraz Ahmed: No run 
End of seventh over: Quetta Gladiators — 48/2
Ahmed Daniyal to Sarfaraz Ahmed: 1 run
Ahmed Daniyal to Sarfaraz Ahmed: No run
Ahmed Daniyal to Chris Gayle: 1 run
Ahmed Daniyal to Sarfaraz Ahmed: 1 run

Ahmed Daniyal to Chris Gayle: 1 run
Ahmed Daniyal to Chris Gayle: 6 runs

End of sixth over: Quetta Gladiators — 38/2
Haris Rauf to Sarfaraz Ahmed: 4 runs
Haris Rauf to Chris Gayle: 1 run
Haris Rauf to Chris Gayle: Four runs
Haris Rauf to Chris Gayle: Wide 
Haris Rauf to Chris Gayle: No run
Haris Rauf to Sarfaraz Ahmed: 1 run
Haris Rauf to Chris Gayle: 1 run

Haris Rauf to  Sarfaraz Ahmed: 1 run

End of fifth over: Quetta Gladiators — 25/2
Ahmed Daniyal to Chris Gayle: No run
Ahmed Daniyal to Chris Gayle: No run
Ahmed Daniyal to Chris Gayle: No run
Ahmed Daniyal to Chris Gayle: No run

Ahmed Daniyal to Sarfaraz Ahmed: 1 run
Ahmed Daniyal to Sarfaraz Ahmed: No run

End of fourth over: Quetta Gladiators — 24/2
Mohammad Hafeez to Sarfaraz Ahmed: 1 run 
Mohammad Hafeez to Chris Gayle: 1 run
Mohammad Hafeez to Sarfaraz Ahmed: 1 run 

Mohammad Hafeez to Chris Gayle: 1 run
Mohammad Hafeez to Chris Gayle: No run
Mohammad Hafeez to Chris Gayle: No run

End of third over: Quetta Gladiators — 20/2
Shaheen Shah Afridi to Sarfaraz Ahmed: No run
Shaheen Shah Afridi to Sarfaraz Ahmed: 4 runs

Shaheen Shah Afridi to Sarfaraz Ahmed: 4 runs

Shaheen Shah Afridi to Saim Ayub: Caught out, c Sohail Akhtar

Shaheen Shah Afridi to Chris Gayle: 1 run
Shaheen Shah Afridi to Chris Gayle: 4 runs

End of second over: Quetta Gladiators — 7/1
Haris Rauf to Saim Ayub: 0 run

Haris Rauf to Tom Banton: Caught out, c Ahmed Danyal
Haris Rauf to Tom Banton: 0 run
Haris Rauf to Saim Ayub: 1 run

Haris Rauf to Tom Banton: 1 run

Haris Rauf to Saim Ayub: 1 run

End of first over: Quetta Gladiators — 4/0
Shaheen Shah Afridi to Tom Banton: 2 runs
Shaheen Shah Afridi to Saim Ayub: 1 run

Shaheen Shah Afridi to Tom Banton: 1 run
Shaheen Shah Afridi to Tom Banton: No run
Shaheen Shah Afridi to Tom Banton: No run
Shaheen Shah Afridi to Tom Banton: No run

---
Quetta Gladiators begin batting

Lahore Qalandars have won the toss and elected to field first
Watch all "PSL" matches and "PSL live" stream on geo super