'There will be shortage of wheat next year'
The agricultural sector is vital for the country's economic growth, food security, employment generation and poverty alleviation, particularly for the rural population, as it plays a central role in the economy, contributing over 15% to GDP, and absorbs nearly 40% of the labour force, according to the Ministry of Finance.

Taking a look back at the performance of the agriculture sector during 2021, Cereal Association of Pakistan Founder and Chairman Muzzammil Chappal told Geo.tv that the wheat crop's production stood at 27 million metric tons this year.
He, however, stated that in the coming year, he fears that it might be difficult to achieve this target because of changing climate, and as a result, "we will need to change our timing and our seeds".
"There is a shortage of fertiliser, and I think there will be a shortage of wheat next year," he warned, adding that in the outgoing year, Pakistan's wheat output was 27 million metric tons, as compared to the requirement, which is around 30 million metric tons.
Chappal added that in the coming year, Pakistan will have to produce around 32.5-35 million metric tons as our consumption increases by 4-5% every year.
Speaking about the rice crop, he said that Pakistan's rice output after paddy is around 7-7.5 million metric tons, a major portion of which — 4.5 million metric tons — is exported.
"I predict that the production capacity can increase by managing the crop better and watering it on time," he said, adding that the crop size increased this year, and if one talks about yellow corn, the production capacity also rose.
The agriculture expert cited better yield as the reason behind the increase, adding that work was done on its seeds as well. It is pertinent to mention here that the yield has gone up to around 90-110 mann (one mann is equivalent to 40kgs) per acre, which has benefitted the farmers to a huge extent.
"Hence, if we start efficiently managing the timing and begin giving water to the crop at the right time, I believe we can increase our production capacity from 20 to 25%," he recommended.
"Moreover, our scientists should work on new seeds, as we face a huge shortage in terms of wheat. And with locally manufactured scientific seeds, we can cover around 15-20% of the shortage.
"We might even be able to export the crop," he added.
According to the Monthly Economic Update and Outlook for December 2021, the Ministry of Finance said that the government aims to increase agriculture productivity. This it said will be possible by taking multiple initiatives to ensure food security by countering food inflation.
Chappal said that in Russia, the crop size is 80 mann per acre, while in Pakistan, the maximum size is 40 mann per acre. "It is crucial to take notes from the research in Russia and India," he said.
"We will need to adapt to the ever-changing weather of the country. We are facing a shortage of pulses, and there is no proper mechanism to address this," he said.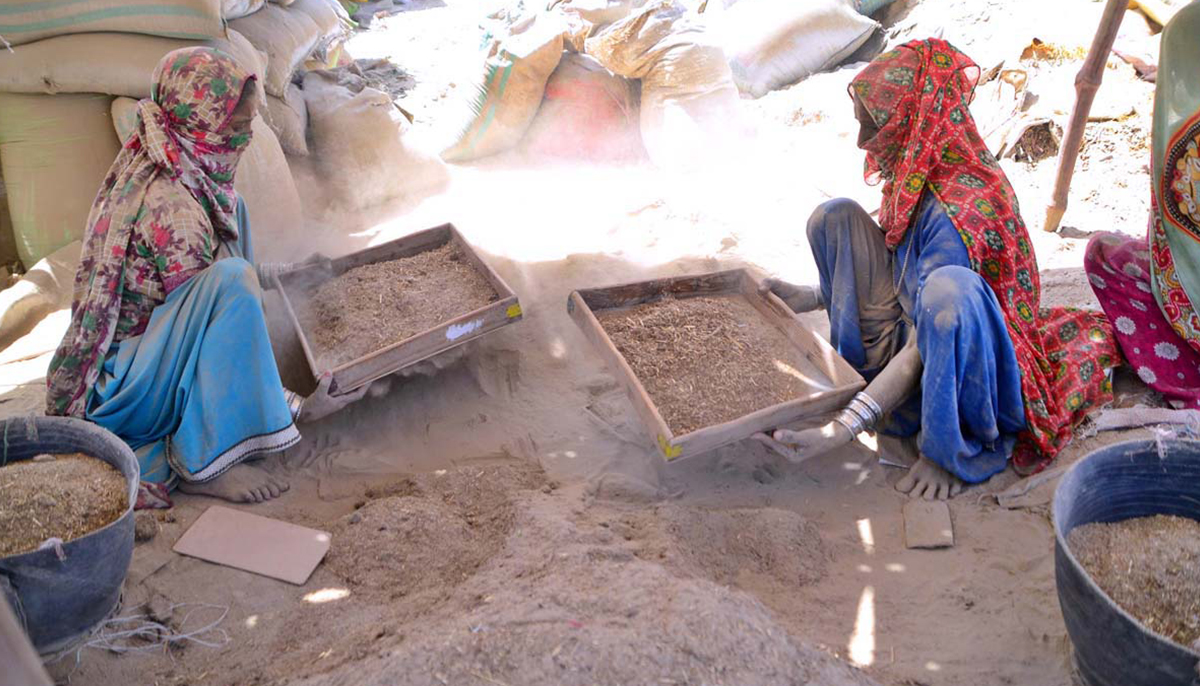 The association's chief emphasised the need for soil testing and devising a mechanism keeping in mind the climate and seeds of our country.
Pakistan imports 70-80% pulses to fulfil the local demand, while we produce only about 20%. "There was a time when we used to produce around 40-50% locally," he recalled.
The expert said that due to a decline in production, imports are increasing, which is a thing to ponder over.
"Water is not reaching the area where cultivation takes place. To resolve the issue of  the management and production of pulses, the government should constitute a board," he suggested, adding that if Pakistan ramps up local production, then it can save foreign reserves as well.
Meanwhile, the ministry expects that in the absence of any adverse climate shock, "the agriculture sector will perform better in the coming year".