Phool Patti Art: Turning the wheels of culture, testing brand new roads
While truck art is found throughout Pakistan with regional variations, Karachi serves as its primary hub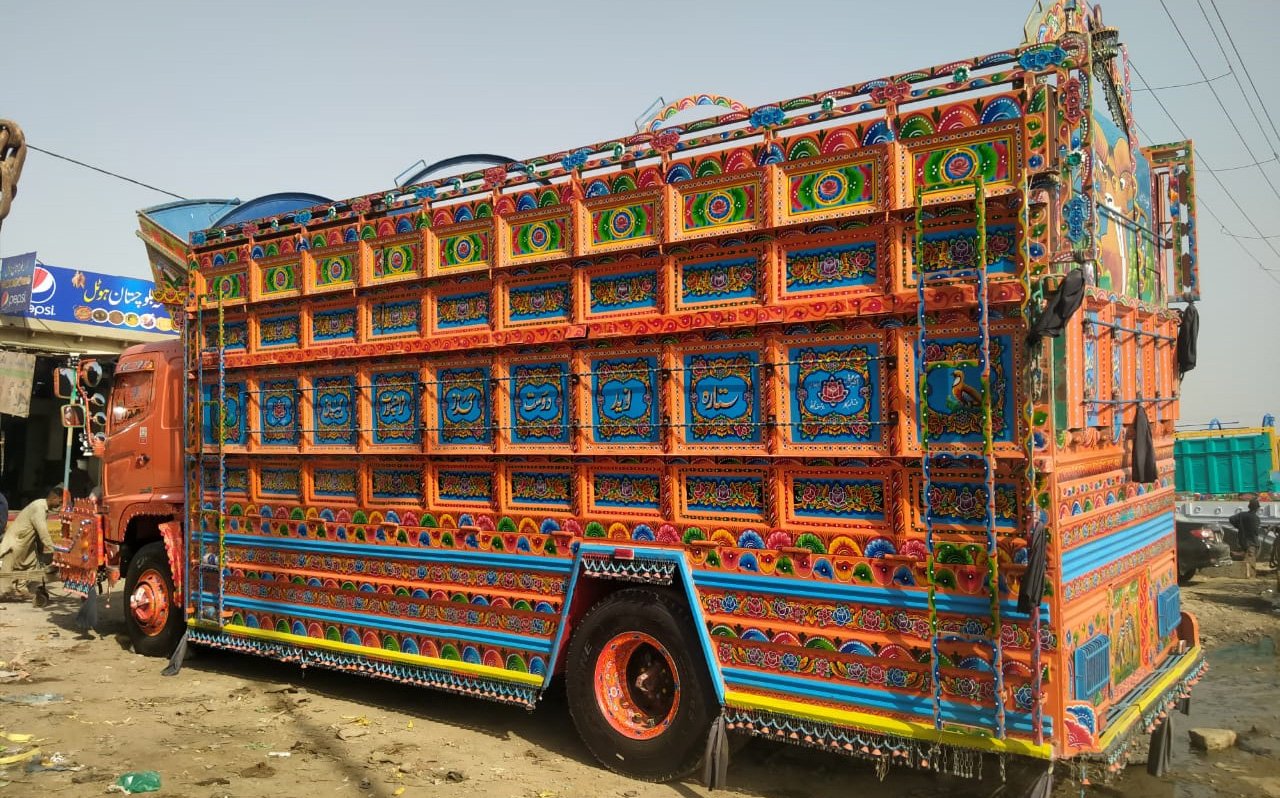 Truck art, a form of colourful folk fine art, extremely popular with South Asian transporters, is traditionally referred to as "phool patti" (flower and petal) in Pakistan, and extravagantly embellished goods-moving trucks, crisscrossing the country, are its celebrated masterpieces that awe the onlookers.

Many refer to these vehicles as "jingle trucks" because of the jingly exterior decorations that hang from their bumpers. While truck art is found throughout Pakistan with regional variations, Karachi serves as its primary hub.
Pakistan's roadways are home to more than 277,000 trucks. Their extravagantly designed and colourful displays incorporate intricate striping, fish, peacocks, flowers, politicians, actors, cricket players, and singers. Into the bargain, they feature wooden frames, metalwork that sparkles in the sunlight, and bells and pom-poms dangling from their sides and front and back fenders. 
Truck drivers and artists in the region see them as more than just a means of freight transportation. Apart from being the pride and joy of their owners, these ornate trucks are also a platform for spreading strong messages and promoting the culture of their country. 
"Every truck driver has a unique background or story, and they choose the subject matter for their truck art based on different things: their life experiences, literary favourites, poetic verses, political personates, martyred figures, or sources of inspiration, etc," tells Ali Salman Anchan, founder and creative director of the social enterprise Phool Patti i.e. dedicated to the worldwide promotion of Pakistan's truck art.
Truckers typically spend more money on their vehicle than they do on their personal needs because they want their truck to stand out and be the finest. 
While the bright colours and lavish decorations are indeed lovely, they do it for personal satisfaction rather than commercial gain. "Now, the price varies depending on the configuration of the vehicle — a bus, a cargo truck, a water tanker, a loading truck, etc. 

If I only talk about the painting of a single truck, it may cost anywhere between Rs5,000 and Rs300,000 or even more," says Anchan. 
Additionally, there is internal and external design, including ornaments, taj, steel, and wood, among other things, which completes the look, and raises the price according to the level of intricacy.

A single truck project requires the work of three to four artists, tells Anchan. The completion time is determined by the type of truck, the required design, and the level of ornamentation. It usually takes five to six days. It also depends on the size of the vehicle and how much the driver is willing to spend on elaborate decorations and ornaments. It can also be completed in two days.
"Decorating all kinds of vehicles, including ships, camels, donkey carts, and other automobiles has long been popular. Trucks are typically more heavily adorned, though, as they are more commonly spotted on highways," he adds. 
In the subcontinent, it has long been common to embellish camels and other animals that are used for transportation or trade; camels in particular are often given a sheeny look using paint or henna, which not only enhances their beauty but also draws in buyers and tourists. It dates back centuries. 
There are however numerous theories on the genesis of truck art, though, as is frequently the case with folk art. Artisans have been praised for their intricate designs and attention to detail, but the origins of the art have been largely unknown.
The trend traces back to the 1920s, when British Bedford trucks were imported to Pakistan and retrofitted with incredibly large wooden crowns — also called "taj" — over the cabin. 
These trucks from England took over the streets of the country, and when they began making long-distance deliveries of goods in the late 1940s, each company created an emblem so that those without literacy could tell who possessed the truck.
The city of Karachi was renowned as a hub of truck art in the 1950s when Hajji Hussain, a painter best known for his enormous palace murals, relocated there; it still holds that reputation today.
Since the city lacked any enormous palaces for him to paint, he began to embellish trucks instead, and his elaborate, floral designs helped popularise the genre.
Truck art with more complex patterns and embellishments became more defined and detailed throughout the 1970s and 1980s. Around the 1990s, other modes of public transportation like buses and tuk-tuks joined the trend. 

Some experts claim that from the 1970s onward, the native art form spread throughout the industrialised world as a result of tourists from Europe and America bringing back images of Pakistani buses and trucks that were extensively graffitied and ornamented. 
The Pakistani government and opportunistic entrepreneurs decided to organise truck art shows internationally in the late 1980s, and by the early 2000s, the genre had defined itself as a dynamic and energetic "folk art form" from Pakistan.
Truck art is also believed to have originated from auto workshops and dhabas visited by truckers. Again, even though truck art has long been a subject of discussion, not much is known about its history. 
The aesthetic dynamics of this art form have been studied for years by experts from around the world. However, few have attempted to decipher its mystic yet upfront historical background.
The 1940s saw the subcontinent witness a far more controlled version of this art. It first emerged on trucks and lorries operated by Sikh carriers who would paint a portrait of their spiritual Gurus or others who contributed to the development of the Sikh religion. 
Most vibrant colours were used to paint the portraits. Muslim truck and lorry drivers and transporters started painting images of well-known Sufi saints on their vehicles at the same time. 
Truckers started to surround the Sufi pictures with more decorations in 1947, the year Pakistan gained independence, adding vast sceneries, flying horses, peacocks, and so on.
A subgenre of truck art in Pakistan started adding politics in the 1960s. Throughout the NWFP (now Khyber Pakhtunkhwa), trucks were painted with pictures of Pakistan's first military dictator, Ayub Khan. 
As a result of Ayub's secular-nationalist economic policies, major cities in Pakistan accelerated their industrialisation. Even though, the transporters gained from these policies as well, the homage they paid to him was motivated mainly by the fact that he was from NWFP (now Khyber Pakhtunkhwa) and had fostered the migration of labour from the province to the bustling metropolis of Karachi.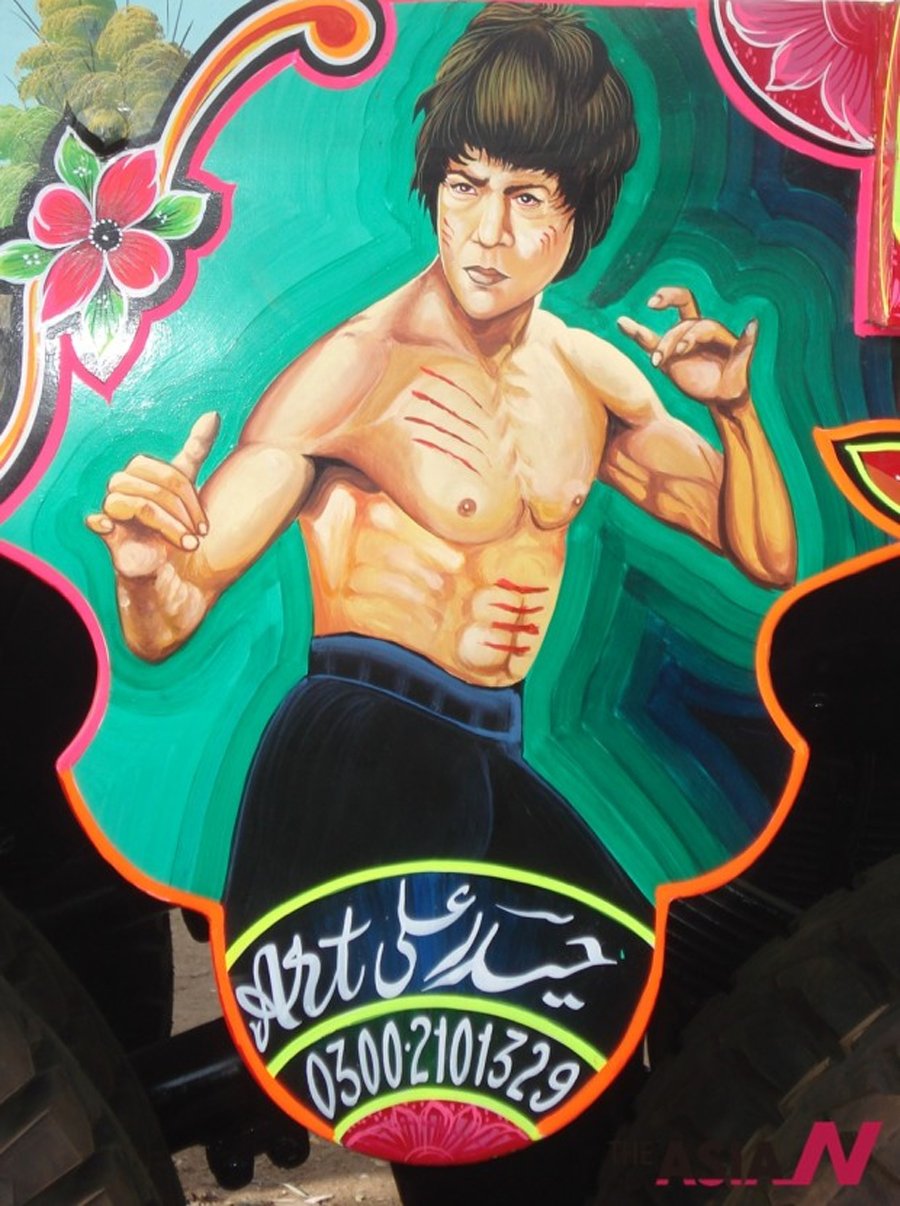 Truck art was given a push in the early 1970s by a very intriguing circumstance. Trucks were typically painted with esoteric and spiritual imagery on the back until the late 1960s. 
Images and calligraphy started to cover the entire body of the vehicle starting in the early 1970s. This was sparked by the way that advertisements for Pakistani cinema began to emerge on billboards in louder, more colourful ways. 
The "psychedelic art" and Pop Art movements that had started to proliferate in the west starting in the late 1960s served as inspiration for individuals who painted these billboards. 
It was then that truck art artists began combining the well-established flair of truck art with the elaborate style of billboard painters. The mini-buses of Karachi were the first to receive this type of painting, and trucks quickly adopted the design.
It is also believed that the unreserved nature of Pakistani society during the populist Zulfikar Ali Bhutto era (1971-77) influenced the dramatic explosion of hues and artwork on trucks and buses in the 1970s. 
He was also the second politician to appear on trucks, usually on lorries, driven by carriers from Punjab and interior Sindh. The 1970s saw the introduction of non-Pakistani figures in truck art. In the 1980s, truck art grew in intricacy, boldness, and popularity similar to how it did in the 1970s.
These trucks also play a key part in serving as a fascinating tool for raising public awareness of social issues in Pakistan. As he emphasizes the absence of billboards in small towns and rural areas where trucks travel regularly, Anchan says, "We initiated a project some time ago to paint short slogans like "Safai nisf iman hai" [Cleanliness is half the faith] on trucks to convey messages to the public. 
When we pitched this concept to corporate, they placed numerous orders with us for truck art and also hired other enterprises for this purpose. Later, additional corporate entities began utilizing the platform to convey information about missing children, election campaigns, and so on. Trucks eventually evolved into a mode of communication."
People began using trucks as billboards and advertisements, and corporations started using them as marketing tools. "Messages can be conveyed in a variety of regional tongues, for example, if a truck is passing through Sindh, you can employ Sindhi and Urdu," Anchan adds. "This makes the message more effective, and we strive to convey a message via humour, imagery, colours, etc."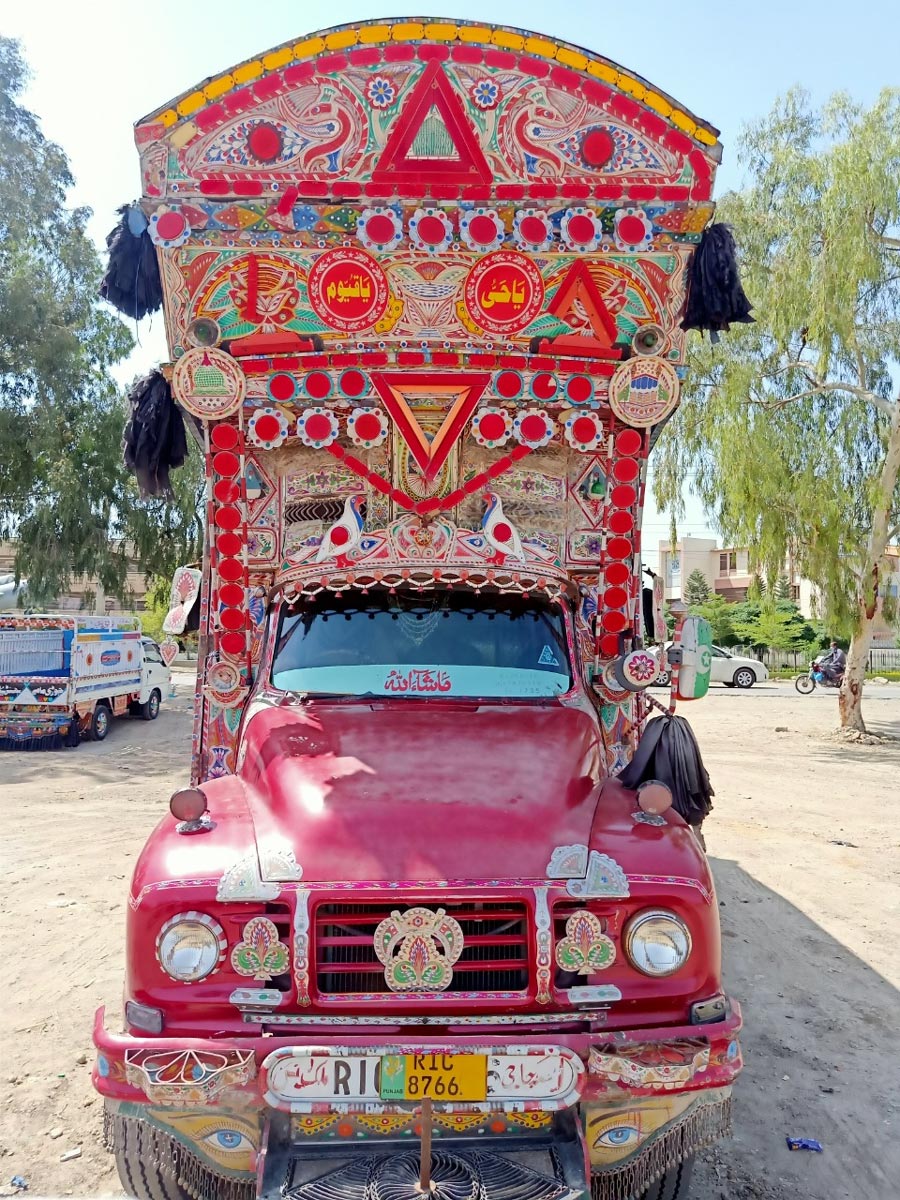 The artwork beautifully illustrates the important concept of empowering young women in the country. The prevalent issues of child marriages, education, child labour, domestic abuse, sexual assault, and honour killings are all addressed in truck art. 
Even truck drivers embrace the strategy of bringing important issues and concerns to the public's attention through this communication channel. Hence, the trucks function both as a means of transportation as well as a mobile billboard, and their artwork combines different expressions, emotions, experiences, philosophies, and even beliefs to create a collage of images that have a lasting impact on the local community.
Today, the "genre" of truck art from Pakistan is widely recognised. It continues to evolve more than ever before and keeps fusing old spiritual and folk components with contemporary aesthetic ones. 
Sufi saints, spiritual wanderers, flying horses, eagles, peacocks, falcons, and imagined vistas of paradise are depicted alongside F-16 jets, missiles, well-known politicians, military heroes, and renowned cricketers. Pakistani truck art has gained popularity globally over the past few decades as well.
Recent years have seen the fashion industry take notice of the vibrant and flamboyant truck art, which has served as an inspiration for some well-known international fashion labels. 
Today, truck art can be found on an array of options, like handbags, clothes, mugs, and home décor items. Interestingly, travellers can now also purchase a piece of truck art from the souvenir stores at the Islamabad airport.
As far as Phool Patti's contribution is concerned, Anchan tells us that it modernised truck art, designed 70 to 80% of the product lines, and inspired many entrepreneurs. 
"We pioneered all of the trends seen in truck art today, such as shoes, khussas, bags, and collaborations with fashion designers," he says. "We have carried it to other stages around the world, collaborating with various art galleries and museums, as well as the Pakistan embassy. 
In addition to producing souvenirs, we provide workshops not only in Pakistan but also around the world."
Phool Patti is devoted to the preservation of this distinctive folk art and has displayed its truck art in more than 28 countries as part of its global promotion of Pakistan's rich culture and heritage. 
Anchan asserts that truck art is a thriving industry and a positive representation of Pakistan; provided creativity and originality are maintained, it will continue to grow.
---
Zehra Batool is a freelance writer with a knack for words and is currently studying marketing.