'Crash Landing': When multiple wives become a hilarious nightmare!
The cast, with their apt performances, made NAPA's latest play 'Crash Landing' a very enjoyable experience
Updated Sunday Jan 07 2018
A very common argument that Pakistani men 'jokingly' offer in discussions about women's rights is how they are allowed to have more than one wife.
But it all became quite the scary reality in NAPA's latest play Crash Landing, wherein Dubai-based womanizer Jimmy (played by Hassan Khan) — who, till now, had masterfully spun a life with three fiancées — is faced with the possibility that all of his sweethearts might be under one roof, at the same time!

Shown at Zia Mohyeddin Theatre of the National Academy of Performing Arts (NAPA), the play seamlessly introduces Jimmy's three girlfriends, each of whom is a stewardess.
Zareena (Aqsa Qureshi) works at LIA, Najma (Najma Kiyafat) at BIA, and Nargis (Bani Mirza) is with NIA. Their schedules are such that when one is home to spend time with her beau, the other two are at work, flying around the globe. Yet, Jimmy somehow manages to meet each of them every week.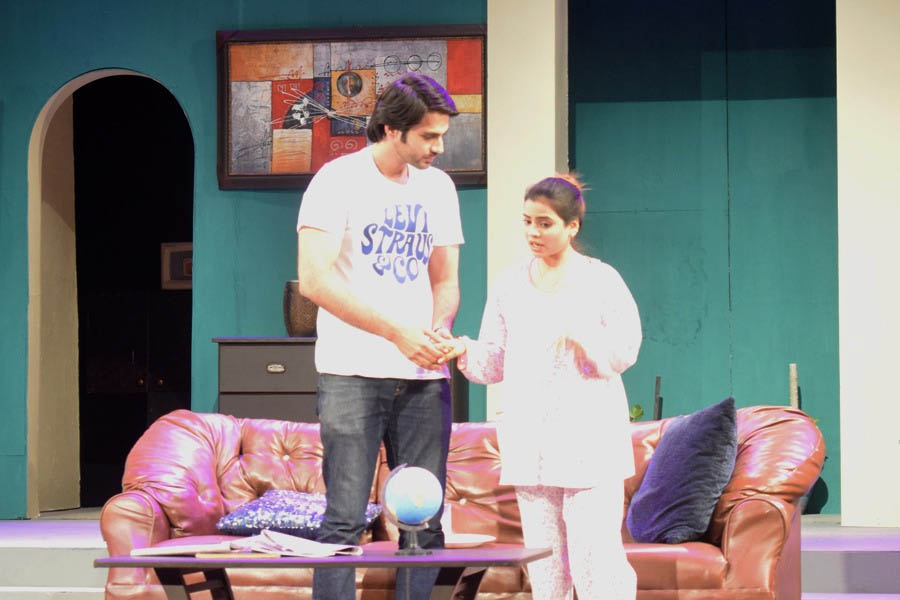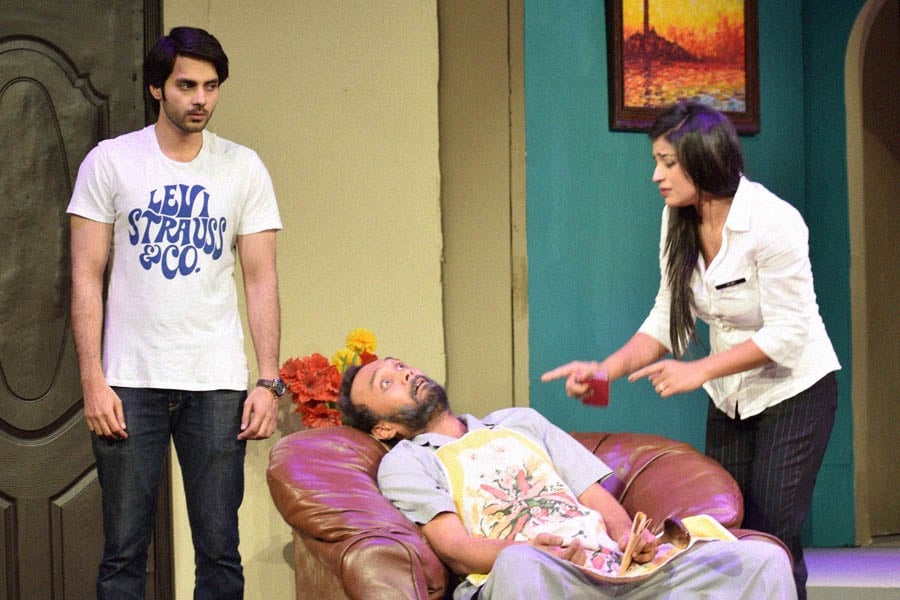 Jimmy has a partner in crime: a butler he affectionately calls 'Mamoo' (Hammad Siddiqui).
Mamoo plays a crucial role; he manages to remember what all the girls like for their meals, how they like their rooms. He even re-does the general décor in the apartment so that none of the three suspect anything.
Eventually, the day arrives when the schedules get changed slightly, effectively bringing a huge screw-up to the delicate balance in Jimmy's life.
And alongside comes his very eccentric childhood friend, Basheer Dar, the Pindi Boy!
The literal "crash landing" that ensues, as well as the Pindi Boy's continuous attempts at flirting with each of the three air hostesses — possibly stemming from his apparent wonder and jealousy at his friend's lifestyle — was a treat to watch.

Rauf Afridi — the director — said when I spoke to him after the show, "As far as comedy is concerned, I think it is a need of the Pakistani people, or rather, the whole world, since we all have so much stress and depressive news around our lives, including worries at home and office."

The cast, with their apt performances and ability to make characters their 'home', made the watching a very enjoyable experience.
Mamoo was brilliant, with Siddiqui bringing a relatable desi concern for Jimmy to marry one of his fiancées and settle down. Feigning little tantrums, wherein he would clutch his heart and throw himself on the sofa, his act was perfectly audible and quite possible the base of the play.

Then, there was Nargis — brought to life by Mirza — whose expressions and dialogue delivery were beautifully authentic.
And, of course, who could forget the Pindi Boy — Rauf's charater — with his pink hat and kurta, and obviously futile attempts at speaking English? He would not be intimidated at all, and, instead, went all out towards the end of the play, managing to convince one of the three flight attendants to fall in love with him.
The team's hard work was visible: the actors performed fantastically, while the crew's management of the stage, as well as the coordination, deserve a thumbs up.

I do, however, feel it deserves a mention that there was obvious harassment depicted in the play when the Pindi Boy tries over and over to ask Nargis to give him hugs, among other things. Even though it was a comedy act, there was no indication of how a 'No' means no and would not change into a 'Yes' if one tries hard enough.

Either they assumed the audience would understand — in which case they were wrong since Rauf told me that the Pakistani "audience is still in the 'making'" and "people still need to be educated and be made aware".
But with Afridi's almost a decade-long career in theatre, this notion, logically, should not make sense.
Or, they thought that harassment, under the guise of effort and convincing, was still a 'cool' thing for boys to do to secure themselves a girlfriend — which, once again, is wrong.

"With such plays, you get to relieve your tensions, not spend a lot, and enjoy your evening, all at once!" the director said. 
Nevertheless, it is worth mentioning that Crash Landing was an adaptation of Marc Camoletti's 60s play Boeing-Boeing — a popular work that bagged a place in the Guinness Book of Records for being the most performed French play around the world.
Boeing-Boeing was also twice made into English movies (1965 and 1985) and once in Bollywood, as Garam Masala (2005), which featured Akshay Kumar and John Abraham.
It was even adapted by Pakistani playwright Anwar Sajjad as Meri Jaan, starring Faysal Qureshi, Afshan Qureshi, and Zhalay Serhadi.
—The author tweets @haseemuzzaman
COVER PHOTO: Rauf Afridi as 'Bashir', Bani Mirza as 'Nargis', and Hassan Khan as 'Jimmy' in a scene from the play "Crash Landing", held at the National Academy of Performing Arts, Karachi, Pakistan, January 5, 2017. Geo.tv/Author