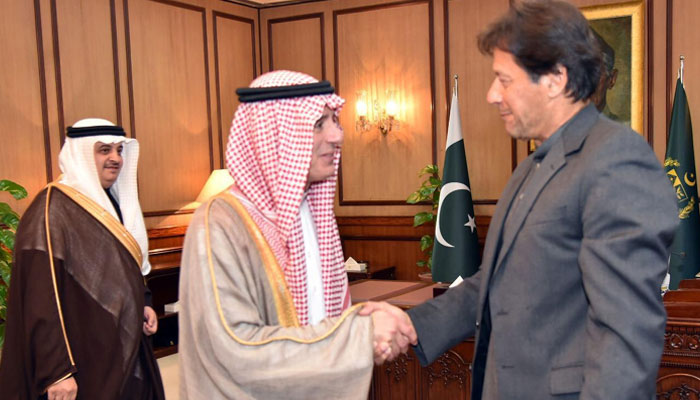 ISLAMABAD: Saudi Foreign Minister Adel al-Jubeir, who arrived in Pakistan on Thursday, called on Prime Minister Imran Khan and conveyed him a special message of King Salman and Crown Prince Mohammad bin Salman, sources told Geo News.

The meeting had Foreign Minister Shah Mehmood Qureshi, PM's adviser on trade, secretary foreign affairs and other higher officials.
The two sides held talks on Pakistan-Saudi Arabia relations and recent tensions between Islamabad and New Delhi, the sources said.
Prior to this, al-Jubeir called Foreign Minister Qureshi at the Ministry of Foreign Affairs offices in the federal capital.
During the meeting Pakistan's recent tensions with India, regional security and bilateral relations were discussed.
Earlier, the foreign minister of Saudi Arabia arrived in Islamabad for a day-long official visit. Adel al-Jubeir is in Pakistan on the directives of Crown Prince Mohammed bin Salman. His visit is aimed at asing the tensions between Pakistan and India.
"We welcome the offer by Saudi Crown Prince to mediate between Pakistan and India," said Foreign Minister Shah Mehmood Qureshi. 
Al-Jubeir was scheduled to arrive in Islamabad last week, however, he had delayed his visit. The reason behind the change in the schedule was not stated. 

Qureshi had said Al-Jubeir was coming to Pakistan with an important message from Crown Prince Mohammad bin Salman.
Last month, the Saudi crown prince had visited Pakistan. In his joint press conference with Prime Minister Imran Khan before departing, MbS had said, "It feels home in Pakistan.... We believe in Pakistan's future, we believe that Pakistan has huge opportunities. In 2030, Pakistan will be next to two huge economies, China and India."
"Pakistan will definitely benefit from these neighbours, there's great leadership to put Pakistan in the right position and we can see that happening, because in 2018, Pakistani economy grew by 5 per cent. So we believe that Pakistan has huge potential and I believe it could be one of the 20 biggest economies in future."
The two foreign ministers agreed to finalise agreements with due time to promote bilateral economic, political and security cooperation under the Pak-Saudi Supreme Coordination Council.
The Saudi foreign minister assured his Pakistani counterpart of the kingdom's complete support in resolution of all outstanding issues between Pakistan and India.
Al-Jubeir will also call on top Pakistani leadership during his one-day visit to Islamabad.