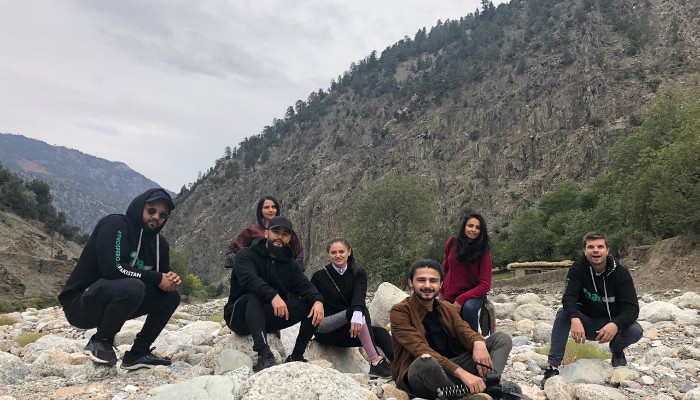 LONDON: A group of international tourists and social media influencers travelled across Pakistan to explore the real beauty of Pakistan through personal experience.

The group started their journey from London and travelled across Pakistan for eleven days to record their experience of the famed beauty and adventure of Pakistan.
Led by British Pakistani entrepreneur and former Apprentice star Syed Zeeshan Shah, the group was comprised of social media influences from across the world. They included Nathan Buchan (Kiwi traveller/entrepreneur), Umar Khan (Pakistani filmmaker), Eva Zubeck (British traveller), Chantelle Browne (British influencer), Ryan Riel (Canadian travel influencer) and Louise Conway (London-based executive assistant).
The group started their journey on October 1 from London which took them to Islamabad and from there to Swat, Ayun, Kalash Valleys, Chitral, back to Swat and Islamabad, Karachi and from there to Gwadar, back to Karachi and then back to London.
The group has visited cities, night cafes in Islamabad and meeting the elite of Islamabad. In the northern areas, the group travelled on jeeps and lived amongst local people to enjoy the hospitality and local life. They mixed in with the local population and were taken aback by the warmth and hospitality displayed by Pakistanis across the country.
Speaking about visiting the beautiful areas of Pakistan, Zeeshan Shah said that the trip was an effort to project the true face of Pakistan to the world.
"The CPIC Pakistan Influencer Trip is an initiative by CPIC to promote a softer image of Pakistan. Unfortunately at times Pakistan is the target of a negative perception in the international media which is in stark contrast the reality of Pakistan. Pakistan is a warm nation of hospitable people and untouched natural beauty. The Pakistan Influencer initiative by CPIC brought 8 social media influencers from across the globe with a direct reach in excess of 2 million people to tour Pakistan northern areas and make a short film of their travels, share their experience and what they thought of our beautiful country in an attempt to project a fair image of Pakistan to the world," he added.
Zeeshan Shah said that Pakistani government needs to make genuine efforts to attract international tourism. "I have created five ambassadors for Pakistan who will now tell their combined audiences the truth about Pakistan. By utilising the power of social media we can completely turn around Pakistan's global perception in the next 5 years. This initiative must be carried on a higher level by the government of Pakistan."