Have you been dreaming about munching on some fast-food like a big, juicy burger dripping with cheese during your fast? If yes, then you are in for a ride as some of the most popular fast-food joints around town are now offering to tantalize your taste buds with some astounding deals.

Head to these Karachi fast-food joints to avail Ramzan deals        

Hoagies
Planning a night out with your friend and don't know where to go? Hoagies is giving an offer that is gathering all foodies under their roof as they serve two Hoagies, two Tacos, three pieces of Crispy Chicken, one Saucy Fries and a one-litre bottle of drink, and all of that for only Rs1499.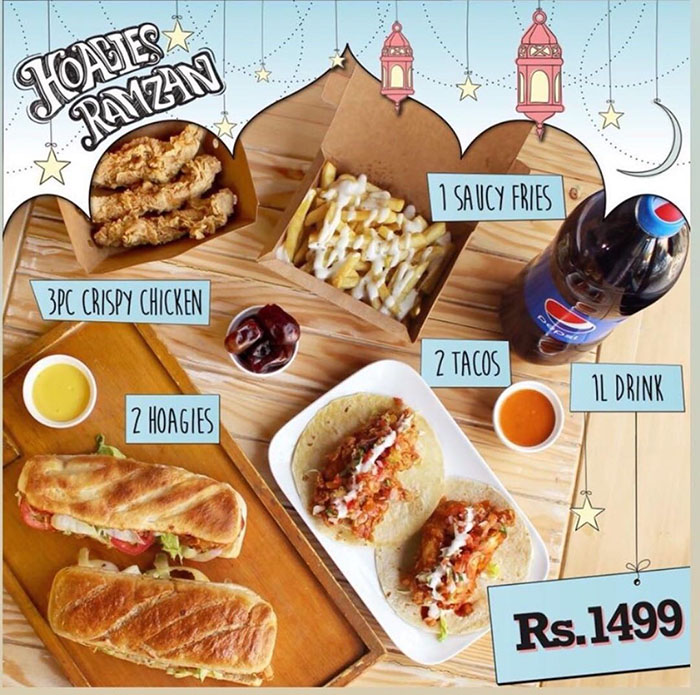 Fire Burger
Craving delicious, juicy and wholesome burgers? Fire Burger has got you covered with their double offer giving two burgers, two fries and two shakes only for Rs1299.
Burger O'Clock
Offering all sorts of fast-food under one roof, Burger O'Clock is offering Ramadan deals that you cannot afford to miss. Their deal one offers one Chick N Crisp Burger, one side and one drink only for Rs549. Deal two offers two Fire Bird Burgers, one side and two drinks only for Rs999. On the other hand, the third deal is giving two premium burgers, one side, and two soft drinks. 
The Sauce
Get a fulfilling and delicious Ifar for one by The Sauce only for Rs600, giving dates, fruit salad, two chilli bites, two wings, regular fries, any classic burger and a large drink.