World Cup 2019: For Pakistan, it ain't over till it's over
Updated Friday Jun 14 2019
In the first 17 matches of the ICC men's Cricket World Cup 2019, we have already seen some one-sided encounters, a handful of jaw-dropping catches, rain, enraged fans all over the world, animated crowd, questionable umpiring, MS Dhoni's glove controversy, the boo-ing saga, Virat Kohli rescuing Steve Smith, Pakistan fans living on the edge, players getting injured, Mohammad Shahzad's dramatic exit, more rain, the fireless South Africa and Pakistan's progress being compared to their 1992 World Cup victory.

In short, the WC so far has all the ingredients, right or wrong, to keep the fans interested.
Pakistan after playing 4 matches have 3 points and a negative run-rate of 1.796. This makes them sit just ahead of South Africa and Afghanistan at No.8 on the points table.
Sarfaraz Ahmed's men entered the World Cup on a ten-match losing streak accompanied by bowling woes, lacklustre fielding, fitness issues, an unsettled team combination and a burden of unrealistic expectations of an entire nation.
It's not easy being the Pakistan cricket team but one tag which has always kept the hopes of the fans alive is 'unpredictable'. Experts and cricket lovers around the world associate Pakistan with being mercurial. The catchphrase "you never know which Pakistan side will/has come out to play" is romanticised over and over again. And why not, Pakistan never disappoint.
Pakistan's campaign has kicked off in the most Pakistan fashion you could imagine.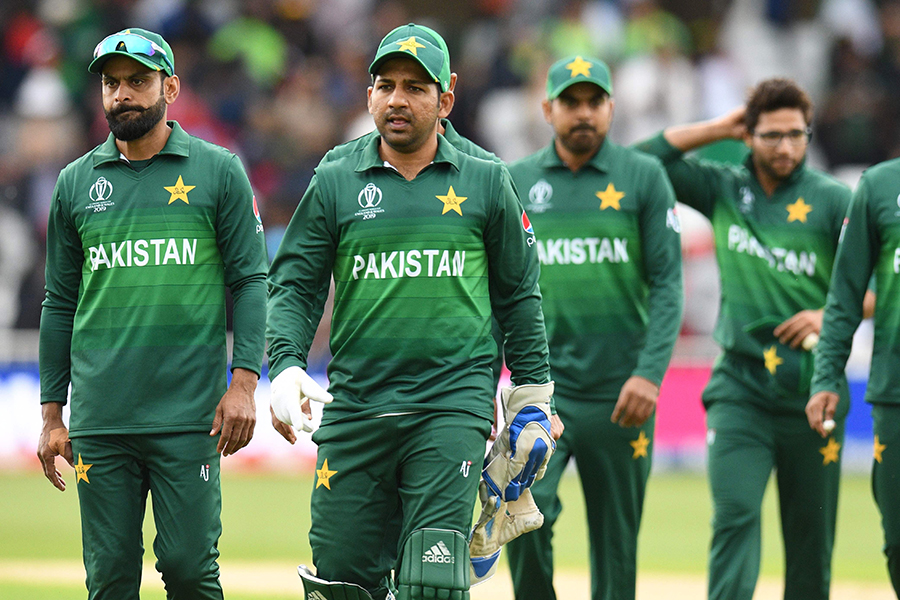 In their opening game against West Indies, they were all-out on an embarrassing 105 and went on to lose by 7 wickets. They were like millennials without the internet; clueless, dazed and confused. The batsmen just did not show up, their technique to handle the short ball got exposed, the game plan was nowhere in sight and the match was over in a blink of an eye.
The only positive was Amir's form with the ball, he took 3 for 26. A much-needed confidence booster for a bowler who had been struggling to take wickets since the CT Final in 2017.
Next up, were hosts England. The most loyal of fans did not have the guts to call out a Pakistan win but is it even a Pakistan team if they can't pull off miracles?
Against all odds, they beat the host nation by 14 runs. Yes, the No.1 ODI team, World Cup favourites and the same team who hammered Pakistan 4-0 in a bilateral series just before the competition started. The short ball struggles were fixed, batsmen scored freely and managed to post a target of 349. Mohamad Hafeez top-scored with a quick-fire 84. If there is any team who had the ability to pull off the highest run-chase in World Cup history, it was England. Thankfully for Pakistan's sake, their struggling bowling line-up did not step up to the occasion. Despite hundreds by Joe Root (107 off 104) and Jos Buttler (103 off 76), the bowlers kept on taking wickets just at the right intervals to restrict England on 334 for 9. Mohammad Amir and Wahab Riaz who were not the first choice players in the initial World Cup squad shared 5 wickets between them. It's just amazing how Wahab and Amir can bring out their A game when it matters the most.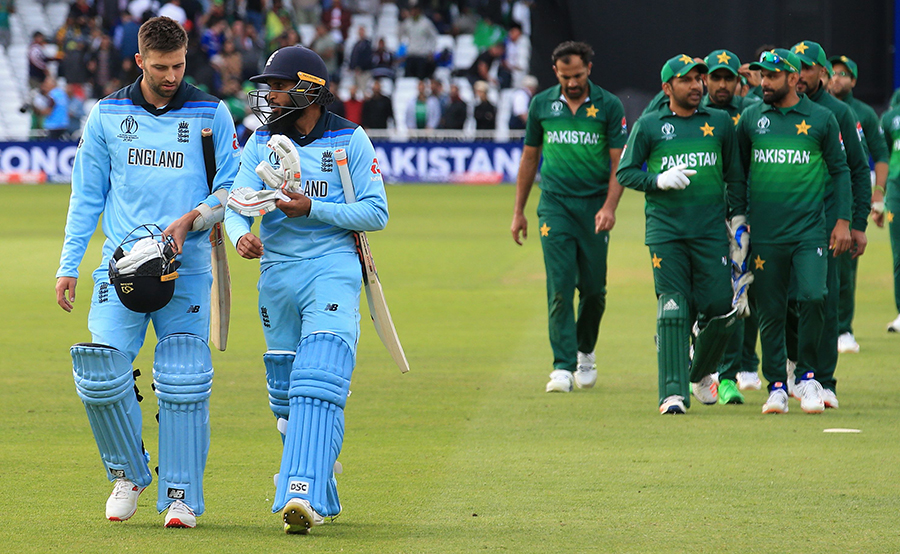 When Pakistan step onto the playing field they are either extraordinarily brilliant and defy logic or they just fall flat like they don't belong.
Their third match got marred by rain. A point each was shared between Pakistan and Sri Lanka. This abandoned game might go on to hurt Pakistan at the business end of the tournament. Yeah, not that there was any guarantee they'd easily beat Sri Lanka but the much-needed game time in the middle was lost for the likes of Hassan Ali, Shoaib Malik and Asif Ali who are struggling to get going.
Pakistan's fourth and most recent encounter was against the 5 times world champion, Australia. Rain was playing havoc in Taunton a few days before the match, fans were hoping against hope this game didn't get washed out. The rain gods were kind enough to oblige, the forecast became clear and cricket happened as per schedule.
A green top was enough to deceive both teams into playing 4 frontline pacers by leaving out Shadab Khan and Adam Zampa.
Sarfaraz won the toss and chose to field first. Aussies after getting schooled by India in their previous match, came out all guns blazing. Pakistan's undisciplined bowling (apart from Amir who was asking all the right questions and Wahab who was extremely unlucky) and highly generous fielding helped the defending champions cruise to 165 for the loss of their captain in the first 25 overs.
Australia looked well on course to score in excess of 350 but it was Mohammad Amir who staged a comeback for his team. Amir finished with career-best figures of 5 for 30, Australia were all-out on 307. Amir with 10 scalps is also the highest wicket-taker in the competition.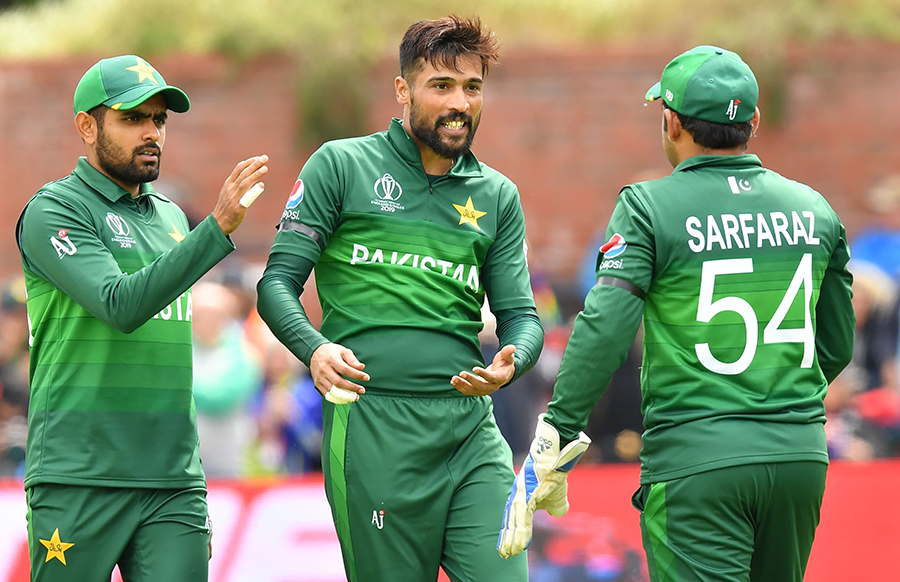 In pursuit of 308, Pakistan fell short by 47 runs. 47 runs might seem a lot if you didn't follow the match, it was a chase full of twists and turns. Until the halfway mark Pakistan were 136 for 2, Imam ul Haq and Mohammad Hafeez looked well in control, they were playing with intent. But once the 80 run partnership was broken by Pat Cummins, Pakistan played the catching up game. Soon they were 160 for 6.
Hassan Ali (32 off 15) and Wahab Riaz (45 off 39) smashed some quick-fire runs at the end to play with the hearts of the fans and give them some hope to cling onto. Alas, such hopes seldom sway Pakistan's way.
Hassan Ali's poor form, Asif Ali and Shoaib Malik's struggles with the bat, lacklustre fielding, dropped catches, poor planning and the inability to play the right combination of 11 players are some of the challenges the management needs to overcome and fast.
With five more games to go, Pakistan's next battle is against arch-rivals India who are yet to lose a match. And not that many of you need to be reminded of the WC history between these two teams, India have an unassailable lead of 6 games to love.
Can Pakistan break the jinx at Old Trafford on 16 June? Can they bounce back in the tournament? Or will this World Cup campaign go down the same road as 2003 and 2007? or will comparisons with the1992 WC actually turn into reality? For now, Pakistan have the exact same points they had in 1992 and the same amount of win-loss ratio. (Is this actually a sign or are Pakistan being trolled by the cricketing gods? Only a handful of matches before we find out.)
Rest assured, a herculean task awaits and with that a lot of calculations of who should win and who shouldn't for Pakistan to finish in the top four. The fans should buckle up for an emotional rollercoaster ride, it ain't over till it's over.