Coronavirus updates, March 11: Latest news on the coronavirus outbreak from Pakistan and around the world
One more case reported in Gigit Baltistan taking national tally to 20; WHO declares outbreak a pandemic
Updated Wednesday Mar 11 2020
The number of confirmed cases of novel coronavirus 'COVID-19' infections in Pakistan has risen to 20 after Gilgit-Baltistan reported its second patient on Wednesday.

Karachi has been the worst affected city so far, with 15 of the total confirmed cases. Of the remaining, two cases have been reported in Gilgit-Baltistan and one case has been reported each in Islamabad, Hyderabad and Quetta.
Globally, the virus has killed more than 4,300 people and infected over 120,000 (see map above).
Read on for live updates on what's happening in Pakistan and around the world. 

---
END OF LIVE UPDATES  - MARCH 11

---
12:00am - Cyprus includes bars, cinemas in virus mass gathering ban
Cyprus has banned indoor gatherings of more than 75 people, including at bars and cinemas, as the number of novel coronavirus cases on the island jumped to seven.
Authorities in the Republic of Cyprus reported four more cases of COVID-19, including two who were identified arriving at Larnaca airport from Britain on Tuesday evening.
"They were transferred to a special unit at Nicosia General Hospital where they are being treated," the health ministry said in a statement.
A third new infected individual was quarantined in Limassol General Hospital after reporting a fever and the fourth fresh case was already in self-isolation when symptoms appeared.
The ministry said officials were now tracing people who had been in contact with the infected cases.
The ministry issued a decree Wednesday extending a ban on gatherings over 75 people to include theatres, restaurants, cafes, ice cream parlours and churches.
Supermarkets and shopping malls will remain open.

---
11:42pm - CAA makes health declaration forms mandatory for passengers onboard international flights

Civil Aviation Authority has announced it will not provide aircrafts stairs for passengers to descend if health declaration forms are not completed.

A passenger will only be able to exit the aircraft if he has completed his health declaration form, said the authority in a notification.
It will be mandatory to fill out the forms onboard all international flights.
In this regard, the Director General CAA has issued notices to airport managers across the country.

Before a plane descends, the air traffic controller will come into contact with the pilot twice.

In the first communication, the controller will ask the pilot to ensure all the forms have been completed. In a subsequent interaction between the two, the captain of the aircraft will confirm all forms have been completed.

---
11:23pm - Austria closing schools over coronavirus
Austria said on Wednesday it would close schools from next week until April, widening measures aimed at slowing the spread of coronavirus that have already sharply curtailed public gatherings and crossings of its border with Italy, reported Reuters.
Austria introduced border checks earlier in the day to deny entry to people arriving from Italy, the worst-hit country in Europe, with exceptions made for those passing through Austria without stopping, and for goods transport. The Alpine country is a vital stepping stone between Italy and Germany.
Having announced the border measures and a ban on indoor gatherings of more than 100 people on Tuesday, the government said on Wednesday that for pupils roughly 15 and older secondary schools would close from Monday until the Easter holidays early next month.
Read full story here.
---
11:19pm - Europe virus cases top 22,000 with 930 deaths
The number of cases of the coronavirus in Europe has topped 22,000, with Italy still the hardest hit country, according to an AFP tally at 1700 GMT on Wednesday.
Total confirmed infections in Europe have risen to 22,307 with 930 deaths, according to the tally which is compiled from official sources. In Italy, the number has risen to 12,462 cases with 827 fatalities.
---
10:52pm - India suspends tourist visas to prevent coronavirus spread
India will suspend all tourist visas to prevent the spread of coronavirus in the country, the government said in a statement on Wednesday, reported Reuters.
"All existing visas, except diplomatic, official, UN/international organizations, employment, project visas, stand suspended till 15th April 2020," it said in the statement.
The order will come into effect from 1200 GMT on March 13.
---
10:49pm - Italy's coronavirus deaths jump to 827
The coronavirus death toll in Italy — the hotspot of Europe — jumped by 196 to 827 over the past 24 hours, indicating a 31% rise, the Civil Protection Agency said Wednesday, recording the largest rise in absolute numbers since the contagion came to light on February 21, reported Reuters.
The total number of cases in Italy, the European country hardest hit by the virus, rose to 12,462 from a previous 10,149, an increase of 22.8%. However, the agency said some 600 new cases were confirmed on Tuesday but only reported on Wednesday.
The head of the agency said that, of those originally infected, 1,045 had fully recovered compared to 1,004 the day before. Some 1,028 people were in intensive care against a previous 877.
---
10:40pm - Dow falls 5% as stocks drop further after WHO declares pandemic
Wall Street stocks dove deeper into the red in afternoon trading Wednesday, with losses accelerating after the World Health Organization declared the coronavirus a global pandemic.
Near 1710 GMT, the Dow Jones Industrial was down more than 1,200 points, or 5.0 percent, at 23,777.17. The broad-based S&P 500 slumped 4.6 percent to 2,749.88, while the tech-rich Nasdaq Composite Index tumbled 4.4 percent to 7,979.15.
---
10:34pm - Oil slides on Saudi hike, stocks sink on virus fears
Oil prices slid Wednesday after Saudi Arabia and Gulf partner UAE stepped up a price war with plans to flood the global markets while an early rally in equities evaporated as investors nervously awaited a US relief plan as the coronavirus outbreak was labelled a pandemic, reported AFP.
Crude dived after UAE, the fourth OPEC producer, joined number one Saudi Arabia in plans to hike supplies and raise their oil production capacity by millions of barrels a day in response to Russia´s refusal to agree output cuts to support prices.
A day after the kingdom said it would boost supplies by at least 2.5 million barrels per day to 12.3 million bpd in April, Riyadh said it will further boost capacity to 13 million bpd.

---
10:32pm - Coronavirus could disrupt UK-EU Brexit talks
Britain and the European Union are discussing whether to postpone next week's round of post-Brexit trade talks in London because of the coronavirus outbreak, officials said Wednesday, reported AFP.
"Talks remain scheduled to go ahead next week but clearly we'll keep the situation under review," a spokesman for Prime Minister Boris Johnson said.
"We'll be guided by the scientific advice. There will be a joint UK-EU decision on how to proceed with this round."
A diplomatic source in Brussels told AFP it was "highly likely" that the talks would be cancelled, adding: "We are thinking of alternatives."
Senior British minister Michael Gove said it was a "live question", adding: "We've had indications today from Belgium that there may be specific public health concerns."
---
10:30pm - British nationals from virus-stricken Grand Princess ship fly home
British passengers from the Grand Princess cruise ship, which was stranded off the Californian coast for days due to an outbreak of coronavirus on board, are now on a U.S. flight back to Britain, the British government said on Wednesday, reported Reuters.
"The flight, carrying 135 British nationals and their dependents, departed Oakland Airport at 2315 local time, and is expected to arrive in Birmingham Airport early this evening," the Foreign Office said in a statement.
Princess Cruises has arranged travel for the passengers to return to their homes from the airport. They will be required to self-isolate for 14 days.
---
10:27pm - Lebanon halts flights, bans entry from countries hit by coronavirus
Lebanon said on Wednesday it will halt all travel to and from Italy, South Korea, China, and Iran to curb coronavirus and gave nationals four days to return from other virus-hit countries before a more sweeping shutdown of flights would take effect, reported Reuters.
Prime Minister Hassan Diab told a news conference that Lebanon was stepping up measures to curb the outbreak after a second death was recorded on Wednesday and the country's total confirmed cases reached 68 according to Lebanese media.
Diab said Lebanon was also banning entry of passengers from France, Egypt, Syria, Iraq, Spain, Britain, and Germany.
---
10:14pm - WATCH: The full WHO briefing on Covid-19

---
09:41pm - WHO says virus outbreak 'can be characterised as a pandemic'
The World Health Organisation has declared the coronavirus outbreak a pandemic.

The organisation said it "has been assessing this outbreak around the clock" and has been "deeply concerned by the alarming levels of spread and severity, and by the alarming levels of inaction."
"We have therefore made the assessment that #COVID19 can be characterised as a pandemic."
The announcement came during a media briefing by Dr Tedros Adhanom Ghebreyesus, the Director-General of the World Health Organisation.

"We have never before seen a pandemic sparked by a coronavirus. And we have never before seen a pandemic that can be controlled at the same time. WHO has been in full response mode since we were notified of the first cases," said the director general.

"We have called every day for countries to take urgent and aggressive action.

"We have rung the alarm bell loud and clear."
---
09:36pm - Qatar's coronavirus cases surge by 238 in a day
Qatar on Wednesday recorded 238 coronavirus cases in a single day, with the overall tally increasing to 262.
---
09:30pm: Ivory Coast confirms first coronavirus case
Ivory Coast confirmed its first case of new coronavirus, a local national who had recently stayed in Italy, the government said on Wednesday, reported AFP.
The Ivorian case is a 45-year-old man whose symptoms were detected on Tuesday and who tested positive for COVID-19 on Wednesday, the country's health ministry said in a statement.

He was quickly taken care of in an Abidjan hospital and his clinical status is stable, the ministry said. All people the man had contacted have been identified and authorities were following up, it said.
---
09:28pm: First death in Ireland from COVID-19
Ireland has recorded its first death from the novel coronavirus outbreak, the government's chief medical officer Tony Holohan said on Wednesday, reported AFP.
"The HPSC (Health Protection Surveillance Centre) has today been informed that a patient diagnosed with COVID-19 in Ireland has passed. 
This is the first recorded death relating to COVID-19 reported in Ireland," he said in a statement.
---
09:23pm: Sweden reports first death after outbreak
Sweden reported its first death from the new coronavirus on Wednesday with an elderly patient dying in intensive care at a hospital in the Stockholm region, reported Reuters.
Sweden has around 460 confirmed cases of the virus, the first of which was identified at the end of January.
"The patient has had COVID-19 as well as an underlying sickness," the regional health authority said in a statement.
The authority said that one other patient with coronavirus was being treated in intensive care in the Stockholm region.
With the rapid increase in the number of cases in Sweden in recent days the Public Health Agency on Wednesday asked the Swedish government to ban gatherings of over 500 people in a bid to stop the spread of the disease.
---
09:07pm - US stocks tumble, resuming selloff on virus fears
Wall Street stocks fell further in mid-morning trading on Wednesday amid rising evidence the coronavirus outbreak could slow the US economy, posing significant recession risk, reported AFP.

A survey showed that nearly three-quarters of American firms have suffered supply disruptions due to the virus, while hotel chain Hilton became the latest big company to withdraw its earnings forecast due to the clouded economic forecast.
Near 1500 GMT, the benchmark Dow Jones Industrial Average was down about 900 points, or 3.6%, at 24,115.46.
The broad-based S&P 500 sank 3.3% to 2,785.92, while the tech-rich Nasdaq Composite Index dropped 3.1% to 8,131.61.
Goldman Sachs again slashed its 2020 earnings forecasts, saying in a note both the real economy and financial economy were showing "acute signs of stress" as travel slows to a trickle and the oil industry reels in the face of lower prices.
Travel-linked stocks remained an especially ugly sector, with Marriott International down 7.3%, United Airlines 6.8% and Expedia 5.7%.
Petroleum-linked shares were also weak, with Devon Energy losing 6.4% and Halliburton 8.1%  as a US oil inventory report showed higher supplies.
---
08:55pm - Govt to dispatch food for Pakistani students stranded in China
The government is all set to dispatch food items for Pakistani students stranded in China following an outbreak of the coronavirus there, APP reported.

"We are sending food for the Pakistani students after getting approved a Rs20-million fund from the Overseas Pakistanis Foundation (OPF) Board," said a statement by Special Assistant to the Prime Minister on Overseas Pakistanis and Human Resource Development Sayed Zulfikar Abbas Bukhari.

A list of 1,300 Pakistani students in China has been obtained from the Ministry of Foreign Affairs for the purpose, added the statement.

---
08:51pm - SECP advises companies to modify usual planning for annual general meetings

In light of the threat posed by the evolving coronavirus situation and to protect the well-being of shareholders, the Securities and Exchange Commission of Pakistan (SECP) has advised all companies to modify their usual planning for annual general meetings, APP reported.

Among the measures recommended are:
- Consolidating attendance and voting at AGMs by as few people as possible through proxies, while honoring quorum provisions.
- Provision of video link facilities considering the geographical dispersal of its members while also considering the risk of public gatherings.
- Voting through postal ballots.

- Basic protective measures during the meeting including cleaning hands with sanitisers or soap and water.
- Seating arrangements at appropriate distances for the safety of people.

---
08:26pm - Pakistani coronavirus patient dies in Italy

A Pakistani who had contracted the coronavirus has passed away in Italy, the Foreign Office (FO) has confirmed.
The patient was residing in Brescia, a city located approximately 100 kilometres away from Milan.
The Pakistani Consulate in Italy is in touch with the family of the deceased and the Italian administration, said the FO.

---
08:23pm - Canada announces Can$1 billion to counter virus impact
Canadian Prime Minister Justin Trudeau on Wednesday announced the creation of a Can$1 billion fund to deal with the impact of the coronavirus epidemic.
"It will provide funding to provinces and territories to help them prepare for any possibility and to mitigate risks to Canadians," Trudeau said at a news conference.
Canada has had one death so far from 2019 coronavirus disease (COVID-19) and has nearly 100 confirmed cases.
The fund will be used to reinforce Canada´s provincial health systems, and provide financial aid to Canadians forced to undergo isolation.
---
08:05pm - Sindh's schools to reopen on March 16
Information Minister Sindh Saeed Ghani during a press conference has confirmed that schools will open on March 16, as previously planned and that so far no decision to delay their opening has been taken.
"It was the decision of the majority members of the steering committee that schools be reopened," he said.

Another meeting is due to be held tomorrow, which will review the latest situation and people will then be informed of the latest decision, he added.

---
08:00pm - 'Those who have a fever, flu or cough must not go to the stadium'
Chief Minister Sindh Murad Ali Shah has warned spectators planning on attending the Pakistan Super League (PSL) matches at the National Stadium in Karachi to refrain from doing so if they are ill.

"Those who have a fever, flu or are coughing must not go to the stadium," he has urged.
His remarks came during the 14th meeting of the taskforce on coronavirus.
During the meeting, the chief minister was briefed on the latest situation in the province with regard to the virus. He was informed that 13 patients are currently under treatment, of which eight came from Syria, three from Iran and three from Dubai.
Tests of 17 individuals were carried out today, all of which turned up negative.
At the airports, 50 dedicated staffers are working in three shifts around the clock to combat against the spread of the virus. 25 cubicles have been assigned to deal with quarantine related measures.
---
07:48pm - Albania records first coronavirus death

Albania reported the first death from the novel coronavirus in the Western Balkans on Wednesday, as one of Europe´s poorest regions braces for the spread of virus wreaking havoc across the globe.

According to AFP, Albania has detected only 11 other known infections so far but is considered vulnerable because it lies just across the Adriatic from Italy — the centre of Europe´s outbreak — and has a huge diaspora living there.
After the death of a 73-year-old woman in coastal Durres was reported on Monday, Prime Minister Edi Rama quickly followed with the announcement that all bars, restaurants and clubs in that city and the capital Tirana should be shuttered.
Writing on Facebook, the premier gave his "apologises for taking this action".
"This is not a time for holidays and entertainment but a time for war," he wrote, saying it was necessary to "radically change the way of life" in order to protect others.
The woman who passed away had "several chronic illnesses", according to a statement from the Ministry of Health.
"The doctors and nurses who took care of the woman at the Durres hospital have been quarantined and are all to be tested," health authorities added.
---
07:22pm - Some in Wuhan told to go back to work as new cases subside
Some vital industries in Wuhan, the Chinese city at the epicenter of the coronavirus epidemic, were told they can resume work on Wednesday, a day after President Xi Jinping visited there for the first time since the outbreak began, Reuters reported.

The city of 11 million has been in lockdown since late January but Xi's visit signaled the tide was turning in the government's favor as it fights to contain a virus that as of Tuesday had infected 80,778 people in China and killed 3,158.
Authorities elsewhere in China lowered emergency response levels to the epidemic and relaxed travel restrictions.
Drawing confidence from Xi's visit and falling new infections, the Hubei provincial government said public transport workers in Wuhan and those engaged in making medical supplies and producing daily necessities would be allowed to return to work.

Other industries that impact national or global supply chains can also return to work with permission from relevant authorities, it said.
Wuhan accounts for nearly 10% of vehicles made in China and is home to hundreds of parts suppliers. Across the country, manufacturing is slowly returning to normal.
Though the economy is still operating at about 25% below its usual levels, activity should be fully restored by the end of April, Francoise Huang, senior economist at Euler Hermes, predicted in a note to clients.

---
07:16pm - Tokyo 2020 organisers insist Olympics on despite virus 'concern'
Preparations for the Tokyo 2020 Olympics this summer are going ahead "as scheduled," organisers insisted on Wednesday, while acknowledging they are "concerned" about the spread of the new coronavirus, AFP reported.

Tokyo 2020 president Yoshiro Mori made the comments after a member of the organisers´ executive board sounded the alarm on the virus outbreak, warning postponing the Games for two years might be the best option under the circumstances.
But Mori dismissed that option, as did Japanese Olympic minister Seiko Hashimoto, who told a parliament committee that postponing or cancelling the Games was "inconceivable."
"Of course we are concerned," Mori told reporters, conceding the outbreak that has infected more than 117,339 people worldwide and caused 4,251 deaths will have some effect on the Games.
"I didn´t say it won´t, I think there will be," he said.
But "as the organising committee, it is only natural for us to move forward with our work as scheduled," Mori added.
He said the World Health Organization, which has been consulting with the International Olympic Committee (IOC) and organisers in Tokyo, was expected to announce its "basic thoughts soon".
---
7:04pm - Sindh govt  requests quarantine facility at Jinnah International Airport
According to a post on Twitter by Senator Murtaza Wahab, the Sindh government has requested the federal government to establish a quarantine facility at Jinnah International Airport.

Wahab said the move was necessary so that passengers suspected to have the virus could be immediately be screened and tested at the airport itself.

"Needless to mention that all possible help and support will be provided," added the senator.
---
6:48pm - Britain pledges £30bn package to combat coronavirus
Britain unveiled on Wednesday a package of stimulus measures worth £30 billion ($39 billion, 34.4 billion euros) to fight the growing threat from the coronavirus epidemic to the economy, AFP reported.

"I am announcing today in total a £30-billion fiscal stimulus to support British people, British jobs and British businesses through this moment. And of course if further action is needed if the situation evolves... I will not hesitate to act," finance minister Rishi Sunak said in the country´s first post-Brexit budget.
He told parliament it was a "comprehensive" response to the virus fallout.
---
06:42pm - Latest figures from around the world
Since the novel coronavirus first emerged in late December 2019, more than 119,711 cases have been recorded in 110 countries and territories, killing 4,351 people, according to an AFP tally compiled at around 0900 GMT on Wednesday based on official sources.
Mainland China, where all people arriving in Beijing from abroad will be placed in quarantine for two weeks, has 80,778 cases, with 3,158 deaths and 61,475 people cured.
In Wuhan, the Chinese city where the new coronavirus outbreak started, businesses involved in providing daily necessities can resume work and production immediately.
The worst affected countries after China are Italy (10,149 cases, 631 deaths), Iran (9,000 cases, 354 deaths), South Korea (7,755 cases, 60 deaths) and France (1,784 cases, 33 deaths).
Spain later reported that its number of infections had passed the 2,000 mark, with 47 deaths, thus overtaking France.
Bolivia, Brunei and Turkey announce their first cases, while Belgium and Indonesia announce their first deaths.
---
06:33pm - 'Master trainers' to be deployed in Lahore's educational institutes

Lahore's educational institutes will soon see "master trainers" deployed to educate fellow employees on combatting the coronavirus.
The Institute of Public Health (IPH) has released a schedule in this regard, with the training set to begin on March 12.

The 'master trainers' will be selected from among the teaching staff of the institutes, said IPH Dean Professor Zarafshan Tahir.
"The master trainers will later on pass on what they have learnt to their coworkers," she added.
---
06:20pm - Tokyo Disney parks extend closure until early April
Tokyo Disneyland and DisneySea will remain closed through early April over fears of the coronavirus outbreak, the resort operators have said, according to AFP.

Oriental Land also said the opening of new zones and attractions scheduled for April 15 will be pushed back to mid-May, as the government calls on the public to avoid unnecessary outings and crowded places.
Universal Studios Japan, which had originally planned to remain closed for a fortnight until March 15, also said Wednesday it would remain shut for at least another week.
The announcement came a day after Prime Minister Shinzo Abe called for a 10-day extension of measures intended to halt the spread of the new coronavirus, including cancelling, delaying or scaling back major events.
The virus has so far infected 568 people in Japan and been linked with 12 deaths.
---
06:06pm - Spain virus toll passes 2,000, with 47 deaths
Coronavirus infections in Spain have passed the 2,000 mark with 47 deaths, the health ministry announced on Wednesday, making it Europe´s second most severe outbreak after Italy, AFP reported.

"By this morning, we had 2,002 cases," said health ministry emergencies coordinator Fernando Simon, up from 1,639 on Tuesday and almost quadruple Sunday´s total.
Madrid is the worst-hit region with half of the confirmed cases and 31 of the deaths.
Officials quickly unveiled a battery of measures to contain the outbreak, closing schools in Madrid for two weeks, disinfecting public transport daily in the capital and banning all incoming flights from Italy.
But Simon said the impact of such measures would only be known "after nine or 10 days".
He said it would take "between one and two months" to end the epidemic, which in the worst-case scenario could be up to "four months".
The government has also promised to help the tourism sector in the world´s number two tourist destination.

---
06:00pm - Avoid shaking hands, greet with a wave instead: WHO
The WHO has advised people to avoid coming into physical contact when greeting someone. "Greet people with a wave, nod, or bow instead."


---
Also, refrain from elbow-bumping.
---
05:55pm - WHO recommended steps to protect yourself and others

Watch this cute video by the World Health Organisation for a quick refresher on how we can ensure our own safety and of those around us.
---
5:30pm - Ukrainian capital Kiev shuts schools, mass events
Ukraine's capital Kiev will close schools and universities from Thursday until the end of March to prevent the spread of the coronavirus, city mayor Vitali Klitschko said on Wednesday.
He said the city would also restrict mass events in the capital, including concerts and conferences. Cinemas and entertainment areas in shopping malls will also close.
Ukraine has so far reported one coronavirus case.
---
5:27pm - Bahrain records 77 new coronavirus cases among evacuees from Iran
Bahrain has reported 77 new coronavirus cases among citizens evacuated from Iran by plane, the Gulf state's health ministry said on Wednesday, for a total of 189 infections, while two meetings of G20 economies in Saudi Arabia were postponed.
According to Reuters, Bahrain's new cases were among 165 individuals flown home on Tuesday in the first repatriation flight from Iran chartered by the health ministry. A second flight is set for Thursday.
Those who did not test positive will be quarantined in a dedicated facility, the government communications office said in a separate statement.
There are no direct flights between Bahrain and Iran, the world's fourth most affected country, with more than 8,000 infections. Airlines are cancelling flights across the region as governments try to stem the spread of the virus.
All Gulf Arab states have recorded infections but no deaths.
On Wednesday, Kuwait reported three new cases, taking its total infections to 72.
---
5:15pm - Berlin bans all events with more than 1,000 participants

Berlin city authorities have banned all events with more than 1,000 participants until the end of the Easter holidays in mid-April to slow the spread of the coronavirus, Reuters reported, quoting officials.

"The coronavirus continues to spread. In such a phase, public life must be restricted," Berlin's local Health Minister Dilek Kalayci said.
"The spread of the coronavirus can be slowed down by reducing major events. At the beginning of an epidemic, such a restriction is important," Kalayci added.
---
5:10pm - Civil society holds demonstration outside Quetta Press Club
Members of the civil society have gathered outside the Quetta Press Club, demanding that the government take effective measures to combat the spread of the coronavirus in the city.
The participants are also demanding that pilgrims who have come from Iran should immediately be shifted to their native towns.
---
5:06pm - Poland shuts all schools, museums, cinemas for two weeks

Poland is closing all schools, universities, cinemas, theaters, and museums for two weeks from Thursday to curtail the spread of the coronavirus, Reuters reported, citing government representatives.

Speaking at a joint conference following a special meeting on coronavirus, the ministers said that pre-schools and schools would stop teaching on Thursday, but limited care would still be provided this week to the youngest children.
Universities, museums, theaters, and cinemas will also close on Thursday for two weeks, the officials said.
Poland has confirmed 26 cases of coronavirus, but looking at how fast the virus spreads in some other European countries, the government decided to take the preventive action, they also said.
---
4:55pm - Calls to shut UK parliament after coronavirus case
A former British government minister has called for parliament to be suspended after an MP was infected with coronavirus, AFP reported.

Rory Stewart, a former Conservative MP who is now running to be mayor of London, said the lower House of Commons "should cease to meet in person" to avoid any further spread.
His comments came after Nadine Dorries, a Conservative MP and junior health minister, revealed late Tuesday that she had been diagnosed with COVID-19.
She attended an event hosted by Prime Minister Boris Johnson last week but a Downing Street source said they had not been in close contact.
The source said the premier was displaying no symptoms and there was no need for a test, although he continues to follow health advice to regularly wash his hands.
However, an opposition Labour MP, Rachael Maskell, revealed she had been advised by the state-funded health service helpline to isolate herself after meeting with Dorries last week, even though she had no symptoms.
The commissions that run both the Commons and the unelected upper House of Lords met on Monday to discuss their response to the coronavirus outbreak.
They said in a joint statement there were "no plans to suspend parliament" but added that the situation was being kept under "constant review".
Six people have died in Britain due to the outbreak sweeping the globe, out of 382 confirmed cases.
---
4:45pm - Quetta protest over quarantine centre comes to an end

A protest which had erupted in Quetta's Mian Ghundi area against the establishment of a quarantine centre, has been successfully broken up.
The protesters were able to reach an agreement with the administration after they were assured a committee to deal with their reservations would be formed.
The area residents had blocked the national highway in a bid to call attention to their demands.

---
4:35pm - Thailand restricts visitor visas to limit virus spread
Thailand will temporarily suspend issuing visas on arrival to visitors from 19 countries and territories, including China, to contain the spread of the coronavirus, Reuters reported, quoting Thailand's interior minister.

The suspensions on Wednesday are the latest measures imposed in the tourism-reliant Southeast Asian country, which has reported 59 cases of the virus and one death so far. Globally, over 113,000 people have been infected in over 100 countries.
"People from any country who want to come will need to apply for a visa with our embassies," Minister of Interior Anupong Paochinda told reporters.
"Thai embassies everywhere will ensure that no sick people will travel to Thailand."
Visa on Arrival (VoA) will be suspended for nationals of all 19 countries and territories previously eligible, including Bulgaria, Bhutan, China, Cyprus, Ethiopia, Fiji, Georgia, India, Kazakhstan, Malta, Mexico, Nauru, Papua New Guinea, Romania, Russia, Saudi Arabia, Taiwan, Uzbekistan, and Vanuatu, according to a list provided to reporters by the Ministry of Foreign Affairs.
Visa exemptions will be canceled for South Korea, Italy and Hong Kong, Anupong said.
"These measures will solve the problem of foreigners arriving from risky zones," he said.
Anupong said he would start the process immediately but it was not immediately clear when they will be effective.

A foreign ministry official said visa applicants will need to present medical certificates and insurance as part of the screening at Thai embassies.
---
4:23pm - Merkel says up to 70% of Germany's population  could get infected
German Chancellor Angela Merkel has said that close to 70% of the population may get infected with the coronavirus that is currently spreading around the world, adding that since there was currently no cure the focus had to be on slowing its spread.
"When the virus is out there, the population has no immunity and no therapy exists, then 60 to 70% of the population will be infected," she told a news conference in Berlin.
"The process has to be focused on not overburdening the health system by slowing the virus's spread ... It's about winning time," said Merkel.
---
4:09pm - Yasmin Rashid reviews situation across Punjab 
Punjab Health Minister Dr Yasmin Rashid ordered officials to make the monitoring of passengers stricter at airports in the province.
The minister issued the orders while reviewing the situation of the coronavirus in the province.
Dr Rashid said that the doctors, nurses and paramedical staff in government hospitals are also being trained to deal with the virus.
---
4:02pm - Iran announces 63 new virus deaths
Iran reported 63 new deaths from the coronavirus in the past 24 hours, the highest single-day toll since it announced the first deaths from the outbreak.
"Based on new lab results, we have identified 958 new confirmed cases of COVID-19 infection in the country, bringing the total number of cases to 9,000," health ministry spokesman Kianoush Jahanpour said in a televised news conference.
"Unfortunately in the past 24 hours, we have had reports of 63 deaths and overall 354 have lost their lives" to the virus, he added.
---
Timeline of coronavirus cases in Pakistan
Coronavirus, which surfaced in a Chinese market late last year, has now spread to more than 100 countries, killing more than 4,200 and infecting more than 119,00 people.
In Pakistan, the first two cases of coronavirus were confirmed on February 26. One of the cases was detected in Karachi while the second case was reported in Islamabad. 
Here's a timeline of the coronavirus cases in Pakistan .

---
3:00pm - Sindh blames centre for inadequate measures at airports
The Sindh government has blamed the federal government for taking inadequate measures at airports due to which coronavirus cases have increased in the province.
"There needs to more effective screening at the airports," Sindh government spokesperson Murtaza Wahab said while addressing a press conference in Karachi.
"Seaports and airports fall under the centre's control. From day one, the Sindh government has been asking the federal government to have better monitoring at the airports," Wahab complained.
Wahab added that if there had been stricter measures and better screening at the airports, there would not have been these many cases in the country. 
"The chief minister has repeatedly asked for better screening at the airports," the spokesperson said.
"Those infected with the virus need to go into self-quarantine for 14 days," Wahab added.
Responding to a question about extending school holidays in the province, Wahab said the provincial government would decide in the next few days.
"The coronavirus situation is under control," he added.
In response to another question, Wahab said an isolation centre has been set up in Sukkur for those entering Sindh via Taftan.
"If anyone has any signs of coronavirus they should not go to the [National] Stadium," Wahab said, referring to upcoming PSL matches in the city. 
---
2:50pm - British woman dies in Bali from coronavirus
A British woman has died in Bali from coronavirus, authorities said Wednesday, marking Indonesia's first confirmed death from the rapidly spreading illness.
The 53-year-old died early Wednesday in a hospital on the Indonesian holiday island, but it was unclear if she contracted the virus before or after arriving in Bali late last month, local officials said.
---
2:45pm - India places travel restrictions, closes Myanmar border

India has increased travel restrictions and closed a border crossing with Myanmar on Wednesday, as neighbouring countries continued to report new cases
"As a precautionary measure (to prevent) transmission of Coronavirus/COVID-19, the international border with Myanmar has been closed... until further orders," N Biren Singh, chief minister of Manipur, which shares a border with Myanmar, said in a tweet.
---
2:30pm - Phillipines reports 16 new cases
The Department of Health (DOH) of Phillipines reported an additional of 16 cases on Wednesday.
The country is currently in a 'State of Public Health Emergency'.
---
2:15pm - Poland to close schools for two weeks
Poland has announced it will close all school in the country for two weeks starting from Monday to avoid further spread of coronavirus.
---
1:59pm- Gilgit Baltistan reports second case, Pakistan tally rises to 20
Gigit Baltistan reported its second coronavirus case on Wednesday, a spokesperson for GB government said.
The patient, a 14-year-old hails from Skardu, the spokesperson said.
GB's first coronavirus case, a 45-year-old woman with a travel history of Iran was reported on March 5. 
---
1:45pm - Belgium reports first coronavirus death 
Belgium's health ministry on Wednesday reported the first coronavirus death in the country, Belga news agency said citing a statement.
The government statement said the patient was 90 years old.
---
1:21pm – Provincial health minister visits Karachi airport
Minister of Health and Population Welfare Dr Azra Fazal Pechuho visited the Karachi Airport on Wednesday to brief the staff on coronarirus screening setup and protocols established by Sindh Health Department.
Sindh has reported the most number of confirmed cases in the provinces with Karachi the worst affected city so far, with 15 of the total confirmed cases. The other case has been reported from Hyderabad. 
1:15pm - Iraq cancels Friday prayers in Karbala over coronavirus fears
Iraq has cancelled Friday prayers in Karbala due to concerns about the coronavirus, a statement from the administration of the city's holy site said on Wednesday.
---
1:00pm - China develops antibody test which diagnoses coronavirus in 15 minutes 
---
12:30pm – Special arrangements at Raiwind gathering
The Punjab authorities have made special arrangements for the participants of Raiwind gathering.
The health department has deployed doctors in the area who are checking the participants before allowing them to enter. Scanners have also been installed at all entry points.
---
12:00pm - Three-member NIH team reaches Skardu 
A three-member team of the National Institute of Health (NIH) reached Skardu on Wednesday, where they will meet the Gilgit Baltistan secretary.
The meeting will discuss the precautionary measures that can be taken to combat the coronavirus.
A two-member investigation team is also present in Skardu, a spokesperson said, adding that NIH experts will train local health officials.
---
11.45pm - Chinese consul general advises extension in closure of schools in Sindh
---
11:30am - 'No private lab allowed to test cases in KP'
Khyber Pakhtunkhwa Healthcare Commission has said that no private laboratory has been allowed to test coronavirus cases in Khyber Pakhtunkhwa.
The healthcare commission said the public health reference lab in Khyber Medical University in Peshawar is the only place allowed to test coronavirus cases. 
---
11:20am - Man City vs Arsenal called off as virus hits Premier League
Arsenal's game at Manchester City was postponed on Wednesday after players from the London club were put into quarantine, making it the first Premier League fixture to be called off because of the new coronavirus.
Arsenal said players will be isolated for 14 days after coming into contact with the owner of Greek club Olympiakos, who has tested positive for COVID-19.
The first postponement in the Premier League comes after UEFA's Champions League and Europa League were both forced to arrange matches behind closed doors.
Football's top-flight Serie A and all other sports have been put on hold in Italy, which is under national lockdown as virus cases soar. 
---
This is how a Pakistani family is helping Hong Kong fight coronavirus
A Pakistani family living in Hong Kong has responded to coronavirus fears by distributing face masks and sanitary products among the local people to help them stay safe and healthy, reported Al-Jazeera on Tuesday.
"The people will avoid you in pubic if you aren't wearing a mask," Sheraz Jahangir, a salesman at Lala Al-Sheikh Trading Company, told Qatari network Al-Jazeera. The family has distributed thousands of free face masks, gloves and other sanitary products among the locals.
Read here 
---
11:00am - China to allow some firms to return to work in Wuhan
Some companies in Wuhan, the Chinese city where the new coronavirus outbreak emerged late last year, are to be allowed to return to work, provincial officials said Wednesday.
Businesses involved in providing daily necessities can resume work and production immediately, as can those that are key to "global industrial chains" after getting approval, said the Hubei provincial government.
---
10:45am - Coachella postponed until October over coronavirus fears
Coachella music festival in the Southern California desert has been postponed for six months until October because of concerns over the coronavirus.
The festival, one of the biggest in the world, brings half a million fans to an open-air site in Indio, east of Los Angeles, over two weekends and was due to take place on April 10-12 and April 17-19.
The line-up this year was headlined by Rage Against the Machine, Frank Ocean and Travis Scott.
"While this decision comes at a time of universal uncertainty, we take the safety and health of our guests, staff and community very seriously," a statement from the organisers said.
The 20-year-old festival will now take place October 9-11 and October 16-18.
---
10:30am - US coronavirus cases surge past 1,000
The number of novel coronavirus cases in US surged past 1,000 on Tuesday after public health experts criticised authorities for downplaying the epidemic.
At least 28 people have died and 1,025 people have been infected, according to a running tally by Johns Hopkins University — nearly double the 550 total confirmed cases the day before. 
---
9:45am - Balochistan govt machinery highly mobilised: spox
The Balochistan government has taken all the necessary measures to contain the virus spread in the province, provincial government spokesperson Liaquat Shahwani told Geo Pakistan on Wednesday.
Shahwani said the provincial government has mobilised all its machinery in the last two weeks and has stepped up efforts in the border districts.
At least 5,000 pilgrims have been screened at the Taftan border in the past two weeks, he said.
"3,500 of them are currently at quarantine centers while 1,500 were allowed to leave after completing the quarantine period," Shahwani added.
---
9:30am - WHO Pakistan chief praises Punjab govt
World Health Organisation Country (WHO) Chief Dr Palitha Gunarathna Mahipala has praised the Punjab government over its arrangements made to counter coronavirus in the province, reported The News on Wednesday.

Mahipala during his visit to the Primary and Secondary Healthcare Department (PSHD) was briefed by PSHD Special Secretary Muhammad Ajmal Bhatti about the arrangements made to counter coronavirus.
The WHO chief also handed over protective kits to the PSHD special secretary and expressed his satisfaction over the arrangements. 
---
9:00am - South Korea cases rise for first time in 5 days
South Korea announced its first rise in new coronavirus cases for five days on Wednesday, following a run of declines that have raised hopes the outbreak is coming under control.
A total of 242 infections were confirmed Tuesday, the Korea Centers for Disease Control and Prevention (KCDC) said, taking the South's total to 7,755.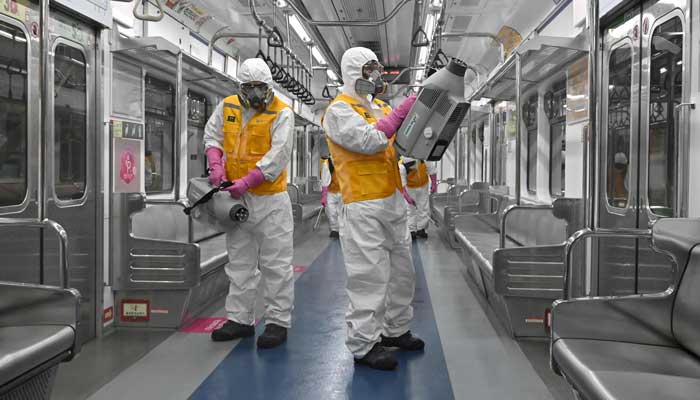 8:45am - Central America's first coronavirus death in Panama
Panama's health minister on Tuesday confirmed eight cases of the new coronavirus in the country, including one death, the first virus-linked death in Central America.
"Of the eight patients we are reporting, one person is in intensive care, another unfortunately died," Minister Rosario Turner said during a press conference in Panama City.
According to the ministry, a 64-year-old man who was already suffering from diabetes complications associated with bacterial pneumonia died of the COVID-19 virus on Sunday.
---
8:30am – CM Balochistan calls for emergency meeting 
Balochistan Chief Minister Jam Kamal has called for an emergency meeting to review the measures after Quetta reported its first case of coronavirus.
According to a notification, the meeting will discuss challenges to combat the virus and to decide on the pilgrims returning from Iran via Taftan border.
---
8:27am – Global coronavirus death toll jumps to 4,296
There are over 119,000 cases of coronavirus globally and 4,296 deaths linked to the virus as of Wednesday, according to a Reuters tally.

Over 55% of cases have been reportedly cured, including roughly 61,400 of China's total 80,909 cases.
New countries reporting cases in the past 12 hours were Bolivia, the Democratic Republic of Congo, Jamaica and Turkey.
---
8:25am - US asks Iran to release American prisoners
The United States on Tuesday asked Iran to release all American prisoners held in the country after Tehran temporarily freed more than 54,000 prisoners in an effort to combat the spread of the coronavirus disease in crowded jails.
"The United States will hold the Iranian regime directly responsible for any American deaths. Our response will be decisive," US Secretary of State Mike Pompeo said in a statement.
---
8:20am - China reports 22 new virus deaths
China on Wednesday reported an increase in imported coronavirus cases, fuelling concerns that infections from overseas could undermine progress in halting the spread of the virus.
The National Health Commission reported 22 more deaths and 24 new cases nationwide.
Ten of the new cases came from abroad — most from Italy, the worst-hit country outside China.
There have now been 79 cases imported from abroad.
---
8:15am – 92 new cases emerge in Norway
The number of confirmed coronavirus cases jumped to 92 in Norway, local media reported on Wednesday, taking the total number of patients in the country to 331.
---
11:49pm/March 10 - Dr Zafar Mirza urges people to do their part in the fight against coronavirus
Special Assistant to the Prime Minister on Health Dr Zafar Mirza confirms coronavirus cases in Pakistan have "doubled in the last 24 hours" but says the fact is "not surprising".
"[The] disease has spread in 106 countries. All 19 cases have brought this [virus with them] from abroad. All [patients] are stable. There is no evidence of local spread as yet. If we act responsibly we can avoid [the] spread," he wrote in a post on Twitter.
Urging people to do their part in the fight against the virus, he shared some precautions which are necessary to ward off the spread of the disease, such as washing our hands frequently and keeping a distance from those who are sick.
---
10:11pm/March 10 - KP reports 24 suspected cases
The Khyber Pakhtunkhwa health department, while reporting that 24 suspected cases surfaced on Tuesday, says that 20 were found clear of the virus.
The results of the remaining four are awaited, the health department added.
Of the suspected cases reported, eight were from Peshawar, four from Sw