Coronavirus updates, March 12: Latest news on the coronavirus outbreak from Pakistan and around the world
Updated Thursday Mar 12 2020
The number of confirmed cases in Pakistan of COVID-19 has risen to 21 after Gilgit-Baltistan reported its third patient on Thursday.

Karachi has been the worst affected city so far, with 15 of the total confirmed cases. Of the remaining, two cases have been reported in Gilgit-Baltistan and one case has been reported each in Islamabad, Hyderabad and Quetta.
Globally, the virus has killed more than 4,500 people and infected over 124,000.
Read on for live updates on what's happening in Pakistan and around the world. 
---
END OF LIVE UPDATES FOR MARCH 12

---
11:35pm - WHO Country Representative visits Karachi airport, expresses satisfaction

World Health Organisation's Country Representative in Pakistan, Dr Palitha Gunarathna Mahipala, has reviewed arrangements for coronavirus screening at the Jinnah International Airport and expressed his satisfaction.

"I have spent almost an hour at the Karachi International Airport and I'm quite satisfied with the screening arrangements at the airport. There are two setups for screening and they are quite satisfactory. I have given some suggestions to authorities but overall I'm satisfied with the arrangements", Dr. Palitha said while talking to The News on Thursday.
Read the full story here.

---
11:10pm - Sindh's educational institutions to remain closed till May 30
Sindh Chief Minister Syed Murad Ali Shah has announced that educational institutes will remain closed till May 30 over coronavirus concerns.

The decision came in a special cabinet meeting on Thursday at 10 pm.

The extended holidays will be considered summer vacation.
Senator Murtaza Wahab confirmed that schools will reopen on June 1.

---
11:05pm - India announces first coronavirus death
A 76-year-old man who recently died tested positive for the novel coronavirus, an India state health minister reported on Thursday, marking the country´s first fatality from the virus.
The man "has been Confirmed for #COVID19. The necessary contact tracing, isolation & other measures as per protocol are being carried out," B Sriramulu, health minister for Karnataka state, wrote on Twitter.
---
10:50pm - 5,000-10,000 people 'likely' have COVID-19 in UK: govt
Britain has said up to 10,000 people in the UK could be infected with the novel coronavirus, as it announced new measures to slow the spread of the outbreak, AFP reported.

Government chief scientific adviser Patrick Vallance said there were currently 590 confirmed cases but it was "much more likely we´ve got somewhere between 5,000 and 10,000 people infected".
Britain was "about four weeks" behind the level of cases currently seen in Italy and other worst-hit countries in Europe, he added.
Vallance was speaking after Prime Minister Boris Johnson called the outbreak, which has so far killed 10 people in Britain, "the worst public health crisis for a generation" and warned it would get worse.
"Many more families are going to lose loved ones before their time," he told a news conference at his Downing Street office.
He announced new measures to combat the rapid spread of the virus, recommending anyone with COVID-19 symptoms stays at home for at least seven days.
He also said schools will be asked to cancel foreign trips and elderly people or those in poor health were told not to go on cruise ships.
The British premier said further measures were likely in the coming weeks, including the possibility of cancelling mass gatherings such as sporting events.
UK health officials said most of the 5,000 to 10,000 people will not be aware that they have COVID-19 but it was clear the virus was circulating in the community.
---
10:15pm - Algeria registers first coronavirus death
Algeria has registered its first death from the novel coronavirus, the health ministry has announced.

The man, aged 67, had heart disease, the ministry´s director general, Djamel Fourar, told reporters.
Additionally, another five new COVID-19 cases have been recorded, bringing the total number of confirmed cases on Algerian soil to 24, the ministry said.
A 25th case — and the first registered in the country — was an Italian who tested positive in February but has since left Algeria.
Of the five new cases, two are Algerians who had been in France.
The health ministry urged Algerians returning from countries with high infection rates to postpone "family visits unless absolutely necessary".
President Abdelmadjid Tebboune, for his part, ordered all Algerian schools to close from Thursday until April 5, his office said.
---
09:52pm - Brazilian who met Trump tests positive for COVID-19
Brazilian President Jair Bolsonaro´s communications chief, who met Donald Trump last weekend at his Florida resort, has tested positive for the new coronavirus, AFP reported, quoting the Brazilian government.

Fabio Wajngarten, chief spokesman for the Brazilian government, traveled with Bolsonaro last Saturday to Tuesday to the United States, where the far-right leader — who has been dubbed a "Tropical Trump" — met with his US counterpart.
Wajngarten, who posted a picture to his Instagram account that shows him side-by-side with Trump, developed flu-like symptoms and tested positive for the virus that has become a global pandemic, the Brazilian presidency said in a statement.
Trump said he was unconcerned, and downplayed his contact with "the press aide," apparently referring to Wajngarten.
"I did hear something about that. We had dinner together in Florida, in Mar-a-Lago, with the entire delegation. I don´t know if the press aide was there. If he was there, he was there. But we did nothing very unusual," he said.
"Let me put it this way, I´m not concerned."
On Tuesday, Trump had said he would be happy to get a coronavirus test but that he has been told there´s no need.
---
09:37pm - Reminder: Call Helpline 1166 for assistance on COVID-19
Special Assistant to Prime Minister on Health Dr Zafar Mirza has reminded everyone that the ministry of health has set up a special helpline, 1166, for people to call in and discuss any concerns surrounding the coronavirus outbreak.
The minister held a meeting in Islamabad to review the situation in the country along with provincial chief ministers, chief secretaries, health ministers, and health secretaries, who tuned in via video link.

---
9:25pm - LUMS students who travelled to Turkey all test negative for COVID-19
All twenty-one of the Lahore University of Management Sciences (LUMS) have tested negative for the virus after having returned from a trip to Turkey, according to a statement by the university administration.
The students had participated in a Model United Nations Conference in Turkey.

The university said it is "putting all measures in place to ensure a safe and healthy campus".

---
09:15pm - NIH releases latest numbers

The Prime Minister's Office has released an update with the latest figures provided by the National Institute of Health on the coronavirus epidemic in Pakistan.

According to the statistics shared:

- Cumulative travellers screened: 894,256
- Suspected cases at hospitals (cumulative): 271
- Tests performed (cumulative): 471
- Tested positive (cumulative): 20
- Still admitted: 18
- Discharged: 2
The office also shared what response measures the NIH has taken this far to combat the situation.
---
08:38pm - PM Imran calls meeting on coronavirus
Prime Minister Imran Khan has called a meeting on Friday to discuss Pakistan's response to the spread of COVID-19.
Chief Minister Sindh Murad Ali Shah has also been invited to attend the meeting, a spokesperson confirmed.
---
08:20pm - Chief Minister Sindh summons late-night cabinet meeting
Chief Minister Sindh Murad Ali Shah has summoned a late-night cabinet meeting to discuss the measures to be taken regarding the coronavirus pandemic.
The meeting is also expected to debate over the reopening of educational intuitions across the province.
Senior doctors of Agha Khan and Indus Hospital will be called for their opinions over large public gatherings.
---
08:15pm - Karachi's Habib University announces closure, classes to be held online
In the backdrop of "gradually rising number of infected citizens in Karachi", Habib University has announced that it's campus will remain closed from March 16 to March 23.
The university's courses will be moved to online platforms beginning March 16, according to a statement by Habib University.

"HU believes it's highly advisable to continue to keep educational institutions closed and prevent large public gatherings," read the statement.

The university said that it's partners at Stanford, Claremont and UC Berkley "have either closed down completely or have placed strict restrictions on various activities".

It will "reassess the situation during the coming week to decide the future course of action".

---
8:05pm - Algeria to close schools, universities after first coronavirus death
Algerian President Abdelmadjid Tebboune has ordered to shut down schools and universities until April 5 to slow the spread of the pandemic, state media reported Thursday, after the country's first registered death from the disease, reported Reuters .
Algeria has confirmed 24 cases of coronavirus, mostly among members of a single family in the city of Blida, south of the capital.
The government has already ordered a range of measures to prevent the spread of coronavirus, including a ban on spectators at football games and the suspension of all cultural, social and political gatherings.
The authorities have not clarified, however, whether the ban extends to weekly mass protests that have convulsed Algeria for more than a year, thrusting its long-established political class into crisis.
---
7:58pm - Philippine president orders virus lockdown of capital
Philippine President Rodrigo Duterte announced plans Thursday for a halt to all transport in and out of the capital Manila and a quarantine to contain the spread of the deadly new coronavirus, reported AFP.
In a nationally televised address, Duterte also approved a month of school closures, ban on mass gatherings and a prohibition on the entry of foreigners from places where the contagion is spreading.
It was not immediately clear when all the measures would take effect but Duterte said the temporary block on land, sea and air traffic into and out of the capital would start Sunday.
"It's a lockdown," Duterte said.
The Philippines has a relatively small number of confirmed cases compared to hotspots such as China and Italy, but its tally has risen from 24 to 52 since Monday.

---
7:37pm – NIH starts live updates on coronavirus in Pakistan
The National Institute of Health on Thursday started to give live updates of Pakistan's conavirus cases on its website.
Click here to view updates.
---
7:23pm - Spain govt tested as minister infected, cases touch 3,000
 Spain's government underwent coronavirus testing Thursday after a minister tested positive and was quarantined with her partner, deputy prime minister Pablo Iglesias, and cases soared close to 3,000, reported AFP.
The surge in infections brought the total to 2,968 cases in Spain up from 2,140 on Wednesday evening, with deaths leaping to 84 from 48 within the same time frame. 
"This morning, all members of the government will undergo testing," a government statement said, indicating the results would be published later in the day.

---
7:17pm - Czech ban travellers from 15 countries, including France, Germany, UK
The Czech government said Thursday it had declared a 30-day state of emergency, closing the borders for people from 15 "risk countries" to stem the spread of coronavirus, reported AFP.
The measure concerns "travellers from China, South Korea, Iran, Italy, Spain, Austria, Germany, Switzerland, Sweden, Norway, the Netherlands, Belgium, Great Britain, Denmark, and France," Prime Minister Andrej Babis told reporters.
"We have also banned Czech citizens... from entering those risk areas," the populist billionaire Babis added.
---
7:15pm - WHO chief urges world to 'double down' against virus pandemic
The head of the World Health Organization urged all countries on Thursday to "double down" in the fight against the coronavirus pandemic, reported Reuters.
Tedros Adhanom Ghebreyesus, speaking to diplomats in Geneva, said: "Describing this as a pandemic does not mean that countries should give up. The idea that countries should shift from containment to mitigation is wrong and dangerous."
He said that, while maintaining a containment strategy, all countries must "strike a fine balance between protecting health, preventing economic and social disruption, and respecting human rights", according to remarks made available by the agency.
---
7:12pm - Confirmed Dutch coronavirus infections rise to 614
The number of new coronavirus infections in the Netherlands rose 22% to 614 on Thursday, health officials said, reported Reuters.
The bulk of the infections, 273, are in the southern province of Noord-Brabant, the Dutch National Institute for Public Health (RIVM) said in a statement.
---
7:00pm - PSL matches in Karachi to be played behind closed doors
KARACHI: Advisor to the Chief Minister on Law Murtaza Wahab tweeted on Thursday that all Pakistan Super League (2020) matches in Karachi will be held without the crowd.
"Sindh Govt has decided that the remaining matches of PSL in Karachi will take place without any crowd. This decision has been made after consultation with all stakeholders including the Pakistan Cricket Board," he tweeted. 
---
---
6:54pm - Slovakia closes schools, stops international travel to battle coronavirus
Slovakia will introduce border checks, stop international travel to and from the country and close schools as it steps up measures to battle the spreading coronavirus, Prime Minister Peter Pellegrini said on Thursday.
The central European country, which has so far reported 16 cases of the new virus, also plans to close sport, leisure and entertainment centers like ski areas, pools and clubs and will shut shopping centers over weekends among its measures.
Pellegrini said international freight transport would continue.
---
6:51 - Shanghai says travelers from more countries to face quarantine
China's financial hub Shanghai will from March 13 require travelers from France, Spain, Germany and the United States to undergo a 14-day quarantine upon arrival, the city government said Thursday, reported Reuters.
The quarantine rule, put in place to help prevent the spread of the new coronavirus, previously applied only to visitors from Iran, South Korea, Italy and Japan.
---
6:46 - Argentina suspends visas to travelers from coronavirus-hit countries
Argentina has temporarily stopped issuing visas to travelers from countries hardest-hit by coronavirus, including the United States, China and countries in Europe, in a bid to stem the spread of the virus in the South American nation, reported AFP.
The decree also suspends visa issuance to people from South Korea, Japan, Iran, Britain and many European countries.

Argentina has so far registered 21 confirmed coronavirus cases and one death. All the cases so far have involved people who had recently traveled abroad, mostly to Europe.
---
6:42:pm - Virus remedy rumour sends Tunisia garlic price soaring
The price of garlic has shot up in Tunisia amid a buying rush as consumers hope it will help protect against coronavirus, despite caution from the World Health Organization, reported AFP.
In Tunisia's central market this week, and in supermarkets and other stores, the price of garlic has risen to around 20-25 dinars ($7-$8.85) a kilo, in a country where the average monthly salary is around 600 dinars.
"Before, I used to buy five kilos (of garlic) for eight dinars a kilo and would sell it for 12, but now I can't buy it anymore because the price has gone up so much", said a shopkeeper in the south of the capital.
Tunisia has registered six cases of the novel coronavirus, most in people who had been in Italy. A seventh person infected with the virus has returned to France.
Garlic is often used to help ward off the flu, whose symptoms can be similar to those of COVID-19.
---
6:40pm - Latest developments worldwide
127,070 cases have been recorded in 115 countries and territories, killing 4,687 people, according to an AFP tally compiled at 1200 GMT on Thursday based on official sources.
The worst affected countries are mainland China with 80,793 cases, with 3,169 deaths and of which more than three quarters have been cured. Italy follows with 12,462 cases and 827 deaths, Iran (10,075 cases, 429 deaths), South Korea (7,869 cases, 66 deaths), and France (2,281 cases, of which 48 deaths).
Spanish authorities later report that the toll has soared to nearly 3,000 cases with 84 deaths, thus overtaking France.
---
6:37pm - Russia-Europe Mars mission delayed to 2022 over virus
A joint Russian-European mission to Mars has been postponed for two years, the Russian and European space agencies said Thursday, citing the novel coronavirus and technical issues, reported AFP.
"We have made a difficult but well-weighed decision to postpone the launch to 2022," said Dmitry Rogozin, head of Russia´s Roscosmos agency.
The unmanned ExoMars mission aims to place a robot on the Red Planet to find out whether life is present.
It was scheduled to launch later this year after experiencing several delays.
---
6:35pm - China says coronavirus could end by June
The Chinese government's senior medical adviser, Zhong Nanshan, an 83-year-old epidemiologist renowned for helping combat the SARS outbreak in 2003, said the crisis could be over by mid-year, reported Reuters.
"If all countries could get mobilised, it could be over by June," he said. 
"But if some countries do not treat the infectiousness and harmfulness seriously, and intervene strongly, it would last longer."
---
6:33pm - KP govt identifies over 70 buildings for quarantine
Secretary Health Khyber Pakhtunkhwa Muhammad Yahya Akhunzada said Thursday that the government had identified over 70 buildings for quarantine, a day after the World Health Organisation declared coronavirus as a pandemic.
According to the official thermal scanners have also been installed at the Bacha Khan Airport for screening the passengers, with an additional 14 thermal handguns.
Isolation rooms have also been set up at the airport, while the authorities are spraying and sanitising the area three times a day.
---
5:19pm - Real Madrid in quarantine as La Liga suspends fixtures
Real Madrid went into quarantine as La Liga announced Spain's top two divisions will be suspended for at least two weeks over the coronavirus.
La Liga authorities made the decision after Real Madrid confirmed its senior football team is in quarantine after one of the club's basketball players tested positive for the virus.
Real Madrid's football and basketball players share facilities at Ciudad Real Madrid, the club's training ground in Valdebebas.
---
5:15pm - New Delhi announces closure of schools, colleges, cinema halls til March 31 
New Delhi Chief Minister Arvind Kejriwal has announced the closure of all schools, colleges and cinema halls in the Indian state till March 31, reported NDTV.
According to the Indian TV channel the Delhi government had already shut the primary schools but had not shut the secondary classes due to the exams.
---
5:05pm - Iran virus deaths reach 429
Iran has announced that another 75 people had died of the new coronavirus, bringing the overall number of deaths to 429 out of more than 10,000 infections.
"Seventy-five people hospitalised in the past few days have lost their lives and today a total of 429 infected people are no longer with us," health ministry spokesman Kianoush Jahanpour said in a televised news conference.
---
5:01pm Ireland to shut schools from Friday: PM
Ireland has announced the closure of all schools and colleges, and recommended the cancellation of mass gatherings as part of measures to combat the spread of the coronavirus.
Prime Minister Leo Varadkar said "schools, colleges and childcare facilities will close from tomorrow", as would cultural institutions.
4:50pm - Poland reports its first coronavirus death
Poland has recorded its first death from the novel coronavirus outbreak in the western city of Poznan confirmed the city's deputy mayor.
The 57-year-old female patient had been hospitalised in critical condition with pneumonia and "unfortunately she died not long ago," Poznan Deputy Mayor Jedrzej Solarski told reporters. Poland currently has 46 other confirmed cases of coronavirus.
4:47pm - KP forms coronavirus task force 
The Khyber Pakhtunkuwa government has formed a coronavirus task force to battle the pandemic, government officials confirmed, adding that the Chief Minister Mahmood Khan will head it.
The officials said that an emergency meeting has been called tomorrow which will debate temporary closure of schools and suspension of public gatherings.
The KP government has also decided to take up the matter of closing of the Pak-Afghan border at Torkham, with the federal government.
CM Mahmood said that people should not panic and adopt precautionary measures in the situation.
---
4:44pm - UN Human Rights Council suspends annual session 
The top UN human rights body has decided to suspend its main annual session that was scheduled to be held at the end of this week over the new coronavirus pandemic.
A proposal presented by Human Rights Council president Elisabeth Tichy-Fisslberger "to suspend the 43rd session of the Human Rights Council on the 13th of March until further notice", was met with no objections.
---
4:35pm - PM Imran says coronavirus is under control: sources
Prime Minister Imran Khan has said that the coronavirus crisis is under control in a meeting of his party's parliamentary committee, sources said.
According to sources the premier lauded the efforts of the government in tackling the coronavirus crisis.
PM Imran ordered the officials present to start screening every passenger at bus stands, railway stations, and airports, sources said, adding that he also gave orders for checking every passenger travelling domestically and those arriving from abroad.
---
4:35pm - Second patient diagnosed of coronavirus recovers
Adviser to Chief Minister Sindh on Law Murtaza Wahab announced that the second patient diagnosed with the coronavirus has recovered.
In a press conference in Karachi the adviser also urged the federal government to set up a quarantine facility at the airport. 
Wahab also said that the government will take a decision on opening the schools in the province in the public interest.  
---
4:20pm - Cristiano Ronaldo in self-quarantine after teammate contracts coronavirus
Portuguese football star Cristiano Ronaldo has quarantined himself in Madeira after his Juventus teammate, Daniele Rugani, tested positive for coronavirus, Daily Mail reported on Thursday.
Ronaldo, who had flown back to Portugal to visit his stroke-struck mother, self-quarantined as a precaution rather than return to Italy where the pandemic is on a rampage. The two footballers had had last interacted on Sunday when their side, behind closed doors, had thumped Inter Milan for 2-0.
---
4:15pm - Ministry issues advisory for masks 
The Health Ministry has said that those who have been diagnosed with coronavirus and those doctors who are treating an infected person should wear masks.
In an advisory, the ministry added that relatives of the patient can also wear masks. The advisory also explains how a person should wear and dispose of a mask.
---
4:07pm - Matric exams suspended in Balochistan till March 31
The Balochistan government on Thursday announced that matriculation exams have been suspended till March 31 and that schools will also be shut down across the province amid coronavirus fears.
The decision was taken in a meeting of officials from the secondary education, higher and technical education. The education minister announced that the situation will be reviewed again on March 27.
---
3:51pm: GB reports third coronavirus case, Pakistan tally rises to 21
Gigit Baltistan reported its third case of coronavirus on Thursday, taking the nation-wide tally to 21.
According to the GB government's spokesperson, the patient, a 31-year-old resident of Shigar district, had a travel history of Iran.

GB had reported its first coronavrius case, a 45-year-old woman on March 5. The region had reported its second case, a 14-year-old hails from Skardu on Wednesday.
---
3:40pm- PSL 2020: Doctors arrive at National Stadium 
A team of seven doctors has arrived at the National Stadium for the screening of spectators. 
The spectators will be screened at the gates of the National Stadium before entering. 
According to team lead Dr Umair the temperature of the spectators will be checked and their travel history will also be asked.
---
3:25pm - Algeria registers first coronavirus death
Algeria registered its first death from the novel coronavirus, the health ministry announced on Thursday.
Another five new cases of COVID-19 have been recorded, bringing the total number of confirmed cases on Algerian soil to 24, the ministry added.
---
3:15pm - Australia unveils $11bn stimulus to ease virus downturn
Australia on Thursday unveiled a massive US$11 billion spending plan designed to curb the economic hit from the coronavirus pandemic and avert the country's first recession in 29 years.
Prime Minister Scott Morrison announced the nearly Aus$18 billion package — equivalent to just under one per cent of GDP — which will primarily be targeted at businesses.
"This plan is about keeping Australians in jobs. This plan is about keeping a business in business," said Morrison. "This plan is about ensuring the Australian economy bounces back stronger on the other side of this."
Australia has seen 136 confirmed cases of coronavirus, and three deaths.
---
3:00pm - Punjab govt declares medical emergency
The Punjab government on Thursday declared a medical emergency after 20 cases of coronavirus were confirmed in the country.
"All the departments have to work together with the health department," provincial health minister Yasmeen Rashid said.
"We need to take the coronavirus epidemic seriously. Precautionary measures such as unnecessarily touching face, shaking hands should be avoided," she said, adding that precautionary measures will help in curbing the spread of the virus.
Rashid added, "If an emergency has been declared, people need to take the situation seriously. Public gatherings needs to be avoided."
---
2:45pm - Trading suspended at Pakistan Stock Exchange for second time this week
Trading at Pakistan Stock Exchange (PSX) was suspended for the second time this week amid a global meltdown in the international financial markets.
Trading halted for 45 minutes at the PSX and would resume at 3pm.
The benchmark KSE-100 index was at 36,348 when the trading was suspended at 02:17pm today for 45 minutes. 
On Monday, the PSX's benchmark KSE-100 index plunged 2,106 points after the starting bell on the first day of the trading week, forcing authorities to halt trading for 45 minutes.
The bearish trend in the market set in after the World Health Organisation (WHO) declared the coronavirus as a global pandemic.

---
2:30pm- Iran requests IMF for $5 billion emergency funding
Iran on Thursday requested the International Monetary Fund (IMF) for an emergency funding.
"IMF managing director, Kristalina Georgieva, has stated that countries affected by COVID19 will be supported via Rapid Financial Instrument. Our Central Bank requested access to this facility immediately", Foreign Minister Mohammad Javad Zarif said in a tweet on Thursday.
---
2:15pm - Balochistan to decide about school re-opening today
The Department of Secondary Education and Higher and Technical Education of Quetta has summoned a session today to decide regarding reopening of schools across the province.
Balochistan Education Minister Sardar Yar Mohammad Rind will chair the session, informed official sources. The session will discuss whether to reopen schools amid the coronavirus outbreak or not. Due to the virus scare, winter vacations were extended until March 15 in the educational institutions across the province.
---
02:00pm - Senior Chinese official says virus could end by June
I would expect that COVID-19 to wind down gradually in June, says Chinese top epidemiologist.

---
1:55pm - Lewis Hamilton slams plans to hold Australian F1 despite coronavirus
World champion Lewis Hamilton says he's "very surprised" that the Australian Grand Prix was going ahead during a coronavirus pandemic.
The season-opening race in Melbourne is set to proceed as planned this weekend despite mounting fears about the spread of the disease.
"I am really very, very surprised that we're here. I don't think it's great that we have races but it really is shocking that we're all sitting in this room," Hamilton said at an official pre-race press conference.
"It seems that the rest of the world is already reacting a little bit late, but you have seen this morning with (President Donald) Trump shutting down the border to Europe to the States, the NBA suspended, yet Formula One continues to go on.
Asked why he felt the race was still on, Hamilton replied: "Cash is king."
---
1:49pm- China shuts down Everest over coronavirus
China has cancelled permits for Mount Everest because of the coronavirus, expedition organisers said Thursday, ahead of the spring climbing season on the world's highest peak, reported AFP.
Last year's traffic-clogged spring window saw a record 885 people summit Everest, 644 of them from Nepal and 241 from the northern flank in Tibet.
The Nepal side remains open for now although some expedition operators have seen cancellations and climbers have been asked to submit a 14-day travel history and medical reports.  
---
1:45pm - Body temperature being measured at airport with thermal screening: CAA
A Civil Aviation Authority (CAA) official on Thursday said they have taken notice of the complaints received regarding the screening process at Lahore and Karachi airports.
"Suspected people detected under the thermal screen are later checked with a thermal gun," the official said.
The official added that body temperature was measured with the help of the thermal gun and screening. "People found with coronavirus are then kept under isolation," the official added. 
---
1:30pm - China says US should focus on its own response to virus, not shift blame
China on Thursday said that US officials should focus on their own response to the coronavirus and not try to shift blame, reported Reuters.
Robert O'Brien, the White House national security adviser, on Wednesday had said China did not initially handle the coronavirus outbreak well, likely costing the world two months when it could have prepared and dramatically limited the outbreak.
Asked about O'Brien's comments, Foreign Ministry spokesman Geng Shuang told a news conference in Beijing that such immoral and irresponsible behaviour will not help US epidemic efforts.
Read more here. 
---
1:15pm Facebook delegation meets Pakistani authorities over coronavirus
A Facebook delegation met with Dr Arsalan Khalid, focal person to PM on Digital Media regarding cooperation with Pakistan over its fight against coronavirus.
"Met with the Facebook delegation regarding Facebook cooperation with Pakistan in its fight against coronavirus. Timely removal of misinformation regarding coronavirus and promotion of authentic awareness content by Facebook is something that should be followed by other social media networks too," Khalid tweeted. 
1:00pm - IGP Sindh issues coronavirus advisory for police personnel
Inspector-General of Police (IGP) Sindh Mushtaq Mahar on Thursday issued coronavirus advisory for the police personnel.
According to the alert, police personnel have been advised to wear face masks when on duty. Police officers have been advised to keep a distance of three feet from their colleagues while on duty.
The alert also advised police personnel to avoid shaking hands with the general public when on duty.
---
12:45pm - Indonesia busts Malaysians for virus-mask smuggling
Indonesia has detained two Malaysians for allegedly trying to smuggle some 12,000 virus facemasks back to their home country, police said Thursday.
They were detained on suspicion of hoarding, police said.
Indonesia launched a crackdown on mask hoarding after its first confirmed coronavirus infection this month sparked panic buying and sent prices for prevention products skyrocketing.
Police this week seized some 1.9 million facemasks from a warehouse near its second-biggest city Surabaya.
---
12:40pm - India orders international cricket matches in empty stadiums
The Indian government has ordered upcoming international cricket matches to be played in empty stadiums to combat the spread of coronavirus.
The chief ministers of two states where India is due to play matches against South Africa this month "have been advised to avoid gathering of people," RS Jhulaniya told Reuters. "Matches may go on without spectator crowd".
Brijesh Patel, governing council chairman of the Indian Premier League due to start later this month, said the organisation would meet on Saturday to discuss "all possibilities" regarding the tournament, including visas issues for overseas players and the possibility of playing matches in empty stadiums.
Read the full story here.
---
12:32pm - China says peak of coronavirus epidemic has passed
China has passed the peak of the coronavirus epidemic, the National Health Commission said on Thursday.
---
12:30pm - EU warns against 'economic disruption' after Trump Europe travel ban
The European Council will assess the 30-day travel ban imposed by US President Donald Trump.
"Following the travel ban announced, we will assess the situation today. Economic disruption must be avoided," European Council President Charles Michel tweeted.
"Europe is taking all necessary measures to contain the spread of COVID19 virus, limit the number of affected people and support research," he added. 
---
12:15pm - SECP issues coronavirus advisory
The Securities and Exchange Commission of Pakistan (SECP) has advised all companies to modify their usual planning for annual general meetings in light of the threat posed by the evolving COVID-19 situation.
The advisory suggested holding meeting of the board of directors via tele/video conferencing. It also recommended all companies to consider and evaluate the risks in the present situation.
"Directors should consider if members can consolidate their attendance and voting at AGMs into as few people as possible through proxies, while honouring quorum provisions," the advisory said.
Read the full advisory here.
---
12:00pm - US coronavirus death toll rises to 38
The death toll from novel coronavirus jumped to 38 with at least 1,272 infected, according to the US Centers for Disease Control and Prevention.
According to CNN, 1,202 cases were detected on US soil, spread out across 43 states and the District of Columbia.
---
11:30am No confirmed coronavirus case in Punjab: official
A spokesperson of the Primary & Secondary Healthcare Department Punjab on Thursday said there was no patient under treatment at hospitals in the province till now.
"In the last 15 days, more than 4,500 people have undergone screening at the airports," the spokesperson added.
---
11:15am - India coronavirus cases jump to 73, stocks crash into bear territory 
The total number of confirmed coronavirus cases jumped to 73 in India, according to the Union Health Ministry.
Of the total number of confirmed cases, 56 are Indians and rest are foreign nationals, as per the ministry. A total of 10,57,506 have been screened in India so far, according to Economic Times. 
The Indian stock market plunged into bear territory on Thursday, with the blue-chip Nifty 50 sliding to its lowest in over 2-1/2 years, after the coronavirus outbreak was termed a pandemic and the US suspended travel from Europe, reported Reuters. 

---
11:00am - 4,000 pilgrims from Iran under quarantine: FIA
The Federal Investigation Agency (FIA) on Thursday said more than 4,000 pilgrims from Iran are under quarantine.
"More than 6,000 pilgrims have entered the country via the Taftan border," an FIA official said.
He said that no one is allowed to leave without clearance from the health officials.
---
10:45am - 'Quetta coronavirus patient out of danger'
Quetta's first coronavirus case is out of danger and undergoing treatment, reported Geo News on Thursday.
According to Dr Sadiq Baloch, the patient, a 12-year-old, is being tested every 24 hours. The boy had travelled to Taftan with his parents.
The parents had also been screened and were reported to test negative for the virus.
---
10:30am - Twitter asks all employees work from home
Twitter has asked all company employees globally to work from home amid the coronavirus outbreak, the company announced Wednesday.
"We understand this is an unprecedented step, but these are unprecedented times," Twitter said in its announcement.
The social media giant said the safety of its employees remains its top priority, as well as supporting vulnerable communities and healthcare providers on the frontlines of the outbreak. 
---
10:00am - PSL 2020: Precautionary measures at National Stadium 
With PSL action returning to Karachi, plenty of precautionary measures have been taken amidst the coronavirus outbreak in the city.
According to reports, fumigation has been done in all the enclosure at the National Stadium. However, no machines for thermal screening or sanitizers have been installed at the stadium as yet.
If you are planning to go down to the stadium for some Karachi verses Lahore action, here are some things you can do to avoid catching the virus.
• Wash your hands with soap/alcoholic sanitizers after coughing or sneezing, before and after eating food and after toilet use;
• Use tissue papers/handkerchief while sneezing;
• Properly dispose of used tissue papers/handkerchief etc. in dust bins;
• In case of any symptoms of flu and cough, avoid coming into the stadium;
• Avoid handshaking and hugging with each other;
• Avoid close contact when anyone is experiencing cough and fever
• Avoid touching unnecessarily chairs/railings and steel bars in the stadium;
• Avoid spitting, throwing water, food, empty bottles and wrappers in open in the stadium.
---
9:45am – Advisory for Sindh schools  
The Sindh Health department on Wednesday said any student or employee who returned to the country within last fifteen days from abroad.
According to the advisory, "Any student or employee of all public and private school, college or university who has arrived in Pakistan within last fifteen days from abroad or has a family member who has arrived from abroad, he/she shall not be allowed to send their children to schools, colleges and universities till they complete 14 days stay in their home after arrival in Pakistan as a measure of quarantine. All parents shall inform the concerned institutes if there is a history of travel of a family member."
Read the entire advisory here. 
---
9:30 am - China virus cases fall, but more imported from abroad
The number of fresh infections at the epicentre of China's coronavirus epidemic dropped to a new low on Thursday but the country imported more cases from abroad.
According to the National Health Commission, another 11 people died, the lowest daily increase since late January, bringing the toll in China to 3,169 deaths. There were only eight new cases in Wuhan, the city where the virus first emerged in December before growing into a national crisis and a pandemic.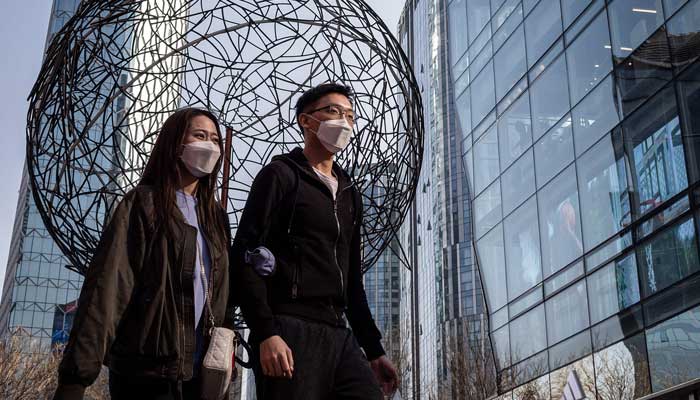 9:00am - Oil prices fall more than 3% after Trump bans travel from Europe
Global shares crumbled on Thursday after US President Donald Trump stunned investors by announcing a temporary travel ban from Europe in an effort to curb the spread of the coronavirus, threatening more disruptions to businesses and the world economy.
Read more on this here.
---
8:35am - Saudi Arabia suspends flight operation from Pakistan, other countries
Saudi Arabia on Thursday temporarily suspended travel of citizens and residents and halted flights with several states including Pakistan, state news agency Saudi Press Agency said citing an official source at Interior Ministry.
The decision includes the European Union, Switzerland, India, Pakistan, Sri Lanka, Philippines, Sudan, Ethiopia, South Sudan, Eritrea, Kenya, Djibouti, and Somalia, source added, saying the Kingdom also suspended entry to those coming