Coronavirus updates, March 14: Latest news on the coronavirus outbreak from Pakistan and around the world
Pakistan reports three more coronavirus cases, tally rises to 31; weddings, festivals cancelled in Sindh
Updated Saturday Mar 14 2020
The number of confirmed cases in Pakistan of COVID-19 has risen to 31 as of Saturday after three new cases were reported; one from Islamabad and two from Karachi. 
Karachi has been the worst affected city so far, with 17 of the total confirmed cases. Of the remaining, five cases have been reported in Gilgit-Baltistan and one case has been reported each in Hyderabad and Quetta. Seven other cases were reported at the Taftan border on Friday.
Globally, more than 5,400 people have died and more than 145,000 have been infected by COVID-19 as the disease spreads rapidly in new territories. 
The epicentre of the outbreak has now shifted to Europe, which is recording a rapid rise in new cases every day. 
Read on for updates on what's happening in Pakistan and around the world. Hit 'Refresh' on your browser to update.
---
END OF LIVE UPDATES FOR MARCH 14
Updates

 for March 15 continue

here. 
---
11:53pm - Syria elections postponed over coronavirus
Syria says its parliamentary elections scheduled for next month would be postponed as part of measures to protect the war-battered country against the coronavirus epidemic, reported AFP.

The president´s office said on its official social media accounts that the vote will be pushed back to May 20, from the original date of April 13.
In other "social distancing" steps adopted by Damascus, which has not to date reported any case of the disease, weekly Friday prayers in mosques have been suspended as well as prayer gatherings.
The polls, to be held across government-run areas, are the third such elections in Syria since the March 2011 start of its nine-year war that has killed at least 384,000 people.
---
11:03pm - US extends travel ban to UK, Ireland
The United States has announced that a travel ban imposed on European nations over the coronavirus pandemic will be extended to the United Kingdom and Ireland, AFP reported.

President Donald Trump has decided to "suspend all travel from the United Kingdom and Ireland. That will be effective midnight Monday night EST (0400 GMT Tuesday)," Vice President Mike Pence told a White House news conference.
"Americans in the UK or Ireland can come home. Legal residents can come home," Pence said, adding that such people would be "funnelled through specific airports and processed."
Trump's sweeping travel ban has drawn an angry response from European officials, who have called for cooperation to fight the pandemic.
The 30-day US ban on travel from the 26 countries of Europe´s Schengen border-free zone took effect on Saturday, but notably excludes Britain and Ireland.
The move caused widespread consternation among travellers, with even exempted American citizens uncertain about their status after the deadline expired.
Trump had earlier confirmed the ban would be extended to those countries as the pandemic progresses, saying: "They've had a little bit of activity, unfortunately."
Britain´s death toll from the novel coronavirus nearly doubled on Saturday, to 21.
Official figures showed the country has 1,140 confirmed cases — an increase of 342 from the day before, but a senior health official has estimated that the number of infected people is more likely to be between 5,000 and 10,000.
The Republic of Ireland — which has taken strict steps to stem the spread of the coronavirus — so far had 70 confirmed cases and one death.
---
10:55pm - Palestinians suspend prayers at mosques, churches to fight coronavirus
The Palestinian Authority suspended prayers in mosques and churches in the occupied West Bank on Saturday to prevent the spread of the new coronavirus, Reuters reported.

The Authority's Religious Affairs Ministry asked Palestinians to worship at home.
"In light of the Health Ministry's recommendation to minimise contact between people and to reduce gatherings as much as possible we call upon our Muslim people in Palestine to hold their prayers at home," a ministry statement said.
In Ramallah, a prayer leader reciting the Muslim call to prayer at one mosque in the early evening added the words: "Pray at home, pray at home."
According to Palestinian health officials, 38 coronavirus cases have been confirmed in the West Bank, where the Palestinians have limited self rule under the Palestinian Authority. None have been reported in the densely-populated Gaza Strip, which is controlled by the Hamas group.
Religious authorities have so far kept Jerusalem's Al Aqsa mosque, which is Islam's third holiest site, open for prayers.
The Jordan-appointed council that oversees Islamic sites on Jerusalem's sacred compound has kept it open for Friday prayers, encouraging faithful to congregate on the 35-acre complex's outdoor grounds rather than inside its covered shrines.
The Waqf council reassured worshippers in a statement this week that the entire compound, including its golden Dome of the Rock shrine, was being "sterilised continuously."
---
10:49pm - Number of coronavirus cases worldwide passes 150,000 after spike in Italy

The number of coronavirus cases worldwide passed 150,000 on Saturday driven by a spike in infections in Italy, according to an AFP tally compiled from official sources.
Italy announced 3,497 new cases on Saturday, bringing the global total to 151,797, with 5,764 deaths across 137 countries and territories.
Italy, the worst-hit country outside of China where the outbreak began in December, has now registered a total of 21,157 cases and 1,441 deaths.
---
10:21pm - First French prisoner, senator test positive for coronavirus
A prisoner has tested positive for coronavirus in France, where many jails are overstretched, as well as a senator, officials said Saturday, describing them as the first such cases.
According to AFP, a 74-year-old man tested positive in a jail in Fresnes, east of Paris. He has been placed in a solitary cell on March 8 and was taken to hospital on Friday, Justice Minister Nicole Belloubet´s spokeswoman said.
"When he arrived (in prison), he already had respiratory problems," said Jean-Christophe Petit, from the Fresnes prison.
A nurse had already tested positive at the prison but the justice ministry stressed there was no link between the two infections.
The Fresnes jail houses 2,159 prisoners despite a capacity of 1,320. It has been feared that the virus could spread quickly through overcrowded prisons.
According to the latest count, there have been 3,661 COVID-19 cases in France and 79 deaths.
The senator infected was identified as Guylene Pantel, 56, but she was reported to be in good health.
Brune Poirson, Minister of State attached to the Ministre d'Etat, Minister for the Ecological and Inclusive Transition, also tested positive but "showed no worrying signs," her office said.

---
10:14pm - Trump says he has taken coronavirus test, no result yet
President Donald Trump said Saturday he had taken a coronavirus test, as the White House began protectively checking the temperature of anyone coming into close contact with him or Vice President Mike Pence, AFP reported.

Appearing at a White House news conference where he attempted again to provide guidance and assurance to worried Americans, Trump said he had yet to receive the results of his own test.
---
10:11pm - Coronavirus death toll in Greece rises to three
Greece announced two more coronavirus deaths on Saturday bringing the country´s toll to three, as an unprecedented lockdown takes effect.
A 67-year-old man died on Zakynthos island early on Saturday and a 90-year-old man died in the northern city of Ptolemaida, the health ministry said.
Both men had health problems.
The man in Zakynthos was believed to have contracted the virus after visiting a hospital in western Greece where the first fatality was confirmed, Athens News Agency reported.
Greece closed shops, bars and restaurants on Friday as well tourist sites such as the Acropolis as coronavirus cases jumped to 228 with 38 new cases announced on Saturday.
Only supermarkets, pharmacies and medical facilities have been allowed to stay open.
The government had already shut down schools and universities, courts, cinemas, gyms and other indoor public gathering areas for two weeks in an effort to curb the outbreak.
Meanwhile, Greek government spokesman Stelios Petsas said his wife had tested positive for the coronavirus and he would self-isolate for two weeks as a precaution.
---
10:07pm - Jordan suspends all flights, closes mosques over virus

Jordan has said it is halting flights, closing its land borders and shutting down schools, places of worship and public gatherings to stop the spread of novel coronavirus, reported AFP.

Prime Minister Omar al-Razzaz told official news agency Petra that "all flights into and out of the kingdom will be suspended from Tuesday until further notice".
He said exceptions would be made for cargo flights and those carrying diplomats and staff of international organisations, providing they follow health ministry guidelines — including a two-week quarantine.
"All land and sea crossings and airports are closed except for cargo," he added, saying Jordanians in neighbouring countries who needed to return could do so but would also face quarantine.
He also announced that the country´s mosques and churches would be closed and that hospital and prison visits would be suspended.
Razzaz also announced a two-week closure of all educational institutions from Sunday, the start of the working week.
He said all public gatherings would be cancelled and urged citizens to stay in their homes as much as possible.
Jordan has so far announced one case of the COVID-19 illness, but Razzaz said the new measures were taken "in light of accelerating global developments, to protect the nation and its citizens."
In nearby Egypt, President Abdel Fattah al-Sisi ordered schools and universities to close for two weeks starting Sunday, his spokesman announced.
---
10:04pm - Denmark announces its first coronavirus death
Denmark has recorded its first coronavirus fatality, AFP reported, quoting health authorities.
"It was a person aged 81 years who was hospitalised for other serious illnesses," the hospital where the patient was treated said.
---
09:46pm - AJK's PM House to be made a quarantine centre
The Prime Minister House in Muzaffarabad, Azad Jammu and Kashmir, will be turned into a quarantine centre, said a notification.

AJK Prime Minister Raja Farooq Haider has ordered all necessary arrangements to be made in this regard immediately.
---
09:19pm - Hindu group offers cow urine in a bid to ward off coronavirus
A Hindu group hosted a cow urine drinking party on Saturday as they believe it wards off the coronavirus, Reuters reported.

Many Hindus consider the cow sacred and some drink cow urine believing it has medicinal properties.
Experts have repeatedly asserted that cow urine does not cure illnesses like cancer and there is no evidence that it can prevent coronavirus.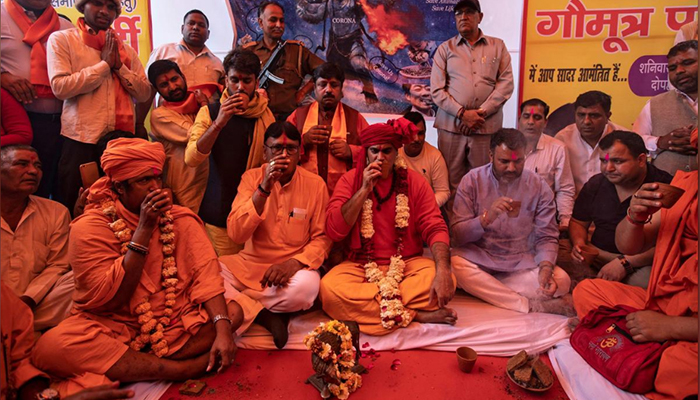 The "party," hosted by a group called the Akhil Bharat Hindu Mahasabha (All India Hindu Union) at its headquarters in the country's capital, was attended by 200 people, and the organisers hoped to host similar events elsewhere in India.
"We have been drinking cow urine for 21 years, we also take bath in cow dung. We have never felt the need to consume English medicine," said Om Prakash, a person who attended the party.
Chakrapani Maharaj, the chief of the All India Hindu Union, posed for photographs as he placed a spoon filled with cow urine near the face of a caricature of the coronavirus.
Leaders from Prime Minister Narendra Modi's Hindu nationalist party have advocated the use of cow urine as medicine and a cure for cancer.
A leader from India's north eastern state of Assam told state lawmakers earlier this month during an assembly session that cow urine and cow dung can be used to treat the coronavirus.
The pathogen, which has infected more than 145,000 people worldwide and left over 5,000 dead, has no known scientific cure and governments across the world are struggling to control the spread of the pandemic.
---
09:06pm - Ban imposed on public gatherings in Karachi
The city's commissioner has announced an immediate ban on all functions/gatherings/events at marriage halls, cinemas, public parks and other places till April 5.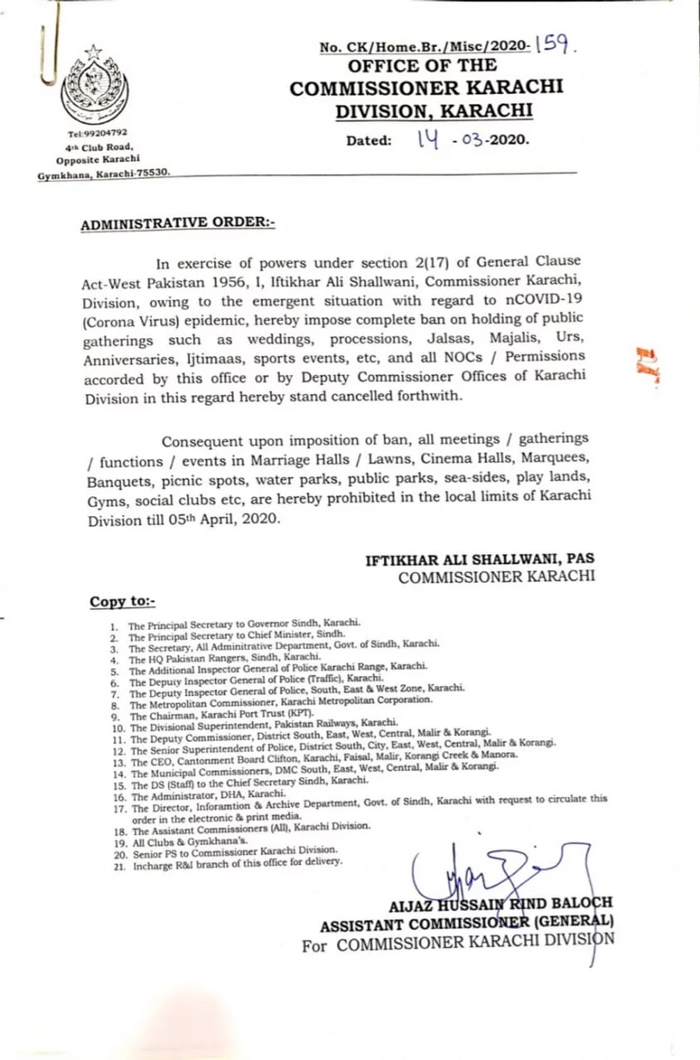 A notification issued by the commissioner said that a "complete ban on holding of public gatherings such as weddings, processions, jalsas, majalis, urs, anniversaries, ijtimaas, sports events, etc" has been imposed.
The notification further stated that all events and functions at "marriage halls/lawns, cinema halls, marquees, banquets, picnic spots, water parks, public parks, sea-sides, playlands, gyms, social clubs" are prohibited.

---
09:00pm - UK set to follow Europe in banning large events as virus toll jumps to 1,140

British Prime Minister Boris Johnson is preparing to follow other European countries in banning mass gatherings, media reported on Saturday as the country registered a jump in its number of coronavirus cases and deaths.
Johnson, who has faced criticism for his country´s light-touch approach to tackling the outbreak, is expected to introduce emergency legislation next week with the ban coming into force from next weekend, government sources told British media.
Britain´s death toll from the disease nearly doubled on Saturday, as health officials announced 10 more people had died, bringing the total number of fatalities to 21.
Official figures released Saturday showed the country has 1,140 confirmed cases — an increase of 342 from the day before.
But a senior health official has estimated that the number of infected people is more likely to be between 5,000 and 10,000.
---
08:52pm - Spain counts 1,500 new coronavirus cases in one day
Spain has confirmed more than 1,500 new cases of coronavirus between Friday and Saturday raising its total to 5,753 cases, the second-highest number in Europe after Italy, AFP reported.

The country was expected to declare a state of alert on Saturday to try to mobilise resources to combat the virus, which has so far killed 183 people in Spain, up from 121 fatalities on Friday.
Prime Minister Pedro Sanchez had been due to speak after a cabinet meeting at 1300 GMT to announce the state of alert and new measures expected to limit the movement of people, but his appearance before the media was delayed to later in the afternoon, his office said without setting a specific hour.
The number of cases in Spain has increased tenfold since Sunday, and bars, restaurants and all sporting and cultural institutions have been closed.
The Madrid region, which is the country´s worst-hit with nearly 3,000 cases, has ordered the closure of all non-essential businesses.
---
8:43pm - PM Imran to address nation on coronavirus
Prime Minister Imran Khan on Saturday announced that he will address the nation 'soon' on the outbreak of the novel coronavirus, urging people to follow the safety instructions issued by the government.
Taking to Twitter, the prime minister informed his followers that he was "personally overseeing measures to deal with COVID 19".
"While there is a need for caution there is no need for panic," he tweeted. 
---
8:38pm - Gilani cancels
valima
ceremony of his son amid coronavirus
Former prime minister Syed Yusuf Raza Gilani has cancelled the valima reception of his son Syed Ali Qasim Gillani, scheduled on March 15 amid the coronavirus scare, reported APP.
After cancelling the event, he urged the masses to avoid gatherings, in a statement.

The masses should take maximum care and precaution against coronavirus, he said.
---
8:34pm - Public gatherings banned in Hyderabad
Deputy Commissioner Hyderabad Ayesha Abro on Saturday imposed a ban on all public gatherings amid coronavirus, reported APP.

According to an official notification, the ban would last till March 31. The ban has been imposed under section 3 of Sindh Epidemic Act, 2014.
"All public gatherings, sports events, open-air religious meetings, marriage gatherings and all events having large public attendance will remain suspended as a precautionary measure to tackle the risk of spread of the coronavirus," the notification reads.
The notification warned that any person disobeying the act would be deemed to have committed an offence punishable under section 188 of the Pakistan Penal Code.
In a separate circular, the DC also cancelled all the permissions granted for organising public meetings, rallies, festivals, urs at the shrines, majalis and religious gatherings.
---
8:31pm - Pilgrims from Taftan border shifted to isolation camp
Six buses carrying pilgrims from the Pakistan-Iran bordering area of Taftan arrived in Sukkur city, reported APP.
The Sukkur health authorities have taken all the pilgrims to quarantined isolation camps where they will be kept for a minimum of 14 days.
According to District health officer (DHO), Dr Muneer Ahmed Mangrio, the pilgrims will be tested on seven different stages through seven different tests formulated for coronavirus detection.
The district administration has already established isolation camps at Labour colony, Sukkur.
---
8:30pm - A mosque in Kuwait asks Muslims to pray at home
8:29pm - PU postpones selection boards exams
Punjab University (PU) will remain closed till April 5 and the meetings of selection boards scheduled from March 16 to 30, 2020 have been postponed, reported APP.
PU spokesperson said in a press statement issued on Saturday that the university had also postponed all exams scheduled from March 16 to April 4, 2020, and new dates will be announced later.
He said, however, all the teaching and non-teaching staff would attend their offices as per working hours.
---
08:15pm - Abu Dhabi's largest mosque temporarily closed
Abu Dhabi's largest mosque, the Sheikh Zayed mosque has been temporarily closed owing to concerns over the coronavirus pandemic.
Begining tomorrow, a thorough spraying and disinfecting of the mosque premises will begin.
---
07:55pm - Sindh chief minister bans travel of govt officers
Sindh Chief Minister Murad Ali Shah has barred government officials from travelling.

"No officer will fly anywhere," the CM's spokesperson quoted him as saying.
The federal government will be informed of the same and all meetings will now take place via video conferencing.

Meanwhile, he also said that there was a case of secondary contact among the new cases that had been reported on Saturday. 
---
07:20pm - Karachi reports second case of the day
Another patient was said to have tested positive for COVID-19 in Karachi, a few hours another had been confirmed in the city and one more had been reported in Islamabad.
With this case, the national tally has risen to 31.

According to a statement by the health and population welfare department, the "20-year-old patient has no travel history, however the patient's father had returned from UK recently".

---
07:15pm - AJK PM attends coronavirus briefing
Azad Jammu Kashmir Prime Minister Raja Farooq Haider was briefed on the region's measures to tackle the coronavirus outbreak.
The formation of an 18-member coordination committee was approved during the meeting.
The AJK premier was informed that an alert had been issued in AJK on February 10 and that necessary measures have been implemented, including the screening of travellers at all entry points.
Travellers coming in from Iran will be quarantined for 14 days in Mirpur.
The premier was informed that for timely medical assistance to all 4.5 million residents, there is an acute need for funds.

He was also told that the deputy commissioner is overseeing quarantine centres designated in every district.

---
07:10pm - Health emergency imposed in AJK
A health emergency has been imposed in the Azad Jammu and Kashmir region, according to a notification.
Under the emergency measures imposed, high courts have deferred all hearings to after April 5.
According to the notification, in the case of urgent hearings and those of an important nature, only lawyers will be present inside the court premises.
Biometric attendance has also been suspended for staff members until further orders.
---
07:05pm - Sindh's shrines to remain shut for three weeks
The chief administrator of the Auqaf Department has announced the closure of all shrines and mausoleums across Sindh for three weeks.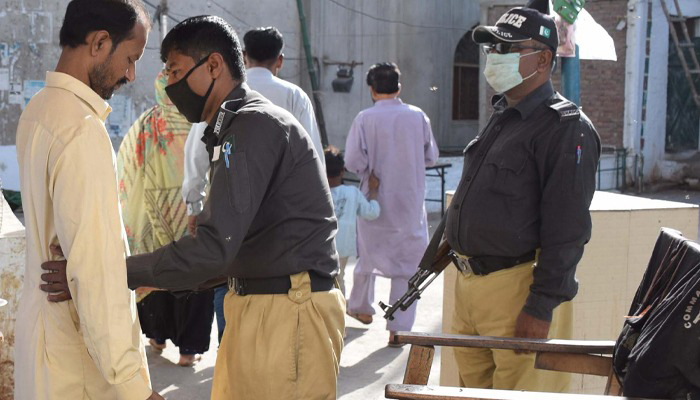 ---
06:55pm - Shrines of Lal Shahbaz Qalandar, Shah Abdul Latif Bhittai closed off

The shrine of Sufi saint Lal Shahbaz Qalandar in Sehwan has been closed off to visitors, Deputy Commissioner Fariuddin has said.
"The measure was taken as a precautionary measure to guard against the spread of the coronavirus," said Fariuddin.
In addition, the district administration also announced the closure of the shrine of Sufi saint Shah Abdul Latif Bhittai in Matiari.
---
06:37pm - Karachi mayor announces closure of KMC-owned entertainment venues
Karachi Mayor Waseem Akhtar has announced that all entertainment venues under the management of the Karachi Metropolitan Centre will remain shut.

These include the Karachi Zoo, Safari Park and Landhi Zoo.
"We are shutting down these facilities to tackle the spread of the coronavirus. All these places will be sprayed and disinfected thoroughly," said Akhtar.
He said that the opening of the venues is tied to the government's decisions in the coming days.

---
06:35pm - Pakistan Sports Board coaching centre closes

All the various facilities of the Pakistan Sports Board coaching centre have been closed for an unspecified period of time, according to a notification.
The coaching centre has also postponed all its scheduled activities.
---
06:30pm - LDA closes one-window operation
The Lahore Development Authority has announced it has closed off its one-window cell for 10 days.
"No new application will be entertained for 10 days," said the Authority's spokesperson, adding that applications already received will be reviewed.
The spokesperson said that citizens will not be allowed entry into the one-window cell without masks and that employees, for the next three weeks, will not use biometric identification for logging in their attendance
"Employees will also be asked to refrain from shaking hands," said the spokesperson.
---
06:20pm - Saudi Arabia must give until March 25 to transport Pakistanis home: CAA
The Civil Aviation Authority has requested Saudi Arabian authorities to grant them until March 25 to transport the remaining passengers seeking to fly back to Pakistan.
The kingdom still has a total of 5,000 Pakistanis, said the CAA, adding that a 72-hour window will be needed to transport them.
The Authority said that Pakistan International Airlines, as well as all private airlines, were operating full time to bring Pakistanis back home.
It said a response from the Saudi Arabia aviation authority is awaited.

---
06:10pm - Sindh govt will pay for screening at private hospitals: Murtaza Wahab
The Sindh chief minister's adviser on law, Murtaza Wahab has assured people that the provincial government will pay for their coronavirus testing at private hospitals.

"If any private hospital is charging a fee, please do inform the government," he said.
---
06:00pm - Punjab's zoos, wildlife parks shut down
Zoos and wildlife parks throughout Punjab have been ordered to shut down for three weeks, according to a government notification.

Meanwhile, Livestock Secretary Nadeem Irshad Kiyani has asked all employees of the department to ensure they wear masks.
He said that all festivals organised by the department have been cancelled.
---
05:50pm - Eight schools sealed in Rawalpindi for ignoring govt orders
The district administration has confirmed that eight schools in Rawalpindi have been sealed for failing to comply with the government's orders for closure till April 5.
Joint action was taken by the Rawalpindi assistant commissioner, Cantt assistant commissioner, and the education department after a probe.
The assistant commissioner has sent a notice to the administration of all the schools to appear before the court and explain their actions.

---
05:40pm - Cinema houses, wedding halls in Lahore to remain shut

The Lahore administration has announced a closure of all cinema houses in the city for a period of three weeks following a meeting with cinema house owners and a similar ban on the opening of wedding halls has been placed.

A total of 36 cinemas — including those situated in malls — and wedding halls have been sealed by the district administration in Lahore.
"The action has been taken in the interest of the public," said the Deputy Commissioner (DC) of Lahore.
Meanwhile, the city's Water and Sanitation Agency (WASA) has decided to supply chlorine-treated water at 20 different locations.

---
05:30pm - Strict action to be taken against Quetta doctors

The Quetta health secretary has sent a letter to the provincial chief secretary, notifying him of the failure of doctors to appear for duty at a quarantine centre and recommended strict action be taken against them.

Thirteen doctors had been assigned special duty at the centre, located in the city's Hazarganji area.
---
05:20pm - Philippines confirms 34 new coronavirus cases, full tally at 98
The Philippines saw an additional 34 confirmed coronavirus cases today, bringing the total to 98, ahead of the implementation of quarantine measures in the capital Manila, Reuters reported.

It marked the largest single-day increase in confirmed cases in the Southeast Asian nation, which has eight coronavirus deaths.
---
05:17pm - WATCH: A Muslim couple in Scotland distributes screening kits
---
05:05pm - Malaysia reports 41 new cases of coronavirus, all linked to religious event
Malaysia reported 41 new coronavirus cases on Saturday, all linked to a religious event on the outskirts of Kuala Lumpur that was attended by about 10,000 people from several countries, Reuters reported.

The new cases bring the total number of infected people in the Southeast Asian country to 238, the health ministry said in a statement.
A total of 81 cases in Malaysia have now been confirmed as linked to the same event held at a mosque between Feb. 27 and March 1.
Prime Minister Muyiddin Yassin said on Friday that the country was facing a "second wave" of infections, and warned of an impact on economic growth.
To contain the spread of the virus, all gatherings including international meetings, sports, social and religious events would be cancelled or postponed until after April, he said.
In neighboring Brunei, 38 of the total 40 cases in the country had been linked to the religious gathering as of Saturday.
A total of 85 Bruneians attended the gathering, and 18 tested positive. The remainder of the 38 are their immediate family members, friends or co-workers, the health ministry said.
New cases in Brunei include a 9-month-old baby, the child of a man who attended the religious event.
The speaker of Brunei's legislative council called for the current session to end on Saturday, a week ahead of schedule and bringing an abrupt end to budget discussions, because of the coronavirus outbreak.

---
04:55pm - Rwanda confirms first coronavirus case
Rwanda has confirmed its first case of the new coronavirus — an Indian citizen who arrived last week from Mumbai, AFP reported, citing the health ministry.

"He is currently under treatment in stable condition, isolated from other patients. The tracing of all contacts has been conducted for further management," the ministry added.
Rwanda is the third East African nation to confirm a case in the past two days after Kenya and Ethiopia reported their first infections on Friday.
The region had remained unscathed until now, but Rwanda has stepped up its preparation, placing washbasins with soap and sanitiser around the capital Kigali.
RwandAir has cancelled flights to China, Israel and India, while concerts, rallies, trade fairs and sports events have been cancelled.
---
04:09pm - Karachi reports new case, taking national tally to 30
Sindh's Health and Population Welfare Department has just reported another case in Karachi.
The patient had travelled to Saudi Arabia and was said to have tested positive today.
According to a statement by Senator Murtaza Wahab, who is the Sindh chief minister's law adviser, the patient has been shifted to an isolation ward.
---
3:51pm - Iran reports 97 new virus deaths, taking toll to 611
Iran on Saturday reported 97 more deaths from the novel coronavirus, raising the total to 611, as the number of confirmed cases jumped again.
Health ministry spokesman Kianoush Jahanpour said that "1,365 fresh cases have been added to the number of confirmed infections in the past 24 hours", bringing the total number to 12,729.
---
3:48pm - 12 isolation centres setup in Sindh: Murtaza Wahab
Spokesperson for the Sindh government Murtaza Wahab on Saturday said currently the province had the capacity to keep 2,048 patients under quarantine.
"We have taken the decision to have one person per isolation ward," Wahab said while addressing a press conference.
"Apartment buildings will be converted into isolation facility," he said. "This step has been taken so that anyone who has been tested positive they can enter the quarantine centre and can be shifted to the isolation facility."
The spokesperson further said there are 12 isolation centres across the province.
"Two new hospitals have been identified and we have deliberately not shared the location. All of these places have a 100 bed capacity and all the arrangements have been finalised," Wahab said.
Wahab further said that the chief minister had personally visited the isolation centres to take a look at the facilities.
Wahab added that divisional commissioners have also been directed to identify facilities that can be turned into isolation centres in their districts.
---
3:40pm - Trump announces Sunday as National Prayer Day
US President Donald Trump declared Sunday, March 15 as a National Prayer Day to deal with the coronavirus pandemic that has hit the globe.
"It is my great honour to declare Sunday, March 15th as a National Day of Prayer. We are a country that, throughout our history, have looked to God for protection and strength in times like these," tweeted the US president.
---
3:00pm - Australia-NZ tours postponed due to coronavirus travel clampdown
Australia and New Zealand's limited overs tours have been postponed in the wake of new travel restrictions announced by the New Zealand government on Saturday aimed at containing the spread of the coronavirus.
The new restrictions meant New Zealand's cricket team would head home from their current tour of Australia later on Saturday, the sport's national federation said.
"This development also means the three-match T20I series scheduled for New Zealand cannot proceed as the mandatory self-isolation period would also apply to the Australian squad as soon as it crossed the border into New Zealand," New Zealand Cricket said in a statement.
---
2:52pm - Russia shuts land borders to Poland, Norway to foreigners
Russia will close its land borders with Poland and Norway to foreigners in a bid to limit the spread of the new coronavirus, the country's prime minister said on Saturday.
According to AFP, the ban will come into force at midnight on Saturday and apply to all foreigners travelling "for professional, private, study or tourist reasons", apart from Belarusians, members of official delegations and residents of Russia, said premier Mikhail Mishustin in a statement.
---
2:50pm - CM Punjab gives helicopter to fight coronavirus
Punjab Chief Minister Usman Buzdar has given his helicopter to the health department to help them in their fight against the coronavirus.
The chief minister has directed officials to use the helicopter to transport patients from the different districts and to ease the provision of medical facilities to the patients.
---
1:45pm - Shane Watson, Ben Cutting to remain with Quetta: manager
Quetta Gladiators Manager Azam Khan has said team mentor Sir Vivian Richards, and Australian players Shane Watson and Ben Cutting will not be leaving the team after a few foreign players left for their countries due to coronavirus fears.
The manager also shared that English players Tymal Mills and Jason Roy have already left the squad and departed for their country.
---
1:40pm Islamabad shuts down schools for three weeks
The federal capital has announced all educational institutes will remain closed for three weeks after it reported its first case of coronavirus on Saturday.
According to a notification, all universities, vocational centres, private universities, academies, and tuition centres will remain closed.  
---
2:35pm - Namibia reports first two cases of coronavirus
Namibia on Saturday reported its first two cases of coronavirus, with a Spanish couple who arrived in the Southern African country on Wednesday both testing positive and quarantined, Health Minister Kalumbi Shangula said.
---
2:11pm - Pakistan reports another case, tally rises to 29
Pakistan on Saturday reported another coronavirus case in the country, taking the toll to 29.
According to Pakistan Institute of Medical Sciences (PIMS) officials, the patient, a 30-year-old woman, had travelled from the US to Pakistan a few days ago.
The officials added that the woman's condition was critical and she has been placed on a ventilator. The woman was brought to PIMS from a private hospital.
---
1:45pm - Railway services to continue as per schedule: minister
Railways Minister Sheikh Rasheed has announced that railway services would not be stopped in the country despite the coronavirus.
"Apart from one or two all trains will remain functional in view of the coronavirus threat," Rasheed told the media at the Railways Headquarters in Lahore.
The minister also announced that freight train services would also be functional for now. He also announced that an emergency has been imposed at all railway hospitals in the country
---
Here's why frequent handwashing is recommended in preventing COVID-19 spread 
---
1:20pm - International flights to operate only out of Karachi, Lahore and Islamabad airports
The Civil Aviation Authority (CAA) has issued a NOTAM for international flights.
According to the NOTAM, international flight operation will only remain operational at Karachi, Lahore and Islamabad airport in order to combat the coronavirus outbreak.
International flight operations will remain suspended at the Peshawar, Faisalabad, Quetta, Gwadar, Sialkot, Rahim Yar Khan, Bahawalpur and Multan airports.
The NOTAM further said international flight operation will take place between 2pm to 7pm at the Karachi and Islamabad airports, while it will be operational from 1:30pm to 8pm at the Lahore airport.  
---
1:05pm - Punjab govt takes important decision regarding coronavirus
---
Global cornavirus cases over time  
Wondering which countries has the highest number of coronavirus cases? Here's a neat little video explaining coronavirus cases over time.

---
1:00pm - Apple to close retail stores outside Greater China until March 27
Applesaid late on Friday it will close all its retail stores outside Greater China until March 27, to minimize risk of coronavirus transmission.
"We will be closing all of our retail stores outside of Greater China until March 27," Apple CEO Tim Cook wrote in a letter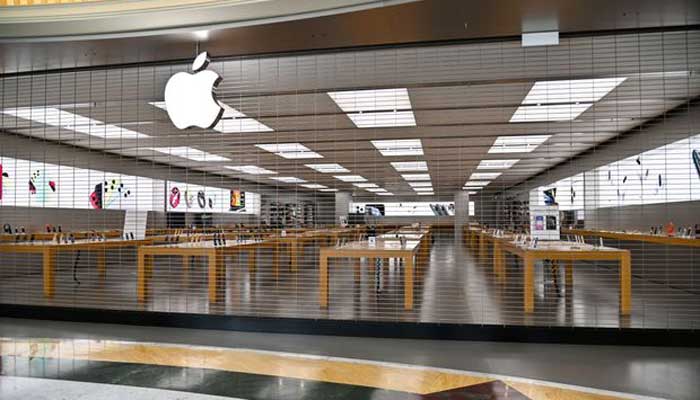 "In all of our offices, we are moving to flexible work arrangements worldwide outside of Greater China," he added. "That means team members should work remotely if their job allows."
---
12:59pm - Vietnam to refuse visitors from UK, Schengen countries
Vietnam has announced that it will be denying entry and stop issuing tourist visas to citizens from Europe's Schengen visa-free area and Britain starting from Sunday, its foreign ministry said.
The restriction will start from midday March 15 following a proposal from the country's prime minister, the ministry said in a statement on its website.
Visas on arrival for all foreign nationals are also temporarily halted, it added.
---
12:55pm - First batch of pilgrims arrive in Sukkur
---
12:42pm - Spokesperson for Primary and Secondary Healthcare Punjab issues statement 
The spokesperson for Primary and Secondary Healthcare Punjab has stated that six suspected cases are being monitored in different areas of the province, but that there are so far no confirmed cases in Punjab. 
Close to 4,700 people who returned from abroad have been screened for the virus in the last 15 days, the spokesperson said. 
"No patient has shown symptoms of the coronavirus so far," he said. 
---
12:37pm - 4 foreign Peshawar Zalmi players leave for home 
Carlos Brathwaite, Liam Dawson, Liam Livingstone and Tom Banton have left for home after the Pakistan Cricket Board announced PSL's foreign players were allowed to return home.
---
12:22pm - Coronavirus tests being done for free across country: Dr Zafar Mirza
Coronavirus detection tests are being done for free all across the country, Advisor on Health Dr Zafar Mirza has assured. 
Eight laboratories have been officially provided coronavirus testing kits free of charge and they are not receiving any fee for delivering them.
Pakistan is among the few nations which have the capability to produce testing kits on its own, Dr Mirza said. 
Some private clinics are also conducting tests, but they are faulty, he said. Only authorised laboratories have the specific technical knowledge to execute the tests properly, he said. 
---
12:14pm - Sindh Disaster Management Authority directed to prepare for possible shutdown 
CM Sindh Murad Ali Shah has directed the provincial Disaster Management Authority to maintain records at the family and taluka (tehsil) levels. 
"In case of a lock-down, a plan for provision of food, medicine and access to doctors should be ready," the CM has directed. 
The CM further directed that the Sindh Disaster Management Authority maintain sufficient stocks of dry food. 
The authority was also directed to establish 35 field hospitals.
Mobile hospitals, medicines and the best doctors and support staff should stay prepared, he ordered. 
12:08pm - Petitioner files case in LHC against high prices of surgical masks
A petitioner has filed a case against the government for not regulating the prices of surgical masks. 
The petitioner has argued that the government has failed to control prices of the protective masks, while sanitiser is also not available. 
They have sought powers for magistrates and police to check the prices of surgical masks. 
---
12:02pm - CM Sindh orders closure of wedding halls, shrines and festivals 
Chief Minister Murad Ali Shah has announced key measures to deal with the coronavirus outbreak, ordering the cancellation of wedding ceremonies and festivals and the closure of dargahs and wedding halls. 
The provincial chief secretary has been directed to issue notifications in this regard. 
Madressahs have also been told to halt educational activities. 
The Sindh Disaster Management Authority has also been directed to start recruiting volunteers. 

"By God's mercy, the situation is still under control. But we need to be prepared for every eventuality," he said. 
Read more on this here. 
---
11:53am - Sindh govt issues advisory for public places 
The Sindh govt has advised careful use of available resources in view of a potential large-scale outbreak of the coronavirus.
All dargahs, mosques and mazaars have been advised to set timings for visitors and provide sanitizers and soap during rush hours. 
The health department has also been directed to set up a desk at the district level and maintain contact with the Auqaf department. 
Prayer leaders have also been asked to spread awareness about the coronavirus during Friday sermons and after daily prayers. 
---
11:49am - BISE Rawalpindi exams for Grade 9 postponed
The Board of Intermediate and Secondary Education Rawalpindi has postponed board exams for Grade 9. New dates will be announced later.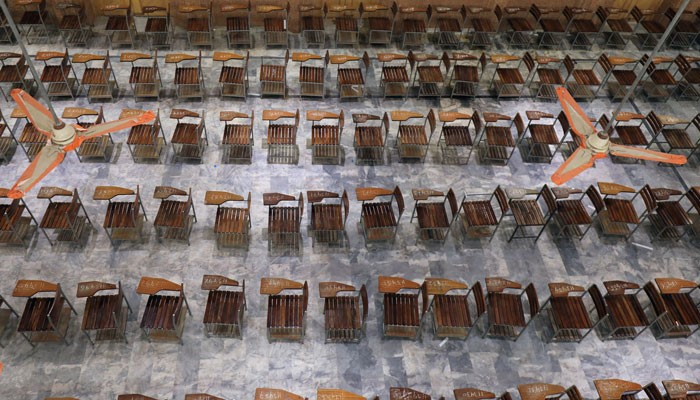 ---
11:46am - Sindh IG Jails wants all prisons in the provinces to be sterilised
The inspector general of jails, Sindh has asked for all prisons in the province to be sterilised. 
He has also issued instructions to staff not to use biometric attendance machines. 
Meanwhile, prisoners and staff have been given safety masks and prisoners have been told to desist from physical contact with each other. 
---
11:44am - Punjab info minister says provincial govt ready to combat coronavirus
"The Punjab government is ready to combat to the coronavirus," P