Coronavirus updates, April 5: Latest news on the COVID-19 pandemic from Pakistan and around the world
Nationwide tally of confirmed cases crosses 3,000; global coronavirus deaths surge past 65,000; Queen Elizabeth II says "we will succeed" in rare televised address
Updated Sunday Apr 05 2020
KARACHI / LAHORE / ISLAMABAD / PESHAWAR / QUETTA: The number of confirmed COVID-19 cases in Pakistan rose to 3,160 on Sunday after new infections were confirmed in the country.
The province-wise break up of the total number of cases as of 11:39pm, April 5, is as follows:
---
Total confirmed cases: 3,160
• Sindh: 881
• Punjab: 1,380
• Khyber Pakhtunkhwa: 405
• Balochistan: 192
• Islamabad Capital Territory: 78
• Gilgit-Baltistan: 210
• AJK: 14
Deaths: 47
• Khyber Pakhtunkhwa: 16
• Sindh: 15
• Balochistan: 1
• Gilgit-Baltistan: 3
• Punjab: 12
---
The worldwide number of officially confirmed fatalities from the novel coronavirus now stands at above 65,000, according to a Reuters tally.
More than 1 million declared cases have been registered in 200 countries and territories since the epidemic first emerged in China in December. Of these cases, at least 250,000 are now considered recovered.
Read on for the latest updates from Pakistan and around the world.
---
Disclaimer: There may be some discrepancy in the number of confirmed cases reported at the country level due to differences in figures quoted by federal and provincial authorities.

Geo News is constantly gathering fresh information from concerned authorities and striving to keep our readers up to date with the most accurate information available.
---
Orange: All general updates coming in from Pakistan

Red: All reports on new cases in Pakistan
Maroon: All reports on new deaths in Pakistan
---
END OF LIVE UPDATES FOR APRIL 5
Live updates for April 6 will continue here.
---
Stranded Pakistanis in Uzbekistan thank govt efforts for April 6 return
---
China says it has sold nearly four billion masks abroad
China has sold nearly four billion masks to foreign countries since March, officials have said, as they try to stem widespread fears over the quality of medical exports.
Despite Chinese cases dwindling, Beijing has encouraged factories to increase production of medical supplies as the pandemic kills over 60,000 globally and parts of the world face a protective equipment shortage.
China has exported 3.86 billion masks, 37.5 million pieces of protective clothing, 16,000 ventilators and 2.84 million COVID-19 testing kits since March 1, customs official Jin Hai said, with orders to more than 50 countries.
She added the country's medical supply exports were valued at 10.2 billion yuan ($1.4 billion).
---
12:15am (April 6) — London, UK — Queen Elizabeth II says 'we will succeed' against coronavirus
Queen Elizabeth II has thanked healthcare workers on the frontline of the fight against the coronavirus, urging a united effort to overcome the crisis but vowed: "We will succeed."
In a rare special televised address, the 93-year-old monarch drew on her experience in World War II, telling people forced to separate from family and friends: "We will meet again."
---
12:10am (April 6) — Islamabad, Pakistan — 194 stranded Pakistani nationals repatriated
The Ministry of Foreign Affairs has said that 194 Pakistanis stranded in Turkey were successfully repatriated with the efforts of the Pakistani Embassy in Ankara and the Consulate General of Pakistan in Istanbul.
"These stranded Pakistani nationals included tourists who came to Turkey on short-term visa & couldn't return owing to flight disruptions, as well as those 22 Pakistani nationals who were stuck in transit lounge of Turkish airports when Pakistan's airspace closed on the evening of 21.3.2020," read a statement on Facebook.

---
11:39pm — Peshawar, Pakistan — KP reports two deaths, tally of infected rises to 405
According to an update by the health department, the province saw two deaths occur today, both from Swat which took the total number of deaths to 16.
The overall tally of cases has risen to 405, with 33 new cases reported in the last 24 hours.
Thirty-two patients have also recovered, taking the total recoveries to 62.
---
11:10pm — Colombo, Sri Lanka — Q
uarantine extension to four weeks suggested after positive case
Sri Lanka has extended the suggested quarantine period from two weeks to four after a 34-year-old man who returned home from South Korea tested positive a week after leaving isolation.
Army chief Shavendra Silva — who operates several quarantine facilities — told those who are completing the mandatory two-week quarantine to isolate themselves for a further 14-day period.
"Even those who are under self-quarantine are urged to spend another two weeks isolating themselves," Silva said.
Although not a mandatory order, local health officials have been told to ensure people follow the extended isolation, official sources said.
The disease has claimed the lives of five people and infected at least 174 so far.
---
10:58pm — Madrid, Spain — 

Third daily drop in coronavirus deaths

Spain saw its third consecutive daily decline in the number of people dying from the coronavirus pandemic as the country recorded another 674 fatalities on Sunday.

The health ministry said total deaths were now 12,418, the highest in the world after Italy, since the pandemic emerged in China in December.

The 674 fatalities, which were sharply down on the record 950 declared on April 2, represented an increase of 5.7% over the last 24 hours, and compared with a 30% leap in one recent day.

The number of infections rose 4.8% to 130,759, indicating a slowdown in the spread from 8.2 % on April 1 and 14% 10 days ago.

The number of people declared to have recovered has increased by 11%, to 38,080.

The authorities say they believe they have stabilised the spread of the virus but have decided to extend until midnight April 25 a strict lockdown imposed on Spain's 46.6 million people since March 14.
---
10:52pm — Istanbul, Turkey — Turkey exempts young workers from confinement order
Turkey has said working youth, including seasonal agricultural labour, will be exempted from a confinement order imposed as part of tougher measures against the coronavirus outbreak.
President Recep Tayyip Erdogan on Friday issued a mandatory confinement order for everyone aged under 20 starting from midnight, in the latest series of measures taken nationwide.
Public and private sector employees as well as seasonal agricultural workers aged between 18 and 20 will now be exempted, the interior ministry said in a circular.
People aged over 65 or those with chronic medical conditions are already subject to mandatory confinement in Turkey.
The country's death toll from coronavirus reached 574 after 73 more people lost their lives over the last 24 hours, according to figures published by Health Minister Fahrettin Koca on Sunday.
The total number of confirmed cases rose to 27,069 while the country performed more than 20,000 tests on Sunday.
---
10:22pm — Port-au-Prince, Haiti — 55-year-old becomes first to die of virus in country
Haiti has  reported its first novel coronavirus death, a 55-year-old man who had underlying health conditions.
The health ministry said the man suffered from diabetes and hypertension.
He was one of only 21 confirmed cases of the COVID-19 virus in Haiti, a demographically young country where over half those diagnosed with the disease have been under age 45.
Only 218 tests for the new coronavirus have been carried out in Haiti since the first two cases were confirmed March 19, however, leading to criticism from the national medical community of the government´s handling of the pandemic.
Since the virus first appeared, the government has announced stringent measures to contain it, but they have not been rigorously followed or enforced.
A ban on gatherings of 10 or more people is routinely violated, notably in the country's crowded public transportation system.
Stay-at-home measures, like those in place in Italy and France, are difficult to apply in Haiti because the vast majority of its inhabitants depend on the informal economy to survive.
The density of the population of Port-au-Prince, the most populous capital in the Caribbean, with three million people, also makes strategies like social distancing impractical.
---
10:10pm — Gilgit, Gilgit-Baltistan — 3 people sent home after completing quarantine period
According to the regional health department, three people were sent home from Tolti Kharmang after they completed their mandatory quarantine period. One had come from Dubai and the other two from Iraq.
---
Asim Jofa appeals to govt 'to make a strategy facilitating (personal protection equipment) need in Pakistan'
The fashion designer, who has undertaken the task of developing personal protection equipment for frontline workers has said that he is "working tirelessly" but more equipment is needed.

He said he will share details free of cost so more people can join hands in manufacturing the equipment.
Jofa underscored that this will generate income for skilled labour, especially women.
---
09:52pm — Karachi, Pakistan — Asymptomatic patients or those with mild symptoms to be put up at Expo Centre facility
A notice issued to district health officers by the Sindh health department has said that from April 6, all positive cases that are asymptomatic or have mild symptoms must be referred to the "Field Isolation Centre Expo-Karachi".

Medical superintendents have been warned to keep patients with moderate or severe symptoms within isolation wards of their hospitals.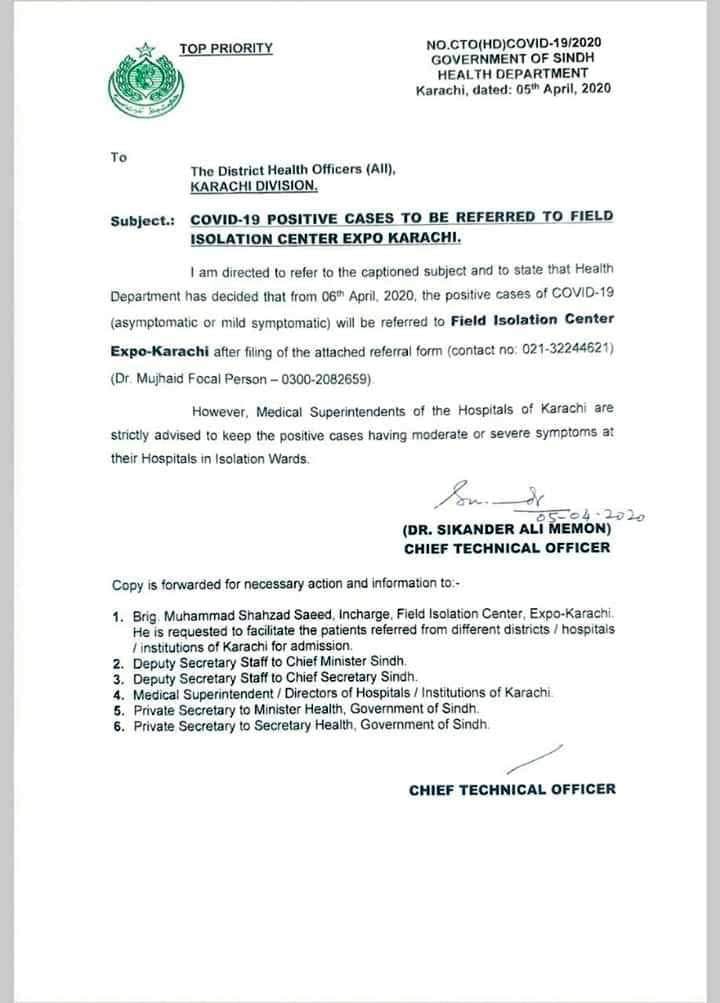 ---
09:41pm — Lahore, Pakistan — Camp Jail has 28 COVID-19 patients: DIG Jails
The deputy inspector general for jails has said that 28 inmates have tested positive for COVID-19 at Lahore's Camp Jail.
He said the infected inmates had all been imprisoned over cases involving narcotics. They are all in stable condition, he said.
The DIG said that in total, 400 prisoners have been placed under quarantine.
---
Manila man wears plastic bottle for protection
---
09:26pm — Quetta, Balochistan — Province reports 3 more cases taking tally to 192
According to Balochistan government spokesperson Liaquat Shahwani, there were reports of 153 more cases received after which three were found to have the virus.
The total number of locally transmitted cases are 54 and 32 in all have recovered.
The total tally now stands at 192.
---
09:24pm — Rome, Italy — Italy records lowest virus death toll in over two weeks
Italy has today recorded its lowest daily death toll from the novel coronavirus in over two weeks and has sen the number of critical care patients decline for the second day.
The 525 official COVID-19 fatalities reported by the civil protection service were the lowest since 427 registered on March 19.
---
09:19pm — Toulouse, France —  Man fined after crossing mountains to buy smokes
A man who tried to walk from France to Spain to buy cheap cigarettes was rescued in the Pyrenees mountains — only to be fined for flouting anti-coronavirus regulations.
The man had initially set out by car Saturday from Perpignan in southern France to La Jonquera in Spain, but was stopped at a checkpoint, and decided to make his way on foot across the mountain range that separates the two countries.
"He fell into a stream, in brambles, got lost and ended up contacting" the emergency services, a mountain unit of the gendarmerie police force in the Pyrenees-Orientales region said on Twitter on Sunday.
A helicopter was sent to rescue the man, "exhausted, shivering with cold and lost," it added.
After being brought safely back, the man was given the 135-euro ($146) fine for breaking the confinement rules under which French residents can leave their homes only for essential reasons, and then with a self-certified note stating their business.
"We remind you once more. STAY AT HOME," concluded the gendarmerie's Tweet.
Many people in southern France cross the border to buy cigarettes, alcohol, some foodstuffs and fuel, which are cheaper in Spain.
---
Punjab health dept says training under Chinese experts has begun
---
08:53pm — Punjab govt asks charities to seek clearance from PDMA before aid efforts
"If any individual, organisation, or any other entity, who/which intends to undertake philanthropic activity on its own, shall submit an application to the Deputy Commissioner in whose jurisdiction the philanthropic activity is proposed," reads a notice by the government of Punjab.
The deputy commissioner shall determine the "mode, mechanism, area and extent" of work and shall intimate the request to the Provincial Disaster Management Authority (PDMA), said the notice.
Failure to comply with this requirement will result in criminal proceedings under Section 6 of The Punjab Natural Calamities (Prevention and Relief) Act, 1958 read with Section 188 of the Pakistan Penal Code.
---
US citizens in Pakistan provided link to register for flights departing from Karachi and Islamabad
---
08:30pm — Skardu, Gilgit-Baltistan — Skardu reports release of 247 individuals from quarantine
The Skardu Deputy Commissioner has said that 247 people have been released over the last six days after a mandatory 14-day quarantine period.
---
7:43pm - Lahore, Pakistan — CM Buzdar thanks PM Imran for approving disbursement of Rs4,000 instead of Rs12,000
Chief Minister Punjab Usman Buzdar thanked Prime Minister Imran Khan for agreeing to his advice following which aid of Rs12,000 worth will be provided to 25 million families.

This will be made possible after the Ehsaas programme and Insaf Imdad programme will be combined so that instead of Rs4,000, families are given Rs12,000.
The chief minister said that the government is providing essential supplies to families residing in the areas that have been sealed. He said that more measures to help the daily wage earners will be taken.

The applications are open till April 7.
---
7:37pm - Islamabad, Pakistan — Asad Umar warns coronavirus may test Pakistan's health system in coming weeks
Federal Minister for Planning, Development and Special Initiatives Asad Umar said on Sunday that the government was apprehensive that the coronavirus will test Pakistan's health system in the coming weeks.
Umar was briefing the media about the coronavirus situation in Pakistan at the National Command and Operation Centre (NCOC) where he thanked the public for adhering to the government's safety precautions. The minister credited the government's measures of banning public gatherings for bringing down the rate of the virus spreading but warned that it does not mean the toll may not rise further.
Read more here.
---
7:35pm - Islamabad, Pakistan — President Arif Alvi launches Muhafiz App
---
7:33pm - Karachi, Pakistan — CM Sindh forms committee to work out SOPs for industrialists  
Chief Minister Sindh Murad Ali shah has formed a committee of health experts, labour and industries department secretaries and representatives of Police and rangers to prepare Standard Operational Procedure (SOP) for factories so that could be allowed to start their operation.
The CM took the decision while presiding over a meeting to review the request of the industrialists to allow their units to start operation so they could fulfill their export orders. The meeting was attended by provincial ministers, Dr Azra Pechuho, Saeed Ghani, Ikram Dharejo, Nasir Shah and CM's Advisor on Law Murtaza Wahab, IG Sindh Mushtaq Maher, PSCM Sajid Jamal Abro, Home Secretary Usman Chachar, Commissioner Karachi Iftikhar Shahalwani, Additional IG Karachi Ghulam Nabi Memon, Secretary Labour Rasheed Solangi and others.  
---
7:07pm - London, United Kingdom —  UK coronavirus death toll rises by 621 to 4,934
The United Kingdom's death toll from the coronavirus rose by 621 to 4,934 at 1600 GMT on April 4, the health ministry said on Sunday.
As of 0800 GMT, a total of 195,524 people had been tested of which 47,806 tested positive, the health ministry said.
---
7:02pm - Lahore, Pakistan — Nationwide tally of confirmed cases crosses 3,000
Nationwide tally of confirmed cases rose to 3,124 after 184 more cases were reported by the Punjab government in the province.
According to the spokesperson of Punjab Primary and Secondary health care department, the provincial tally now stands at 1,380. He added that positive cases have been reported in 27 districts of the province.
---
6:54pm - Addis Ababa, Ethiopia — Ethiopia reports its first death of a COVID-19 patient
Ethiopia has reported its first death of a COVID-19 patient, a 60-year old woman who was in treatment at a hospital in the capital since March 31, the Health Minister Lia Tadesse said on Sunday.
The Horn of Africa nation has a total of 43 confirmed cases of the disease, which is caused by the new coronavirus, and has reported four recoveries.
---
6:50pm - Nationwide tally rises to 2,940  
The nationwide tally of confirmed cases rose to 2,940 after four new cases were reported in Gilgit Baltistan.
According to the GB health department, the region's tally now stands at 210.
---
5:52pm - Amsterdam, The Netherlands — Coronavirus deaths in Netherlands rise by 115 to 1,766
The number of deaths caused by the new coronavirus in the Netherlands has increased by 115 to 1,766, health authorities said on Sunday.
Confirmed infections increased by 1,224 to 17,851, the Dutch Institute for Public Health said.
---
5:48pm - Karachi, Pakistan — 871 people donate more than Rs68 million in Sindh govt's relief fund
---
5:32pm - Muzaffarabad, AJK — Countrywide tally of confirmed cases rises to 2,936
The nationwide tally of confirmed cases rose to 2,936 after Azad Jammu and Kashmir's health minister confirmed that the region has received two new cases of the infection.
The minister said that the region's tally now stands at 14 and the affected people hail from Mirpur and have been kept in isolation.
---
5:21pm - Peshawar, Pakistan — UC Manga to be cleared slowly: Ajmal Wazir 
Advisor to Khyber Pakhtunkhwa Chief Minister on Information Ajmal Wazir has announced that UC Manga, where the first death of coronavirus was reported in Pakistan, will be cleared slowly.
The adviser said 109 tests carried out in the UC have come out as negative. He added that the area was locked down as the government feared that the virus got spread in the 57,000 people residing in the union council.
---
5:13pm - Singapore — Singapore reports 120 new coronavirus cases in record daily jump
Singapore's health ministry on Sunday confirmed 120 more coronavirus cases, the most new infections reported in a single day for the city-state.
The number of new cases is a 60% increase over the 75 reported on Saturday, which was the previous biggest rise. Singapore has reported a total of 1,309 infections and suffered six deaths from the global pandemic.
---
5:03pm - Quetta, Pakistan — Balochistan govt releases Rs765 million for ration distribution under first phase
---
4:59pm - Lahore, Punjab — Buzdar asks Rashid to implement "Chinese model" in province
Chief Minister Punjab Usman Buzdar has directed provincial health minister Dr Yasmin Rashid to implement "China's successful model" in the province to deal with the coronavirus crisis.
"China's line of action to control coronavirus is very successful," Buzdar told the minister. He added that the provincial government will give importance to the advice given by Chinese doctors.
---
4:37pm - Islamabad, Pakistan — Minister warns UN of crisis in refugee camps 
Minister for States and Frontier Regions Shehryar Khan Afridi on Sunday warned the United Nations against a crisis that may develop in Afghan Refugee camps due to the lockdown put in place because of the coronavirus outbreak, reported Radio Pakistan.
The minister issued the warning while speaking to media at the Afghan Camp in Islamabad where he attended the installation ceremony of a walkthrough sanitation gate at the camp.
The minister said that he had raised funds for helping out the Afghan refugees stranded in camps due to lockdown situation. He said that on his request, Prime Minister Imran Khan had already directed the formation of a special relief package for Afghan refugees despite financial difficulties faced by the country.
---
4:19pm - Frankfurt, Germany — Germany reports third straight drop in daily rate of new cases
Germany's confirmed coronavirus infections rose by 5,936 in the past 24 hours to 91,714 on Sunday, the third straight drop in the daily rate of new cases, according to data from the government's Robert Koch Institute.
Sunday's figure amounted to a drop of 146 cases compared with 6,082 new infections recorded on Saturday, itself a fall from 6,174 new infections on Friday.
The reported death toll rose by 184 to 1,342.
---
4:00pm - Karachi, Sindh — Provincial tally of recovered patients rises to 123
The number of recovered patients in Sindh rose to 123 after 37 patients were tested negative after being recovered from the virus.

---
3:58pm - Karachi, Pakistan — Nationwide tally of confirmed cases rises to 2,934
The number of confirmed cases rose to 2,934 in the country after 17 new cases were reported by the Sindh government.
According to Sindh government spokesperson, the provincial tally has increased to 881 and the death toll in the province remains at 15.
---
3:32pm - Islamabad, Pakistan — Chinese embassy rejects reports regarding quality of N95 masks  
The Chinese embassy in Pakistan has rejected "irresponsible reports criticising the quality of N95 masks" Beijing provided by China.
"We firmly reject the false allegation and irresponsible remarks to undermine our cooperation with Pakistan," said the mission in a series of tweets. It added that all medical supplies sent by China are strictly examined and assured that they are highly qualified products.
"China highly appreciates the support from Pakistan in fighting COVID-19 and would like to do its best to collaborate with the world against the virus," said the mission. It added that the Chinese government, companies and society have been working hard to help and will continue to do so.
---
3:14pm - Kuala Lumpur, Malaysia — Malaysia reports 179 new coronavirus cases and 4 more deaths
Malaysia on Sunday reported 179 new coronavirus cases, raising the cumulative total to 3,662 cases as Southeast Asia's third-largest economy grapples with the highest number of infections in the region.
The new cases include 4 deaths, raising the tally to 61 people who have died as of noon on Sunday, the health ministry said.
---
3:13pm - Zurich, Switzerland — Swiss coronavirus death toll rises by 19 to 559, cases top 21,000
Switzerland's death toll from the coronavirus outbreak has risen by 19 to 559, the health ministry said on Sunday.
The number of people testing positive increased to 21,100 from 20,278 on Saturday, it said.
Switzerland has tested more than 158,000 people for COVID-19.
---
3:11pm - Juba, South Sudan — South Sudan confirms first case of coronavirus
South Sudan has confirmed its first case of COVID-19, its vice president said on Sunday, becoming the latest African nation to report a case of the disease caused by the new coronavirus.
Riek Machar said a 29-year old patient arrived in the country from Ethiopia on February 28, and that she was being treated in isolation
---
3:10pm - Tehran, Iran — Iran's deaths from coronavirus reach 3,603 - health ministry
The death toll in Iran from the outbreak of the new coronavirus has reached 3,603, health ministry spokesman Kianush Jahanpur said in a statement broadcast live on state TV on Sunday.
One hundred and fifty one people have died in the past twenty four hours, he said.
The Islamic Republic, the Middle Eastern country worst-hit by the epidemic, now has a total of 58,226 infections, Jahanpur said.
---
3:08pm - Madrid, Spain — Spain's coronavirus death toll rises by 674 to 12,418
Spain's coronavirus death toll has risen by 674 to 12,418 in the last day, the Health Ministry said on Sunday. A day earlier the toll rose by 809.
The number of registered cases rose to 130,759 from 124,736, the ministry said.
---
3:06pm - Islamabad, Pakistan — 12 million families to get assistance under Ehsaas programme
Special Assistant to Prime Minister on Poverty Alleviation and Social Safety Dr Sania Nishtar has said the federal government will provide cash assistance of Rs12,000 to over 12 million families under the Ehsaas Emergency Cash Program.
Dr Nishar said that the government had received millions of messages through the SMS service where people can ask the government for assistance.
---
3:04pm - Mufti Taqi Usmani condemns burning of bodies by Sri Lankan govt
---
2:50pm - London, United Kingdom — "UK coronavirus deaths could reach 7,000 to 20,000"
UK deaths from the coronavirus could rise to between about 7,000 and 20,000 under measures taken to slow the spread of the virus, Neil Ferguson, a professor at Imperial College in London who has helped shape the government's response, said on Sunday.
"We had an exponentially growing curve of infections which we interrupted at a certain time," the epidemiologist told the BBC's Andrew Marr program.
"We don't have the ability right now to measure how many people have been infected, that will come with antibody tests, and so we are making statistical estimates of that and those are subject to a certain degree of uncertainty.
"We think it could be anywhere between about 7,000 or so up to a little over 20,000."
---
2:46pm - Islamabad, Pakistan — Experience of overseas Pakistanis shows govt commitment: PM Imran 
Prime Minister Imran Khan has said that the experience of an overseas Pakistani at Islamabad airport reveals the commitment of the government in keeping citizens safe in this fight against coronavirus.
PM Imran passed the remarks after sharing a video on Twitter of a Pakistani passenger at the airport.
---
2:42pm - Pakistan Navy distributes ration among needy
---
2:40pm - WHO lauds Punjab govt for creating field hospital in nine days
---
2:23pm - Ghotki, Pakistan — People in quarantine at DHQ hospital protest
People quarantined in the District Hospital in Ghotki are demanding the authorities to let them go as they are "healthy'.
Hospital authorities have said that there are 24 people in the quarantine centre set up and out of that 10 people protested against their isolation.
---
2:16pm - Lahore, Pakistan — Nationwide tally of confirmed cases rises to 2,917
The nationwide tally of confirmed cases rose to 2,917 after new cases were reported by the Punjab government.
More than 100 new cases were reported in Punjab in the last 19 hours said the Provincial Disaster Management Authority. The new cases have now taken the provincial tally to 1,196.
---
2:09pm - Peshawar, Pakistan — KP government forms committee to oversee work on passive immunisation
---
1:45pm — Quetta, Pakistan — Balochistan reports three more cases, nationwide tally rises to 2,884
Balochistan on Sunday reported three more cases of coronavirus, taking the provincial tally to 189.
"We received 43 test reports, of which three came back positive, the rest negative," Balochistan government spokesperson said.
The spokesperson added 32 patients have recovered from the virus in the province so far.
---
Xavi donates €1 million to Barcelona hospital to help fight coronavirus 
Former Barcelona and Spain star Xavi Hernandez and his wife have donated one million euros ($1.08 million) to the city's Hospital Clinic to help the fight against the coronavirus pandemic.
"Xavi Hernandez and Nuria Cunillera have made a donation of one million euros to the clinic to face up to COVID-19. Thanks a lot for your help and support... All together, we will get there," the hospital tweeted on Saturday.
---
Former F1 chief executive Bernie Ecclestone says 2020 championship should be cancelled

---
1:15pm — Islamabad, Pakistan — PALPA directives may affect PIA operations
The Pakistan Airline Pilots' Association (PALPA) on Sunday prohibited pilots from flying amid the coronavirus outbreak in the country jeopardising emergency flight operations of the national flag carrier.
"The decision has been taken due to the safety issues at hand," the association said in a statement.
---
1:00pm — Tehran, Iran — Rouhani says low-risk economic activities to resume from April 11
Iran's president said on Sunday "low-risk" economic activities would resume from April 11 in the Middle Eastern country worst-affected by the new coronavirus.
"Under the supervision of the health ministry, all those low-risk economic activities will resume from Saturday except in Tehran," President Hassan Rouhani said in a televised meeting.
The health ministry said on Saturday that the Islamic Republic's death toll had reached 3,452 among a total of 55,743 infected people. The daily toll has been rising by at least 100.
---
12:45pm — Tokyo, Japan — 130 new cases recorded
More than 130 people were newly infected with the novel coronavirus in Tokyo, Japan's NHK public broadcaster reported on Sunday, citing officials from the metropolitan government.
It was the highest daily jump in confirmed cases so far, bringing the number of positive cases in the capital to more than 1,000, NHK said.
---
12:30pm — Quetta, Pakistan — Balochistan reports 13 more recoveries
Thirteen more patients have recovered from the novel coronavirus in Balochistan, Chief Minister Jam Kamal tweeted on Sunday.
This brings the total number of recovered patients in the province to 32.
---
Ration distribution drive in Balochistan 
---
12:00pm — Islamabad, Pakistan — Second batch of UAE aid arrives in Pakistan 
Eleven tonnes of medical aid supplies provided by the UAE government arrived in Islamabad on Sunday, UAE ambassador to Pakistan confirmed in a tweet.

---
Watch: US surgeon-general recommends wearing cloth face mask 
---
11:30am — Rabat, Morocco — 5,654 prisoners to be released amid virus outbreak
Morocco's King Mohammed VI has pardoned 5,654 prisoners and ordered measures to protect inmates from the coronavirus outbreak, the justice ministry said on Sunday.
The inmates were selected on the basis of their age, frail health, time spent in prison and good conduct, the ministry said in a statement.
The north African country has confirmed as of Sunday morning 919 coronavirus cases, including 59 deaths. 
---
11:15am — Islamabad, Pakistan — Country records 57 new cases, nationwide tally rises to 2,881
Pakistan on Sunday recorded 57 new cases of the virus, to take the nationwide tally to 2,881.
According to the national dashboard, 30 new cases were recorded in Punjab, 24 in Sindh and three in cases in Islamabad.
---
11:00am — Karachi, Pakistan — Sindh to consider opening industries to avert losses
The Sindh government has agreed to consider lifting the lockdown on industries in the province after pressure from businessmen, reported The News on Sunday.
Prominent industrialists called on Chief Minister Sindh Murad Ali Shah on Saturday and proposed opening of export-oriented industries.
Shah agreed that government revenues depleted due to the lockdown of industries and customs.
"Lockdown would continue till April 14, and if the masses observe this lockdown in letter and spirit, the government might be able to open up gradually," he said.
Read more here.
---
10:50am — Islamabad, Pakistan — Govt to open Torkham, Chaman borders for four days
Pakistan will open its Torkham and Chaman border crossings for four days from Monday to allow Afghan nationals in Pakistan to return home.
"At the special request of the government of Afghanistan and based on humanitarian considerations, Pakistan has decided to allow the exit of Afghan nationals in Pakistan wishing to go back to their country," the FO said in a statement on Saturday.
Read more here. 
---
10:45am — New York, US — More than 600 dead in a day from virus
Coronavirus-related illnesses killed 630 people in the last day in New York state, Governor Andrew Cuomo said on Saturday, in the worst 24 hours yet for the US state hit hardest by the pandemic.
The novel coronavirus has now killed 3,565 people in the state and the situation is particularly worrying on Long Island, east of New York City, where the number of cases "is like a fire spreading," Cuomo told a news conference.
New York City alone accounted for more than a quarter of the over 7,000 US coronavirus deaths tallied by Johns Hopkins University.
---
10:30am — Islamabad, Pakistan — Country reports two more deaths
Pakistan on Sunday recorded two more deaths from the virus, the national dashboard said.
According to the national dashboard, deaths were reported in Sindh and Khyber Pakhtunkhwa.
---
10:20am — London, UK — Show typical British resolve, Queen to tell nation amid virus outbreak
Queen Elizabeth will call on Britons to show the same resolve as their forebears and take on the challenge and disruption caused by the coronavirus outbreak with good-humoured resolve when she makes an extremely rare address to rally the nation on Sunday.
In what will only be her fifth special televised message to the country during her 68 years on the throne, the queen will also thank healthcare workers on the front line and recognise the pain already suffered by some families.
"I hope in the years to come everyone will be able to take pride in how they responded to this challenge. And those who come after us will say that the Britons of this generation were as strong as any," t