Coronavirus updates, April 12: Latest news on the COVID-19 pandemic from Pakistan and around the world
Nationwide tally of deaths nears 100; British PM Boris Johnson discharged from hospital as UK death toll crosses 10,000
Updated Sunday Apr 12 2020
KARACHI / LAHORE / ISLAMABAD / PESHAWAR / QUETTA: The number of confirmed COVID-19 cases in Pakistan rose to 5,362 on Sunday after new infections were confirmed in the country.
The province-wise break up of the total number of cases as of 1am, April 13, is as follows:
Total confirmed cases: 5,362
• Sindh: 1,411
• Punjab: 2,594
• Khyber Pakhtunkhwa: 744
• Balochistan: 230
• Islamabad Capital Territory: 119
• Gilgit-Baltistan: 224
• AJK: 40
Deaths: 93
• Khyber Pakhtunkhwa: 34
• Sindh: 30
• Balochistan: 2
• Gilgit-Baltistan: 3
• Punjab: 23
• Islamabad Capital Territory: 1
---
Officials have recorded more than 1.7 million cases and as many as 108,000 deaths since the virus emerged in China in December.
Read on for the latest updates from Pakistan and around the world
---
Disclaimer: There may be some discrepancy in the number of confirmed cases reported at the country level due to differences in figures quoted by federal and provincial authorities.
Geo News is constantly gathering fresh information from concerned authorities and striving to keep our readers up to date with the most accurate information available.
---
Orange: General updates coming in from Pakistan
Red: Reports on new cases in Pakistan
Maroon: Reports on new deaths in Pakistan
Green: Reports on recovered patients in Pakistan
---
END OF LIVE UPDATES FOR APRIL 12
Live updates for April 13 to continue here.

---
1:00am (April 13) — Lahore, Pakistan — Punjab reports two deaths, 130 more cases
Punjab Chief Minister Usman Buzdar, in a late night development, has reported that the province's death toll has risen by two to 23.

The tally for infected patients has also risen by 130 to 2,594.
---
12:09am (April 13) — Karachi, Pakistan — Murtaza Wahab calls for greater national unity, appreciates 'selflessly' serving frontline workers
Murtaza Wahab has called for "complete national harmony" during these "critical times".

"Let us stand united in our fight against corona," he wrote, urging the provincial and federal governments to set aside all differences.
He also lauded the "selfless" services of all medical and law enforcement workers.

---
11:40pm — Rome, Italy — Country reports lowest virus death toll in over three weeks
Italy has reported its lowest coronavirus death toll in more than three weeks, confirming trends showing that the COVID-19 outbreak in Europe´s worst-hit nation had peaked.
The 431 new deaths reported by the civil protection service were the lowest since March 19. Italy´s death total now stands at 19,899, officially second behind the United States.
---
11:19pm — Paris, France — France reports lower coronavirus daily death toll
France has reported a drop in COVID-19 deaths on the previous 24 hours, with the total toll from the coronavirus epidemic in the country now 14,393, the health ministry said.
It said that there were 315 deaths in hospital over the last day, compared with 345 the day earlier. The total toll includes those who have died in nursing homes.
France had on April 6 recorded 605 deaths in hospitals, its highest daily number so far.
For the fourth consecutive day in a row, the number of patients in intensive care fell with 35 fewer patients, making a total of 6,845 people needing such treatment.
---
10:42pm — Karachi, Pakistan — Sindh government bans all activity on Karachi fish harbour
The Sindh government on Sunday banned all activities at the Karachi Fish Harbour in a bid to contain the spread of the novel coronavirus. The ban will stay in place for an indefinite period, according to a notification by the Livestock and Fisheries Department. Those violating the orders will be punished according to law. 
---
10:20pm — Islamabad, Pakistan — Foreign Office staff donates to Corona Relief Fund

Foreign Minister Shah Mahmood Qureshi met Prime Minister Imran Khan on Sunday to hand over the donations of the Foreign Office staff. The amount was donated by the Foreign Office staff and officials from their salaries. 
---
10:00pm — Peshawar, Pakistan — KP coronavirus cases rise to 744, 3 new deaths reported
The number of coronavirus cases in Khyber Pakhtunkhwa rose to 744 after the provincial health department reported 47 new cases had emerged during the last 24 hours.  
Three new deaths were reported as well by the KP health department. The total number of deaths from the virus rose to 34 in the province. 
---
9:40pm — Milan, Italy — Italy reports lowest death toll in 3 weeks
Italy has reported the lowest number of coronavirus deaths in the country since March 19. As many as 431 people passed away over the past 24 hours, down from 619 from the previous day. 
Earlier, the United States surpassed Italy in the number of deaths from the coronavirus. The European country has so far reported 19,899 cases.

---
9:30pm — Islamabad, Pakistan — Government knows money will 'not be enough' for the poor
PM Imran took to Twitter to announce that the government had disbursed $8 billion to the poor and daily wagers. He, however, said that the government knew this was "not enough". 
---
08:55pm — Karachi, Pakistan — Murtaza Wahab says federal govt 'should be ashamed' for testing kits sent

Murtaza Wahab has said that the quality of kits sent by the federal government is such that they are "not fit for clinical examination".
He said that 3,000 and then 17,000 kits sent "were of no use" since they did not contain the VTMs and swabs necessary to conduct tests.
Wahab said the federal government "should be ashamed for what you people have done and what you preach".

---
08:11pm — London, UK — UK COVID-19 hospital death toll passes 10,000 mark, up 737
The death toll from COVID-19 has risen to 10,612 across hospitals in the United Kingdom after a recorded daily rise of 737, Reuters reports citing the health ministry.
---
07:30pm — Islamabad, Pakistan — In televised message, PM Imran says will appeal to UN to launch debt relief initiative
Prime Minister Imran Khan, in a brief video message broadcast on PTV, has said he will be appealing to world leaders and the leading financial institutions, as well as United Nations Secretary-General António Guterres "to launch an initiative which will give debt relief to countries fighting the virus".
"The US can come up with a relief package of $2.2 trillion [...] in Pakistan, with a population of 220 million people, so far the max we could afford was $8bn."
The premier said that "highly indebted countries face the problem of a lack of fiscal space" and are in dire need of debt restructuring so they may focus the use of funds to combat the coronavirus.
---
7:04pm - Islamabad, Pakistan — Qureshi presents Rs10.82 million to PM Imran for relief fund
Foreign Minister Shah Mahmood Qureshi presented a cheque of 10.82 million, on behalf of the employees and staff of the foreign ministry, to Prime Minister Imran Khan for the corona relief fund he has set up.
The foreign minister presented the cheque in a meeting with Prime Minister Imran Khan.
---
7:00pm - Lahore, Pakistan — Buzdar asks health secretary to submit inquiry reports regarding Multan's Nishtar Hospital
Punjab Chief Minister Usman Buzdar directed the provincial health secretary to submit an inquiry report regarding the positive cases of doctors in Multan's Nishtar Hospital.
The CM also instructed the official to urgently supply the doctors and medical staff with the necessary protective equipment.
---
6:54pm - Saudi Arabia reports 429 cases, positive cases rises to 4,462
---
6:50pm - Islamabad, Pakistan — PIA pilot tests positive for infection
Sources in the PIA have claimed that a PIA pilot has been tested positive for the coronavirus and has been sent to a quarantine centre.
The sources said that the pilot had flown the national airlines' special flight for Toronto from Karachi.
---
6:40pm - Quetta, Pakistan — Nationwide tally of confirmed cases rises to 5,185
The countrywide tally of confirmed cases rose to 5,185 after a new case was reported in Balochistan.
Balochistan government spokesperson Liaquat Shahwani tweeted that the provincial tall of confirmed the region reported 8 new cases on Sunday taking its tally to 230.
---
6:35pm Colombo, Sri Lanka — Sri Lanka makes cremations compulsory for virus deaths, angering Muslims
Sri Lanka made cremations compulsory for coronavirus victims on Sunday, ignoring protests from the country´s minority Muslims who say it goes against Islamic tradition.
Of the seven deaths from the infectious disease so far in the island nation, three were Muslims. The bodies were cremated by authorities despite protests from relatives.
"The corpse of a person who has died or is suspected to have died, of... COVID-19 shall be cremated," Health Minister Pavithra Wanniarachchi said Sunday.
The World Health Organisation has said victims "can be buried or cremated".
More than 200 people have tested positive for coronavirus so far in Sri Lanka, where an indefinite, nationwide curfew has been imposed.
---
6:32pm- London, United Kingdom — England's coronavirus death toll rises by 657 to 9,594
The death toll from the novel coronavirus in English hospitals rose by 657 to 9,594, officials said on Sunday.
Of the 657, there were 42 patients aged between 30 and 98 who had no known underlying health condition.
Figures for the whole of the United Kingdom were expected to be published later on Sunday.
---
6:24pm - Gilgit, Pakistan — Nationwide tally of confirmed cases rises to 5,183
The countrywide tally of confirmed cases rose to 5,183 after new cases were reported in Gilgit Baltistan. 
According to a tweet issued by GB's health department, the region reported 8 new cases on Sunday taking its tally to 224.
---
6:03pm - Karachi, Pakistan — Police take action against lockdown violators
Karachi police locked down 130 rickshaws in the city for violating section 144 imposed in the metropolis.
The police also issued 282 tickets against those violating the ban on pillion riding in the city while 303 people were given a ticket for driving without a licence.
---
5:53pm - Amsterdam, Netherlands — Dutch coronavirus infections top 25,000, deaths rise to 2,737 deaths
The number of confirmed coronavirus cases in the Netherlands has topped 25,000, health authorities said on Sunday, with the number of deaths rising by 94 to 2,737.
The Netherlands' National Institute for Health (RIVM) reported 1,188 new infections over the past 24 hours, taking the total to 25,587.
The rate of increase in infections and deaths has slowed for several days helped by social distancing measures.
---
5:42pm - London, United Kingdom — British PM Johnson discharged from hospital: statement
LONDON (Reuters) - British Prime Minister Boris Johnson has been discharged from a London hospital as he continues his recovery from COVID-19, his office said on Sunday.
"On the advice of his medical team, the PM will not be immediately returning to work. He wishes to thank everybody at St Thomas' for the brilliant care he has received," a spokesman said.
---
5:40pm - Pakistan Red Crescent Society to provide N-95 to doctors
Pakistan Red Crescent Society (PRCS) Chairman Abrar Ul Haq has stated that the organisation will provide N-95 masks to doctors and paramedical staff from tomorrow.
Haq, told Geo News, that the organization had received 200,000 masks from China and will start providing masks and protective suits to the healthcare workers.
"It is our responsibility to provide N-95 masks to doctors," Haq told Geo news. He also urged all medical superintendents of hospitals to reach out to the organization.
---
5:16pm - Quetta, Pakistan — 21 health workers contract coronavirus
Balochistan's director general health has stated that 21 health professionals in the province have contracted coronavirus. He added that 18 out of those are doctors.
---
5:01pm Islamabad, Pakistan — NCOC issues advisory for health professionals
National Command and Operation Centre issued a safety advisory for physicians and medical staff in hospitals across the country dealing with coronavirus patients.

---
4:44pm - Peshawar, Pakistan — PDMA dispatches over 4,000 N-95 masks for 36 hospitals in KP
The Provincial Disaster Management Agency of Khyber Pakhtunkhwa dispatched 4,497 N-95 masks to 36 hospitals in the province.
The PDMA has also dispatched 71,624 surgical face masks, 63,577 kits, 8,470 protective suits and 1,952 gowns have been sent to the hospitals.
---
4:39pm - Peshawar, Pakistan — KP has 55 ventilators for DHQs across province
Khyber Pakhtunkhwa government has told the Supreme Court that the district headquarters hospitals across the province have a total of 55 ventilators.
In the report submitted to the apex court on the suo motu notice taken by the CJP, the KP government has said that the province's DHQ's will have 150 ventilators soon.
The report also states that the quarantine centres set up in the province can keep 1,225 people in it.
---
4:31pm - Dubai, UAE — UAE launches online weddings amid coronavirus controls
The United Arab Emirates has launched an online marriage service that allows couples to wed amid restrictions on movement and interaction imposed to counter the deadly coronavirus.
The justice ministry said on Sunday that citizens and residents can set a date for an online wedding ceremony conducted via video link with a cleric after their paperwork is submitted and approved — also online, according to the UAE's official news agency WAM.

The procedure will see a cleric confirm the identity of the couple and witnesses, before a marriage certificate is relayed to a specialised court for validation.
The couple will receive confirmation of their marriage certificate via text message.
The service was launched "to maintain the health of the public and that of people working in courts and to limit the presence of employees", WAM reported.
---
4:29pm - Paris, France — Coronavirus death toll passes 75,000 in Europe: AFP tally
More than 75,000 people have died from the coronavirus in Europe, with 80 percent of the fatalities occurring in Italy, Spain, France and Britain, according to an AFP tally at 09:45 GMT Sunday compiled from official sources.
With a total of 75,011 deaths from 909,673 infections, Europe is the hardest-hit continent in the COVID-19 pandemic, which has killed at least 109,133 people worldwide.
Europe´s most affected country is Italy with 19,468 deaths, followed by Spain with 16,972, France with 13,832 and Britain with 9,875
---
4:29pm - Islamabad, Pakistan — PM Imran reviews economic situation with finance advisor
Prime Minister Imran Khan and his finance advisor Abdul Hafeez Shaikh reviewed the economic situation of the country due to the ongoing pandemic.
During the meeting, Shaikh gave an update to PM Imran on the economic package released due to the coronavirus.
---
4:26pm - Karachi, Pakistan — Faisal Vawda distributes ration among daily wage earners
Federal minister Faisal Vawda distributed ration among the daily wage earners Karachi's areas where people have been put under lockdown.

---
4:24pm - Islamabad, Pakistan — PM Imran decides to write letter to UN chief: sources 
Prime Minister Imran Khan has decided to approach the United Nationa Secretary General Antonio Guterres over the coronavirus pandemic.
In the letter the PM will appeal to the UN chief to push developed nations to reschedule the repayment of loans that they had given to developing nations, sources told Geo News.
According to sources, the PM has urged the developed nations to reschedule the loan as every country is busy in fighting the coronavirus.
The sources have also claimed that PM Imran's video message regarding the letter will be aired on the state broadcaster PTV.
---
4:13pm - Islamabad, Pakistan — Medical aid arrives in GB
The federal government dispatched medical aid for Gilgit Baltistan has arrived in the region.
According to details, 10,000 testing kits have been sent for Gilgit and 5,000 for Skardu. The aid also includes safety suits, face masks and other medical equipment.
The aid arrived as President Arif Alvi, NDMA Chairman Lt Gen Muhammad Afzal had reached Gilgit for a one-day visit.  
---
4:08pm - Quetta, Pakistan — Nationwide tally of confirmed cases rises to 5,176
The countrywide tally of positive cases rose to 5,176 after a new case were reported in Balochistan.
According to provincial government spokesperson Liaquat Shahwani, the total number of cases in the province now stand at 229.
---
3:35pm - Muzaffarabad, AJK — Nationwide tally of confirmed cases rises to 5,175
The countrywide tally of positive cases rose to 5,175 after new cases were reported in Azad Jammu and Kashmir.
According to AJK Information Minister Mushtaq Minhas, the total number of cases now stand at 40 in the region.
---
How long does the coronavirus last on surfaces?
---
3:20pm — Rahim Yar Khan, Pakistan — No doctor has tested positive at Shaikh Zayed Hospital: administration
The Shaikh Zayed Hospital administration in Rahim Yar Khan has rejected reports of medical staff testing positive for the virus at the hospital.
"No doctor at the hospital has tested positive," the hospital administration said. "We tested the medical staff working with coronavirus patients and their tests came back negative."
Doctors and paramedical staff had been provided with protective gear, the hospital added.
---
3:15pm — Tehran, Iran — Death toll from coronavirus rises by 117 to 4,474
Iran's death toll from COVID-19 has risen by 117 in the past day to 4,474, health ministry spokesman Kianush Jahanpur said on Sunday.
Iran has recorded 71,686 cases of the new coronavirus.
---
3:05pm — Madrid, Spain — Death toll rises to 16,972
Spain's overnight death toll from the coronavirus rose to 619 on Sunday from a nearly three-week low of 510 on Saturday, the Health Ministry said, breaking a three-day streak of daily declines.
The country's total death toll from the virus climbed to 16,972 from 16,353, the ministry said in a statement. Overall cases rose to 166,019 from 161,852.
---
2:57pm — Lahore, Pakistan — 130 ventilators available in DHQs across Punjab 
A report submitted by the Punjab government to the Supreme Court showed that there are 130 ventilators in district headquarter hospitals across the province.
In a report submitted to the court on the suo motu notice taken by the apex court, the provincial government also stated that 100 more ventilators will arrive in the province on April 11.
The provincial government also stated that the province has seven laboratories that can carry out 3,100 tests per day.
---
2:39pm — Kuala Lumpur, Malaysia — Malaysia reports 153 new cases with 3 new deaths
Malaysia's health ministry reported 153 new confirmed cases of the novel coronavirus on Sunday, raising the cumulative total to 4,683, the highest in Southeast Asia.
The latest data includes three new deaths, raising the total number of fatalities from the outbreak to 76.
The ministry said 45% of all confirmed cases have recovered.
---
2:38pm — Jakarta, Indonesia — Indonesia reports biggest daily jump in coronavirus cases
Indonesia on Sunday reported 399 new cases of the coronavirus, its biggest daily jump so far, bringing the total number of infections in the country to 4,241, according to data provided by a health ministry official, Achmad Yurianto.
Yurianto said there were also 46 new coronavirus-related deaths, taking the total to 373.
---
2:26pm — Islamabad, Pakistan — Special PIA flight departs for Paris
A special PIA flight has departed for Paris from Islamabad carrying 300 passengers and crew members.

---
2:24pm — Islamabad, Pakistan — Second special flight for Americans to arrive today
Second special flight to take back stranded Americans from Pakistan will arrive in Islamabad today, sources told Geo News.

Three counters have been set up for the American citizens, adding that it will depart with the American diplomats and citizens. They added that health department officials will screen them and then let them board the plane.
Sources have claimed that the plane will land at 5:30pm and depart at 7 from Islamabad airport.
---
2:14pm — Quetta, Pakistan — Nationwide tally of recovered patients rises to 846
The nationwide tally of recovered patients rose to 846 after six new recoveries were reported by Balochistan.
According to Balochistan government spokesperson Liaquat Shahwani, the total number of recovered patients now stands at 119.
---
2:08pm - Khyber, Pakistan — Six arrested for taking illegal money from Ehsaas recipients
Authorities in Khyber district have arrested six suspects accused of taking illegal money from the recipients of the Ehsaas programme.
Assistant commissioner of Kyber District stated that the suspects were taking Rs1,000 from the women.
---
2:04pm - Multan, Pakistan — Tiger force formulated in NA 156, 157: Shah Mahmood
Foreign Minister Shah Mahmood Qureshi has stated that tiger force has been formed at the union council and ward level in Multan's NA-156 and NA-157.
"Right now, the verification process of the volunteers is ongoing," said Qureshi. He added that the cash disbursement distributed under the Ehsaas Programme is being done without any politics.
---
1:57pm - Manila, Philippines — Country reports highest single-day death toll from coronavirus
The Philippines recorded 50 coronavirus deaths on Sunday, its highest in a single day, taking the toll to 297.
In a bulletin, the health ministry said 220 new infections took the tally of virus cases to 4,648. But 40 more patients recovered, for a total of 197 recoveries.
---
1:44pm - Karachi, Pakistan — DC South says no decisions on sealing off areas
---
1:40pm - Karachi, Pakistan — More than 20 doctors and health staff diagnosed of virus
Sources in Sindh's health department have claimed that more than 20 doctors and paramedical staff have contracted the coronavirus. They added that the numbers were of private and government hospitals.

---
1:28pm - Karachi, Pakistan — Number of recovered patients rises to 822
The countrywide recoveries from the infection rose to 822 after 18 more people recovered from the virus in Sindh.
---
1:28pm - Karachi, Pakistan — Deaths due to infection rises to 30
The countrywide deaths due to the coronavirus rose to 30 after two more deaths were reported by Sindh.
---
1:28pm - Karachi, Pakistan — Pakistan's tally of positive cases crosses 5,100 
The countrywide positive cases crossed 5,170 after 93 new cases were reported in Sindh.
According to Sindh government spokesperson Murtaza Wahab, the provincial tally now stands at 1,411 after the addition of new case.
---
1:10pm - Moscow, Russia — Russia's coronavirus cases rise by more than 2,000; biggest daily increase
Russia on Sunday reported 2,186 new coronavirus cases, the largest daily increase since the start of the outbreak, bring9ng the national tally of confirmed cases to 15,770.
The number of coronavirus-related deaths rose by 24 to 130, the Russian coronavirus crisis response center said.
---
1:08pm - London, United Kingdom — 'I owe them my life' - out of intensive care, UK's Johnson praises medics
Prime Minister Boris Johnson said he owes his life to the staff of Britain's state-run National Health Service, in his first comments since being released from intensive care for treatment for COVID-19.
Johnson, 55, was taken to St Thomas's Hospital in central London a week ago, suffering from persistent symptoms of the disease caused by the new coronavirus. On April 6 he was moved into intensive care, where he remained until April 9.
"I can't thank them enough. I owe them my life," Johnson said of the staff at the hospital, which is just across the River Thames from the Houses of Parliament. The comments were released to journalists and confirmed by his office on Sunday.
Johnson was back on his feet by Friday, taking short walks between periods of rest, in what his office described as the early stage of recovery.
In its most recent official update on Johnson's condition, Downing Street said he "continues to make very good progress".

Priti Patel, the interior minister, said in Saturday's daily government news briefing that he needed time to rest and recover before returning to work.
---
1:07pm - Why social distancing works
---
1:02pm - Lahore, Punjab — Nationwide tally rises to 5,077
Nationwide tally of confirmed cases rose to 5,077 after new cases were reported in Punjab.
According to the spokesperson of Punjab Primary and Secondary Health Care, the provincial tally of positive patients in the province now stands at 2,464.
---
12:56pm - Islamabad, Pakistan — NCC to meet tomorrow, provinces ready their recommendations 
The provinces have formulated their recommendations regarding the next step being taken for the coronavirus and will present it to the centre tomorrow at the National Coordination Committee, sources told Geo News.
Sources have said Punjab government will recommend the opening of some industries after complying with safety precautions. While Sindh has decided to recommend strict lockdown measures.
Sources have said that the NCC will decide on further action after developing a consensus.
---
12:20pm — Lahore, Pakistan — 755 zaireen return home after recovering from virus
Punjab Chief Minister Usman Buzdar has said 755 zaireen, including those 175 who tested positive earlier have returned to their homes after full recovery.
"Only 74 Zaireen left in Dera Ghazi Khan quarantine who are being looked after in the best possible manner," Buzdar said in a tweet.
---
Kenny Dalglish leaves hospital after testing positive for virus
---
Here's how you can make your own mask at home
---
11:30am — Multan, Pakistan — 12 doctors, six paramedical staff at Nishtar Medical contract virus
Eighteen people including doctors and paramedical staff have reportedly contracted coronavirus, vice-chancellor Nishtar Medical Hospital said on Sunday.
According to Dr Mustafa Pasha, 12 doctors and six paramedics have contracted the virus.
"The staff had been treating a patient who had a lung disease. After the patient died his test came back positive for the virus. We conducted tests of everyone in the ward after the patient passed away," he added.
---
11:15am — Karachi, Pakistan — 273 arrested for violating lockdown
Authorities in Sindh have arrested 273 for violating lockdown in the city and registered cases against 99 suspects.
Police said they have arrested 5,300 people so far for violating lockdown orders in the metropolis, while 1,716 cases have been registered so far.
---
Global coronavirus cases at 1.7 million, death toll crosses 108,000
More than 1.7 million people have been reported to be infected by the novel coronavirus globally and 108,867 have died, according to a John Hopkins University tally.
Infections have been reported in more than 210 countries and territories since the first cases were identified in China in December 2019.
---
11:00am — Islamabad, Pakistan — Decision regarding Hajj to be taken by mid Ramazan: Religious affairs minister
Minister for Religious Affairs Noor-ul-Haq Qadri has said the decision to hold or cancel the Hajj pilgrimage this year will be taken by mid of Ramazan, reported Radio Pakistan.
In a statement, Qadri said the ministry was in close contact with Saudi authorities and they were contemplating various options.
He added this year's pilgrimage would be subject to improvement in coronavirus situation.  
---
10:45am — Pyongyang, North Korea — North Korea calls for stronger coronavirus measures
North Korea called for tougher and more thorough countermeasures to keep citizens safe from the fast-spreading coronavirus at a meeting where leader Kim Jong Un presided, state media said on Sunday.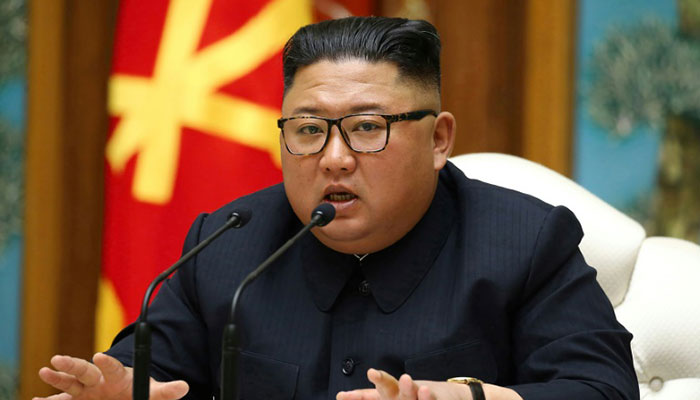 North Korea continues testing for the virus, with more than 500 people in quarantine, but has no confirmed infections yet, a country representative of the World Health Organisation told Reuters.
The country had shut down its borders after the virus was first detected in neighbouring China in January, and imposed strict containment measures.
---
10:30am — Jakarta, Indonesia — Govt orders transport curbs ahead of Ramazan
Indonesia has imposed curbs on public transport ahead of the annual exodus to home villages that marks the end of Ramazan, in a bid to slow the spread of the coronavirus, the government said on Sunday.
Public buses, trains, aeroplanes and ships will be allowed to fill only half their passenger seats, under a new regulation that also limits occupation of a private car to just half the seats, while a motorcycle may be ridden only by one person.
The capital Jakarta is the epicentre of the outbreak in the world's biggest Muslim-majority country, with the most infections and deaths among a national tally of 3,842 cases and 327 fatalities.
---
10:15am — Bangkok, Thailand — 33 new coronavirus cases reported 
Thailand reported 33 new coronavirus infections on Sunday, for a total of 2,551 cases, as well as three more deaths, taking the southeast Asian nation's toll to 38.
---
10:00am — Islamabad, Pakistan — Recovered patients rise to 1,026
The total number of recoveries in Pakistan has surpassed 1,000, the national dashboard reported on Sunday.
According to the National Command and Control Centre at least 264 people have recovered during the past 24 hours.
Sindh has reported the highest number of recoveries in the country so far with 371, followed by Punjab which has reported 258.
In Khyber Pakhtunkhwa, 142 people have recovered from the virus, while 13 people in Islamabad, 146 in GB, 95 in Balochistan and one person has recovered from the virus in Azad Jammu and Kashmir.
---
9:50am — Islamabad, Pakistan — 2 more cases take nationwide tally to 5,038
Pakistan has reported two more cases of novel coronavirus to take the nation-wide tally to 5,038.
According to the national dashboard, one new case was reported in Islamabad while the other was recorded in Azad Jammu and Kashmir.
---
9:45am — Islamabad, Pakistan — PM Imran urges Christian community to stay safe during Easter celebrations 
Prime Minister Imran Khan has urged the Christian community to stay safe as they celebrate Easter today.
"Wishing all our Christian citizens a happy Easter. Please stay safe and keep your families safe during the COVID19 pandemic by praying and celebrating at home; and by observing the national safety protocols," he tweeted.
---
Coronavirus vaccine could be ready by September: British scientist
A British scientist has said a vaccine for COVID-19 could be ready as soon as September.
Sarah Gilbert, a professor of vaccinology at Oxford University told The Times that she is "80% confident" the vaccine would work, and could be ready by September.

"I think there's a high chance that it will work based on other things that we have done with this type of vaccine," she said.
Read more on this here.
---
9:30am — Frankfurt, Germany — Coronavirus cases rise by 2,821, deaths by 129
Germany's number of confirmed coronavirus infections rose by 2,821 on Sunday to 120,479, data from the Robert Koch Institute for infectious diseases showed.
That was lower than a 4,133 increase reported on Saturday and marked the second decline after four days of increases. The reported death toll rose by 129 to 2,673.
---
9:15am — Islamabad, Pakistan — Rs16 billion disbursed through Ehsaas programme 
Special Assistant to PM on Poverty Alleviation and Social Safety Dr Sania Nishter has said more than Rs16 billion has been disbursed through Ehsaas Emergency Cash programme in the last three days.
---
9:00am — Karachi, Pakistan — Christian community celebrates Easter amid lockdown
Just like in other parts of the world, the Christian community in Pakistan is also celebrating Easter today.
Due to the lockdown in the metropolis, the prayers are being held at homes with only a limited number of people allowed at Churches in the city.
---
8:45am — Sichuan, China — China-Pakistan Business Council gives anti-epidemic materials 
The Sichuan liaison office of the China-Pakistan Business Council has handed over a batch of anti-epidemic materials to the Consulate-General of Pakistan in Chengdu.

8:30am 

— New York, US — United States logs world's highest virus death toll

The United States surpassed Italy on Saturday as the country with the highest reported coronavirus death toll, recording more than 20,000 deaths since the outbreak began, according to a Reuters tally.

The United States has seen its highest death tolls to date in the epidemic with roughly 2,000 deaths a day reported for the last four days in a row, the largest number in and around New York City.

The country has also reported more than 532,000 cases of the virus.
---
8:20am — Cairo, Saudi Arabia —King Salman approves extension of curfew
Saudi Arabia's King Salman approved an extension of the kingdom's curfew until further notice due to the rate at which the coronavirus is currently spreading, the state news agency reported early on Sunday.
The Saudi king has previously ordered a curfew that took effect on March 23, from 7 pm to 6 am for 21 days, to curb the spread of the coronavirus, state media reported.
Last week Saudi Arabia placed its capital Riyadh and other big cities under a 24-hour curfew, locking down much of the population to stem the spread of the new coronavirus.
---
8:15am —  Shanghai, China —  99 new cases reported, infections up to 82,052 
Mainland China reported 99 new confirmed coronavirus cases on April 11, including 97 involving travellers from overseas, up from a total of 46 new cases a day earlier, China's National Health Commission said on Sunday.
Mainland China's tally of infections now stands at 82,052, while the death toll stands at 3,339.
---
10:02pm — Karachi, Pakistan — Sindh govt withdraws decision to seal off Karachi's neighbourhoods
Less than six hours after 11 union councils were sealed off in Karachi, Sindh government has withdrawn it's decision to cordon off the neighbourhoods.
"Only those specific areas where cases have been reported will be sealed," said Sindh's information minister Nasir Shah.
"It will cause great inconvenience to the people if such large areas are completely closed off," he said.
---
For March 11 coronavirus coverage click here.
For March 10 coronavirus coverage click here.