Coronavirus updates, May 12: Latest news on the COVID-19 pandemic from Pakistan and around the world
Nationwide death toll climbs to 734 with Sindh reporting highest daily death toll of 18; total cases jump past 34,000
Updated Tuesday May 12 2020
The number of confirmed COVID-19 cases in Pakistan rose to 34,325 on Tuesday after new infections were confirmed in the country.
The province-wise break up of the total number of cases as of 11:58pm, May 12, is as follows:
Total confirmed cases: 34,325
• Sindh: 12,610
• Punjab: 13,259
• Khyber Pakhtunkhwa: 5,021

• Balochistan: 2,158
• Islamabad Capital Territory: 716
• Gilgit-Baltistan: 457
• AJK: 86
Deaths: 737
• Khyber Pakhtunkhwa: 267
• Sindh: 218
• Balochistan: 27
• Gilgit-Baltistan: 4
• Punjab: 214
• Islamabad Capital Territory: 6
---
Officials have recorded more than 4.19 million cases and more than 285,000 deaths since the virus emerged in China in December.
Read on for the latest updates from Pakistan and around the world.
---
Disclaimer: There may be some discrepancy in the number of confirmed cases reported at the country level due to differences in figures quoted by federal and provincial authorities.
Geo News is constantly gathering fresh information from concerned authorities and striving to keep our readers up to date with the most accurate information available.
---
Orange: General updates coming in from Pakistan
Red: Reports on new cases in Pakistan
Maroon: Reports on new deaths in Pakistan
Green: Reports on recovered patients in Pakistan
---
END OF LIVE UPDATES FOR MAY 12
Live updates for May 13 to continue here.
---
12:12am (May 13) — Karachi, Pakistan — Sindh governor tests negative, pledges to donate blood plasma 'to those in need'

---
11:58pm — Lahore, Pakistan — Punjab reports three more deaths, rise in cases by nearly 1,400
The Punjab disaster management authority has reported three more deaths and a huge surge in cases — by 1,390 — taking the total number of infections in the province to 13,259.
The total number of deaths in the province now stand at 214.
On a positive note, so far, 4,530 people have recovered.

10:54pm — Riyadh, Saudi Arabia — Kingdom to introduce 24-hour daily curfew for Eid holiday
Saudi Arabia will enforce a 24-hour curfew across the kingdom during a 5-day holiday to celebrate Muslim Eid al-Fitr which marks the end of the holy month of Ramadan, the interior ministry has said in a statement, to stem the spread of coronavirus.
Until then economic activities will remain open and people can move freely between 9am local time [0600 GMT] and 5pm, excluding Mecca which remains under full curfew, the statement published by state news agency said.

---
10:23pm — London, UK — UK rail worker dies from virus after spitting assault
A railway station worker in Britain has died from COVID-19 after she was spat at and coughed over by someone claiming to have the virus, her trade union has said.

The shocking attack has been widely condemned with Downing Street calling it "despicable".
The transport union TSSA said Belly Mujinga, 47, contracted the virus with a colleague within days of the assault on the pair at London's Victoria station on March 22.
"They were out on the concourse by the ticket office when they were assaulted by a member of the public who spat at them," the union said in a statement.
"The man coughed over them and told them he had the virus."
After falling ill, Mujinga was taken to hospital on April 2 and put on a ventilator, it added.
Mujinga, who moved to Britain from the Democratic Republic of Congo in 2000, died three days later, leaving behind an 11-year-old daughter and husband.
"She was a good person, a good mother, and a good wife," her widower Lusamba Gode Katalay said.
---
10:00pm — Islamabad, Pakistan — NA speaker says he has tested negative for COVID-19
National Assembly Speaker Asad Qaiser has said that his COVID-19 test result has come back negative and his children's reports will come back tomorrow.
Qaiser thanked everyone profusely and said that it is his "mission" to dedicate his life to serving the people.
He also said is making a foundation in his father's name for education, health and agriculture. "I will work on the development of these areas in our country and will spend my life doing so."

---
09:35pm — Islamabad, Pakistan — NA Speaker Asad Qaiser discharged from hospital 
National Assembly Speaker Asad Qaiser has said that he has been sent home from the hospital.

Thanking everyone for their prayers, he said that he feels a lot better now and hopes he will completely recover soon.

---
09:30pm — Gilgit, Gilgit-Baltistan — Region reports 18 more cases, 11 recoveries
The Gilgit-Baltistan health department has reported 18 more cases, taking the total number to 475.
Eleven recoveries were also reported, taking the total number to 331.

---
09:18pm — Quetta, Pakistan — Balochistan reports 97 new cases
The government of Balochistan has reported 97 new cases in the province, taking the total number of infections to 2,158.

---
09:06pm — Karachi, Pakistan — Sindh's cases at a glance
---
09:04pm — Moscow, Russia — Putin spokesman says he has coronavirus
Russian President Vladimir Putin's spokesman Dmitry Peskov has said he has tested positive for the coronavirus and is receiving treatment in hospital, news agencies reported.
"I am ill. I´m being treated," Peskov was quoted as saying by Russian news agencies TASS and Interfax, which specified he had COVID-19.
Peskov is the fourth senior government official to have fallen ill, after Prime Minister Mikhail Mishustin, Culture Minister Olga Lyubimova and Construction Minister Vladimir Yakushev said they tested positive for the coronavirus.
None were reported to be in a serious condition, with only Mishustin in hospital who was still holding some meetings by video link.
Peskov told TASS news agency that he was last in direct contact with Putin "over a month ago."
The Russian leader has been staying at his residence outside Moscow for several weeks and is carrying out meetings and speeches via video link.
Peskov, 52, has served as Putin's spokesman since 2000. He has not held his usual daily telephone briefings with reporters since May 6.
Putin on Monday announced that a strict national lockdown would be eased starting Tuesday, even though the country's rate of new infections shows no sign of slowing.
---
08:28pm — Islamabad, Pakistan — PM says Tiger Force must be put to work nationwide, down to the union council level
Prime Minister Imran Khan has urged the immediate readiness of the Tiger Force all over the country, in all the districts, tehsils and union councils.

In a meeting held with various provincial representatives, the premier provided guidelines on how to utilise the force to its maximum potential.
He said the force should provide assistance in the Ehsaas labour registration programme as well.
"The Tiger Force's brave youth are the country's assets. Those who have taken out their time to serve the nation are our heroes," said the premier.

---
08:15pm — Paris, France — Champions Cup final in Marseille set for October 17
The coronavirus-postponed Champions Cup final could now be held on October 17 in Marseille with the second-tier Challenge Cup fixture a day earlier, the organisers have said.
Both tournaments were suspended at the quarter-finals stage due to the coronavirus pandemic.
The last-eight and semi-finals of the competitions could take place from mid-September onwards.
The director general of European Professional Club Rugby (EPCR) Vincent Gaillard told AFP: "This schedule has been co-ordinated with the three professional leagues in Europe but remains subject to external factors, be that health, medical or logistical."
"The month of October remains a window traditionally kept for clubs and European Cups and we envisage making the most of it," he added.
---
08:03pm — Moscow, Russia — Russia has world's second highest number of virus cases: AFP
Russia has the world's second-highest number of coronavirus infections after reporting another 10,899 new cases today, according to an AFP tally.
The new cases brought Russia's total to 232,243, surpassing the number of infections in Britain and Spain and now behind only the United States which has reported more than 1.3 million, according to the tally compiled from official sources.
Russia has been reporting more than 10,000 new cases per day. Only 2,116 deaths have been reported to date.

---
07:55pm — Saint Petersburg, Russia — Ventilator probe launched after five die in 'nightmare' fire
Officials have launched a probe into ventilators used at some Russian medical facilities after five coronavirus patients, including three attached to the breathing machines, died in a fire at a Saint Petersburg hospital.
Officials said the blaze on the sixth floor of the Saint George hospital appeared to have started when one of the ventilators in its intensive care unit short-circuited.
Health authorities said they would check the hospital´s ventilators and those at a Moscow clinic where a fire killed a woman last week.
The head of the Saint Petersburg hospital´s intensive care unit, Vladimir Sulima, told reporters that four of the patients had died in the ward and three of them were connected to ventilators.
"The staff did everything they could... We feel guilty towards their relatives," Sulima said.
He said they had received the Russian-made breathing machines in early May, adding that the hospital would not be using them until the probe was over.
Health care officials identified the victims as four men and a woman, the youngest of whom was 59.
---
7:00pm — Karachi, Pakistan — CAA NOTAM shows all domestic flights except in Gilgit and Skardu to remain suspended till end of May

A notice to all airmen by the Civil Aviation Authority shows that all domestic flights will remain suspend until the end of May with the exception of flights to and from Islamabad, Gilgit and Skardu.
Also, private aircrafts, if found demonstrating adherence to standard operating procedures, will be allowed to operate flights between Karachi, Lahore and Islamabad.

Cargo and special flights will be subject to clearance by the authority.
---
06:52pm — Karachi, Pakistan — Sindh chief minister pays tribute to doctors, nurses, paramedics on International Nurses Day
Sindh Chief Minister Murad Ali Shah while paying tribute to the world's doctors, nurses and paramedics, pledged the Sindh government's complete support to all frontline workers.

---
06:25pm — Peshawar, Pakistan — KP reports 10 new deaths, 146 new cases

The Khyber Pakhtunkhwa health department has reported 10 more deaths in the province, taking the provincial total to 267.
Of the deceased, five were from Peshawar, one from Swabi, and one from Malakand.

The province's tally of infected also saw a rise with 146 more cases. The total now stands at 5,021.

---
6:00pm - Mirpur, AJK — AJK PM reviews coronavirus arrangements in Mirpur 
Azad Jammu and Kashmir Prime Minister Raja Farooq Haider reviewed the measures due to coronavirus in Mirpur.
"We will give a relief package to rickshaw and bus drivers, and barbers," said the PM during the visit. He warned that if the precautionary measures are not followed then the government may go for a complete lockdown.
---
5:55pm - Islamabad, Pakistan — PM Imran Khan to attend NA session: Information minister 
Federal Information Minister Senator Shibli Faraz has stated that Prime Minister Imran Khan will come to the parliament.
"PM Imran is busy fighting the coronvirus pandemic all day," said Faraz while talking to the media after the cabinet meeting in Islamabad. 

---
Second batch of Chinese military aid arrives in Islamabad
---

5:50pm - Beirut, Lebanon — Lebanon to go into four-day closure to prevent virus spread
Lebanon's government agreed on a "full closure" of the country for four days, the presidency said as the cabinet met on Tuesday to try to ward off a second wave of coronavirus infections.
The closure starts on Wednesday night.
Authorities have warned of a resurgence in recent days as the number of cases jumped to its highest point in more than a month after the government eased some lockdown restrictions.
---
5:45pm - Karachi, Pakistan — Doctors ask govt to follow Taiwan's strategy in dealing with coronavirus 
Doctors and civil society activists in Karachi asked the federal government to adopt measures like the Taiwan government used to tackle the coronavirus crisis.
"The results of opening the lockdown will come on Eid," warned Dr Sher Shah while addressing a press conference in Karachi.
Dr Sher Shah stated that the Sindh government has made satisfactory arrangements in dealing with the coronavirus crisis. He added that Eid would have to be celebrated with simplicity to stop the spread of the coronavirus.
Meanwhile, Dr Habiba Hasan urged the government to make arrangements for ration distribution among the poor and urged that politics should not be done on coronavirus.
"Lockdown should be imposed again and heavy fines should also be given [to violators]," said social activist Sheema Kirmani. She also urged that doctors should be provided with PPEs.
---
5:40pm - MNA Ali Wazir tests positive for coronavirus
National Assembly member and politician from South Waziristan, Ali Wazir has tested positive for coronavirus, Mohsin Dawar, another lawmaker from the tribal districts said on Tuesday.
"Our friend Ali Wazir has been tested positive for COVID-19," Dawar said in a tweet.
"He is taking necessary precautions and is fine for now. We request everyone to please remember him in your prayers."
---
5:30pm - Islamabad, Pakistan — Bilawal says PM Imran Khan should have attended NA session 
Pakistan Peoples Party Chairman Bilawal Bhutto Zardari on Tuesday expressed his disappointment over Prime Minister Imran Khan's decision to not show up in yesterday's National Assembly session. 
"These are crucial times for the country when Pakistan wants PM Imran to lead from the front," said Bilawal in a press conference. The PPP chairman also condemned Foreign Minister Shah Mahmood Qureshi's comments regarding the Sindh PPP's criticism of the government's coronavirus response.
"This is not the time to think about winning next elections but to reckon about saving lives of people of Pakistan during coronavirus outbreak," said the PPP chairman.
---

5:20pm - London, UK — UK extends COVID job retention scheme by four months
Britain extended its job retention scheme — the costly centrepiece of its attempts to mitigate the coronavirus hit to the economy — by four more months on Tuesday but told employers they would have to help meet the cost before long.
Finance minister Rishi Sunak told parliament there would be no changes to the scheme, which currently pays 80% of the wages of 7.5 million workers who are temporarily laid off, until the end of July.
From August, the scheme would continue with greater flexibility to support the transition back to work, allowing employers who are currently using the scheme to bring furloughed employees back part-time.
"We will ask employers to start sharing with the government the cost of paying people's salaries," Sunak said.
The Coronavirus Job Retention Scheme is expected to reduce a rise in unemployment in Britain. But at about 10 billion pounds a month, its cost is approaching the amount of money Britain spends on its public health services.
---
5:10pm - Islamabad, Pakistan — President Alvi chairs meeting of VCs medical universities
---
5:00pm - Chinese company donates ration to 1,000 families in Punjab
---

Watch: Global seafood industry struggling due to coronavirus 
---
4:45pm - Paris, France — French Health Minister says 'no' to Paris Mayor demand to re-open parks
French Health Minister Olivier Veran said on Tuesday that parks and gardens would remain closed in Paris and the greater Paris region to limit the risk of a second wave of coronavirus infections as France gradually eases a nationwide lockdown.
Veran was reacting after Paris mayor Anne Hidalgo asked on Twitter for the re-opening of the French capital's parks, closed since March 17, provided people wear face masks.
The minister was speaking after crowds of Parisians gathered on the banks of the trendy Saint-Martin canal and the Seine river on Monday to celebrate the easing of the lockdown.
Police had to disperse the crowds and Interior Minister Christophe Castaner later asked the Paris prefecture to ban drinking on the Canal Saint-Martin and the Seine river banks.
---
4:40pm - Islamabad, Pakistan — FM honours nurses for their services
---
4:35pm - Dubai, UAE — Dubai turns world's tallest building into coronavirus charity box
The world's tallest building, Dubai's 828-metre Burj Khalifa, has become a glowing charity donation box, raising money for food for United Arab Emirates residents suffering the economic impact of the new coronavirus pandemic.
Each of the tower's 1.2 million external lights was 'sold' for 10 dirhams ($2.70), enough to buy one meal. As donations came in, the tower 'filled up', and people could also bid to claim the light at the very top.
As the region's tourism and business hub with the world's busiest international airport, Dubai's economy has been hit hard by the coronavirus pandemic.
Many people have lost jobs or had incomes reduced. Tens of thousands of migrant workers, who often live in crowded shared accommodation where the virus spreads more easily, have registered to be repatriated.
"Hope you have a good solid meal. We take things for granted but life has a way of teaching us how to wake up," said donor Shereen Harris in a public comment on the campaign's website.
The UAE has recorded 19,661 cases of infection with COVID-19 and 203 deaths, the second highest death toll after Saudi Arabia of the six Gulf states.
The donation box has raised funds for more than 1.2 million meals so far, organising body The Mohammed Bin Rashid Al Maktoum Global Initiatives (MBRGI) said.
---
4:30pm - Riyadh, Saudi Arabia — Saudi Aramco tips difficult 2020 as crisis hits quarterly profits
Energy giant Saudi Aramco on Tuesday posted a 25% slump in first-quarter profits and said the coronavirus crisis which triggered a crash in oil prices would weigh heavily on demand in the year ahead.
Aramco was listed on the Saudi stock market in December following a historic $29.4 billion initial public offering — the world's largest — but since then has faced a torrid environment.
Oil prices slumped to nearly two-decade lows in March, losing almost two-thirds of their value as the coronavirus pandemic sent the world into recession.
Prices plummeted further in April amid a price war between Russia and Saudi Arabia as the major producers scrambled to secure market share.
"The COVID-19 crisis is unlike anything the world has experienced in recent history and we are adapting to a highly complex and rapidly changing business environment," CEO Amin Nasser said in a statement.
Aramco said that a steep decline in global demand for energy caused by the pandemic would undermine its full-year results.
---
4:25pm - Tehran, Iran — Virus-hit Iran to reopen mosques for holy nights
Virus-hit Iran will reopen its mosques for three nights over the next week so that worshippers can pray during one of the holiest times of year, a minister said Tuesday.
The Islamic republic shut its mosques and shrines in March as part of its efforts to contain the Middle East's deadliest outbreak of the novel coronavirus.
The reopening was granted for Laylat al-Qadr — a high point during the fasting month of Ramadan that marks when the Quran was revealed to Prophet Mohammed (PBUH).
But Health Minister Saeed Namaki sounded a note of caution as he announced that worshippers would be allowed to attend mosques and ceremonies for three of the next five nights.
"The biggest strategic mistake is to think that coronavirus is finished," he said in remarks broadcast on state television.
"At any time, we can go back to bad circumstances" due to "negligence", said Namaki.
"Our priority is to hold ceremonies outdoors" such as "in stadiums", he said, "so that social distancing is properly observed."
Namaki said his ministry agreed in a meeting to help "organise ceremonies from midnight to 2:00 am during the nights of Qadr".
He said the move came in response to "concern" expressed by Ayatollah Ali Khamenei, but stressed the supreme leader "always supports all measures" to contain the virus.
---
4:20pm - Singapore — Singapore plans coronavirus tests for all in migrant dormitories
Singapore plans to test all 323,000 migrant workers living in cramped dormitories that have become a hotbed for coronavirus in the tiny city-state, it said on Tuesday, eyeing an easing of curbs next month to restart its economy.
The island's tally of 24,671 infections is one of Asia's highest, with the vast majority among migrant workers squeezed into often unsanitary dormitories on the nation's fringes.
"The taskforce has drawn up a plan to allow migrant workers residing in the dormitories...to be progressively cleared so they can be safely returned to work when the time comes," said health minister Gan Kim Yong.
Infections in the dormitories had "stabilised", added Gan, who is co-chair of Singapore's virus fighting taskforce, with the daily average having fallen to about 700 in the past week from more than 1,000 in late April.
But he cautioned that infection rates would stay high as testing was ramped up.
About 32,000 of those living in dormitories have been tested, said Lawrence Wong, also a taskforce co-chair, adding that several weeks would be required to test all the workers.
Some businesses, such as hairdressers, laundry services and pet suppliers, re-opened on Tuesday, but most workplaces and schools remain closed and dining at restaurants is banned under Singapore's virus measures due to run until June 1.
---
4:15pm - Wuhan, China — Wuhan to test entire population after new virus cluster: state media
Wuhan plans to conduct coronavirus tests on the Chinese city's entire population after new cases emerged for the first time in weeks in the cradle of the global pandemic, state media reported Tuesday.
Officials have been ordered to submit by noon on Tuesday plans to administer nucleic acid tests on all residents in the city of 11 million people, according to an official notice carried by news outlets.
"Each district should make plans and arrangements to conduct nucleic acid tests on the entire population in its jurisdiction within a 10-day time limit," the notice said, although it was unclear when testing would begin.
The plan come after Wuhan reported the first cluster of new COVID-19 infections since the city re-opened after a 76-day lockdown on April 8.
Six new cases were reported on Sunday and Monday from a residential compound in Dongxihu District.
But an official from the Dongxihu District epidemic prevention and control commanding office told AFP that they have "not yet received news about this notice".
Wu Zunyou, chief epidemiologist at the Chinese Center for Disease Control and Prevention, told state broadcaster CCTV it was "not necessary" for every person in Wuhan to be tested.
---
4:10pm - Lahore, Pakistan — Special PIA flight to leave from Lahore for New Jersey on May 17  
Special PIA flight to bring back stranded Pakistanis from the US will depart from Lahore to New Jersey on May 17, announced a PIA spokesperson.
The official added that the PIA was making arrangements for additional flights to the USA to bring back stranded Pakistanis.
Meanwhile, the spokesperson also shared that PIA employees who had contracted the virus have recovered and have resumed their duties.
The recovered patients included cockpit and cabin crew members. He added that the officials were diagnosed while performing their duties on relief flights being operated by the national carrier.
---
4:00pm - Quetta, Pakistan — Balochistan govt to hold simple Eid celebrations 
Balochistan government has announced that it will celebrate a simple Eid due to the coronavirus.
Provincial government spokesperson Liaquat Shahwani announced that the authorities have banned carnivals, functions and Eid milan parties in the province.
---
3:50pm - Geneva, Switzerland — WHO sees "potentially positive data" on COVID-19 treatments
The World Health Organisation said on Tuesday that some treatments appear to be limiting the severity or length of the COVID-19 respiratory disease and said the body is focusing on learning more about four or five of the most promising ones.
"We do have some treatments that seem to be in very early studies limiting the severity or the length of the illness but we do not have anything that can kill or stop the virus," spokeswoman Margaret Harris told a virtual briefing, referring to the body's so-called Solidarity Trial of drugs against the disease.
"We do have potentially positive data coming out but we need to see more data to be 100% confident that we can say this treatment over that one," she added.
---
3:45pm - Karachi, Pakistan — Education dept's steering committee agrees on promoting students from class 1-8
Sindh Education Department's steering committee's meeting has decided to promote all students from classes 1 till 8 to the next grade, said a spokesperson of the education minister.
The spokesperson added that decision related to classes 9-12will be taken tomorrow. He also shared that the steering committee members have asked the provincial government to hold the board exams for classes 9-12.
The spokesperson shared that the provincial government will decide on the board exams after consulting the federal government.
---
3:35pm - Vatican City — Pope praises nurses' role in fighting coronavirus
Pope Francis praised the work of nurses around the world on Tuesday, saying the coronavirus crisis had shown how vital their service is, as he appealed to governments to invest more in healthcare.
"Every day we witness the testimony of courage and sacrifice of healthcare workers, and nurses in particular, who, with professionalism, self-sacrifice, and a sense of responsibility and love for neighbour, assist people affected by the virus, even to the point of putting their own health at risk," Francis said in a special message for International Nurses Day.
He said the pandemic had helped the world rediscover the fundamental role of nurses in healthcare, adding that they deserve to be more fully valued and their working conditions improved.
The pandemic had also brought to light healthcare deficiencies in some countries, he said.
"For this reason, I would ask leaders of nations throughout the world to invest in healthcare as the primary common good, by strengthening its systems and employing greater numbers of nurses, so as to ensure adequate care to everyone, with respect for the dignity of each person," he said.
---
3:30pm — Karachi, Pakistan — Sindh registers highest single day death tally in province
Death toll from the novel coronavirus climbed to 724 after new deaths were reported in Sindh.
According to Sindh Chief Minister Murad Ali Shah, 18 deaths were reported in the province in the last 24 hours taking the provincial tally to 218.
"Sindh reported its highest single day death tally in the province," said CM Murad Ali Shah.
---
1:30pm — Karachi, Pakistan — Sindh reports 593 new cases, nationwide tally jumps to 32,674
Confirmed cases in the country climbed to 32,674 after new cases were detected in Sindh.
According to Sindh Chief Minister Murad Ali Shah, 593 new cases were recorded in the province in the last 24 hours, with 412 of the new cases reported from Karachi.
---
2:55pm —  London, UK —  COVID-19 death toll tops 38,000, worst in Europe
The United Kingdom's COVID-19 death toll topped 38,000 as of early May, by far the worst yet reported in Europe, raising questions about Prime Minister Boris Johnson's handling of the coronavirus crisis.
Figures published by the Office for National Statistics for England and Wales brought the United Kingdom's official death toll to 38,289 as of May 3 — up nearly 6,000 in the space of a week, according to a Reuters tally of death registrations data.
---
FIFA reschedules women's U-17, U-20 World Cups to 2021 due to pandemic
The women's Under-20 World Cup tournament scheduled to be held in Costa Rica and Panama in August-September but postponed due to the COVID-19 pandemic has now been rescheduled for January 20-Feburary 6, 2021, world governing body FIFA said on Tuesday.
The women's Under-17 World Cup in India, originally scheduled for November, has been rescheduled for Feb. 17-March 7, 2021.
---
Finnish newspaper runs print ad that can only be read from six feet away
---
2:35pm — London, UK — UK to set out details on making workplaces safer as lockdown unwind begins
The British government will set out details on how to make workplaces safer as some businesses start to return to work after Prime Minister Boris Johnson set out a cautious plan to exit the coronavirus lockdown.
Health Secretary Matt Hancock said the business ministry would set out details of how employers could make workplaces safer.
"This stuff isn't straight forward but we'll be coming forward with a huge amount of more detail on how to make work places safe today," Hancock said.
---
Watch: Hairdresser and barber shops reopen in Turkey under strict hygiene rules 
---
2:20pm — Karachi, Pakistan — Nearly 10% women infected with virus in every district in Sindh: report
A new report by the Sindh Health Department suggests that nearly 10% of women have been infected with the virus in every district of Sindh.
According to the figures released by the Sindh Health Department, Karachi leads with nearly 27% of the people exposed were reported to be women.
Larkana came in next with 25%, followed by Sukkur 23%, Hyderabad 20% and Shaheed Benazirbad 15%. The lowest percentage was recorded in Mirpurkhas with 12% of the cases being recorded emerging in women.
The report added that women infected with the virus were between the ages of 20 to 39.
---
2:05pm — Karachi, Pakistan — 'PTI virus' responsible for deteriorating situation in Sindh: Murtaza Wahab
Adviser to Sindh chief minister Murtaza Wahab has said that the overall situation in Sindh had started deteriorating when the 'PTI virus' spread across the province.
"PTI leaders come on television to tell tall tales and then vanish," Wahab told a press conference in Karachi. "The biggest issue for Pakistan at the moment is the coronavirus," he said.
Taking a swipe at the provincial opposition, Wahab said that the PTI leaders had never read a book about the budget. "Then they ask about the budget. These days they are concerned about health," he added.
"They ask about the budget but they do not know that the budget is divided into two parts," Wahab noted. "Half of the budget is for development and the other half is non-development," he said.
Read more here. 
---
PDMA distributes financial aid to 2.5 million deserving families under Insaaf Imdaad Programme 
---
1:45pm — Beijing, China —  China says it's not yet the time to relax coronavirus measures
China's health authority said on Tuesday that the reappearance of local clusters of coronavirus cases in recent days suggests that counter-epidemic measures cannot be relaxed yet.
While prevention and control efforts have normalised, that does not mean measures can be eased, a spokesman at the National Health Commission said.
Wuhan on Monday reported its first cluster of coronavirus infections since a lockdown on the city, the original epicentre of the outbreak in China, was lifted a month ago
---
1:30pm — Moscow, Russia — Russia records 10,899 new coronavirus cases, surpass UK tally
Russia on Tuesday reported 10,899 new cases of the novel coronavirus in the last 24 hours, bringing the nationwide total past that of Britain to 232,243, the third-highest total worldwide.
The country's coronavirus response centre said the death toll from the virus rose by 107 people to 2,116.
Russia puts the continued daily rise in cases down to widespread testing. It has carried out more than 5.8 million tests.
---
1:20pm — Islamabad, Pakistan — All stakeholders need to work together to defeat pandemic: FM Qureshi
Foreign Minister Shah Mehmood Qureshi has said a national strategy against the pandemic has been chalked out after taking inputs from all the federating units.
"This is a national emergency and all the stakeholders will have to work collectively to defeat the virus," Qureshi said during a session of the Senate on Tuesday.
"The National Coordination Committee and National Command and Operation Center have been established to accommodate the inputs of the provinces," he said, adding the prime minister was holding daily meetings to review the situation in the country. 
---
1:15pm — Madrid, Spain — Spain orders two-week quarantine for all overseas travellers
The Spanish government ordered a two-week quarantine for all overseas travellers coming to the country from May 15 in a bid to curb the spreading of the novel coronavirus in the country.
The incoming travellers will have to remain locked in and will only be allowed to exit for grocery shopping, go to health centres and in case of "situation of need", an official order published on Tuesday said.
The quarantine has been enforced for all travellers incoming to Spain between May 15 and May 24, when the state of emergency is due to end.
---
Here's how ADB is helping Pakistan fight COVID-19 
---
Tracking COVID-19 infections: here's what blood tests could tell us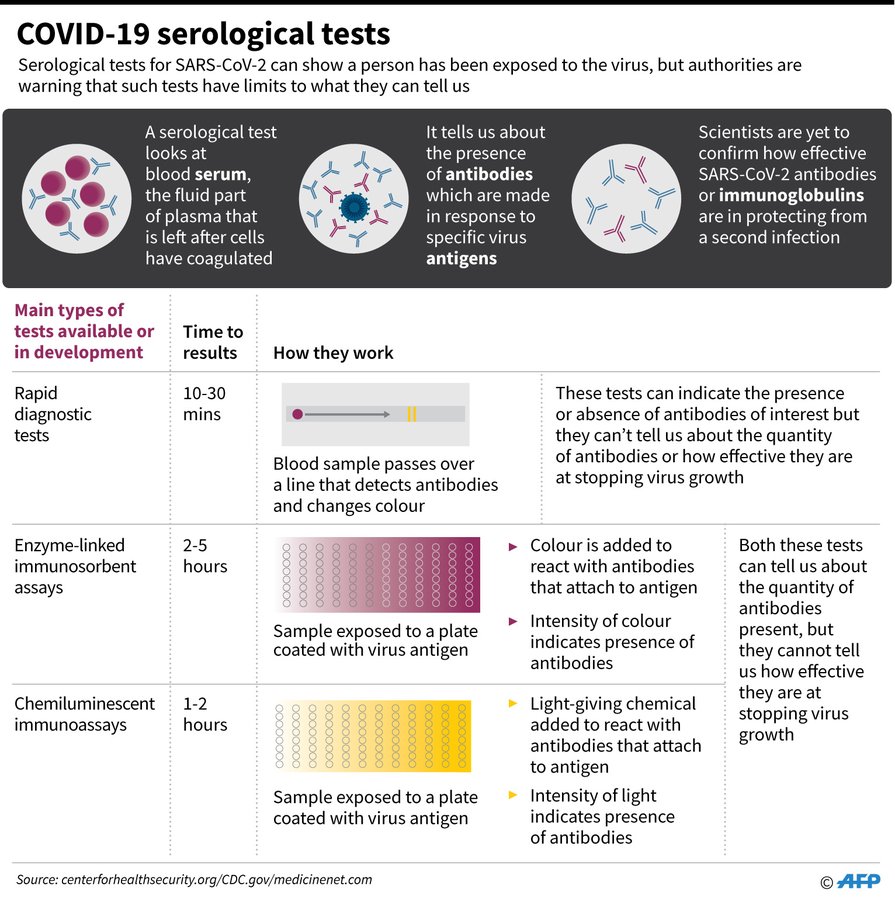 12:40pm — Islamabad, Pakistan — Center, provinces must be on same page against coronavirus: Zafar-ul-Haq
Leader of the Opposition in the Senate Raja Zafar ul Haq has said the federal and provincial governments should be on the same page to contain the spread of coronavirus.
Addressing the House, Haq said the government should have taken a lead in summoning an in-person session, but the opposition had to requisition it.
"During such times, opinion is sought from the institutions such as the Parliament," he said.
He lamented that the government, instead of consulting the opposition to find solutions against the pandemic, did not bother to even approach them.
---
12:30pm — Islamabad, Pakistan — Where is PM? Who is running the country?, asks Sherry Rehman
PPP Parliamentary leader in the Senate Sherry Rehman has questioned the prime minister's alleged lack of policy regarding the coronavirus pandemic during the Senate session.
"Where is the prime minister? Who is running the country?" she said, adding that the premier is 'missing' these days.
Rehman said that SOPs were being flouted and the top leadership was sending 'confused' messages regarding the lockdown situation.
She lamented that the doctors are warning that the healthcare system will outrun its capacity, but their statements are being neglected.
"We only need to focus on coronavirus," she said.
Read more here. 
---
Sindh health minister sends a message on International Nurses Day 
---
12:20pm — Moscow, Russia — Overloaded ventilator fire kills five 5 coronavirus patients 
A fire started by an overloaded ventilator killed five novel coronavirus patients in an intensive care unit in a Russian hospital on Tuesday, news agencies reported.
Russia's emergency ministry confirmed the death of intensive care patients in a hospital in the city of St Petersburg but did not say how many people had been killed.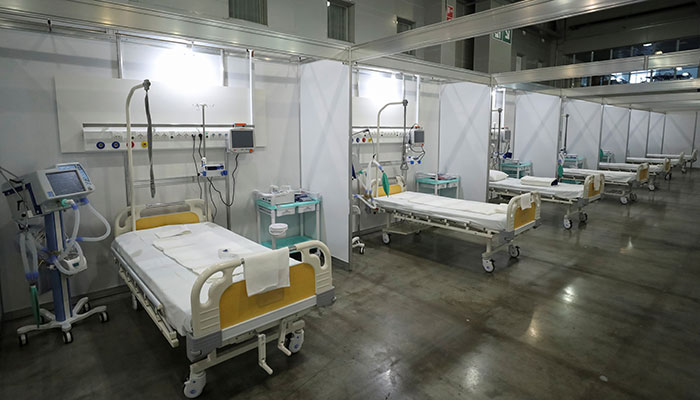 "Ventilators are at their limit. According to preliminary data, there was an overload and the machine ignited, which caused the fire," one source told the Interfax news agency.
The emergency ministry said 150 people had been evacuated from the hospital.
---
Asad Umar chairs NCOC meeting to review latest COVID-19 situation 
---
Latest on the five worst-hit countries by COVID-19 
---
11:45am — Quetta, Pakistan — Quetta becomes second most affected city from COVID-19 in country
Quetta has recorded the highest number of cases in Balochistan, the National Command and Control said in its latest update.
According to the national dashboard, Quetta has recorded 1,754 cases out of 2,061 making it the second most affected city in the country, with the district of Pishin recording 77 of the cases.
---
Coronavirus lockdowns could spark rise in HIV infections: experts 
If lockdowns and stay-at-home orders are succeeding in slowing the spread of the coronavirus, health experts warn that the measures could unintentionally undermine efforts to contain another potentially deadly disease: HIV.
---
Global coronavirus cases pass 4.19 million, death toll over 285,100
More than 4.19 million people have been reported to be infected by the novel coronavirus globally and 285,120 have died, according to a Reuters tally. 
Infections have been reported in more than 210 countries and territories since the first cases were identified in China in December 2019.
---
Burj Khalifa lights up after securing 1.2 million meals for those in need during COVID-19 pandemic
---
11:00am — Islamabad, Pakistan — Federal cabinet meets today to discuss pandemic situation
Prime Minister Imran Khan will chair a session of the federal cabinet today to discuss the latest situation in the country regarding the coronavirus pandemic.
The meeting will also review the steps being taken by the government to contain the spread of the virus and mitigate its impact on the economy.
---
10:30am — Dubai, UAE —  Nearly 5,000 expectant Pakistani women register to fly back home
The Pakistani Consul in Dubai has said that more than 5,000 expectant Pakistani women have registered to fly back home.
"2,000 sick have also requested to be evacuated immediately," the consul said, adding that more than 63,000 Pakistanis wanted to return home.
"More than 6,000 Pakistanis have already flown back home through special flights," the consul said. "There will be an increase in the number of special flights from next week, while regular flights are expected to resume after Eid-ul-Fitr."
---
WATCH: 'Trump Death Clock' counts preventable US coronavirus deaths
Read more on this here.
---
9:00am — Islamabad, Pakistan — Islamabad reports 37 new cases
Confirmed cases in the country rose to 32,081 after new cases were reported in the federal capital.
According to the national dashboard, 37 new cases were recorded in Islamabad, taking the city's tally of confirmed cases to 716.
Islamabad has also reported six deaths from the virus.


---
For our May 11 coverage of coronavirus click here.
---