Coronavirus updates, May 13: Latest news on the COVID-19 pandemic from Pakistan and around the world
Updated Wednesday May 13 2020
The number of confirmed COVID-19 cases in Pakistan rose to 35,671 on Tuesday after new infections were confirmed in the country.
The province-wise break up of the total number of cases as of 12:35am, May 14, is as follows:
Total confirmed cases: 35,671
• Sindh: 13,341
• Punjab: 13,561
• Khyber Pakhtunkhwa: 5,252
• Balochistan: 2,158
• Islamabad Capital Territory: 759
• Gilgit-Baltistan: 482
• AJK: 88
Deaths: 770
• Khyber Pakhtunkhwa: 275
• Sindh: 234
• Balochistan: 27
• Gilgit-Baltistan: 4
• Punjab: 223
• Islamabad Capital Territory: 6
• AJK: 1

---
Officials have recorded more than 4.2 million cases and more than 287,000 deaths since the virus emerged in China in December.
Read on for the latest updates from Pakistan and around the world.
---
Disclaimer: There may be some discrepancy in the number of confirmed cases reported at the country level due to differences in figures quoted by federal and provincial authorities.
Geo News is constantly gathering fresh information from concerned authorities and striving to keep our readers up to date with the most accurate information available.
---
Orange: General updates coming in from Pakistan
Red: Reports on new cases in Pakistan
Maroon: Reports on new deaths in Pakistan
Green: Reports on recovered patients in Pakistan
---
END OF LIVE UPDATES FOR MAY 13
Live updates for May 14 to continue here.
---
12:35am (May 14) — Lahore, Pakistan — Punjab reports nine more deaths, 302 new infections
The Punjab disaster management authority has reported nine more deaths in the province, taking the grim total to 223.
A rise in the number of cases by 302 was also reported, taking the tally of infections to 13,561.

---
11:47pm — Washington, USA — Uber to require face masks for drivers, riders
Uber has said it is making face masks mandatory for drivers and passengers, as part of new health and safety protocols aiming to instill confidence in the ride-hailing service as people emerge from coronavirus lockdowns.
The new policy to be effective Monday will require drivers in many markets to use selfie pictures to certify they are wearing masks before going online, and will allow riders and drivers an option to cancel a booking if the other party is not using a face covering.
Uber said it was committing an additional $50 million to buy masks and sanitizing supplies and would update its app with a safety checklist and other tools for both riders and drivers.
The ride-hailing service said it was no longer allowing passengers to ride in front seats and would reduce the maximum number of riders in a vehicle to three. It had previously suspended its pooled rides service.
The policy will be in place through the end of June and reviewed based on local public health needs.
The app will be updated to allow for ratings for both drivers and passengers if they are not wearing face masks.
---
Factbox: How to travel in Europe amid coronavirus
---
11:13pm — Lahore, Pakistan — Punjab govt warns against spread of virus through asymptomatic patients
"Having no symptoms does not mean you don't have the virus," a public awareness video by the Punjab government begins by saying.
It warns people that some have symptoms which do not have outward manifestations other illnesses do.
"Such people can become the greatest driving force in the spread of the virus," says the message, urging people to practice social distancing despite not having symptoms of the virus.

---
10:41pm — London, UK — England's ease in curbs sees Golfers hit the green, Garden Centres reopen

---
10:35pm — Islamabad, Pakistan — Last of 21 chartered flights leaves for UK
The last of 21 chartered flights left Pakistan for the UK, British high commissioner Christian Turner has said.
He said that since April 4, 25,000 British nationals have returned home.

---
9:47pm — Moscow, Russia — More than 100,000 hospitalised in Russia

Health Minister Mikhail Murashko told parliament more than 100,000 patients are now hospitalised with confirmed or suspected coronavirus, a jump from the figure of 80,000 he gave on Friday.
Nearly 1,500 patients are currently on ventilators, the minister said.
---
09:25pm — Islamabad, Pakistan — Aviation minister says limited flight operations may begin Saturday
Aviation minister Ghulam Sarwar Khan has said "Sindh could not be convinced" but all other provinces, health advisers, health experts and NDMA have agreed that "limited flight operations" can be introduced with adherence to safety precautions.
"Beginning Saturday we are looking to begin limited flight operations. These will run from Islamabad, Lahore, Karachi, Quetta and Peshawar [...] these five stations."
He said he agrees with Shahid Khaqan Abbasi for action to be taken against any individual found not wearing a mask.

---
09:07pm — Rawalpindi, Pakistan — Army chief visits Quetta quarantine facility
Chief of Army Staff Gen Qamar Javed Bajwa while reviewing a Quetta quarantine facility has said that Balochistan is Pakistan's future and it is the Army's duty to assist the people and government there for peace and prosperity.
Gen Bajwa directed all commanders "to reach out to people in far flung areas of Balochistan to help mitigate challenges faced by masses due to COVID-19".
---
08:57pm — Gilgit, Gilgit-Baltistan — Health dept graph shows region's trend of daily cases
---
08:27pm — Karachi, Pakistan — City's death toll crosses 200, infected tally surges past 10,000 with inclusion of out-of-province cases



Karachi's death toll has hit 205 and total cases have reached 10,217 with the inclusion of out of province cases which are being treated in the city's hospitals.

The following table by the Sindh health department provides an overview of the province's cases.

---
08:25pm — Islamabad, Pakistan — NCOC meeting culminates in reminder to provincial govts of strict adherence to safety SOPs
---
8:10pm — Lahore, Pakistan — Punjab govt says Rs3bn in financial aid distributed among 270,000 families
---
US CDC graphic shows how one infected person can infected 87% of a gathering
A report by the US Centres for Disease Control (CDC) discusses how one infected person during a choir practice in Skagit County, Washington, spread the virus to at least 32 persons, with three hospitalised and two dead.
"Following a 2.5-hour choir practice attended by 61 persons, including a symptomatic index patient, 32 confirmed and 20 probable secondary COVID-19 cases occurred (attack rate = 53.3% to 86.7%); three patients were hospitalized, and two died. Transmission was likely facilitated by close proximity (within 6 feet) during practice and augmented by the act of singing," notes the study.

Read the full report here.

---
07:33pm — Karachi, Pakistan — CM launches Sindh Mental Health Authority Helpline
Chief Minister Sindh Syed Murad Ali Shah has launched the Sindh Mental Authority helpline 021 & 022- 111-117-642 established to help and support people facing issues of mental health.
Shah said that the helpline has been developed with the specific purpose to meet the need of psychological crisis intervention in light of the ongoing coronavirus outbreak.
"The coronavirus has created mental stress, depression, anxiety and other psychological issues among the people," he said.
The chief minister said people can call anywhere from within the province to share their issues with experts and get guidedance accordingly.
Earlier, Chairman Sindh Mental Health Authority Dr Karim Khuwaja briefing the chief minister said that the help line has been established with UN No. 111-117-642.

"If the phone number is dialed with 021-code it will be connected with Jinnah Post Graduate Institute, Karachi and when the phone number is dialed with code 0221 it will be connected with Sir Cowasjee Jahangir Institute of Psychiartry, Hyderabad."
In both hospitals, leading psychiatrists will guide the callers, he added.
The helpline facility will be available from 8am to 3pm and the time would be extended as per future requirements.
---
07:13pm — Gilgit, Gilgit-Baltistan — Region reports seven more cases
The Gilgit-Baltistan health department has reported seven more cases in the region, taking the tally of infected to 482.
On a positive note, six people were said to have recovered from the virus, taking the total number of recoveries to 337.

---
Photo: The 'llama connection' and quest for COVID-19 treatment
---
6:45pm - London, UK — England tiptoes out of lockdown as economy dives
England tentatively began easing its coronavirus lockdown on Wednesday, with some people who cannot do their jobs at home urged to return to work, as stark economic data showed the disastrous impact of the pandemic.
The worst-hit country in Europe with more than 40,000 deaths from COVID-19, including 275 health and care workers, according to official data, Britain has been in lockdown since March 23.
---
6:30pm – Karachi, Pakistan — Sindh conducted highest number of tests among provinces
Sindh government Spokesperson Murtaza Wahab said that Sindh conducted most tests per million among all the provinces.
In a tweet, he said that Sindh carried out 2,070 coronavirus tests per million people.
---
6:10pm - New Delhi, India — $40 billion credit line for small businesses granted to control virus damage
India will offer bank loans amounting to 3 trillion rupees ($39.85 billion) to small businesses, Finance Minister Nirmala Sitharaman said on Wednesday, as part of measures to combat the damage caused by the coronavirus outbreak.

Under the plan, the government will provide a credit guarantee to businesses to avail collateral-free loans from banks, aiming to help 4.5 million businesses by October 2020, she said.
---
5:55pm - Hong Kong — Two new infections end Hong Kong´s 24-day clean sheet 
Two people in Hong Kong tested positive for coronavirus, officials said, ending a 24-day run of no new local cases that saw the city begin to ease social distancing regulations.
The financial hub was on course for 28 days of no local transmissions -- a yardstick often used by epidemiologists to judge if an outbreak has been defeated.
---
5:45pm – Peshawar, Pakistan — KP reports eight new deaths, toll jumps to 275
The KP Health Department also reported eight new deaths, after which the death toll rose to 275 across the province.
Four deaths were reported in Peshawar, two in Nowshera, one each in Khyber and Lower Dir, said the official Twitter account.
---
5:35 pm – Peshawar, Pakistan — KP reports 231 new cases, provincial tally reaches 5,252
The KP Health Department confirmed 231 new cases later on Wednesday, after which the provincial tally of the coronavirus cases reached 5,252.
The department said that 87 patients also recovered as of today, after which the total number of recoveries reached 1,392. The active number of cases was reported at 3,585.
---
5:15pm – Peshawar, Pakistan — High Court releases number of infected employees
The Peshawar High Court released on Wednesday, the number of court employees infected with the coronavirus across the province.
According to the documents with Geo News, 38 workers of the High Court, circuit benches, and lower courts were found to be infected.
57 workers tested negative for the virus while six are awaiting results, as per the documents.
In all, 109 employees were tests and 44 virus-positive workers are in isolation, revealed the documents.
---
5:10pm - London, UK — UK PM Johnson says 275 health and social care workers have died from COVID-19
British Prime Minister Boris Johnson said on Wednesday that the deaths of 144 health care workers and 131 social care workers had been reported as involving COVID-19.
The United Kingdom's total COVID-19 death toll now exceeds 40,000, by far the worst yet reported in Europe.
---
5:05pm - Peshawar, Pakistan — KP Housing Minister recovers from coronavirus
Khyber Pakhtunkhwa's Housing Minister Dr Amjad Ali has recovered from coronavirus infection after his test came out as negative, said a news release issued.
In press release, the minister said that due to 14-day quarantine, he had remained away from the service of the people, but after recovery he will continue the public service with the same spirit and zeal.
The provincial minister appealed the people to avoid coming out of their houses unnecessary and follow precautionary measures against corona in letter and spirit to arrest the pandemic as soon as possible.
---
5:00pm - Johannesburg, South Africa — Remote Lesotho becomes last country in region to record COVID-19 case
Lesotho recorded its first case of COVID-19 on Wednesday, the health ministry said, becoming the last country in southern and East Africa to be afflicted by the virus.
The ministry said it had conducted 81 tests for COVID-19 from travellers from South Africa and Saudi Arabia, of which one was positive.
The remote, high-altitude kingdom, nestled in a South African mountain range, had previously been spared the coronavirus, although its bigger, more industrialised neighbour has recorded more than 10,000 cases.
The disease has struck at a time of political uncertainty in Lesotho, with embattled Prime Minister Thomas Thabane due to step down by the end of next week after his coalition collapsed in parliament.
His exit would clear the way for a solution to a political crisis that erupted late last year, when he and his current wife were accused by police of murdering his former wife nearly three years ago. They both deny the charges.
It is unclear when he will step down, although parliament has already provisionally named Finance Minister Moeketsi Majoro as his replacement.
A report by the UN humanitarian aid coordination agency two days ago had put COVID-19 case figures for East and southern Africa at almost 18,000, with all countries affected except Lesotho.
---
4:50pm - Rome, Italy — Italian schools to reopen in September: Education minister
ROME (Reuters) - Italy's education minister on Wednesday said schools across the country would reopen in September, after being shut for six months due to the coronavirus outbreak.
"For this reason the government has decided to reopen in September," Education Minister Lucia Azzolina told a parliamentary hearing, adding that the current conditions would not allow lessons to restart safely any earlier.
Schools and universities have been closed nationwide since March 5, as part of a lockdown to curb the spread of the virus which has so far killed almost 31,000 people in Italy.
---
4:45pm - Beijing, China — China's Wuhan kicks off mass testing campaign for new coronavirus
Authorities in the Chinese city where the novel coronavirus emerged launched an ambitious campaign on Wednesday to test all of its 11 million residents, after a cluster of new cases raised fears of a second wave of infections.
At least two of the city's main districts have delivered notices of the campaign door-to-door and sent out online questionnaires through community workers seeking information about tests people have had, and if they belong to what are deemed high-risk groups, residents said.
"To better make use of nucleic acid tests as a monitoring tool and in accordance of the state cabinet's requirements to expand testing, we've decided after consideration to conduct testing for all residents," according to a questionnaire sent to residents of the city's Wuchang district, which has a population of about 1.2 million.
Wuhan was placed under a lockdown on January 23 and it was only lifted on April 8. It reported six new cases over the weekend, the first infections since the curbs were removed.
Reuters, citing an internal document to district officials, reported on Monday that the city planned to conduct the campaign of city-wide nucleic acid tests over 10 days.
Residents of two city districts, Wuchang and Hankou, the latter with a population of more than 2.6 million, said they had been told to provide by Wednesday personal details including any history of nucleic acid tests and whether they belonged to any of 12 "key groups", according to four residents and copies of questionnaires seen by Reuters.
The tests would include both nucleic acid and serum anti-body tests, according to a notice issued by Wuchang district.
---

4:35pm - Warsaw, Poland — Poland to reopen restaurants and hairdressers on May 18
Poland will reopen restaurants and hairdressers on May 18 as it begins easing coronavirus-linked restrictions, Prime Minister Mateusz Morawiecki said on Wednesday.
"At least to some extent we have contained the epidemic, therefore we can gradually unfreeze the economy," Morawiecki told news conference, a day after Poland saw its largest spike in coronavirus cases in a single day.
Morawiecki also said that schools would partially reopen to provide day care for children in the first three years of primary school.
---

4:30pm - Berlin, Germany — Let's not jeopardise what we've achieved on coronavirus: Merkel
Chancellor Angela Merkel urged Germans on Wednesday not to endanger what the country has achieved in slowing the spread of the coronavirus, adding the pandemic will be with us for some time.
"It would be depressing if we have to return to restrictions that we want to leave behind us because we want too much too soon," Merkel told the Bundestag lower house of parliament.
---
4:15pm - Paris, France — France confirms border controls with Germany to stay in place until June 15
France will maintain border controls with Germany until June 15, although there will be some relaxation of measures to help the day-to-day lives of those who have to make regular crossings, said French Interior Minister Christophe Castaner on Wednesday.
---

3:50pm - Toronto, Canada — Canada-US border to stay closed to non-essential travel until June 21: report
The Canada-US border is expected to stay closed to non-essential travel until June 21, the Globe and Mail newspaper reported on Wednesday.
Canada and the United States had agreed on April 18 to extend border restrictions for another 30 days.
Canada asked for a 30-day roll-over and it is almost certain that Washington will agree to the proposal, the Globe and Mail said, citing sources.
---
Duties of Corona Tiger Force
---
3:45pm - Karachi, Pakistan — Excise and taxation dept to open from May 14 onwards
Sindh Excise and Taxation Department has announced that to open its offices from May 14 onwards.
According to DG excise Shoaib Siddiqui, people coming into the office will asked to wear masks. He added that people seeking motor registration can get themselves registered through online queue management. 
---

3:35pm - Dubai, UAE — Saudi Arabia's aviation sector needs direct state support, lobby IATA says
The International Air Transport Association (IATA) on Wednesday urged the Saudi Arabian government to provide financial support to its aviation sector.
Saudi Arabia should consider providing financial aid to airlines and airports, and think about reducing, waiving or deferring government imposes taxes and fees, it said in a statement.
Airlines in Saudi Arabia are estimated to lose $7.5 billion this year due to the coronavirus pandemic that has crushed travel demand, the lobby said.
---

3:30pm - Madrid, Spain — Spain's daily coronavirus death toll at 184 on Wednesday
Spain's daily death toll from the coronavirus inched up on Wednesday to 184 fatalities from 176 on Tuesday, the country's health ministry said.
The overall death toll from the disease rose to 27,104, while the overall number of diagnosed cases rose to 228,691 from 228,030 the prior day.
---
3:25pm - Islamabad, Pakistan — FIA employees to donate in PM's corona relief fund 
Federal Investigation Agency has announced that its employees will donate some amounts from their salaries in PM's Corona Relief Fund.
According to a notification issued by FIA director general, officers in the rank of BPS 1-15 will donate their one days salary in the fund. While officers in BPS 16-19 will donate two days salary and anyone above BPS 20 will donate their three day's salary.
---
3:20pm - Karachi, Pakistan — Authorities seal shops in Karachi for violating SOPs
Assistant Commissioner Asif Chandio sealed multiple shops in Karachi's Zainab and Madina Market for not following the government set SOPs

---
3:15pm - Lahore, Pakistan — Provincial minister donates Rs4.5 mln in CM's corona fund 
Provincial Minister for Higher Education Raja Yassir donated Rs4.5 million in the corona fund set up by the chief minister.
The funds were gathered from the salary donations of the employees of the the Board of Intermediate and Secondary Education. 
---

3:05pm - Berlin, Germany — German government to relax border controls from Saturday: media reports
The German government will from Saturday relax border controls introduced to slow the spread of the coronavirus, media including broadcaster n-tv and Focus magazine reported on Wednesday.
Focus cited German news agency dpa as saying that the Interior Ministry was aiming to completely lift border controls introduced due to the coronavirus pandemic on June 15.
The German Interior Ministry was not immediately available to comment.
---
3:00pm - Lahore, Pakistan — PIA flight for UK leaves with 757 British citizens 
A special PIA flight carry 757 British citizens has departed for London from Lahore, said a spokesperson for the national carrier.
The spokesperson added that a special flight carrying stranded Pakistanis from Spain's city Barcelona will arrive at 10pm tonight.
---
2:55pm - Islamabad, Pakistan — Business group donates Rs10 mln in PM's corona relief fund 
Din Group of companies gave a Rs10 million cheque to Prime Minister Imran Khan for the corona relief fund set up by the premier.

The cheque was presented to PM in a meeting at the PM House in Islamabad.
---
2:50pm - Dubai, UAE — Emirates plans scheduled flights from May 21 to nine cities
Emirates Airline from May 21 plans to operate scheduled flight services from Dubai to London Heathrow, Frankfurt, Paris, Milan, Madrid, Chicago, Toronto, Sydney and Melbourne, it said in a statement on Wednesday.
It will also offer connections in Dubai for travelers between the Britain and Australia, it said.
---
2:45pm - Lahore, Pakistan — Traders demand resignation of Punjab minister 
Traders have demanded the resignation of Punjab Minister for Industries Mian Aslam Iqbal over his comments regarding the coronavirus.
"Mian Aslam Iqbal's comments make us feel as if the traders imported the coronavirus," said President of All Pakistan Traders Body Ajmal Baloch. He added that no one has any idea about the diifculties being faced by the traders in the last two months. 
---
2:40pm - Karachi, Pakistan — WHO registers clinical trial of passive immunization done by Pakistan 
The World Health Organisation has registered the clinical trial of the passive immunization treatment done on a patient in Pakistan.
Pakistan is the first country to report a successful trial of the passive immunization treatment on a coronavirus patient.
---
2:30pm - Jakarta, Indonesia  — Indonesia reports biggest daily rise in coronavirus infections
Indonesia reported on Wednesday its biggest daily rise in coronavirus infections with 689 new cases, taking the total in the Southeast Asian country to 15,438, said health ministry official Achmad Yurianto.
Yurianto reported 21 new deaths related to COVID-19, taking the total to 1,028, while 3,287 have recovered. He added that more than 33,000 patients are suspected to be carrying acute respiratory illnesses for which there is no clinical explanation other than the new coronavirus, he added.
Over 123,570 people have been tested, he added.
---
2:25pm - Islamabad Pakistan — NDMA chairman says 11 flights from China brought 154 tonnes of medical equipment 
NDMA Chairman Lt Gen Muhammad Afzal shared on Wednesday that Pakistan has brought 154 tonnes of medical equipment from China on 11 flights.
Lt Gen Afzal shared that in March it was difficult to buy masks and the price had increased by Rs50. He added that masks were smuggled out of the country which is why it was difficult to buy masks within the country.
"Apart from ventilators all medical equipment is being made in Pakistan," said the NDMA chairman. He added that PIA and Air Force plans are bringing equipment from abroad. 
---
2:10pm - Kuala Lumpur Malaysia — Malaysia reports 37 new coronavirus cases; two deaths
Malaysia reported 37 new cases of the novel coronavirus on Wednesday, taking its cumulative total to 6,779 infections.
The health ministry also reported two new deaths, raising the total number of fatalities from the outbreak to 111.
---
2:00pm - Islamabad, Pakistan — First lady, SAPM in health visit TTQ centre
First Lady Samina Alvi and Special Assistant to Prime Minister on Health Dr Zafar Mirza visited the Trace, Track and Quarantine (TTQ) centre established in Islamabad.
During the visit, Dr Mirza said that they were ensuring that adequate steps are taken to stop the coronavirus spread in the country.
"We have adopted a policy of increased testing with the help of the TTQ policy," said Dr Mirza. He added that this policy was being implemented through a national action plan in the country.
Dr Mirza also said that 16 teams are working in the field in Islamabad, adding that take test samples by visiting homes and markets.
---
1:55pm - Islamabad, Pakistan — Shahid Khaqan Abbasi hits out at govt over lack of strategy to deal with coronavirus
Former prime minister Shahid Khaqan Abbasi hit out at the government and its "smart lockdown" strategy, saying the centre had no concrete plan to deal with the coronavirus pandemic.
"The prime minister had said he would not impose a lockdown in the country because the poor and daily wagers would suffer as a result of it. He then said that the lockdown had been enforced by the elite. Who are these elite," Abbasi asked, addressing the floor of the House on Wednesday.
"The day the prime minister said he would not enforce a lockdown, there was a curfew in front of his own house," he said.
Abbasi continued, "Then a new word 'smart lockdown was introduced. Where is the federal government's decision about the lockdown? It was the provinces' decision to enforce lockdowns."
The PML-N leader added that the public needs to know if there is a lockdown in the country or not. "The public needs to know the government's strategy. Just today the government threatened again that if the public does not follow safety precautions, the lockdown will be enforced once again in the country."
Hitting out at a minister he did not name, Abbasi said, "Today a fourth minister from the government came and addressed the House, but did not speak about their strategy at all. If this House is to run, the opposition needs to speak first and the government shall answer then. All we need to know is what the government has planned when it comes to dealing with the pandemic."
"There is no need to be afraid of criticism," Abbasi said, adding that the prime minister had so far addressed the nation 12 times but no strategy had been presented.
Read more here.
---
1:35pm — Karachi, Pakistan — Pakistan's death tally crosses 750
Death toll from the novel coronavirus climbed to 753 after new deaths were reported in Sindh.
According to Sindh Chief Minister Murad Ali Shah, 16 deaths were reported in the province in the last 24 hours.
Total number of deaths in Sindh now stands at 234.
---
1:35pm — Karachi, Pakistan — Nationwide tally jumps past 35,000
Confirmed cases in the country climbed to 35,101 after new cases were detected in Sindh.
According to Sindh Chief Minister Murad Ali Shah, 731 new cases were recorded in the province in the last 24 hours, with 585 of the new cases reported from Karachi.
"The good news is that 606 more patients have recovered and gone to  their homes," Shah said, adding that they have conducted 103,340 tests so far.
---
1:20pm - Manila, Philippines — Philippines records 21 new coronavirus deaths, 268 more infections
The Philippines' health ministry on Wednesday recorded 21 more coronavirus deaths and 268 additional infections.
In a bulletin, the ministry said total deaths from the novel coronavirus have reached 772 while confirmed cases have risen to 11,618. But 145 more patients have recovered, increasing total recoveries to 2,251.
---
Pakistan's testing capacity decrease after hitting peak
Pakistan's testing capacity has faced a downward trajectory after peaking at an estimated 13,000 on May 9, according to a report.
On May 10 and 11, the number of tests dropped, fluctuating between 11,000 to 10,000.
Read more here.
---
1:10pm - Bangkok, Thailand — Thailand reports no new coronavirus cases for first time since March 9
Thailand, the first country outside China to discover a case of the new coronavirus, reported no new daily cases for the first time in two months on Wednesday as the government considered easing more restrictions on businesses.

"We all can be relieved but not complacent," said Taweesin Wisanuyothin, a spokesman for the government's Centre for COVID-19 Situation Administration.
"We need to continue with the main measures ... wash hands, practice social distancing and wear masks," he said.
Thailand detected its first coronavirus case, a tourist from China on January 13. Since then it has recorded a total of 3,017 infections and 56 deaths.
Taweesin said areas that were still most at risk included Bangkok and surrounding provinces, as well as southern Thailand, where there has been a large number of cases in the past two weeks.
Fuelling the rise in southern cases has been a cluster at an immigration detention centre in Songkhla province and in provinces bordering Malaysia. Thailand's neighbour to the south has had 6,742 coronavirus cases and 109 deaths.
The last day Thailand recorded no new cases was March 9, but within two weeks the daily numbers jumped to double digits and then to more than 100 a day.
---
1:05pm — Moscow, Russia — Russia reports more than 10,000 new coronavirus infections
Russia on Wednesday reported 10,028 new confirmed cases of the novel coronavirus, pushing its nationwide tally to 242,271.
Russia's coronavirus response centre said 96 people died overnight, bringing the official death toll to 2,212.
---
Asad Umar chairs NCOC meeting to discuss latest pandemic situation
---
Deaths from preventable disease in children under 5 could rise by almost 45% over the next 6 months: UN report
---
12:55pm — Moscow, Russia — Russia reports more than 10,000 new coronavirus infections
Russia on Wednesday reported 10,028 new confirmed cases of the novel coronavirus, pushing its nationwide tally to 242,271.
Russia's coronavirus response centre said 96 people died overnight, bringing the official death toll to 2,212.
---
12:40pm — Riyadh, UAE — PIA announces schedule of 6 flights from UAE
PIA has announced the schedule of six special flights from UAE to repatriate Pakistani citizens.
According to the schedule, the first flight will depart on Thursday carrying 250 passengers from Riyadh. From Jeddah, the flight will depart on May 18 for Faisalabad, while on Saturday; the flight will leave from Medina for Karachi.
---
12:30pm — London, UK — No perfect way to begin easing of lockdown: minister
There is no perfect way to begin gradually easing the lockdown on the British economy and Britons should apply common sense to new guidance, transport minister Grant Shapps said on Wednesday as changes to coronavirus restrictions came into effect.
Asked about why the government was allowing estate agents to restart house viewings when people could not have their own family to visit, Shapps said it was easy to pick holes in the guidance as it became more complicated.
"The truth of the matter is, you have to start somewhere. The lockdown message was very straightforward  — it was just stay at home. Now as we start to unlock, of course, there have to be decisions made," Shapps told Sky News.
"There is no perfect way of doing this, and we'd ask people to use their common sense... Right now, there has to be a cut-off somewhere."
---
12:15pm — Islamabad, Pakistan — Senator Mirza Mohammad Ansari recovers from virus
Senator Mirza Mohammad Afridi has recovered from the virus after his test came back negative.
The senator said he will be attending the Senate session tomorrow.
---
Latest on the five worst-hit countries by COVID-19 
---
11:45pm — Islamabad, Pakistan — FM Qureshi to participate in virtual SCO Council of Foreign Ministers meeting today
Foreign Minister Shah Mehmood Qureshi will participate in a virtual meeting of SCO Council of Foreign Ministers focusing on the COVID-19 pandemic, reported Radio Pakistan.
The video conference will provide an opportunity to express solidarity and develop a united response to the pandemic at the Shanghai Cooperation Council level.
---
11:30pm — Islamabad, Pakistan — Study launched to ascertain how COVID-19 will affect industry
Federal Minister for Science and Technology Fawad Chaudhry has said a new joint study of Pakistan Science Foundation and HEC was being launched to ascertain how the coronavirus pandemic will affect the country's industry.
He added, the study will also ascertain which new industries would emerge and collapse as a result of the pandemic.
---
11:15am — London, UK — UK economy shrinks 5.8% in March, most on record
Britain's economy shrank by a record 5.8% in March from February as the coronavirus crisis escalated and the government ordered a shutdown of much of the country to stop the spread of the virus, official data showed on Wednesday.
In the first three months of the year, gross domestic product contracted by 2.0% from the last three months of 2019, the Office for National Statistics said. 
---
REOPENING: Countries around the world ease lockdowns as experts warn of a second wave
---
10:50am — Islamabad, Pakistan — Federal cabinet to further ease lockdown restriction: sources
The federal cabinet is likely to further ease lockdown restrictions in the country, sources familiar with the matter said on Wednesday.
According to sources, Prime Minister Imran Khan has said they will ease lockdown restrictions slowly. 
Sources further said the  that the prime minister had further said that public transport and railways will soon resume operation after consensus with the provinces. 
Twitter will allow employees to work at home forever
Twitter will allow employees to work from home for as long as they want, according to Buzzfeed News.
In an email, Twitter chief executive Jack Dorsey told his employees it was unlikely that Twitter would open its offices before September and that all in-person events would be cancelled for the remainder of the year.
---
More than 300 lawmakers urge IMF, World Bank to cancel poor countries' debt
Over 300 lawmakers have urged the International Monetary Fund and World Bank to cancel the debt of the poorest countries in response to the coronavirus pandemic and to boost funding to avert a global economic meltdown.
The initiative, led by former US presidential candidate Senator Bernie Sanders and Representative Ilham Omar, a Democrat from Minnesota, comes amid growing concern that developing countries and emerging economies will be devastated by the pandemic.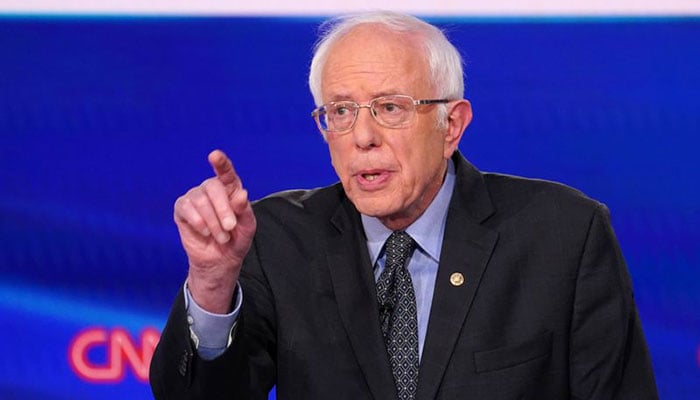 Cancelling the debt of the poorest countries was "the very least that the World Bank, IMF and other international financial institutions should do to prevent an unimaginable increase in poverty, hunger, and disease that threatens hundreds of millions of people," he said.
---
10:20am — Bangkok, Thailand — Thailand reports no new cases for first time since March 9
Thailand on Wednesday reported no new coronavirus cases for the first time since March 9.
Thailand has a total of 3,017 cases and 56 deaths since the outbreak escalated in January.
The Thai government continues to urge the public to wear masks, practice good hygiene and maintain social distancing measures, a spokesman for the government's Centre for COVID-19 Situation Administration.
Areas that are still at risk include Bangkok and surrounding provinces, as well as southern Thailand, where there have been a large number of cases in the past several weeks, the spokesperson added.
---
WATCH: Over 20,000 footprints to be painted across transport system in Medellin to guide passengers
---
COVID-19 pandemic could last for 2 years, warn US experts
A group of researchers at the Center for Infectious Disease Research and Policy (CIDRAP) suggest that the COVID-19 outbreak won't end until 60% to 70% of the human population is immune to the virus, which may take between 18 and 24 months.
The experts laid out three scenarios for how the coronavirus pandemic will progress. The worst-case scenario among these three projections involves a second, larger wave of infections this fall and winter. The report authors suggest this is the most likely outcome, and states need to prepare for it.
---
9:50am — Islamabad, Pakistan — Special PIA flight to bring back Pakistanis from US on May 17
A special flight of PIA carrying stranded Pakistanis will depart from Newark, New Jersey for Lahore on Sunday, reported Radio Pakistan.
This would be the third flight to bring back stranded Pakistanis from the US.
The government has asked PIA to operate more flights from the US for repatriation of Pakistani citizens.
---
9:40am — Islamabad, Pakistan — Islamabad, GB report new cases
Confirmed cases in the country jumped to 34,370 after new cases were detected in Islamabad and Gilgit-Baltistan.
According to the national dashboard, 43 new cases were recorded in the federal capital while two new cases were recorded in GB.
So far 13,259 cases have been recorded in Punjab, 12,610 in Sindh, 5,021 in Khyber Pakhtunkhwa, 2,158 in Balochistan, 759 in Islamabad, 475 in Gilgit Baltistan and 88 in Azad Kashmir.

---
Watch: Argentine family living off the coast of Rio de Janeiro after country shuts down its borders
---
9:20am — Shanghai, China — China reports seven new coronavirus cases
China reported seven new confirmed coronavirus cases in mainland on May 12, up from one a day earlier, the country's health authority said on Wednesday.
Six of the new cases were local infections in the northeastern province of Jilin. The one imported case was in Shanghai, the National Health Commission said in its daily bulletin.
---
US COVID-19 death toll jumps past 82,000
---
8:50am — Riyadh, Saudi Arabia — Kingdom to introduce 24-hour daily curfew for Eid holiday
Saudi Arabia will enforce a 24-hour curfew across the kingdom during a 5-day holiday to celebrate Eid al-Fitr, the interior ministry said in a statement on Tuesday, to stem the spread of coronavirus.
Until then economic activities will remain open and people can move freely between 9am and 5pm, excluding Mecca which remains under full curfew, the statement published by state news agency said.
---
8:40am — California, US — California cancels fall university classes as Fauci warns of reopening too soon
California's state university system, the largest in the United States, cancelled classes on Tuesday for the fall semester because of the coronavirus, while Los Angeles County said its stay-at-home order was likely to be extended by three months.
The announcements on the West Coast came after the nation's top infectious disease expert, Dr Anthony Fauci, told Congress that lifting The sweeping lockdowns could touch off new outbreaks of the illness, which has killed nearly 81,000 Americans and devastated the economy.
The chancellor of California State University said classes at its 23 campuses would be cancelled for the semester that begins in September, with instruction moved online.
---
8:30am — Berlin, Germany — Confirmed coronavirus cases rise by 798 to 171,306
The number of confirmed coronavirus cases in Germany increased by 798 to 171,306, data from the Robert Koch Institute (RKI) for infectious diseases showed on Wednesday.
The reported death toll rose by 101 to 7,634, the tally showed.
---
8:20am — Brasilia, Brazil — Brazil's coronavirus cases surpass Germany
Brazil's confirmed coronavirus cases rose to 177,589 on Tuesday, according to the health ministry, surpassing Germany's 170,508 confirmed cases of the disease.
Brazil also declared 881 deaths in the last 24 hours, a record for a single day. There were 9,258 new cases registered in the last 24 hours.
---
12:12am — Karachi, Pakistan — Sindh governor tests negative, pledges to donate blood plasma 'to those in need'
---
10:00pm/May 12 — Islamabad, Pakistan — NA speaker says he has tested negative for COVID-19
National Assembly Speaker Asad Qaiser has said that his COVID-19 test result has come back negative and his children's reports will come back tomorrow.
Qaiser thanked everyone profusely and said that it is his "mission" to dedicate his life to serving the people.
He also said is making a foundation in his father's name for education, health and agriculture. "I will work on the development of these areas in our country and will spend my life doing so."
---
For our May 12 coverage of coronavirus click here.