Coronavirus updates, May 20: Latest news on the COVID-19 pandemic from Pakistan and around the world
Nationwide death toll jumps past 1,000, confirmed cases breach 47,000; global coronavirus deaths exceed 322,000
Updated Wednesday May 20 2020
The number of confirmed COVID-19 cases in Pakistan rose to 47,979 on Wednesday after new infections were confirmed in the country.
The province-wise break up of the total number of cases as of 12:08am, May 21, is as follows:
Total confirmed cases: 47,979
• Sindh: 18,964
• Punjab: 17,382

• Khyber Pakhtunkhwa: 6,815
• Balochistan: 2,968
• Islamabad Capital Territory: 1,138
• Gilgit-Baltistan: 579
• AJK: 133
Deaths: 1,017
• Khyber Pakhtunkhwa: 351
• Sindh: 316
• Punjab: 297
• Balochistan: 38
• Gilgit-Baltistan: 4
• Islamabad Capital Territory: 10

• AJK: 1
---
Officials have recorded more than 4.9 million cases and more than 322,000 deaths since the virus emerged in China in December.
Read on for the latest updates from Pakistan and around the world.
---
Disclaimer: There may be some discrepancy in the number of confirmed cases reported at the country level due to differences in figures quoted by federal and provincial authorities.
Geo News is constantly gathering fresh information from concerned authorities and striving to keep our readers up to date with the most accurate information available.
---
Orange: General updates coming in from Pakistan
Red: Reports on new cases in Pakistan
Maroon: Reports on new deaths in Pakistan
Green: Reports on recovered patients in Pakistan
---
END OF LIVE UPDATES FOR MAY 20
Live updates for May 21 to continue here.

---
12:08am (May 21) — Lahore, Pakistan — Punjab reports seven more deaths, rise in tally by 697
The Punjab disaster management authority has reported seven more deaths in the province, taking the grim total to 297.
A rise in the total number of cases by 697 was also reported, taking the tally of infected to 17,382.

On the up side, 45 people were reported to have recovered, taking the total number of recoveries to 5,112.

---
11:43pm — Wuhan, China — Coronavirus 'epicentre' bans wildlife consumption

China's Wuhan city — believed to be the epicentre of COVID-19 pandemic — has banned the consumption of wildlife animals as the virus is thought to have passed from bats to people.
To mitigate the ban's effect on the farmers who breed wildlife animals, the authorities in Wuhan are providing them with cash, CBS reported.
The city earlier imposed new orders on the breeding of wild animals and made it clear that none of them could be used as food.
Read more here.

---
11:32pm — Lahore, Pakistan — Punjab police urge people to help them 'kick the virus' away in awareness video
---
11:12pm — Islamabad, Pakistan — Deputy commissioner reports one more death, highest jump in daily toll



The deputy commissioner of Islamabad has reported one more death and said that the city saw the greatest daily surge in cases, by 104.

With the increase in death toll, 10 people have now died from the virus in the city.

"We need to wear masks and stay at a distance of 6 feet from other people. It's alarming," he wrote.
The deputy commissioner also shared the area-wise distribution of cases in the capital city.

---
11:05pm — Karachi, Pakistan — Sindh's cases at a glance
Karachi has reported a whopping 872 cases today and remains the city with the highest total number of cases at 14,768 out of the province's total 18,964 cases.

---
10:15pm Geneva, Switzerland — Who finances the World Health Organisation?
Washington is the World Health Organisation's largest funder and has been particularly supportive of programmes such as polio eradication, HIV/AIDS and childhood immunisation.
For the current two-year period, ending in December 2021, the United States was due to contribute $553 million in combined membership fees and voluntary contributions, or 9% of the agency's approved budget of $5.8 billion, according to the WHO.
That's nearly three times China's $187.5 million share, WHO figures show.
Other major contributors include Britain on $519 million, the Bill and Melinda Gates Foundation with $340.9 million, the European Commission with $269.8 million, Germany with $228.7 million, and Japan with $217.2 million, according to WHO figures.
---
09:45pm - Quetta, Pakistan — Balochistan reports 83 new cases



After the detection of 83 new cases of coronavirus in Balochistan, the tally of confirmed cases in the province has reached 2,968.
According to a health ministry update, 28 patients have recovered from the disease taking the total number of people cured from the virus to 636.

---
09:25pm – Karachi, Pakistan – Trader seeks extension in business hours for Eid shopping
Prominent businessman and a leader of the Karachi Chambers of Commerce and Industry (KCCI), Siraj Qasim Teli on Wednesday slammed the Sindh government for not extending shop timings in the metropolis.
In a statement, Teli said the Supreme Court order has not stopped the provincial government from allowing shops to remain open till sehri. "We don't understand the logic behind closing Karachi's shops while the whole country is open."
"The traders are suffering due to the politicking of Sindh and federal governments," he said.
Teli urged the provincial authorities to let them do business for extended hours till Eid.
---
09:15pm — Gilgit, Gilgit-Baltistan — 23 new cases detected in region
---
08:50pm - Islamabad, Pakistan — PM Imran calls for 'pick up' of poor countries with debt relief
Prime Minister Imran Khan, in an online session of the World Economic Forum (WEF), called upon the developed countries to provide debt relief to poorer nations that were struggling to cope with the coronavirus crisis.
"The experience of the developed world is completely different to what we are facing in the developing world. Countries like India, Pakistan, and Bangladesh — specifically the Indian subcontinent — our experience is somewhat different"
"The speed at which COVID-19 [the disease caused by the novel coronavirus] spread in Europe and the United States, we're not experiencing the same sort of speed.
"On the other hand, we are still facing rising number of cases and we still haven't reached our peak here" in Pakistan, he added.
---
08:45pm - Islamabad, Pakistan — Role of religious leaders vital in raising awareness: says PM 
Prime Minister Imran Khan has urged the religious leaders to play their role in creating awareness about adopting safety measures against coronavirus.
He expressed these views in a meeting with Central Secretary of Pakistan Tehreek-e-Insaf for Religious Affairs Pir Syed Habib Irfani and other Ulema in Islamabad today.
The Prime Minister said the government believes in holding consultation with Ulema and religious leaders on all matters of importance.

---
8:33pm — Islamabad, Pakistan — British high commissioner shares photo with 'diplomatic'  mask on
---
8:27pm — Geneva, Switzerland — WHO chief welcomes all members states' commitment to make  COVID-19 vaccine free for all
---
8:20pm — Moscow, Russia — Outbreak stabilising as more leave hospital than test positive
Russia recorded its lowest total of new coronavirus cases since May 1, with more patients discharged from hospital than new cases for the first time, which officials said showed that the outbreak was stabilising at last.

Russia now has the second most cases of the novel coronavirus in the world, behind only the United States. Wednesday's tally of 8,764 new cases brought the official count above 300,000.
With 135 new deaths recorded, the nationwide toll is still below 3,000, much lower than in many European countries hit earlier in the pandemic. But the surge in infections and blow to the economy are among the biggest challenges of President Vladimir Putin's two decades in power.
Prime Minister Mikhail Mishustin, who returned to work this week after himself recovering from the virus, said the news that more patients had left hospital than tested positive showed "the situation is gradually stabilising, especially in Moscow".
"This is good news, and perhaps we have begun to pass the highest point of the burden on the healthcare system."
---
8:11pm — Luxembourg starts mass COVID-19 testing, aims to cover everyone soon
Luxembourg began mass testing for COVID-19 this week with the goal of covering all of its 600,000 people as soon as possible to stave off a second wave of infections following the easing of lockdown measures.
The diagnostic tests are voluntary, building up from around 1,500 daily tests to 20,000 a day next month. The aim is to test everyone in the Grand Duchy, in contingents and in some cases several times.
Ulf Nehrbass, CEO of the Luxembourg Institute of Health and spokesman of the COVID-19 Task Force, said it was important to check whether the IT system was able to handle the workload.
"Of course it is clear that everything has to go into a test run and this has to be done in the coming days with a capacity of about 1,500 per day. That is enough to see if the IT system is stable," he said.
He said more laboratories had been added to the project, allowing authorities to obtain results from four tests simultaneously through the "pooling" method: a positive result means the tests are re-checked individually.
Mass testing also aims to enable the isolation of asymptomatic people with COVID-19, to reduce the spread of the virus. Nehrbass estimated around 1,500 people in the Grand Duchy are asymptomatic.
Luxembourg plans to set up to 17 stations to test both citizens and cross-border commuters from Belgium, Germany and France. The country, which has to date reported 109 COVID-19 deaths and 3,958 confirmed cases, does not have any border controls related to the disease.
---
7:59pm — Zurich, Switzerland — Swiss seek to secure COVID-19 vaccine amid hoarding fears
Switzerland has tasked its defense ministry with securing enough COVID-19 vaccine, the government said , amid growing fears that some countries could be left short of supplies when the medicine is eventually produced.
The government in Bern also allocated an extra 14.2 billion Swiss francs ($14.70 billion) to help pay for programs for workers who have lost their jobs or are working shorter hours during the growing economic crisis caused by the pandemic.
Concerns are growing that some nations including the United States could seek to hoard a successful candidate, once it comes, since manufacturing capacity is unlikely to be sufficient to supply global needs.

"The goal is clear: The Swiss population should have the fastest possible access to a safe, effective vaccine," Swiss Health Minister Alain Berset said. "But we also know there's a big, global discussion going on, and need will be huge worldwide. All countries should have fair access to a vaccine."

---
7:48pm — Islamabad, Pakistan — Nearly three million more people to face food insecurity due to pandemic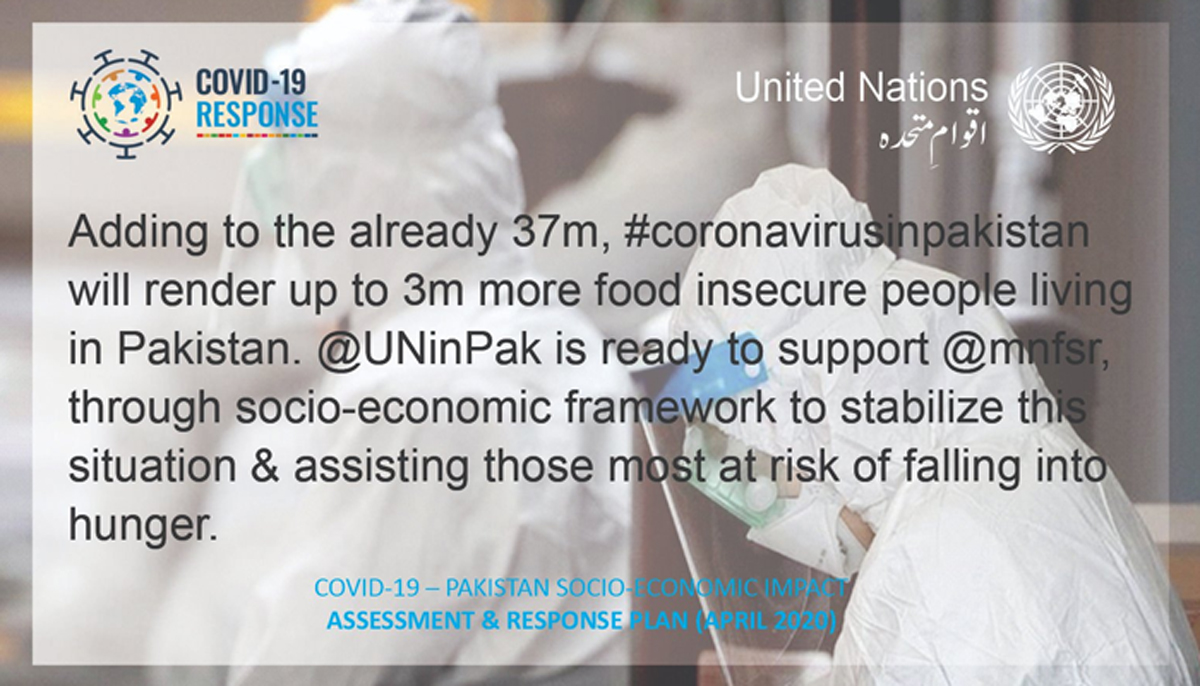 ---
7:40pm — Geneva, Switzerland — Interim report on WHO's response to COVID-19
---
7:30pm — Peshawar, Pakistan — KP reports six new deaths, 206 more infections
---
7:02pm — New York, US — JetBlue, United Airlines take more steps to counter coronavirus spread
 JetBlue Airways Corp and United Airlines Holdings Inc announced fresh safety measures on Wednesday aimed at restoring confidence in travel that has been crushed by the coronavirus pandemic, Reuters reported.

New York-based JetBlue said it would continue blocking seats on its aircraft through at least July 6, check crew members' temperatures and step up aircraft cleaning with electrostatic aircraft fogging in June, among other measures.
"All of these items work in concert with each other," JetBlue President and Chief Operating Officer Joanna Geraghty told Reuters.
Airlines are taking a layered approach to safety after seeing that customers' concerns can vary.
Some are interested in physical spacing on planes or in disinfection and cleanliness, and others in knowing that the crew serving them are healthy, Geraghty said.
---
6:48pm — Target's coronavirus-led online sales surge comes at heavy costs
Target Corp's quarterly online sales surged 141% due to panic buying in the coronavirus crisis, the retailer said, driving results past Wall Street expectations even as its operational costs soared.

The company said it had set aside nearly $500 million to spend on maintaining safety standards at stores and pay employees higher wages for working through the pandemic.
"Last quarter was unlike anything I've ever seen," Chief Executive Officer Brian Cornell told reporters. "It was intense, it was volatile, it was stressful for our guests and the country."
Although sales at stores opened for at least a year rose 0.9%, including digital they jumped 10.8% in the first quarter ended May 2, beating expectations, according to IBES data from Refinitiv.

---
6:40pm — Pakistan to send combined squad for 'bio-secure' England tour: CEO
Pakistan plan to send a 25-man squad to England in July to meet the demands of playing an entire tour in a 'bio-secure' bubble, Pakistan Cricket Board (PCB) chief executive Wasim Khan told Reuters.
Pakistan are scheduled to play three tests in August followed by an equal number of Twenty20 Internationals, with the matches taking place behind closed doors as part of measures to combat COVID-19.
The England and Wales Cricket Board detailed the provisions they planned to implement for the tour in a presentation on Friday and Khan told Reuters the PCB was encouraged by the proposals.
"So from that point of view, in principle, we are planning towards touring England," he said.
The PCB would seek medical advice and government guidance before going on the tour, he added.
---
6:33pm — Karachi, Pakistan — Foodpanda inks agreement with Brandverse, bringing convenience to grocery-shopping
Production studio Brandverse has signed a long-term partnership agreement with food delivery marketplace, foodpanda, to provide data and content for their recently-launched grocery delivery service, foodpanda shops, a statement issued on Wednesday read.
"Brandverse will provide foodpanda access to the largest and fastest-growing catalogue of FMCG products, delivered in real-time to its partners," it said.
"Brandverse will ensure that foodpanda will have continuous access to Pakistan's most comprehensive, always up-to-date, growing product data catalogue to enable them to provide a better e-commerce experience to their users and retail partners," it added.
Read complete story here.
---
6:23pm — Peshawar, Pakistan — 'We have to change our habits', KP issues special message on COVID-19
---
6:15pm — Islamabad, Pakistan — Consult with doctors free of cost
---
6:09pm — Heatwave hits Mediterranean as countries ease COVID-19 lockdowns
---
5:59pm — Pulau Ujong, Singapore — Man sentenced to death on Zoom call
A judge in Singapore has sentenced a man to death via a Zoom video-call for his role in a drug deal, one of just two known cases where a capital punishment verdict has been delivered remotely.

Punithan Genasan, a 37-year-old Malaysian, was told on Friday he would be hanged for masterminding a 2011 heroin transaction, court documents showed, as the country was under lockdown to try and curb its coronavirus outbreak.
"For the safety of all involved in the proceedings, the hearing for Public Prosecutor v Punithan A/L Genasan was conducted by video-conferencing," a spokesperson for Singapore's Supreme Court said in response to Reuters' questions, citing restrictions imposed to minimise virus spread.
It was the first criminal case where a death sentence was pronounced by remote hearing in Singapore, the spokesperson added.
---
5:50pm — Lahore, Pakistan — Punjab introduces reforms for ease of doing business amid lockdown 
---
5:40pm — Beijing, China's —Wuhan says conducted 856,128 COVID-19 tests on Tuesday
The city of Wuhan, the original epicentre of China's coronavirus outbreak, conducted 856,128 tests for the disease on Tuesday, the local health authority said, compared with 467,847 a day earlier.
Wuhan kicked off a campaign on May 14 to look for asymptomatic carriers - infected people who show no outward sign of illness - after confirming on May 9-10 its first cluster of COVID-19 infections since the city's lockdown was lifted on April 8.
---
5:31pm — London, UK — PM Johnson vows 'world-beating' track and trace COVID system by June 1
British Prime Minister Boris Johnson said that a programme to track and trace those suspected of having been in contact with people who have tested positive for COVID-19 would be in place by June 1.
He said the government would have recruited 25,000 trackers by the start of next month, capable of tracing 10,000 new cases a day, when the overall number of daily tests would have reached 200,000.
"We have growing confidence that we will have a test, track and test operation that will be world-beating and yes it will be in place by June 1," Johnson told parliament in exchanges with opposition Labour leader Keir Starmer.
---
5:22pm — Islamabad, Pakistan — Coronavirus a bigger challenge for Pakistan due to lack of health facilities: PM Imran
Prime Minister Imran Khan said coronavirus was a bigger challenge for Pakistan as compared to developed countries as we did not invest in our health sector.
"The whole nation will have to come together to tackle this virus," he said.
The prime minister urged all the lady doctors to register themselves to the government's telehealth service in order to help the people specially in far-flung areas.
---
5:11pm — Islamabad, Pakistan — COVID-19 has opened new ventures for healthcare: Dr Zafar Mirza
Special Assistant to the Prime Minister on Health Dr Zafar Mirza said coronavirus has opened new ventures for healthcare and telehealth is one of them.

"The use of this [telehealth] service during the pandemic has increase. Pakistanis who think they have symptoms of coronavirus can just pick up their phone and connect with the doctors," Mirza siad.
"I urge all the female doctors who were unable to continue their practice to avail this service and help the people. Telehealth is here to stay and it will be able to help people even in far-flung areas," Mirza said.
---
5:05pm — Islamabad, Pakistan — Centre's telehealth portal free for all: Tania Aidrus
Special Assistant to the Prime Minister on Digital Pakistan Tania Aidrus said the federal government's telehealth portal was available to people across Pakistan.

"The service is available to all the Pakistanis. I am proud to announce that Pakistan is the first nation that is providing such a service for free," Aidrus said while briefing about the initiative to Prime Minister Imran Khan.
The special assistant urged doctors to sign up for the service so that they could help the people.
---
4:59pm — Karachi, Pakistan — Eid-ul-Fitr gatherings to take place: info minister
Information Minister Sindh Nasir Hussain Shah said there will be Eid-ul-Fitr gatherings and worships on Shab-e-Qadr will take place. People will have to follow SOPs.
---
4:35pm - Ankara, Turkey — Turkey eases quarantine restrictions on arrivals from abroad: report
Turkey will ease existing 14-day quarantine restrictions for citizens coming from abroad as the country starts softening measures taken to stem spread of the coronavirus, state-owned Anadolu news agency reported on Wednesday.
Turkish citizens ferried from abroad were spending 14 days under quarantine in student dorms where they were monitored for possible symptoms of COVID-19 disease.
The people arriving on scheduled flights will go through medical check and will be monitored for 14 days at their homes.
---
Timeline on what experts have said about hydroxychloroquine

---
4:25pm - Lahore, Pakistan — Punjab govt to open up shrines in province: sources
The Punjab government has decided to open up 544 shrines across the province, sources told Geo News on Wednesday.
According to the sources, the decision was taken in a meeting chaired by Law Minister Raja Basharat and attended by Punjab chief secretary. The officials decided that the shrines will be allowed to reopen under the supervision of the Auqaf department.
"SOPS should be enforced at shrines," law minister told the officials during the meeting.
---
Coronavirus to leave 3 mln more people food insecure: UN
---

Watch: New Yorkers enjoy outdoors with social distancing circles 
---
3:50pm - Beijing, China — Coronavirus behaving differently in China's northeast clusters, expert says
The novel coronavirus is behaving differently in patients in northeast China who have contracted it recently compared with early cases, indicating it is changing as it spreads, a prominent doctor said.
China, which has largely brought the virus under control, has found new clusters of infections in the northeastern border provinces of Jilin and Heilongjiang in recent weeks, raising concern about a second wave.
Qiu Haibo, an expert in critical care medicine who is part of a National Health Commission expert group, said the incubation period of the virus in patients in the northeast was longer than that of patients in Wuhan, the central city, where the virus emerged late last year.
"This causes a problem, as they don't have any symptoms. So when they gather with their families they don't care about this issue and we see family cluster infections," Qiu told state broadcaster CCTV in a programme broadcast late on Tuesday.
Patients in the northeastern clusters were also carrying the virus for longer than earlier cases in Wuhan, and they were taking longer to recover, as defined by a negative nucleic acid test, he said.
Patients in the northeast also rarely exhibited fever and tended to suffer damage to the lungs rather than across multiple organs, he said.
He said the virus found in the northeastern clusters was probably imported from abroad, which could account for the differences.
He did not say where he though they might have come from but both Jilin and Heilongjiang border Russia.
---
3:35pm - Interior ministry warns NCOC of possible SOP violations on Jummat ul Wida and Shab-e-Qadar
---
3:30pm - Islamabad, Pakistan — PM assigns Governor Sindh Imran Ismail the task of organising province's tiger force 
Prime Minister Imran Khan has assigned the responsibility of handling affairs of 154,000 Tiger Force in Sindh to Governor Imran Ismail.
The authority was given by Pm Imran to the governor in a meeting with Special Assistant on Youth Affairs Usman Dar.
During the meeting, the PM was briefed that currently there are 115,000 tigers taking part in relief activities. The PM also expressed satisfaction over performance of the Tiger Force.
Special Assistant on Youth Affairs Usman Dar, briefing the media after the meeting, stated that the federal government has decided in principle to activate Tiger Force in Sindh.
"154,000 volunteers of Tiger Force will be led by Sindh Governor Imran Ismail as the Sindh Government has excused to engage them in the province," said SAPM Dar.
---
3:20pm - Gujranwala, Pakistan — PTI MPA Shaheen Raza laid to rest
PTI MPA Shaheen Raza who passed away early on Wednesday was laid to rest according to the coronavirus burial protocols released by the government.
The funeral prayers for the deceased was attended by her brother and nephew.
---
3:15pm - Tokyo, Japan — Japan on path to coronavirus containment: Economy Minister Nishimura
Japanese Economy Minister Yasutoshi Nishimura said on Wednesday that the nation was on a path towards containing the novel coronavirus.
But he said Japan was yet ready to promote tourism and added that some restrictions will remain, even if the government lifts its state of emergency in all regions.
---
3:05pm - Kuala Lumpur, Malaysia — Malaysia reports 31 new coronavirus cases; total tops 7,000
Malaysia's health ministry reported 31 new coronavirus cases on Wednesday, taking the cumulative total to 7,009 infections.
No new deaths were recorded, leaving the total number of fatalities at 114.
---
3:00pm - Lahore, Pakistan — Negotiations between Punjab govt and transporters ongoing
Negotiations between the Punjab government and transporters are underway to resolve the issues of the service providers.
The transporters have told the government that if they are asked to reduce fares by 20% then they will fill all the seats on the busses. They are also demanding that transport should be given the status of an industry.
The transporters are also demanding that the fines and the fitness system should be suspended for now.
The transporters delegation includes Asmatullah Khan Niazi, Malik Nadeem Hussain and Muhammad Zaki, while the government team includes Minister for Industries Aslam Iqbal and Transport Minister Jahanzaib Khichi.
---
2:45pm - Karachi, Pakistan — Sindh has not allowed resumption of public transport: minister
Sindh Transport Minister Owais Shah has clarified that the provincial government has not allowed the resumption of public transport service in the province.
"Ban on public transport is still in place," the minister told Geo News. He added that he will talk to Chief Minister Sindh Murad Ali Shah about the matter.
Owais stated that he will inform the CM about the difficulties being faced by the transporters and public. 
---
2:40pm - Islamabad, Pakistan — Minister launches Teleschool app to get students, parents feedback
Federal Minister for Education and Professional Training Shafqat Mahmood on Wednesday launched a TeleSchool App to get feedback from parents and students, Radio Pakistan reported.
The minister, while speaking at the launch of the app, said the App will provide a two-way SMS platform to parents and students to respond about TeleSchool initiatives, taken to impart education, through distance learning, due to closure of educational institutions as a result of coronavirus  outbreak.

Mahmood said the app will help prepare a database about people's responses and queries towards the TeleSchool and contribute in improving the initiative in future. He urged parents and students to provide their maximum response to this programme.
---
2:30pm - Pakistan to send combined squad for 'bio-secure' England tour: CEO
Pakistan plan to send a 25-man squad to England in July to meet the demands of playing an entire tour in a 'bio-secure' bubble, Pakistan Cricket Board (PCB) chief executive Wasim Khan told Reuters.
Pakistan are scheduled to play three tests in August followed by an equal number of Twenty20 Internationals, with the matches taking place behind closed doors as part of measures to combat COVID-19.
The England and Wales Cricket Board detailed the provisions they planned to implement for the tour in a presentation on Friday and Khan told Reuters the PCB was encouraged by the proposals.
"So from that point of view, in principle, we are planning towards touring England," he said.
The PCB would seek medical advice and government guidance before going on the tour, he added.
The UK government has said elite sport can return in June without spectators and England hope to begin their delayed summer of cricket with a test series against West Indies in July.
Pakistan will have to arrive almost a month before the first test to undergo a two-week quarantine period mandatory for all visitors and get in some match practice.
The test and Twenty20 squads will travel together, giving team management options in the event of injuries.
"From a manageability point of view, it makes sense for us and the ECB that the whole squad travel as one, so you create a bubble if you like around those players for the whole of the time that they are in England," Khan said.
---
2:25pm - Jakarta, Indonesia — Indonesia reports biggest daily rise in coronavirus infections
Indonesia reported on Wednesday 693 new coronavirus infections, the Southeast Asian nation's biggest daily rise and taking the total number of cases to 19,189, according to the website of Indonesia's COVID-19 task force.
The task force reported 21 additional deaths, taking the total to 1,242, while 4,575 people have recovered.
---
Watch: Restaurant collective in Paris places empty chair to signify loss of jobs
---
2:20pm - Islamabad, Pakistan  — CAA gives landing approval to Air Arabia and Emirates
The Civil Aviation Authority on Wednesday granted landing approval to Emirates and Air Arabia in the country.
According to CAA, Emirates flight EK612 will bring back 200 Pakistanis to Islamabad on May 21 and will depart with UAE citizens.
While Air Arabia flight will bring back 200 Pakistanis from Sharjah.
The CAA has barred flight officials from leaving the plane when they land in Pakistan.
---
2:00pm - London, UK —  UK still working out quarantine plan for people entering country
The British government is still working on the details of how it will implement quarantine measures for people arriving in the country, interior minister Priti Patel said on Wednesday.
"We are still developing measures, so we are not in the position to say 'this is how it's going to work'," Patel said during an interview on LBC radio.
"In terms of how this will work, we will be announcing this shortly," she said, confirming only that the duration of quarantine would be 14 days.
---
1:55pm — Karachi, Pakistan — Nationwide death toll cross 1,000
The death toll from the novel coronavirus rose to 1,003 after 17 more deaths were reported in Sindh.
Sindh's death toll from the virus now stands at 316.

---
1:55pm — Karachi, Pakistan — Sindh reports highest single day surgein cases
Confirmed cases in the country rose to 46,915 after new cases were detected in Sindh.
According to Sindh Chief Minister Murad Ali Shah, 1,017 cases were recorded in the province in the last 24 hours, taking the provincial tally to 18,964.
"The province recorded its first case on February 29 and today 1,017 is the highest cases reported," said CM Sindh
He added there were 13,003 patients under treatment in the province at the moment, adding that 5,645 patients had recovered from the virus in the province.
---
1:35pm - London, UK — Cambridge University to hold all lectures online next year
Britain's Cambridge University became one of the first in the world on Wednesday to announce that all its lectures would be delivered online over the next academic year because of the coronavirus outbreak.
The university, which shut its campuses to students in March after the British government introduced a strict lockdown to curb the spread of COVID-19, said teaching would be delivered virtually until summer 2021, although it was possible some smaller teaching groups might be able to occur in person.
"Given that it is likely that social distancing will continue to be required, the university has decided there will be no face-to-face lectures during the next academic year," the university said in a statement.
It said the decision could be reviewed depending on official guidance on dealing with the virus.
"We must all be realistic ... about the world-wide challenges posed by the pandemic," the university's Vice-Chancellor Stephen Toope said in a statement last week.
"University life here, as everywhere, will need to adapt."
A spokeswoman for Univerisities UK said the Cambridge announcement appeared to be the first in the United Kingdom to apply to the whole year.
---

Watch: Robot capable of disinfecting 20,000 m² in three hours
---
1:20pm - Madrid, Spain — Spaniards ordered to wear masks in public if they can not keep two metres apart
Spain's government on Wednesday made it compulsory for everyone older than six to wear masks in indoor public spaces, and outdoor ones when it is impossible to keep more than two metres apart.
The health ministry said the measures were needed to contain the spread of the coronavirus.
---
1:15pm - Islamabad, Pakistan — PM Imran to launch COVID-19 telehealth portal today 
Prime Minister Imran Khan will launch COVID-19 Telehealth Portal in Islamabad today, reported Radio Pakistan.
The government is hoping to launch the portal with the hopes of ensuring an effective contact between doctors and coronavirus patients and avoid unnecessary meetings.
The doctors can voluntarily register themselves with this platform and recommend diagnosis as well as treatment to the patients free of cost.
Similarly, citizens can ask questions about COVID-19 and remain in contact with the doctors by telephone.
---
1:10pm - Bangkok, Thailand — Thailand says it expects coronavirus vaccine next year after tests in mice
Thailand expects to have a vaccine for the novel coronavirus ready next year, a senior official said on Wednesday, after finding positive trial results in mice.
Thailand will begin testing the mRNA (messenger RNA) vaccine in monkeys next week after successful trials in mice, said Taweesin Wisanuyothin, spokesman for the government's Centre for COVID-19 Situation Administration.
"The Thai vaccine is expected to be used next year," he said.
More than 100 potential vaccines for COVID-19, the disease caused by the novel coronavirus, are being developed, including several in clinical trials, but the World Health Organisation in April had warned that a vaccine would take at least 12 months.
The Thai vaccine is being developed by the National Vaccine Institute, the Department of Medical Science and Chulalongkorn University's vaccine research centre.
Messenger RNA prompts body cells to produce so-called antigens, molecules on the surface of viruses, that spur the immune system into action.
---
1:05pm - Peshawar, Pakistan - King Abdullah bin Abdulaziz programme, Islamic Development Bank donates protective gear
The King Abdullah bin Abdulaziz programme and the Islamic Development Bank have donated protective gear to the Khyber Pakhtunkhwa government.
According to details, the protective gear worth Rs2million comprises 35,000 disposable gloves and face masks along with 1,200 N-95 masks and 1,200 protective eyeglasses.
Moreover, there are also 17,000 disposable caps and 10,000 bottles of hand sanitizers, along with soaps and face shields.
---
12:50pm - Moscow, Russia — Russia's coronavirus infections pass 300,000, deaths near 3,000
Russia reported 8,764 new coronavirus cases on Wednesday, its lowest daily rise since May 2, taking the total number of documented infections to 308,705.
The country's coronavirus response centre said 135 people had died in the past 24 hours, taking the death toll from the virus to 2,972.
---
12:45pm - Lahore, Pakistan — Deputy speaker Punjab Assembly tests negative for coronavirus 
Deputy Speaker Punjab Assembly Dost Muhammad Mazari has shifted to his home after testing negative for the coronavirus.
"I have shifted to my home after completing my self-isolation period," said Mazari. 
---
12:40pm - Wellington, New Zealand — Kiwis eye shorter working week in post-lockdown economy
Prime Minister Jacinda Ardern on Wednesday raised the prospect of Kiwis enjoying extra public holidays and a shorter working week to help kickstart New Zealand's post-lockdown economy.
Ardern said she wanted to encourage "nimble" and creative ideas for recovery after a strict seven-week lockdown that helped New Zealand contain COVID-19 but stalled the economy.
Suggestions included moving to a four-day week and creating extra public holidays to help boost spending in the tourism and hospitality sectors that have been hit particularly hard by the lockdown.
"This is an extraordinary time and we should be willing to consider extraordinary ideas," she told reporters, adding: "I haven't ruled anything in or out."
Ardern said there is "a range of options and we should be open (minded)".
After talking to tourism industry representatives on Tuesday, the prime minister said working from home during lockdown had shown how productive employees could be if given extra flexibility.
She said a four-day week could work the same way if employers were willing to try it.
---
12:35pm - Peshawar, Pakistan — Rescue 1122 disinfects train station
Rescue 1122 has carried out a disinfection drive at Peshawar's railway station as train services resume across the country.

"Railway station and train cars have been sprayed with disinfectants," said Rescue 1122. 
---
12:30pm - Karachi, Pakistan — Long queues formed outside Cantt Station 
Passengers have formed long queues outside Karachi's Cantt Railway Station as the authorities have barred the entry of cars in the premises.

According to Geo News, no passengers are being allowed to enter the station without masks and are also being sprayed with a disinfectant.
"Strict arrangements have been made because of the resumption of train service," DS Railways Arshad Salam told media. He added that special arrangements have been made to for the staff and have been provided with masks, gloves and sanitizers.
The official stated that passengers will also be checked during the journey and have been allowed to enter the station only an hour before their departure.
"An isolation ward has been set up in every train," said Salam, adding that medical assistance will be available in case any passengers health deteriorates. 
---
12:20pm - Multan, Pakistan — 262 stranded Pakistanis arrive on two special flights
As many as 262 stranded passengers reached Multan from Kuwait in two special fights on Wednesday morning.
According to district administration, the 128 passengers had arrived on the first flight out of which 76 were shifted to quarantine centres, 51 in hotels and one to Nishtar hospital.

Similarly, 134 passengers reached via the second flight.
86 passengers were sent to quarantine centres and 48 to selected hotels for accommodation.
---
12:15pm - Karachi, Pakistan — PIA says stranded Pakistani in Kyrgyzstan can be brought back if they come to Dubai, Istanbul or Kabul 
PIA has told Sindh High Court that stranded Pakistanis in Kyrgyzstan can come home if they take a PIA flight to Pakistan from Kabul, Istanbul or Dubai.

The PIA told the court of its position in a petition filed seeking the return of 500 Pakistanis stranded in the Central Asian country.
"PIA does not have any direct flight operations to Kyrgyzstan," the PIA lawyer informed the court.
Why did the PIA not begin its flight operations to Kyrgyzstan?" asked Justice Muhammad Ali Mazhar.
To this, the PIA lawyer told the court that the arrangements were not made as the passengers did not go to the country on a PIA flight.
Meanwhile, the petitioner contended that the government has made no arrangements to repatriate the stranded Pakistanis. He urged the court to issue orders to bring back the stranded Pakistanis as they are worried.
The SHC after hearing the arguments issued notices to the foreign ministry and other parties. 
---
12:00pm - London, UK — Britain's Rolls-Royce to cut 9,000 jobs amid air travel slump
Britain's Rolls-Royce said it would cut at least 9,000 jobs from its global staff of 52,000 to adapt to the much smaller aviation market that will emerge from the coronavirus pandemic.
Rolls-Royce, which supplies engines for large aircraft such as the Boeing 787 and the Airbus A350, said the job losses would predominantly affect its civil aerospace business, plus its central support functions.
The job losses would help it to make annual cost savings of 1.3 billion pounds ($1.59 billion), with cash restructuring costs of around 800 million pounds. The company said it would also cut costs across plant, property and other areas.
Air travel has slumped since March because of travel restrictions linked to the coronavirus pandemic.
Airlines have grounded planes and may not need as many new planes in future, hurting Rolls-Royce which earns revenues from the number of hours its engines fly.
Rolls-Royce's headquarters are in Derby, England and about two-thirds of its civil aerospace jobs are based in the UK.
Consultations with unions would now get underway, said the company in its statement on Wednesday.
---
11:50am - Islamabad, Pakistan — NDMA completes distribution of fifth tranche of medical equipment: spokesperson 
The National Disaster Management Authority (NDMA) has completed the distribution of the fifth tranche of medical equipment to all the provinces, confirmed the spokesperson of the organisation.
According to the NDMA spokesperson, Punjab was the last province which was issued the fifth tranche of medical supplies today.
The supplies include 3,969 N-95 masks, 4,410 D-95 masks and 93,833 suits have been issued to the province, said the spokesperson. He added that 157,500 medical face masks have also been handed over to the hospitals in Punjab.
The spokesperson stated that fifth tranche of supplies for Sindh, Balochistan, Khyber Pakhtunkhwa, Gilgit Baltistan and Azad Kashmir had already been dispatched. He added that the sixth tranche of supplies will be issued to all the provinces before Eid. 
---
11:40am - Lahore, Pakistan — Punjab govt forms committee to hold talks with transporters
Punjab Minister for Industries Aslam Iqbal has announced that a committee has been formed to negotiate with the transporters — who have been on a strike.

"The committee will mee the transporters today and address their concerns," said the minister. He added that the government was ready to listen to all valid demands of the transporters.
Meanwhile, the transporters are demanding the government to issue a unified SOPs for public transport. They added that inter-city transport will not resume until their demands are met.
---
11:25am - Lahore, Pakistan — PTI MPA Shaheen Raza becomes first lawmaker to lose life to coronavirus 
PTI MPA Shaheen Raza has become the first lawmaker in the country to lose her life to the coronavirus.

According to Mayo Hospital CEO Dr Asad Aslam, Raza was admitted in the hospital three days ago.
He added that Raza also had a blood pressure problem and was diabetic.
---
11:20am - Warsaw, Poland — Polish schools may remain closed until the end of June
Polish schools will most probably remain closed until the end of June, when children start summer holidays, government spokesman Piotr Muller told public radio on Wednesday.
Schools have been closed since March, when Poland confirmed its first case of coronavirus. By May 25 they will start offering day care for the youngest children, although teaching will still be conducted online.
The current school year ends on June 26, followed by a two-month long holiday in July and August.
---
11:10am - Quetta, Pakistan — Railway official says trains will not spread coronavirus 
Divisional Superintendent of Railways Quetta Division Sameen Allah Gandapur stated that coronavirus will not spread through the trains and clarified that they were part of the economy.
The DS was speaking to the media in Quetta after the first train with passengers left the city. He thanked the passengers for their cooperation.
"Only 60% of the seats were booked so that distance is maintained," said the DS, adding that online booking will be open till May 30.
---

Watch: Indian couple hold a virtual wedding 
---
11:00am - Islamabad, Pakistan — Asad Umar chairs NCOC meeting
---
10:55am - Karachi, Pakistan — SHC asks provincial govt to find a way to provide financial assistance to lawyers 
The Sindh High Court (SHC) ordered the provincial chief secretary to meet with lawyer leaders to figure out a way to provide financial assistance to the lawyers that have been facing difficulties due to the lockdown.
The SHC issued the orders in a petition filed by Sindh Bar Council and other lawyer bodies.
During the hearing, the Sindh government's lawyer told the court that the provincial government did not have the finances to give money to the lawyers. He added that the Sindh government was already facing difficulties in paying pensions to its retired employees.
"Punjab government has also issued a fund to provide relief to the lawyers," remarked Justice Muhammad Ali Mazhar to the government's response. 
---
10:35am - Los Angeles, USA — Oscars may be postponed due to coronavirus: report
Next year's Oscars could be postponed due to the disruption caused by the coronavirus in Hollywood, trade publication Variety reported Tuesday.
The movie industry's biggest night is currently scheduled for February 28.
But with theaters shuttered, blockbusters delayed and productions halted, the prize-giving Academy has already been forced to make significant rules changes.
One of multiple anonymous sources told Variety it was now "likely" the ceremony itself will be postponed.
No formal proposals or detailed discussions have yet taken place over moving the event, or potential new dates, the report said.
The Academy of Motion Picture Arts and Sciences did not immediately respond to AFP's request for comment.
Last month, the Academy — seen as the apex body of the Hollywood film industry — eased eligibility rules, allowing movies that skip the big screen this year to contend for Oscars.
At the time, the body also warned that "additional adjustments to Academy rules, eligibility requirements and scheduling may be required."
"As previously announced, the 93rd Oscars telecast is scheduled to air Sunday, February 28, 2021, on ABC. Any updated information about the show will be shared at a later time," it said in the statement last month.
---
10:20am - Train service resumes in Pakistan 
---
10:15am - Washington, USA — US borders with Canada, Mexico closed another month
The US government on Tuesday extended for another month restrictions on non-essential travel across the borders with Canada and Mexico to help stop the spread of the novel coronavirus.
The US Department of Homeland Security said the closure, first ordered on March 20 and due to expire Wednesday, will be extended until June 22 and reviewed every 30 days.
"Non-essential travel will not be permitted until this administration is convinced that doing so is safe and secure," said interim DHS chief Chad Wolf.
"We have been in contact with our Canadian and Mexican counterparts and they also agree that extending these restrictions is prudent at this time. We appreciate our partnership with Mexico and Canada in ensuring that North America is working together to combat the ongoing global pandemic," he said.
In Ottawa, Prime Minister Justin Trudeau announced earlier that the Canada-US border will remain closed to all non-essential travel for another month, until June 21 to fight the spread of the coronavirus.
The world's longest international frontier at 8,900 kilometers (5,500 miles) was closed to travellers on March 21, but trade in goods has continued.
---

Watch: Afghans ignore Kabul lockdown
---
9:55am - Berlin, Germany — Germany's confirmed coronavirus cases rise by 797 to over 176,000
The number of confirmed coronavirus cases in Germany increased by 797 to 176,007, data from the Robert Koch Institute (RKI) for infectious diseases showed on Wednesday.
The reported death toll rose by 83 to 8,090, the tally showed.
---

9:50am - Economy won't recover till we control spread of virus: UN chief
---
9:35am — Beijing, China — China reports five new coronavirus cases
China recorded five new coronavirus cases for May 19, down from six a day earlier, the National Health Commission reported on Wednesday.
Four of the new cases were local transmissions and one was a so-called imported case involving a traveller from overseas, the commission said in a statement
The total number of infections in China to date now stands at 82,965, while the death toll remained unchanged at 4,634.
---
9:20am — Islamabad, Pakistan — Islamabad, AJK report new cases
Confirmed cases in the country climbed to 45,898 after new cases were detected in Islamabad and Azad Jammu and Kashmir (AJK).
According to the national dashboard, 104 new cases were reported in the federal capital while 18 new cases were recorded in AJK.
So far, Punjab has reported 16,685 cases, Sindh 17,947 in Sindh, Khyber Pakhtunkhwa 6,554 cases, 2,885 cases in Balochistan, 556 infections in Gilgit Baltistan, 1,138 in Islamabad and 133 in AJK.
---
WATCH: Anti-lockdown protesters fill the streets of Sao Paulo as cases rise in Brazil
---
100-year-old WWII veteran Captain Tom Moore to be knighted after raising nearly $40 million for healthcare charities
---
US COVID-19 death toll climbs to 91,845
---
8:40am — Washington, Trump — Trump says considering travel ban on Brazil over coronavirus
US President Donald Trump has said he is considering imposing a ban on travel from Brazil, which has the world's third-highest number of people infected by the novel coronavirus.
"We are considering it," Trump told reporters at the White House.
"I don't want people coming over here and infecting our people. I don't want people over there sick either. We're helping Brazil with ventilators. ... Brazil is having some trouble, no question about it," Trump added.
---
8:30am — Rio de Janeiro, Brazil — Brazil records 1,179 coronavirus deaths, 271,628 confirmed cases
Brazil recorded a new daily record of 1,179 deaths from the new coronavirus with a total of 17,971 total fatalities and 271,628 confirmed cases, the health ministry said.
Tuesday's death toll was the first time Brazil has recorded more than 1,000 deaths in a day.
---
8:20am — Washington, US — Trump defends his use of unproven treatment as prevention against coronavirus
US President Donald Trump has defended taking a prescription malaria drug to try to ward off the novel coronavirus despite medical warnings about its use.
"People are going to have to make up their mind," Trump said about hydroxychloroquine during a visit to the US Capitol. "I think it gives you an additional level of safety."
The US Food and Drug Administration has warned about potential serious side effects with the use of the drug in COVID-19 patients.
Weeks ago, Trump had promoted the drug as a potential treatment based on a positive report about its use against the virus, but subsequent studies found that it was not helpful.
The White House physician, Sean Conley, said in a memo released late on Monday that he and the president had discussed the evidence for and against taking the drug and had agreed that "the potential benefit from treatment outweighed the relative risks."
---
WEF president 'looking forward' to hear PM Imran's address today
---
11:20pm/May 19 — Lahore, Pakistan — Punjab to keep malls, plazas open all week long as it implements SC orders
Provincial Minister of Punjab for: Industries, Commerce, Investment, Skill Development Mian Aslam Iqbal expressed satisfaction over implementation of SOPs in malls and plazas.
Meanwhile, he said that in the light of the Supreme Court's decision businesses will be allowed to run on Fridays, Saturdays, and Sundays and that the cabinet was considering to extend the timings.
---
10:28pm/May 19 — Quetta, Pakistan — Balochistan extends 'smart lockdown' till June 2
---
08:56pm/May 19 — Karachi, Pakistan — Ban on pillion riding in Sindh, family members only exception
The Sindh government has notified a ban on pillion riding with the only exception accorded to members of a family residing in the same household.
"There shall be no exception to this order for Law Enforcement Agencies (LEAs), journalists/media persons, co-workers, office staff, etc," reads the notification.