Coronavirus updates, May 21: Latest news on the COVID-19 pandemic from Pakistan and around the world
Nationwide death toll jumps past 1,000, confirmed cases breach 49,000; global coronavirus deaths exceed 326,000
Updated Thursday May 21 2020
The number of confirmed COVID-19 cases in Pakistan rose to 49,520 on Thursday after new infections were confirmed in the country.
The province-wise break up of the total number of cases as of 11:02pm, May 21, is as follows:
Total confirmed cases: 49,520
• Sindh: 19,924
• Punjab: 17,382
• Khyber Pakhtunkhwa: 7,155
• Balochistan: 3,074

• Islamabad Capital Territory: 1,138
• Gilgit-Baltistan: 602

• AJK: 133
Deaths: 1,052
• Khyber Pakhtunkhwa: 365
• Sindh: 336
• Punjab: 297
• Balochistan: 39
• Gilgit-Baltistan: 4
• Islamabad Capital Territory: 10
• AJK: 1
---
Officials have recorded more than 5 million cases and more than 326,000 deaths since the virus emerged in China in December.
Read on for the latest updates from Pakistan and around the world.
---
Disclaimer: There may be some discrepancy in the number of confirmed cases reported at the country level due to differences in figures quoted by federal and provincial authorities.
Geo News is constantly gathering fresh information from concerned authorities and striving to keep our readers up to date with the most accurate information available.
---
Orange: General updates coming in from Pakistan

Red: Reports on new cases in Pakistan
Maroon: Reports on new deaths in Pakistan
Green: Reports on recovered patients in Pakistan
---
END OF LIVE UPDATES FOR MAY 21
Live updates for May 22 to continue here.

---
11:52pm — New York, USA — Early social distancing in US could have saved more than 35,000 lives lost to COVID-19: research
Researchers from Columbia University have revealed that more than 35,000 lives would have been saved in the US if restrictions on movement and distancing measures had been enforced a week earlier.
Social distancing measures were begun mid-March in the US and according to Chicago Tribune, if they had begun on March 1, "the vast majority of the nation's deaths — about 83% — would have been avoided".
By that projection, approximately 54,000 fewer people would have died by early May, Chicago Tribune reported.
"It's a big, big difference. That small moment in time, catching it in that growth phase, is incredibly critical in reducing the number of deaths," said Jeffrey Shaman, an epidemiologist at Columbia and the leader of the research team.
Even by conservative estimates, researchers said simulations based on several models showed that 61% of the US cases of infection as of May 3 — more than 700,000 — and 55% of the more than 65,000 recorded deaths could have been averted if social distancing and other safety measures had been in place a week earlier.
Read more here.

---
11:34pm — San Fransisco, USA — Facebook's Zuckerberg embraces more permanent remote work
Facebook Inc (FB.O) will shift toward more permanently embracing remote work even after coronavirus lockdowns ease, Chief Executive Mark Zuckerberg has told employees in a publicly broadcast livestream.
Zuckerberg said the world's largest social network would start "aggressively opening up remote hiring," expecting that about half its workforce would work remotely over the next five to ten years.
---
Canada's Shopify CEO says era of 'office centricity is over; most staff to permanently work from home
---
WATCH: Llama finds new purpose, delivers food to remote locations in Wales

---
11:20pm — Oakland, USA — Tech firms deploy Bluetooth chips for coronavirus contact tracing in office
Technology companies are developing their own contact tracing systems to help prevent coronavirus outbreaks in their offices as countries begin to ease lockdown measures and a return to the workplace is in the offing.

Silicon Valley company Juniper Networks Inc (JNPR.N) plans to equip its about 10,000 employees with work identification badge holders that have a Bluetooth chip that will help to record a worker's movements and interactions in the office, company vice president Jeff Aaron said in an interview.
The system employs Wi-Fi routers and access points from Juniper Network's unit Mist that will communicate with the Bluetooth chips on the badges. The data collected will help determine which employees need to be tested and isolate after a colleague tests positive for the new coronavirus.
Read more here.

---
CVS Health ramps up COVID-19 drive-through test sites in 14 US states
CVS Health Corp has said it is expanding drive-through testing sites for COVID-19 to 350 locations in 14 US states with an aim to open 1,000 sites nationwide by the end of May.
The drugstore chain, which has been operating large-scale testing sites since early April, said the objective is to process up to 1.5 million tests per month, subject to availability of supplies and lab capacity.
The new sites will use self-swab tests that will be sent to an independent, third-party lab for processing and the results will be available in about three days, CVS said.
The 350 locations include Arizona, California, Connecticut, Florida, Georgia, Illinois, Indiana, Louisiana, Maryland, Massachusetts, New Jersey, New York, Pennsylvania and Texas.
Earlier this month, the company announced 50 drive-through testing sites across five states, including Arizona, Connecticut, Florida, Massachusetts and Pennsylvania.
---
11:02pm — Gilgit, Gilgit-Baltistan — Region's cases cross 600 mark
The Gilgit-Baltistan health department has reported 23 new cases in the region, a rise which has taken the total tally past 600 to 602.
Ten people were also reported to have recovered, bringing the total number of recoveries to 412.

---
10:52pm — Quetta, Pakistan — Balochistan reports one more death, 106 new cases
The Balochistan health department has reported one more death and a rise in the number of cases by 106.
The total death toll now stands at 39, whereas the tally of infected crossed 3,000 to hit 3,074.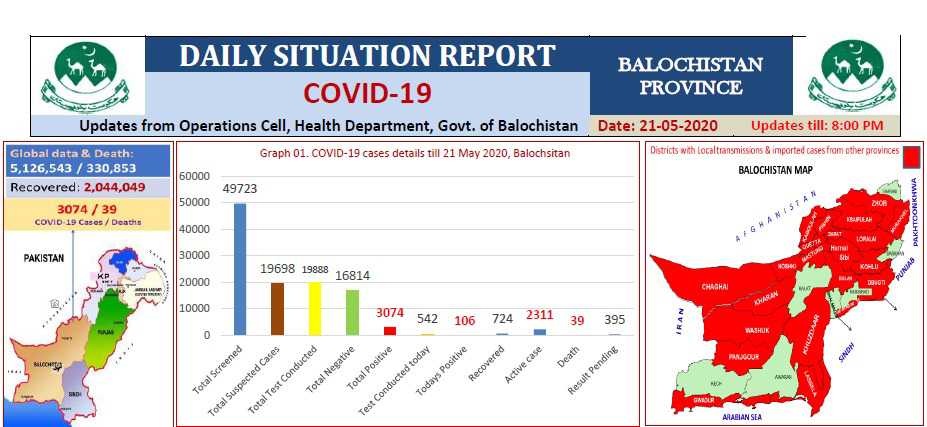 ---
10:13pm —  Karachi, Pakistan — Chief Minister Sindh pleads to people to consider not going to their villages this Eid
---
10:07pm — Karachi, Pakistan — Sindh's cases at a glance
Figures reported by the Sindh health department show that Karachi witnessed a sharp spike in cases over the last 24 hours. The city reported 856 new cases of the total 960 in the province.

---
09:56pm — Karachi, Pakistan — CAA timely delivers 'precious' plasma to Peshawar's Hayatabad Medical Complex
---
9:26pm — Cairo, Egypt — Egyptians rush to buy treats before Eid al-Fitr curfew
Families rushed to buy sweets and biscuits in Cairo as they prepared to celebrate the end of the Muslim fasting month of Ramadan under a tightened coronavirus curfew and lockdown, Reuters reported.

The Eid-ul-Fitr festivities are usually a time of release when people pack the streets and visit families, cafes and restaurants.
But this year, authorities are bringing forward the start of the existing coronavirus curfew by four hours to 5pm and banning all public transport for six days from Sunday as they try to contain the pandemic.
Shoppers, many wearing masks, said celebrations will be much quieter - restrictions had already made it difficult for families to meet for fast-breaking at sunset during Ramadan.
Shops, restaurants, parks and beaches will also be closed for the holiday, which has been extended from three to six days under the coronavirus measures.
---
9:20pm — Karachi, Pakistan — Eid congregations to be offered in open spaces: Sindh govt
Sindh government in the 20 points SOPs issued for Eid-ul-Fitr congregations said that they should be prayed in open spaces.
According to the notification issued by the provincial home department security and cleanliness should be ensured for Eid prayers.
---
9:12pm — UK health care workers take part in clinical trial to test effectiveness of anti-malarial drugs against COVID-19
---
8:56pm — Singapore's health ministry confirms 448 new coronavirus cases, one more death
Singapore's health ministry said on Thursday it confirmed another 448 coronavirus cases, taking the city-state's tally of infections to 29,812, Reuters reported.
Most of the newly reported cases are from migrant-worker dormitories, the health ministry said.
Singapore reported one more death, a citizen of the city-state, taking the virus-related death toll to 23.

---
8:51pm — Vienna, Austria — Heavy virus testing to be done of hotel staff to reassure tourists
Austria plans a hefty expansion of its coronavirus testing just to screen hotel staff, in the hope of luring Germans and other tourists this summer and banishing the uncomfortable memory of a massive outbreak at a fashionable ski resort, Reuters reported.
"We will invest a great deal ... to test as many staff as possible who are in contact with guests as often as possible, to prevent them becoming multi-spreaders," Chancellor Sebastian Kurz told a news conference on Thursday.
Tourism accounts directly for 8% of Austria's economic output, or about 15% including related sectors. Neighbouring Germany is the biggest source of foreign visitors, and the shared border will open fully next month.
---
8:40pm — Coronavirus has reminded us we are 'stronger' together
---
8:30pm — Peshawar, Pakistan — KP reports 14 more deaths
The Khyber Pakhtunkhwa health department has reported 14 more deaths in the province, taking the grim total to 365 — the highest of any province in the country.
Of the deceased, seven were from Peshawar, two each in Karak and Bajaur, and one each in Charsadda, Abbottabad and Kohat.
The number of infected also rose by 340 to reach 7,155.
So far, 68 patients have recovered, bringing the total recoveries to 2,198.

---
08:22pm – Lahore, Pakistan - Punjab extends shopping malls timings till 10pm
Punjab government has decided to extend the working hours of shopping malls and markets from 5pm to 10pm till Eid-ul-Fitr.
Punjab Commerce Minister Mian Aslam Iqbal announced on Thursday after the approval of the Chief Minister Usman Buzdar on the matter.
"With shopping malls, the local markets and shops will also remain open on account of the upcoming festival of Eid," the minister noted.
Besides markets and shopping malls, the provincial government has also announced to open the shrines across the province from tomorrow [Friday], however, the extension of hours is not applicable for shrines.
---
5:00pm - Madrid, Spain — One in six Spanish children depressed during pandemic: survey
Nearly one in six Spanish children have felt regularly depressed during the coronavirus crisis, with those from poorer backgrounds suffering worse, a charity said on Thursday.
Spain has had one of the world's strictest lockdowns, including keeping children behind doors for weeks, to curb the outbreak which has killed nearly 28,000 people.
Save the Children said its survey from April showed that while lockdown was enabling many families to enjoy more time together, still 17% of children felt depressed often or daily and new economic hardships were widening inequalities.
In the most needy families, 32.3% of children struggled to sleep while 30.1% feared the COVID-19 disease — almost a third more than in less vulnerable households. Those from poorer backgrounds also cried more, according to the survey of more than 1,800 interviews with children and families.
Save the Children said one out of four vulnerable families have suffered job losses or reduced income, heaping tension and uncertainty on children. In some cases, families have had to share housing with strangers to cut the cost of rent.
---
4:45pm - Seoul, South Korea — South Korea makes first foreigner arrest over quarantine violation
South Korean police arrested a foreign national for violating the country's mandated 14-day quarantine rules for the first time on Thursday, amid fears of a potential second wave of the new coronavirus.
The arrest of the 23-year-old Japanese man was first such detention of a foreign citizen, though the country has previously arrested four South Koreans, including two from Seoul, a police station official in the capital's Seodaemun district said.
The man entered the country on May 2 with a work visa and, after a negative coronavirus test at the airport, was ordered to self-quarantine for two weeks as is mandatory for all arrivals.
Police said surveillance video footage and card transactions showed that he had broken the rules on eight out of 14 days, including for visits to restaurants, cafes and a vet.
The Japanese man, who will face a trial, was being held at the police station and would soon be sent to a detention centre, the official added.
In late March, the country's health ministry warned it would deport foreigners and South Korean citizens could face jail for violating self-quarantine rules after a surge in imported coronavirus cases.
---
4:30pm - Johannesburg, South Africa — Scientists say South Africa may see up to 50,000 COVID-19 deaths
JOHANNESBURG (Reuters) - South Africa could see up to 50,000 coronavirus deaths and as many as 3 million infections by the end of the year as the southern hemisphere winter leads to a higher rate of infection, scientific models showed on Thursday.
The country already has the highest number of infections and deaths on the continent, with more than 18,000 identified cases and 339 deaths, but a national lockdown entering its sixth week had slowed infections.
However scientists and statisticians hired by the health ministry to model the spread of the disease said the country could see between 35,000 and 50,000 coronavirus deaths by November.
"We haven't really crushed the curve," said one of the experts, Harry Moultrie, in a presentation shown on television. "We also have some significant concerns that because of the focus on COVID-19, this may compromise other areas like HIV and TB."
The models, which consider best and worst scenarios, see as many 3 million possible coronavirus cases by November, while demand for hospital beds is seen peaking at 45,000, around ten times the current intensive care bed availability.
One of models showed the lockdown had reduced the rate of infection by 60%, and that since the beginning of May, when lockdown restrictions were eased, that had fallen to 30%.]
"With the lockdown we were creating a physical barrier that prevents the virus from moving," said Minister of Health Zweli Mkhize.
"The lockdown had a particular value. Now we are trying to move to a slightly different strategy which is the risk-adjusted approach."
---
4:25pm - Peshawar, Pakistan — Torkham border to be open for six days a week: Ajmal Wazir
Adviser to Khyber Pakhtunkhwa Chief Minister on Information Ajmal Wazir has announced that Pakistan's border with Afghanistan will open for six days a week.
"Torkham border will remain open for trucks for 24 hours," said Wazir while talking to the media in Peshawar. He added that the border will be opened with the relevant SOPs.
"The border will be open for crossing for people for six days," said the adviser. He added that Pakistanis returning from the border will be quarantined in district Khyber.
---
4:15pm — Karachi, Pakistan — Sindh reports highest single day death toll 
The death toll from the novel coronavirus rose to 1,037 after 20 more deaths were reported in Sindh.
Sindh's death toll from the virus now stands at 336.
---
1:55pm — Karachi, Pakistan — Nationwide death toll crosses 49,000
Confirmed cases in the country rose to 49,051 after new cases were detected in Sindh.
According to Sindh Chief Minister Murad Ali Shah, 960 cases were recorded in the province in the last 24 hours, taking the provincial tally to 19,924.
He added there were 13,263 patients under treatment in the province at the moment, adding that 6,325 patients had recovered from the virus in the province.

---
4:00pm - Beijing, China — China rebuts Trump accusation of coronavirus 'mass killing'
China offered a low-key rebuttal to United States President Donald Trump's accusation of mass killing on Thursday, with a foreign ministry official insisting the country did its best to protect lives during the pandemic.
Tensions between the US and China have been on the rise as the deadly coronavirus, which first surfaced in the central Chinese city of Wuhan, ravaged the global economy.
Trump has since made attacking Beijing a centrepiece of his November re-election bid, alleging it covered up the initial outbreak of the virus — a claim that China forcefully denies.
Beijing's latest response came a day after Trump blamed China for "mass Worldwide killing" in a tweet, which also referred to an unidentified "wacko".
Chinese foreign ministry spokesman Zhao Lijian told a regular press briefing: "We have persisted in speaking the truth, presenting the truth and speaking with reason, doing our utmost to protect the lives and health of the people."
Zhao reiterated China's stance that it has "always had an open, transparent and responsible attitude" as it battled the pandemic.
He added the country has been doing its best to promote international cooperation against the pathogen.
---
3:51pm - PML-N leader tests positive for virus 
---
3:50pm - Tehran, Iran — Iran says 10,000 of its health workers infected with coronavirus
Around 10,000 Iranian health workers have been infected with the new coronavirus, the semi-official ILNA news agency quoted the deputy health minister as saying on Thursday.
"Around 10,000 health workers have been infected with the deadly disease in Iran and some of them have died," Qassem Janbabai said, according to ILNA.
---
3:45pm - Chinese mission provides food rations to Afghan refugees in Pakistan 
---
3:40pm - London, UK — UK factories report biggest output drop in over 40 years
British factories reported the sharpest fall in output in more than four decades during the three months to May as around half of them implemented partial shutdowns due to the coronavirus pandemic, the Confederation of British Industry said.
The CBI said its balance for output over a three-month period dropped to -54 in May from -21 in April, its lowest reading since the series began in July 1975.
A gauge of industrial orders sank to its lowest since October 1981 at -62 in May from -56 last month, a somewhat bigger decline than economists had predicted in a Reuters poll.
"UK manufacturers are still grappling with the impact of the pandemic. Production levels have fallen even more sharply as firms experience collapsing demand and supply chain disruption, leading some to temporarily shut down their factories," CBI economist Anna Leach said.
Around three quarters of manufacturers reported cashflow problems and they are not much more positive about the outlook, with the output expectations balance for the next three months rising to -49 from -67 in April.
Earlier on Thursday a separate survey of purchasing managers in the manufacturing sector also painted a gloomy picture for May.
The most recent official data show that factory output fell by 4.6% in March, when a lockdown began towards the end of the month, though factories themselves were not required to close.
---
One week of new cases in top 15 countries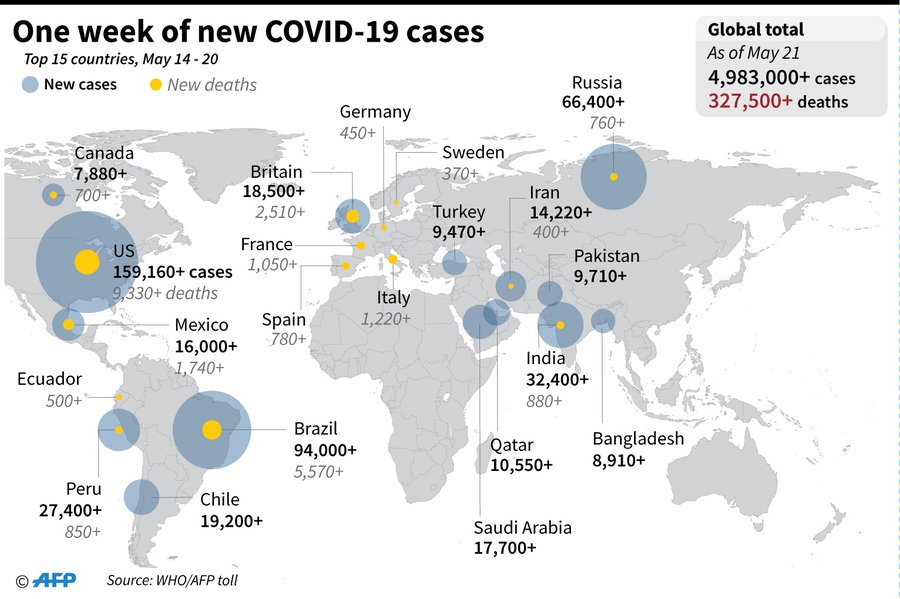 ---
3:05pm - Tokyo, Japan — Japan may lift Tokyo state of emergency as early as next week: PM
Japanese Prime Minister Shinzo Abe on Thursday said that it was possible that a state of emergency in Tokyo and its surrounding regions could end as early as next week if the number of coronavirus infections continues to decrease.
"The state of emergency will continue in Tokyo, Hokkaido and other regions. We will meet with experts (on Monday) to update the situation on infections," Abe told reporters after ending the state of emergency in Osaka, Kyoto and Hyogo prefectures.
"If the current situation continues, it is possible that the state of emergency could be lifted in those areas."
---
2:50pm - Smart lockodwn extended in province till June 2: Balochistan govt 
Balochistan Government Spokesperson Liaqaut Shahwani announced that the provincial government has extended the smart lockdown in the province till June 2.
"Ban on Public transport is still in place in Balochistan," Shahwani told the media. He added that the ban has been imposed to stop the spread of the virus.
"The fear is that if the transport is opened then coronavirus may reach the rural areas," said the spokesperson. 
---
2:45pm - Tehran, Iran — Iran appeals to people not to travel for Eid holiday to avoid COVID-19 spike
Iran's top health official appealed to Iranians to avoid travelling during the Eid al-Fitr holiday later this month to avoid the risk of a new surge of coronavirus infections, state TV reported on Thursday.

Iranians often travel to different cities around the country to mark the end of the Muslim holy fasting month of Ramadan, something Health Minister Saeed Namaki said could lead to a disregard of social distancing and a fresh outbreak of COVID-19.
"I am urging you not to travel during the Eid. Definitely, such trips mean new cases of infection...People should not travel to and from those high-risk red areas," Namaki was quoted by state television as saying.
"Some 90% of the population in many areas has not yet contracted the disease. In the case of a new outbreak, it will be very difficult for me and my colleagues to control it."
Confirmed cases in Iran of COVID-19, the respiratory disease caused by the virus, rose by 2,346 to 126,949 on Wednesday, the health ministry said. The death toll is 7,183, the highest in the Middle East region.
---
2:40pm - Karachi, Pakistan — Sindh CM dedicates Eid to frontline workers
Sindh Chief Minister Murad Ali Shah stated that his government would like to dedicate this year's Eid to those on the frontline fighting coronavirus such as the medical staff, janitorial staff, police and ward boys.

"The greatest gift to our health workers is staying at home, not put them under pressure," the CM said while addressing a press conference in Karachi. He also urged the people to stay at home to keep everyone safe.
---
2:20pm - Jakarta, Indonesia — Indonesia reports 973 new coronavirus cases, biggest daily jump
Indonesia reported on Thursday its biggest daily jump in coronavirus cases, bringing the total confirmed number to 20,162 in the world's fourth most populous country.
Indonesia confirmed 973 new infections and 36 new deaths, taking the official number of fatalities to 1,278, health ministry official Achmad Yurianto said.
---
2:10pm - Rome, Italy — Italy has come out of worst part of virus emergency: PM
Italy has left the worst part of the COVID-19 emergency behind and as lockdown restrictions are slowly lifted the country must now enter the new phase with confidence and responsibility, Prime Minister Giuseppe Conte said on Thursday.
"We can say that the worst is behind us... we cannot stop to wait for a vaccine, otherwise we would find ourselves with an irreparably compromised society and production system," Conte said, outlining the government's recent stimulus package in parliament.
The premier also said banks "can and must do more, especially to accelerate the procedures to grant state-backed loans."
---
2:00pm - Islamabad, Pakistan — 631 smart lockdowns placed across the country: NCOC told
---
1:55pm - Lahore, Pakistan — Transport service back to normal across province: Punjab minister 
Punjab Transport Minister Jahanzaib Khichi stated that the transport service in the country has resumed after successful negotiations with the transporters.
"All transporters will implement the SOPs," Khichi told while talking to the media on a visit to the bus stand in Lahore. He added that the transport policy was developed on the instructions of the federal government.
---
1:45pm - Karachi, Pakistan — SHC asks Sindh govt to submit response on ban on public transport by June 1 
The Sindh High Court has asked the provincial government to submit its response to the court regarding the ban on public transport in the province by June 1.
During the hearing, Justice Muhammad Ali Mazhar remarked that the Sindh government should explain what is its policy regarding public transport.
"Other provinces have given approval for the resumption of transport services, how is it closed in Sindh?" the court asked the government lawyer. It added that unified policy across the country.
"Sindh government takes decisions after consulting the health experts," additional advocate general told the court. He added that the provincial government was also in talks with the registered transporters.
While the general secretary of the transporters Hanif Marwat told the court that the thousands of transporter have become unemployed due to the Sindh government's policies. 
---

Watch: Indonesians ignore rising cases, head to markets for Eid shopping  
---
1:00pm - Islamabad, Pakistan — Interior minister asks people to follow SOPs during Jumat - ul - Wida, Eid
Interior Minister Ijaz Shah has urged the people to follow the government's standard operating procedures during Jumat ul Wida and Eid congregations to prevent spread of coronavirus, reported Radio Pakistan.
In a video message, Shah said people should wear face masks, observe social distancing and take other preventive measures during payers at mosques.
The minister said Prime Minister Imran Khan had eased lockdown to help the poor earn their livelihood.
He said easing of lockdown does not mean coronavirus pandemic has ended, but it cannot be overcome until its vaccination or medicine is invented.
---
12:55pm - Moscow, Russia — Russia's official coronavirus death toll passes 3,000 mark
Russia's official coronavirus death toll rose to 3,099 on Thursday after officials said 127 people had died in the last 24 hours.
Russia's authorities reported 8,849 new cases of the novel coronavirus, pushing the nationwide case tally to 317,554.
---
12:50pm - Karachi, Pakistan — SHC rejects school owners plea asking Sindh govt be barred from launching action against them
The Sindh High Court on Thursday rejected the school owner's plea seeking the court's intervention in stopping the provincial government from taking action against them.
The school owner had challenged the Corona Relief Emergency Ordinance in the Sindh High Court.
The petitioners had contended that the provincial government has made it compulsory for all schools to reduce their fees by 20% without seeing whether they were in loss or profit.
The school owners in the petition are asking the court to declare the reduction in fees as illegal. And have asked the SHC to stop the provincial government from taking action against the schools.
---
12:30pm - Beirut, Lebanon — Lebanon at risk of major food crisis, PM warns
Lebanon is at risk of a major food crisis and many Lebanese may soon find it hard to afford bread because of an acute financial crunch and the fall-out of COVID-19, the prime minister warned.
Writing in the Washington Post, Hassan Diab also warned of a global food security emergency triggered by the pandemic. He said attempts to restrict food exports must be resisted and called on the United States and the European Union to set up an emergency fund to help the Middle East avoid a severe crisis.
Otherwise, "starvation may spark a new migration flow to Europe and further destabilize the region", he wrote.
Lebanon was in deep crisis even before COVID-19. The local currency has more than halved in value since October amid a hard currency liquidity shortage. Inflation and unemployment are soaring. Lebanon defaulted on its sovereign debt in March.
Imported food prices had more than doubled since the start of 2020, Diab wrote. More than half of Lebanon's food is imported.
"Once the breadbasket of the Eastern Mediterranean, Lebanon is facing a dramatic challenge that seemed unimaginable a decade ago: the risk of a major food crisis," Diab wrote.
"A few weeks ago, Lebanon witnessed its first 'hunger protests.' Many Lebanese have already stopped buying meat, fruits and vegetables, and may soon find it difficult to afford even bread."
---
12:10pm - Peshawar, Pakistan — People head to markets after govt lifts ban on public transport
The streets of Peshawar were filled with public after the government lifted the ban public transport service in the province.

According to Geo News, a large number of cars were seen on the roads with people heading to the markets for Eid shopping.
However, fewer people were seen heading to the villages as the inter-district bus stands largely remained empty.
---
12:00pm - Asad Umar chairs ongoing NCOC meeting 
---
11:45am - London, UK — UK says dealing with technical issues of track and trace app: minister
Britain is dealing with technical issues of its track and trace app that it hopes will help it keep the novel coronavirus outbreak under control, but will use traditional tracking means until it is rolled out, the security minister said on Wednesday.
British Prime Minister Boris Johnson said on Wednesday a "world-beating" programme to test and trace those suspected of having been in contact with people who have tested positive for COVID-19 would be in place by June 1.
The test and track programme is seen as a key measure to reopen the country, but has also been dogged by criticism after opposition lawmakers said an earlier promise of a nationwide roll-out of a National Health Service (NHS)-developed smartphone app had slipped from the middle of this month.
"The track and trace system is going to be ready," James Brokenshire, the junior interior minister in charge of security, told Sky News.
---

Watch: Spaniards demand 'freedom'
---
Five worst-hit coronavirus countries 
---
11:20am - Lahore, Pakistan — Less than 50% hospital beds for COVID-19 used 

Till now, less than 50% of hospital beds earmarked for the coronavirus infected in Pakistan have been utilised, states a World Health Organisation (WHO) report.
As per the report, dated May 19, Pakistan has set aside 21,085 beds in public hospitals across the country for patients of the novel virus. Of these, 9,919 have been occupied, which comes to nearly 47% of the total.
Furthermore of the hospitalised, nearly 4% are in critical condition.
The total number of confirmed cases in Pakistan, as of Thursday, is 46,915. While, the virus has killed 1,003 people.
Since some patients are housed in hospitals, a large majority, around 20,000 have been isolated in home or at designated isolation facilities, the report adds.
Last week, Punjab allowed asymptomatic patients of the virus to self-isolate at home, provided that government officials regularly check on them to ensure that proper safety guidelines are being followed. After which, 475 applications for home isolation have now been accepted in the province, according to the daily situation report of Punjab's primary and secondary healthcare department.  
---
11:00am - Mastercard to allow staff to work from home until virus fears subside
Mastercard Inc will not ask employees to return to its worldwide corporate offices until they are comfortable that the sometimes fatal coronavirus is under control with vaccines or other measures, a senior executive told Reuters on Wednesday.
The world's second-largest payment processor is also looking at its real-estate footprint and considering consolidating offices, Chief People Officer Michael Fraccaro said.
"We expect in the coming weeks and months that more employees will continue to work from home than come into office," he said. "And we are OK with that. We support that choice."
While some Mastercard staff have young children or parents to look after, others are concerned about taking public transport to work.
"We have stated upfront to all our employees, that it is their choice ... we want them to make the decision on when they feel comfortable returning to the office," he said.
The company employs nearly 20,000 people globally, with its main headquarters in Westchester, a New York City suburb. Mastercard owns that campus, which it purchased from IBM in 1994.
---
10:45am - United Nations — COVID-19 to cause first human development fall: UNDP
The coronavirus pandemic is expected to cause a decline in human development for the first time since it started being measured, the United Nations Development Program (UNDP) said Wednesday.
The UN created the global human development index in 1990 to gauge the world's education, health and living standards.
It has increased globally every year over the past 30 years, despite crises such as the global financial meltdown of 2007-09.
"COVID-19 — with its triple hit to health, education, and income — may change this trend," UNDP head Achim Steiner said as the body released a study Wednesday.
The UNDP estimates in the document that global per capita income is expected to fall 4% in 2020 because of the coronavirus.
It notes that school closures and disparities in distance learning will widen education gaps between rich and poor countries.
The agency said it estimates that 86% of elementary school-age children in poorer nations are not receiving education currently, compared to just 20% in richer ones.
---
10:25am - Islamabad, Pakistan — Cabinet to review coronavirus situation in country
Prime Minister Imran Khan will chair a special meeting of the federal cabinet to review the coronavirus situation in the country.

---
10:10am - Sydney, Australia — Australia economic recovery riding on COVID-19 medical breakthrough: RBA
Australia's economic future was "unusually uncertain" while growth was expected to remain in the slow lane without a medical breakthrough to prevent and treat COVID-19, the head of the country's central bank said on Thursday.
The remarks come as Australia re-opens its economy sooner than expected. The country has reported just over 7,000 COVID-19 infections with 100 deaths, well below the disturbing outcomes in several other advanced nations.
Reserve Bank of Australia (RBA) Governor Philip Lowe said early evidence showed countries with fewer restrictions were also experiencing very large economic contractions, suggesting individuals and businesses were reluctant to spend in the current environment.
"Restoring confidence on the health front is a precondition for a strong (economic) recovery," Lowe said, responding to a question during an online panel discussion.
"That would help both in Australia and globally," he added.
"We might get a vaccine, we might get some anti-viral medication, but it's also possible that we don't. So we have an incredible lot riding on the work of the scientists."
In his opening remarks, Lowe said Australians were living through the biggest and the most sudden economic contraction since the 1930s and the future was unusually uncertain.
---
9:50am - Tokyo, Japan — Japan to lift state of emergency for Osaka, nearby Kyoto, Hyogo
Japan will lift its state of emergency in Osaka, Kyoto and Hyogo on Thursday as the number of new coronavirus infections drops, Economy Minister Yasutoshi Nishimura said, amid hopes the move will help the world's third-largest economy to recover.
Tokyo and four other prefectures, including the northern island of Hokkaido, would remain under the state of emergency — which has already been lifted for much of the country.
"I believe it is safe to lift the state of emergency in Kyoto, Osaka, and Hyogo given that the number of new infections in recent days are under 0.5 cases per 100,000 people and medical services are under control," Nishimura told the experts at the start of their meeting, which was open to the media.
Nishimura made the announcement after a panel of experts, whose approval is needed, signed off on the move.
So far, the western prefectures of Kyoto, Osaka, and Hyogo are averaging at 0.09 infections per 100,000 people, in contrast with 0.59 for Tokyo and surrounding areas and 0.69 for Hokkaido.

The availability of tests and medical services will also be factored in to the final decision.
New cases in Tokyo have recently dropped to single digits, while the western metropolis of Osaka has seen no new cases.
The move to drop Kyoto, Osaka, and Hyogo from its list of prefectures with curbs in place to prevent the spread of the coronavirus comes a week after Prime Minister Shinzo Abe announced that the blanket state of emergency instated across Japan would be lifted in most places.
---
9:45am - Balochistan govt shares video on instructions, guidelines to follow during pandemic 
---
Watch: German women lights candles for Germany's coronavirus victims 
---
9:30am - Tokyo, Japan — Japan exports fall most since 2009 as pandemic wipes out global demand
Japan's exports fell the most since the 2009 global financial crisis in April as the coronavirus pandemic slammed world demand for cars, industrial materials and other goods, likely pushing the world's third-largest economy deeper into recession.
The ugly trade numbers come as policymakers seek to balance virus containment measures against the need to revive battered parts of the economy, with the risk of a second wave of infections only complicating this challenge.
The central bank will hold an emergency meeting on Friday to work out a scheme that would encourage financial institutions to lend to smaller, struggling firms. Policymakers are also considering cash injections for companies of all sizes.
Ministry of Finance (MOF) data on Thursday showed Japan's exports fell 21.9% in April year-on-year as US-bound shipments slumped 37.8%, the fastest decline since 2009, with car exports there plunging 65.8%.
The fall was the biggest since October 2009 during the global financial crisis, but slightly less than a 22.7% decrease seen by economists in a Reuters poll. Exports fell 11.7% in March.
---
9:25am — Islamabad, Pakistan — Confirmed cases jump past 48,000 as Islamabad, AJK report new cases
Confirmed cases in the country jumped to 48,091 on Thursday after new cases were detected in Islamabad and Azad Jammu and Kashmir (AJK).
According to the national dashboard, 97 new cases were recorded in Islamabad while 15 new cases were reported in AJK.
Punjab leads the tally in the country with the highest number of infection 17,382, followed by Sindh 18,964. Khyber Pakhtunkhwa has reported 6,815 cases, Balochistan 2,968, Islamabad 1,235, 579 in Gilgit-Baltistan and 148 in AJK.
---
9:05am — Shanghai, China — China reports two new coronavirus cases
China recorded two new coronavirus cases for May 20, down from five a day earlier, the National Health Commission (NHC) reported on Thursday.
One of the new cases was a local transmission, in Shanghai, and one was a so-called imported case involving a traveller from overseas, the commission said in a statement.
The NHC reported 31 new asymptomatic coronavirus cases, up from 16 a day earlier.
The total number of COVID-19 infections in China to date now stands at 82,967. The death toll remained unchanged at 4,634.
---
US COVID-19 deaths rise by 1,561 to 93,406
---
Global coronavirus cases surpass 5 million
Global coronavirus cases surpassed 5 million on Wednesday, with Latin America overtaking the United States and Europe in the past week to report the largest portion of new daily cases globally.
Latin America accounted for around a third of the 91,000 cases reported earlier this week. Europe and the United States each accounted for just over 20%.
A large number of those new cases came from Brazil, which recently surpassed Germany, France and the United Kingdom to become the third-largest outbreak in the world, behind the United States and Russia.
Cases in Brazil are now rising at a daily pace second only to the United States.
The pandemic has claimed over 326,000 lives, though the true number is thought to be higher as testing is still limited and many countries do not include fatalities outside of hospitals. Over half of the total fatalities have been recorded in Europe.
---
8:40am — Washington, US — Trump opens door to in-person G7 June meeting despite pandemic
US President Donald Trump has said he may seek to revive a face-to-face meeting of Group of Seven leaders near Washington, after earlier cancelling the in-person gathering of world leaders due to the novel coronavirus pandemic.
"I am considering rescheduling the G-7, on the same or similar date, in Washington, DC, at the legendary Camp David," Trump said in a Twitter post. "The other members are also beginning their COMEBACK. It would be a great sign to all — normalisation!" 
---
8:30am — Rio de Janeiro, Brazil — Brazil registers 888 new deaths, record of nearly 20,000 new cases
Brazil registered 888 new coronavirus deaths on Wednesday, with a record of nearly 20,000 new cases, taking the total to 291,579, the Health Ministry said
---
8:20am — Washington, US — Trump says his hydroxychloroquine regimen finishes in the next day or two
US President Donald Trump has said the regimen of an anti-malaria drug hydroxychloroquine that he is taking to ward off the coronavirus finishes in the next day or two.
Trump revealed this week he was taking the drug despite medical warnings about potential serious side effects and questions about its effectiveness in preventing COVID-19.
---
11:43pm/May 20  — Wuhan, China — Coronavirus 'epicentre' bans wildlife consumption
China's Wuhan city — believed to be the epicentre of COVID-19 pandemic — has banned the consumption of wildlife animals as the virus is thought to have passed from bats to people.
To mitigate the ban's effect on the farmers who breed wildlife animals, the authorities in Wuhan are providing them with cash, CBS reported.
The city earlier imposed new orders on the breeding of wild animals and made it clear that none of them could be used as food.
Read more here.
---
09:25pm/May 20 — Karachi, Pakistan — Trader seeks extension in business hours for Eid shopping
Prominent businessman and a leader of the Karachi Chambers of Commerce and Industry (KCCI), Siraj Qasim Teli on Wednesday slammed the Sindh government for not extending shop timings in the metropolis.
In a statement, Teli said the Supreme Court order has not stopped the provincial government from allowing shops to remain open till sehri. "We don't understand the logic behind closing Karachi's shops while the whole country is open."
"The traders are suffering due to the politicking of Sindh and federal governments," he said.
Teli urged the provincial authorities to let them do business for extended hours till Eid.
---
08:50pm/May 20 — Islamabad, Pakistan — PM Imran calls for 'pick up' of poor countries with debt relief
Prime Minister Imran Khan, in an online session of the World Economic Forum (WEF), called upon the developed countries to provide debt relief to poorer nations that were struggling to cope with the coronavirus crisis.
"The experience of the developed world is completely different to what we are facing in the developing world. Countries like India, Pakistan, and Bangladesh — specifically the Indian subcontinent — our experience is somewhat different"
"The speed at which COVID-19 [the disease caused by the novel coronavirus] spread in Europe and the United States, we're not experiencing the same sort of speed.
"On the other hand, we are still facing rising number of cases and we still haven't reached our peak here" in Pakistan, he added.
Read more here.
---
08:45pm/May 20 — Islamabad, Pakistan — Role of religious leaders vital in raising awareness: says PM
Prime Minister Imran Khan has urged the religious leaders to play their role in creating awareness about adopting safety measures against coronavirus.
He expressed these views in a meeting with Central Secretary of Pakistan Tehreek-e-Insaf for Religious Affairs Pir Syed Habib Irfani and other Ulema in Islamabad today.
The Prime Minister said the government believes in holding consultation with Ulema and religious leaders on all matters of importance.