Coronavirus updates, May 30: Latest news on the COVID-19 pandemic from Pakistan and around the world
Updated Saturday May 30 2020
The number of confirmed COVID-19 cases in Pakistan rose to 68,301 on Saturday after new infections were confirmed in the country.
The province-wise break up of the total number of cases as of 11:10pm, May 30, is as follows:
Total confirmed cases: 68,301
• Sindh: 27,360
• Punjab: 24,104
• Khyber Pakhtunkhwa: 9,540
• Balochistan: 4,193
• Islamabad Capital Territory: 2,192
• Gilgit-Baltistan: 678
• AJK: 234
Deaths: 1,443
• Khyber Pakhtunkhwa: 453
• Punjab: 439
• Sindh: 465
• Balochistan: 46
• Gilgit-Baltistan: 11

• Islamabad Capital Territory: 23
• AJK: 6
More than 5.93 million people have been reported infected with the novel coronavirus globally and over 364,000 have died, according to a Reuters tally
Read on for the latest updates from Pakistan and around the world.
---
Disclaimer: There may be some discrepancy in the number of confirmed cases reported at the country level due to differences in figures quoted by federal and provincial authorities.

Geo News is constantly gathering fresh information from concerned authorities and striving to keep our readers up to date with the most accurate information available.
---
Orange: General updates coming in from Pakistan

Red: Reports on new cases in Pakistan
Maroon: Reports on new deaths in Pakistan
Green: Reports on recovered patients in Pakistan
---
END OF LIVE UPDATES FOR MAY 30
Live updates for May 31 to continue here.
---
11:52pm — Peshawar, Pakistan — KP parliamentarian tests positive for COVID-19
A parliamentarian from Khyber Pakhtunkhwa, Inayatullah Khan, has tested positive for COVID-19.
He said that his symptoms are "nothing serious" and that he will be in "mandatory isolation for the coming 14 days".
He has asked everyone to pray for him and take care of themselves and others.

---
11:13pm — Quetta, Pakistan — Balochistan finance dept releases Rs50 million relief package for artists
---
11:10pm — Quetta, Pakistan — Balochistan reports 106 new cases
The Balochistan health department has reported 106 new cases, taking the total infections to 4,193.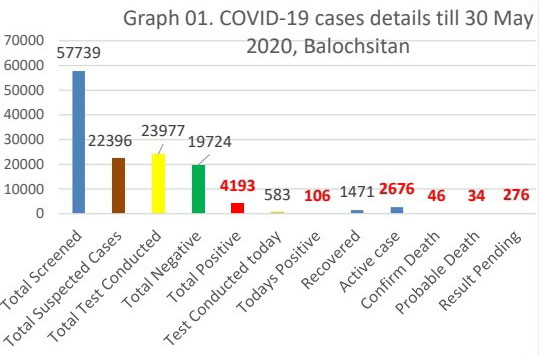 ---
10:50pm — Karachi, Pakistan — Sindh reports record 38 deaths, toll reaches 465
The Sindh health department has reported a record-high 38 deaths in the province over the last 24 hours, taking the grim total to 465.
A rise in the number of cases by 1,247 was also reported, taking the total to 27,360.

---
10:13pm — Madrid, Spain — Spain's daily coronavirus death toll drops to a handful
Spain's coronavirus death toll has risen by four to 27,125, the Health Ministry has said, reflecting a dramatic decline in daily fatalities in recent weeks as the country brings the outbreak under control.
The number of COVID-19 infections increased by 271 to 239,228. Spain was at one point one of the worst affected countries by the pandemic but it has now has started to ease lockdown restrictions.
However, with people relaxing after months shut up inside, police have intervened in a series of incidents at parties, funerals and other social gatherings at which restrictions were broken.
In Barcelona, bathers were moved off the beach after some were spotted breaching rules by swimming in the Mediterranean, police said on Saturday.
The government said meanwhile that four small islands will be able to open the outside terraces of bars and restaurants to 75% of their capacity from Monday, a further easing of rules for parts of the country least affected by the disease.
Tables on terraces must still be kept 1.5 metres (5 feet) apart, according to regulations published by the Official Bulletin and affecting La Graciosa, El Hierro and La Gomera in the Canary Islands, and Formentera in the Balearics.
In the four islands entering phase 3, groups of up to 20 people can meet and shopping centres will be allowed to re-open at 40% of capacity. Hotels and other leisure establishments can have common areas up to 50% of capacity.
Companies should still encourage home working but also can organise the return of workers to the office as long as their arrival is staggered. Museums will be allowed to organise activities.
---
09:37pm — Peshawar, Pakistan — 47% of critical beds occupied in KP
The Khyber Pakhtunkhwa health department has said that across the province, 47% critical care beds are occupied.
It also said that 22% ventilators and 12% isolation beds dedicated for COVID-19 patients are in use.
Peshawar has a high capacity utilisation of 58% critical care beds, 52% ventilators and 37% isolation beds. Capacity utilisation in all other districts is low.

---
09:05pm — Quetta, Pakistan — Wife of deceased  doctor claims husband was falsely diagnosed negative, 'died waiting for treatment'
The wife of deceased Quetta doctor, Muhammad Zubair Khan, has claimed that her husband "died waiting for treatment" and was initially given a false diagnosis for COVID-19.

According to Geo News, the doctor got his family tested for COVID-19 on May 15. The next day, his result came back negative, along with his son's. His wife, and another son, however, were diagnosed positive.
Over the next 10 days, he suffered chest and throat pain. Upon getting tested once more, he was told he is COVID-19 positive.

He kept waiting for an ambulance for hours before he died, according to Geo News.

"If this is how doctors are treated, what must others be treated like?" asked the doctor's wife.

She also claimed that her husband was initially not provided protective gear at all by Bolan Medical Complex where he worked and was "not satisfied" with the equipment provided subsequently.

Balochistan government spokesperson Liaquat Shahwani said that the impression that adequate medical facilities were not provided is "unreasonable" and "incorrect". "He was a member of the doctor community. His doctor friends could not have left his side when he was ill."

---
08:45pm — Jakarta, Indonesia — Country reports 557 new infections
Indonesia has reported 557 new coronavirus infections, taking the Southeast Asian nation's tally to 25,773, says health ministry official Achmad Yurianto.
Yurianto reported 53 new deaths, taking the toll to 1,573, while 7,015 people have recovered.
---
WATCH: San Fransisco park marks circles to remind visitors to keep a distance

---
08:27pm — Paris, France — Parisians flock to parks as lockdown eases

---
08:17pm — Kigali, Rwanda — Robots deployed to minimise risk of transmission between patients and caregivers
At the Kanyinya COVID-19 treatment facility a short distance from Rwanda's capital Kigali, Akazuba, Ikizere and Ngabo report for duty, but these are no ordinary health care workers.

In a bid to minimise contact between patients infected with the coronavirus and doctors and nurses, the country has deployed the three robots to carry out simple tasks like taking temperatures and monitoring patients.
The sleek white robots, with big bright blue eyes and a rather human appearance, were donated by the United Nations Development Programme (UNDP) and are helping frontline workers tackle the coronavirus crisis in the East African nation which so far has 355 confirmed cases of the COVID-19 disease.
"The three robots that we have are part of the treating team," said David Turatsinze, a doctor at the 75-bed facility, which housed 65 patients when the Reuters team visited.
By relaying messages to doctors and helping the team assess the effectiveness of their clinical decisions, the robots cut the number of bedside visits that doctors have to make.
---
08:09pm — Rome, Italy — Don't treat Italy like a leper colony says foreign minister
Italy will not be treated like a leper colony, Foreign Minister Luigi Di Maio has said, promising a warm welcome to foreign tourists this summer and warning other European Union states not to shut out Italians.
European countries are cautiously reopening their borders as the coronavirus contagion subsides around the continent, with Italy set to let tourists back in from June 15.
However, some EU states are looking to keep the door shut on visitors from places that have suffered a particularly high number of COVID-19 cases. Greece, for example, said on Friday it would open its frontiers to citizens from just 29 countries, excluding Italians, Spaniards and the British.
"We do not accept blacklists," Di Maio wrote on Facebook, announcing a forthcoming round of bilateral meetings both in Rome and abroad to press Italy's case.
"If anyone thinks they can treat us like a leper colony, then they should know that we will not stand for it."
Italy has the third highest death toll in the world from the new coronavirus, with some 33,229 people dying since the outbreak came to light on Feb. 21. It has the sixth highest global tally of cases - some 232,248.
However new infections and fatalities have fallen steadily this month and the country is unwinding some of the most rigid lockdown restrictions introduced anywhere on the continent.
The government confirmed late on Friday that it intended to push ahead with plans to lift all constraints on travel between Italy's regions from June 3 — one of the last curbs still in place.
"We have always acted responsibly and transparently and we will continue to do so. That is precisely why we expect respect," Di Maio said.
---
07:58pm — Johannesburg, South Africa — Professional sport to resume in South Africa
Professional sport in South Africa has been given a provisional green light to resume training.
Sports minister Nathi Mthethwa said non-contact professional sport will be allowed under strict conditions, which include playing without spectators, while contact sports such as football and rugby will be able to resume training.
Mthethwa was speaking at a briefing to outline how sport would be affected by an easing of South Africa's coronavirus lockdown which will come into effect on Monday.
Contact sports will have to provide detailed plans and get approval from the government to ensure the safety of players and officials before they can resume training, said Mthethwa.
---
07:48pm — Kiev, Ukraine — Shopping malls reopen in Ukraine capital
---
07:22pm — Gilgit, Gilgit-Baltistan — Region reports two deaths, 18 new cases
The Gilgit-Baltistan health department has reported two more deaths in the region which takes the grim total to 11.
A rise in the number of cases by 18 has also been reported, which bumps up the number of infections to 678.
---
07:10pm — Karachi, Pakistan — CM Sindh visits under-contruction infectious diseases hospital
---
06:54pm — Peshawar, Pakistan — KP reports eight more deaths, 473 new cases
The Khyber Pakhtunkhwa health department has reported eight more deaths in the province, which takes the grim total to 453.
A rise in infections by 473 was also reported. The total number of cases now stand at 9,540.
On the up side, 78 patients recovered, taking total recoveries to 2,809.

---
06:21pm — Vienna, Austria — Austria to stage F1 season-opener in July
---
05:45pm — Washington, USA — Merkel a 'no' for Trump's in-person G7 summit
German Chancellor Angela Merkel will not attend an in-person summit of G7 leaders that US President Donald Trump has suggested he will host despite concerns over the coronavirus pandemic, a German government spokesman has said.

Leaders from the Group of Seven, which the United States heads this year, had been scheduled to meet by videoconference in late June after COVID-19 scuttled plans to gather in-person at Camp David, the US presidential retreat in the state of Maryland.
Trump last week, however, indicated that he could hold the huge gathering after all, "primarily at the White House" but also potentially parts of it at Camp David.
Merkel, a scientist by training, has declined.
"As of today, considering the overall pandemic situation, she cannot agree to her personal participation, to a journey to Washington," the spokesman said, confirming an earlier report on the Politico website.
"The federal chancellor thanks President Trump for his invitation to the G7 summit," he added.
---
05:22pm — Islamabad, Pakistan — PM's aide on health says masks now mandatory, not optional
The prime minister's aide on health, Dr Zafar Mirza, has informed the nation that the use of a mask in public places as well as during sizable gatherings is now mandatory and no longer optional.
He said people will now have to strictly observe this rule while commuting in buses, airplanes, trains, cab, and other modes of transport; going for shopping, whether small grocery stores or large shopping malls; and also in gatherings where there are many people and distance between them is not enough — and all other public venues.

Dr Mirza said surgical masks, as well as cloth masks can be used.

---
04:55pm — Peshawar, Pakistan — KP health dept shares bed occupancy rates in Peshawar, says monitoring capacity
The Khyber Pakhtunkhwa health department has shared statistics of bed and ventilator occupancy in Peshawar's healthcare facilities, saying that currently 58% critical care beds are in use.
It also said 52% ventilators and 37% isolation beds dedicated for COVID-19 patients are occupied.
"We are constantly monitoring capacity data for KP, especially Peshawar, and working aggressively to increase capacity where required," the department said.

---
04:20pm — St John's, Antigua and Barbuda, West Indies — West Indies approve 'bio-secure' Test tour of England
West Indies cricket chiefs have given their approval to a Test tour of England where the team will stay in a "bio-secure environment".
The Windies were due to play three Tests in England in June but the threat of the coronavirus has pushed the visit back to July at the earliest.
"The Cricket West Indies (CWI) board gave approval in principle for the proposed upcoming West Indies Test tour of England," said a CWI statement on Friday.
"The decision comes only after CWI medical and cricket-related representatives and advisors have been involved in detailed discussions with the England and Wales Cricket Board (ECB), and their own medical and public health advisers."
It added: "CWI has also received and reviewed detailed plans for players and staff to be kept in a bio-secure environment for the duration of the tour, with all matches being played behind closed doors."
The ECB has proposed the Tests start on July 8, 16 and 24 at the Ageas Bowl in Southampton and Manchester's Old Trafford.
Both those venues have on-site hotels.
---
WATCH: Mannequins dressed in hats and frocks take up seats in a restaurant in Lithuania
---
3:40pm — Peshawar, Pakistan — No shortage of beds or ventilators in hospitals: Ajmal Wazir
Adviser to the KP chief minister on information Ajmal Wazir has said there was no shortage of beds or ventilators in hospitals in the province.
"There are 1,300 beds available at Khyber Teaching Hospital of which 50 are currently occupied," Wazir told a press conference on Saturday.
He added 56 ventilators were also available at Khyber Teaching Hospital with 25 under use by coronavirus patients.
---
WATCH: Robot screens visitors entering Brussels hospital
---
3:15pm — Lahore, Pakistan — Eight doctors recover from virus at Punjab Institute of Cardiology
Provincial Health Minister Yasmin Rashid on Saturday announced that eight doctors had recovered from the coronavirus at the Punjab Institute of Cardiology.
"The doctors were tested twice and their tests came back as negative," Rashid told a press conference in Lahore, adding that four of the recovered doctors had resumed their duties.
She added that an app had been launched which would inform the public about the facilities available related to the coronavirus.
---
3:00pm — Tehran, Iran — Mosques in Iran to resume daily prayers: President Rouhani
President Hassan Rouhani has said mosques will resume daily prayers throughout the country, even though some areas are seeing high levels of coronavirus infections.
"Doors to mosques across the country will open to the public for daily prayers," Rouhani said, adding that social distancing and other health protocols should be observed. He did not say when they are due to reopen.
Authorities are taking tougher measures to ensure that health regulations are observed, including barring commuters not wearing masks from buses and metro trains, Iranian media reported.
---
Here's how US newspapers covered the news of country's 100,000 deaths
---
2:40pm — Lahore, Pakistan — Courts to resume hearing cases from June 1
Courts in Punjab will resume hearing cases from June 1, a notification issued on Saturday said.
According to the notification, all judges with hear cases as usual from the first of next month.
Moreover, the notification stated that all courts have to be sanitized completely before work resumes. "All judges, lawyers have to wear face masks at all times in the court. No one will be allowed to enter the court premises without face masks and gloves," it said.
It added social distancing must be maintained in the court and that all session judges need to ensure SOPs are strictly followed.
---
Germany blasts Trump split from WHO, says will harm global health
---
2:10pm — Moscow, Russia —  Russia reports 181 new deaths
Russia on Saturday reported 181 deaths from the coronavirus in the last 24 hours, down from the record 232 deaths registered the previous day and pushing the nationwide death toll to 4,555.
Officials said 8,952 new infections had been confirmed, bringing the national tally to 396,575, the third-highest reported total in the world after the United States and Brazil.
---
Global coronavirus cases cross 5.93 million, death toll over 364,000
More than 5.93 million people have been reported infected with the novel coronavirus globally and 364,043 have died, a Reuters tally shows.
Infections have been reported in more than 210 countries and territories since the first cases were identified in China in December 2019.
---
1:45pm — Karachi, Pakistan — YDA protest at Civil Hospital over protection for medical staff
Doctors at Karachi's Civil Hospital over lack of security and protection provided to the doctors.
The protest came after a family of a coronavirus patient vandalised the hospital a day earlier.
The YDA said it would be difficult for them to perform their duties if doctors are continued to be harassed.
---
1:35pm — Lahore, Pakistan — Pakistan Railways to operate five more trains
Railways Minister Sheikh Rasheed Ahmed has said railways will operate an additional five trains in the country.
Rasheed added that railways had incurred a loss of Rs5 million in just 10 days.
---
1:10pm — Singapore, Singapore — Health ministry confirms 506 more cases
Singapore's health ministry said on Saturday it had confirmed 506 more coronavirus cases, making a total 34,366 infections.
The vast majority of the newly infected people are migrant workers living in dormitories, the ministry said in a statement.
---
Grease' kicks off Madrid summer nights at socially distanced drive-in cinema
A drive-in cinema in the Spanish capital launched its post-lockdown summer season with a blast of escapism in the form of the 1978 musical "Grease".
Conventional theatres and most other forms of indoor entertainment remain closed as Spain, one of the world's hardest-hit countries, gradually lifts coronavirus restrictions.
---
British scientific advisers warn it's too soon to lift lockdown
Two scientific advisers to the British government have warned that COVID-19 is still spreading too fast in the country to lift the lockdown, with one describing it as a political decision.
Jeremy Farrar, the director of the Wellcome Trust and a member of Britain's Scientific Advisory Group for Emergencies (SAGE), said he agreed with his colleague John Edmunds that "COVID-19 is spreading too fast to lift lockdown in England."
John Edmunds, from the London School of Hygiene & Tropical Medicine and a member of SAGE, said on Friday that "we are taking some risk here" with an "untested" test and trace system, describing it as a political decision.
---
Five worst-hit countries by COVID-19 
---
12:00pm — Skardu, Gilgit Baltistan – Schools to remain closed till July 15
The Gilgit Baltistan government on Saturday announced schools in the region will remain closed till July 15 due to the coronavirus pandemic.
According to the notification the decision also extends to private schools in the region as well.
---
11:45am — Bangkok, Thailand — Thailand reports one new case, no new deaths
Thailand reported one new coronavirus case on Saturday and no new deaths, taking the total number of infections to 3,077 as local transmission of the new virus appears to wane.
Local infections have significantly slowed and over the last two weeks, 43 of 52 new cases were Thais who had arrived from abroad, Panprapa added.
The coronavirus has killed 57 people in Thailand since it was first detected in January.
---
Seventeen healthcare workers die of coronavirus in Pakistan: report
The novel coronavirus has infected 1,904 healthcare workers in Pakistan and 17 have died since the outbreak first emerged, official data reveals.
In Sindh, 538 healthcare professional have tested positive for the coronavirus, and eight have died, a report by the ministry of national health services dated May 29 states.
Similarly, in Punjab, 341 healthcare workers have been infected to date. There have been no deaths in the healthcare sector.
However, the Punjab chapter of the Young Doctors Association, the largest union of doctors in the country, told Geo.tv that seven healthcare professional have died in the province.
Read more on this here.
---
11:20am — New Delhi, India — India reports biggest one-day spike with 7,964 cases, 265 deaths in 24 hours 
India reported its biggest spike in cases on Saturday after the country 7,964 new infections and 265 fatalities were reported in the last 24 hours.
With the latest jump, the total number of cases in the country has climbed to 1,73,763 with 4,971 succumbing to the deadly infection.
This was the second consecutive day that India has reported over 7,000 cases in a single day and eighth day when more than 6,000 patients were logged in 24 hours.
---
11:00am — Berlin, Germany — Confirmed coronavirus cases rise to 181,196
The number of confirmed coronavirus cases in Germany increased by 738 to 181,196, data from the Robert Koch Institute (RKI) for infectious diseases showed on Friday.
The reported death toll rose by 39 to 8,489, the tally showed.
---
VIDEO: Monkeys assault lab technician, snatch blood samples of virus-positive patients in India 
---
10:30am — Islamabad, Pakistan — Effective measures taken to contain COVID-19 spread: Chairman NDMA
Chairman National Disaster Management Authority, Lt Gen Muhammad Afzal has said that a committee will be constituted with the coordination of the provinces to check the facilities being provided to coronavirus patients in public sector hospitals, reported Radio Pakistan.
Speaking to a private news channel, he said effective measures have already been taken to contain the spread of Coronavirus pandemic.
The chairman asked the people to follow SOPs, maintain social distancing, avoid hand shake, stay at homes, wear masks and gloves which would help them in preventing themselves from the virus.
---
10:10am — Beijing, China — China reports four new coronavirus cases
China recorded four new confirmed cases of coronavirus up from none the day before, data from the country's health authority showed on Saturday.
All of the cases were imported, the National Health Commission (NHC) reported on its website.
The NHC also confirmed four new asymptomatic cases, compared to five the day before.
With no new deaths reported, the death toll remained at 4,634.
---
9:50am — Rio de Janeiro, Brazil — Death toll hits 27,878, surpassing hard-hit Spain
Brazil on Friday reached 27,878 coronavirus deaths, surpassing the toll of hard-hit Spain and making it the country with the fifth-highest number of fatalities.
Brazil, the epicentre of the South American coronavirus outbreak, saw 1,124 deaths in 24 hours, the Ministry of Health said.
It also had a record number of new cases — 26,928 in one day — bringing the total number of infections to 465,166.
---
WATCH: Danish football fans watch match from stands via Zoom
---
9:30am —  Islamabad, Pakistan — Death toll climbs to 1,395
Death toll from the novel coronavirus climbed to 1,395 after new deaths were reported across the country.
According to the national dashboard, 29 more deaths were reported in Punjab and one more in Azad Jammu and Kashmir during the last 24 hours.
---
9:30am — Islamabad, Pakistan  — Confirmed cases jump past 66,000
Confirmed cases in the country climbed to 66,457 after new cases were reported in Punjab, Islamabad and Azad Jammu and Kashmir (AJK).
According to the national dashboard 1,140 new cases were recorded in Punjab, 92 new cases in the federal capital and seven new cases in AJK.
---
9:10am — Islamabad, Pakistan — Minister of State for Narcotics Shehryar Afridi tests positive for virus 
---
US COVID-19 death toll rises to 102,798
---
8:40am — Washington, US — Trump says terminating US relationship with WHO over virus
US President Donald Trump has said he is terminating Washington's relationship with the World Health Organisation over its handling of the coronavirus, saying the WHO had essentially become a puppet organisation of China.
Appearing in the White House Rose Garden, Trump went ahead with repeated threats to eliminate American funding for the group, which amounts to hundreds of millions of dollars a year.
Trump said the WHO had failed to make reforms to the organisation that the president had demanded earlier this month. He said Chinese officials "ignored their reporting obligations" about the virus to the WHO and pressured the WHO to "mislead the world" when the virus was first discovered by Chinese authorities.
"China has total control over WHO despite only paying $40 million per year compared to what the United States has been paying which is approximately $450 million a year. We have detailed the reforms that it must make and engaged with them directly but they have refused to act," said Trump.
"Because they have failed to make the requested and greatly needed reforms, we will be today terminating our relationship with WHO and redirecting those funds to other worldwide and deserving urgent global public health needs," he said.
---
8:30am — New York, US — New York City on track to reopen on June 8, five upstate regions ready to enter phase two: governor
New York City is 'on track' to enter phase one of reopening on June 8, New York Governor Cuomo said on Friday as he announced that five upstate regions will now transition to phase two which includes businesses like barber shops and hair salons.
The most populous US city, which has become the epicenter of the country's coronavirus pandemic, was on track to meet all the metrics the state has set for a safe phased reopening, Cuomo said.
"We are on track to open on June 8," Cuomo told a daily briefing but warned that "reopening does not mean we're going back to the way things were."
---
8:20am — Cairo, Egypt — Egypt confirms new daily record of 1,289 new coronavirus cases
Egypt registered 1,289 new coronavirus cases and 34 deaths, the health ministry said, marking another record of daily increases on both counts despite stricter curfew rules.
That brought the total number of fatalities to 879 and confirmed cases to 22,082.
Infections rose this week during Eid-ul-Fitr celebrations, at the end of the Ramadan fasting month, despite the government bringing forward a coronavirus curfew.
---
11:59pm/May 29 — Zurich, Switzerland — WHO, 37 countries launch alliance to share tools to battle COVID-19
Thirty-seven countries and the World Health Organization (WHO) appealed on Friday for common ownership of vaccines, medicines and diagnostic tools to tackle the global coronavirus pandemic, taking aim at patent laws they fear could become a barrier to sharing crucial supplies, Reuters reported.
"Vaccines, tests, diagnostics, treatments and other key tools in the coronavirus response must be made universally available as global public goods," said Costa Rica President Carlos Alvarado.
The effort, originally proposed in March, aims to provide a one-stop shop for scientific knowledge, data and intellectual property amid a pandemic that has infected more than 5.8 million people and killed more than 360,000.
The WHO issued a "Solidarity Call to Action", asking other stakeholders to join the voluntary push.
"WHO recognises the important role that patents play in fuelling innovation but this is a time when people must take priority," WHO Director General Tedros Adhanom Ghebreyesus told an online news briefing.
---
10:25pm — Karachi, Pakistan — Domestic flights to see an increase due to 'smart lockdown': CAA
The Civil Aviation Authority has notified that the government has decided to increase domestic flight operations from 20-22% to 40-45% of the number in pre-COVID-19 days.
It said the decision was taken "due to growing business and public demand for air travel".
The authority said the move was also made factoring in the "smart lockdown" observed by the federal and provincial governments.
The "enhanced" operations shall begin June 1 and will cover Islamabad, Karachi, Lahore, Peshawar and Quetta.
---
09:37pm/May 29 — Karachi, Pakistan — 'I've tested negative for COVID-19': Seemin Jamali sets record straight
Amid media reports circulating about Jinnah Postgraduate Medical Centre (JPMC) Executive Director Seemin Jamali being ill, the doctor has clarified that she has tested negative for COVID-19.
"My corona test has come back negative. Thank God, I do not have coronavirus," said Jamali.