Coronavirus updates, June 4: Latest news on the COVID-19 pandemic from Pakistan and around the world
Nationwide confirmed cases jump past 89,000, death toll crosses 1,800; global death toll tops 385,000
Updated Thursday Jun 04 2020
The number of confirmed COVID-19 cases in Pakistan rose to 89,874 on Thursday after new infections were confirmed in the country.
The province-wise break up of the total number of cases as of 12:36am, June 4, is as follows:
Total confirmed cases: 89,874
• Sindh: 34,577
• Punjab: 33,144
• Khyber Pakhtunkhwa: 11,890
• Balochistan: 5,582
• Islamabad Capital Territory: 3,544
• Gilgit-Baltistan: 852
• AJK: 285
Deaths: 1,835
• Khyber Pakhtunkhwa: 521
• Punjab: 629
• Sindh: 575
• Balochistan: 53
• Gilgit-Baltistan: 12
• Islamabad Capital Territory: 38
• AJK: 7
More than 6.52 million people have been reported infected with the novel coronavirus globally and over 385,000 have died, according to a Reuters tally.
Read on for the latest updates from Pakistan and around the world.
---
Disclaimer: There may be some discrepancy in the number of confirmed cases reported at the country level due to differences in figures quoted by federal and provincial authorities.

Geo News is constantly gathering fresh information from concerned authorities and striving to keep our readers up to date with the most accurate information available.
---
Orange: General updates coming in from Pakistan

Red: Reports on new cases in Pakistan
Maroon: Reports on new deaths in Pakistan
Green: Reports on recovered patients in Pakistan
---
END OF LIVE UPDATES FOR JUNE 4
Live updates for June 5 to begin here.
---
12:36am (June 5) — Lahore, Pakistan — Punjab records 2,040 cases, 22 more deaths
The Punjab disaster management authority has reported a whopping 2,040 new cases diagnosed in the last 24 hours.
Twenty two people also died from the virus, taking the death toll to 629.

---
12:20am (June 5) — Quetta, Pakistan — Balochistan reports two more deaths, 228 new cases
The Balochistan health department has reported two more deaths, taking the grim total to 53.
The province also reported 228 more cases, taking the tally of infections to 5,582.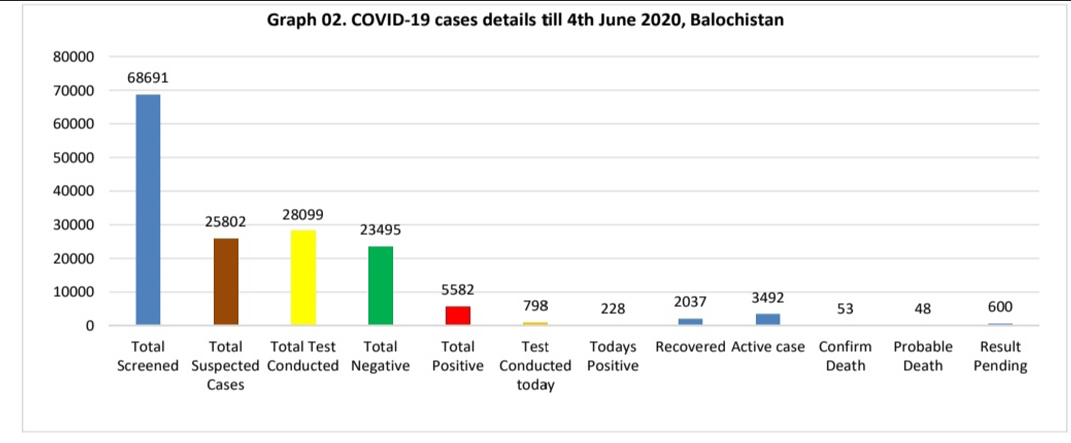 ---
11:57pm — Karachi, Pakistan — Animals, sellers to be tested for virus in Asia's 'biggest cattle market'

Aisa's biggest cattle market will be set up in Karachi, even as Pakistan's coronavirus cases surge, a spokesperson said assuring that SOPs will be followed.
"The cattle market will be named 'Cattle Festival 2020' and will be located on Super Highway," he said, adding: "No one will be allowed to enter the market without masks."
"Sellers and the animals will be screened [for the virus]," he added. 
---
11:50pm — Tehran, Iran — Most new virus cases since outbreak began
Iran announced 3,574 new coronavirus infections Thursday, the most in one day since the pandemic started, as authorities increase health warnings following a resurgence in recorded cases.
After hitting a near two-month low in early May, novel coronavirus infections have been on a rising trajectory in the Islamic republic, which is battling the Middle East's deadliest outbreak of the disease.
Thursday was the fourth straight day that the daily caseload had topped 3,000.
---
11:42pm — Paris, France — Govt to spend 1 billion euros to boost apprenticeships
The French government said it will launch a programme to boost apprenticeships in French companies to soften the impact of the coronavirus crisis on employment, Reuters reported.
Labour Minister Muriel Penicaud said state support for hiring apprentices under 18 years of age will be raised to 5,000 euros from 4,125 euros and for apprentices 18 years or over to 8,000 euros from 5,125 euros. A ministry source said the cost of the programme would be over 1 billion euros.
"Under this scheme, the cost of an apprentice will be virtually zero the first year for all recruitments between July 1 and Feb. 28, 2021," Penicaud said following a meeting with labour unions.
---
11:32pm — Karachi, Pakistan — Murtaza Wahab asks Centre to ramp-up efforts in curbing coronavirus
---
11:25pm — Islamabad, Pakistan — Dr Zafar Mirza discusses the country's response on COVID-19
---
11:15pm — Wall Street retreats after rallying on recovery optimism
The Nasdaq 100 index retreated from an intraday record high on Thursday, with the S&P 500 and Dow Jones indexes also slipping as a rally fueled by hopes of a post-coronavirus economic recovery fizzled out, Reuters reported.
Wall Street's main indexes had gained in early trading as US weekly jobless claims fell below 2 million for the first time since mid-March, bolstering optimism around a pickup in business activity as economies reopened.
American Airlines Group Inc surged 24.9% after revealing plans to fly more than 55% of its July 2019 domestic capacity and boost its U.S. flight schedule next month. The NYSE Arca airlines index jumped 8.2% to a near three-month high.
But nine of the 11 S&P 500 sectors were trading lower by midday, with the defensive real estate and utilities indexes leading declines.
"There's a belief the economy is going to reopen and when you partner that up with the liquidity provided by global central banks, now is a somewhat safe time to be investing in equities," said Robert Pavlik, chief investment strategist at SlateStone Wealth LLC in New York.
---
11:05pm — London, UK — Business minister Alok Sharma tests negative for COVID-19
British business minister Alok Sharma said he had tested negative for COVID-19, in a statement posted on Twitter a day after he had been taken ill inside parliament.

"Just had results in and my test for #COVID-19 was negative," Sharma tweeted.
"Huge thanks to everyone for their really kind messages over the last 24 hours and my grateful thanks also to the parliamentary authorities and Speaker for their support yesterday."
---
10:55pm — Islamabad, Pakistan — At least 10% passengers coming from abroad test positive for virus: Moeed Yusuf
Special Assistant to Prime Minister on National Security Moeed Yusuf said that at least 10% of the passengers landing in Pakistan test positive for coronavirus.
Yusuf, speaking in Geo News' programme Aaj Shahzeb Khanzada Kay Sath, said: "We can't bar Pakistani's from coming back to the country."
"The cases were coming from abroad when we halted flight operations," he said, adding: "Today the local transmission of COVID-19 cases stands at 93%."
---
10:42pm — Madrid, Spain — Questions arise over COVID-19 data, as deaths hit 27,133
Spain's overall death toll from the coronavirus edged higher, though discrepancies between regional and national data raised questions over the methodology used by the government to produce the tally, Reuters reported.

The ministry has stopped providing a daily death toll but reported a total of 27,133 deaths, five more than on Wednesday. Confirmed cases climbed by 195 from the previous day to 240,660.
Spain is implementing a new methodology for logging deaths and cases, leading to fluctuations in its statistics and frequent revisions of data, which officials say are likely to continue for some time.
Between Sunday and Tuesday the ministry's official death toll remained unchanged at 27,128 even though several regions reported new deaths.
Health Emergency Coordinator Fernando Simon attributed the discrepancy to regional authorities checking and modifying their past data.
Read complete story here.
---
10:35pm — Islamabad, Pakistan NDMA dispatches 126 ventilators,60 X-ray machines to hospitals across the country 
National Disaster Management Authority (NDMA) dispatched 126 ventilators and 60 X-ray machines to the federating units to help accommodating COVID-19 patients in their respective jurisdictions, APP reputed.
NDMA spokesman said the sent items, including, 63 ICU and same number of Bi-PAP ventilators, have been transported to the federating units.
10 each ICU and Bi-PAP ventilators to Lahore, Rawalpindi and six each ICU and Bi-PAP ventilators have been dispatched to Multan.
From the 16 ventilators sent to Sindh, 10 each (ICU,Bi-PAP) ventilators have been sent to Karachi and six each to Sukkur.
---
10:23pm — Ottawa, Canada — Wary Canadians start spending as COVID-19 restrictions ease, boosting economy
The Canadian economy is showing green shoots with reports on home sales, consumer spending and new job postings trending upwards after the coronavirus pandemic forced shutdowns and caused a record plunge in economic activity, Reuters reported.

The Bank of Canada held its key interest rate steady on Wednesday, noting the impact of COVID-19 appears to have peaked and saying it now expects the Canadian economy to resume growth in the third quarter.
The bank's more positive tone boosted the Canadian dollar to a three-month high against its U.S. counterpart on Wednesday, while Canada's main stock index has rebounded nearly 40% from its March low as investors bet on economic recovery.
Canada's 13 provinces and territories have been gradually reopening their economies in recent weeks, and while the pandemic continues to weigh heavily on economic activity, the picture is not as dire as it was even a few weeks ago.
Housing sales in Toronto, Canada's biggest city, jumped by 55% in May from April and the average selling price gained 4.6%, though sales and listings remained well below last year's levels. Bidding wars, too, have returned to hot neighborhoods.
Read the full story here.
---
10:11pm — London, UK — Britain to make face coverings compulsory on public transport
Face coverings will be compulsory for passengers on buses, trains, aircraft and ferries in England from June 15, Transport Secretary Grant Shapps said, Reuters reported.
"As of Monday 15th of June, face coverings will become mandatory on public transport," he told a daily COVID-19 news conference. "That doesn't mean surgical masks, which we must keep for clinical settings, it means the kind of face covering you can easily make at home.
"The evidence suggests that wearing face coverings offers some, albeit limited, protection, against the spread of the virus," he added.
---
10:00pm — Paris, France — Surplus wine to be transformed into hand sanitiser
French winemakers will transform wine that went unsold during the country's two-month coronavirus lockdown into hand sanitiser and ethanol to make room for the next harvest, a farming agency said, AFP reported.
Wine sales and exports, particularly to the US, plunged at the height of the coronavirus crisis, leaving winemakers with millions of litres of unsold wine.
"From tomorrow, 33 licensed distillers will be able to collect the wine and distil it," said Didier Josso, head of the wine branch in the farming agency FranceAgriMer, at a video press conference.
The alcohol resulting from the distillation is exclusively reserved for the pharmaceutical and cosmetic industry and the production of hand sanitiser, and for the production of ethanol.
---
---
9:54pm — Geneva, Switzerland —World must come together in solidarity to realise the power of vaccines: Dr Tedros
---
9:47pm — London, UK — COVID-19 death toll rises by 176 to 39,904, government says
 The United Kingdom's death toll from people who tested positive for COVID-19 has risen by 176 to 39,904, the government said, Reuters reported.
On Wednesday a separate tally of UK deaths using official data from England, Scotland, Wales and Northern Ireland, drawn mostly from death certificate data and including suspected cases, showed a total of more than 50,000 earlier.
---
9:40pm — Islamabad, Pakistan — DC refutes notification banning poultry amid coronavirus
---
9:21pm — Rawalpindi, Pakistan — RMU establishes telemedicine facility amid coronavirus
---
9:15pm — Peshawar, Pakistan — Coronavirus survivor urges people to follow precautionary measures
Wasim Riaz, a coronavirus survivor, in a video message said that he recovered after strictly implementing on the safety measures issued by the health department.
 "A few days back I tested positive for COVID-19 after which I went into self-isolation [...] Doctors were in contact with me and finally I have tested negative for the virus," he said.
"I urge people to flow precautionary measures, wash your hands frequently, wear masks, and don't go in crowded palces," he added.
---
9:00pm — Gilgit, Pakistan — GB's cases district-wise 
---
8:53pm — Gilgit, Pakistan — GB reports over 20 new infections
---
8:47pm — Islamabad, Pakistan — Centre plans to launch awareness campaign on COVID-19
Federal Minister for Planning, Development and Special Initiatives, Asad Umar said an effective media campaign would be launched across the country to spread awareness and to educate the masses for voluntary compliance of SOPs.
According to Radio Pakistan, Umar, chairing the meeting of National Command and Operation Centre, said there should be a clear message conveyed to the masses that the government is going to spearhead stringent actions to ensure social distancing and compliance of safety guidelines in public places and high-risk areas.
He said administrative actions would be initiated across the country against the violators of the standard operating procedures to contain the spread of COVID-19.      
---
8:41pm — Karachi, Pakistan — Sindh govt decides to test all passengers coming from abroad
The Sindh government has decided to test all the overseas passengers landing at Jinnah Terminal Karachi and keep them in quarantine as per Standard Operating Procedure (SOP).
Earlier, the provincial government's spokesperson Murtaza Wahab had said that at 123 passengers who landed in Karachi from Saudi Arabia tested positive for COVID-19.
"All these tests were conducted by the Sindh government and now have they started tracing the passengers to put them in isolation," a statement from the chief minister house said. 
---
8:35pm — Islamabad, Pakistan — PM Imran says health sector reforms to ensure quality services
Prime Minister Imran Khan said health sector reforms introduced by the government will help in improving health facilities, ensure quality services to people, and rectify the existing deficiencies, Radio Pakistan reported.
He was talking to a delegation of the Insaf Doctors Forum. They discussed the health sector reforms introduced by the government. The primer regretted that the health sector was ignored in the past due to which the common man is facing difficulties in access to health facilities.
PM Imran also paid rich tributes to doctors and healthcare staff in their fight against coronavirus.
---
8:29pm — London, UK — Firms cut borrowing again through BoE COVID facility
Bank of England lending to businesses affected by the coronavirus outbreak fell for a second week running, as the central bank revealed the list of companies using its facility for the first time since it launched in March, Reuters reported.
The BoE said its holdings of commercial paper - a form of short-term debt issued by large companies - dropped to 16.186 billion pounds ($20.32 billion) as of June 3 from 18.979 billion pounds the week before.
Holdings of commercial paper can fall if it matures and the company that issues it chooses not to refinance with the BoE.
The new data showed the BoE owned 1 billion pounds of commercial paper issued by German chemical giant BASF as of June 3, the most out of any company.
---
8:23pm — Kiev, Ukraine — Country may grant visa-free access to citizens of China, Australia, Arab states to boost tourism
Ukraine is considering cancelling its visa requirement for tourists from China, Australia, New Zealand and Arab states in order to attract more visitors once lockdowns ease and bring more money into the economy, Ukrainian president Volodymyr Zelenskiy said on Thursday.
The government expects the economy to shrink 12% in the second quarter after a 1.5% drop in the first quarter.
"It is necessary to liberalise the visa policy: if countries cancel visa requirements for Ukrainians who come to them, we will cancel for them too. We need to compete for tourists," Zelenskiy said.
According to the president's communications department, a foreign tourist usually spends $120-150 a day and stays in Ukraine for an average of three to four days. Around 14 million tourists visited Ukraine in 2018.
---
8:17pm — Lahore, Pakistan — CM Buzdar reaches Rahim Yar Khan to review coronavirus situation
---
8:11pm — Lahore, Pakistan — PHA to open parks from Friday
Parks and Horticulture Authority (PHA) Lahore announces to reopen parks for the public from Friday with SOPs.
Director General PHA Muzaffar Khan Sial said that parks would open between 6am and 9pm. "It is mandatory for people coming into parks to wear masks, gloves, and follow precautionary measures.
---
8:05pm — Peshawar, Pakistan — KP reports 21 deaths, 517 new cases
---
7:59pm — Plasma donor needed for an elderly patient
---
7:56pm — Rome, Italy — Borders reopen for travellers from Europe
---
7:50pm — Jakarta, Indonesia — Capital tentatively eases some coronavirus restrictions
The governor of Indonesia's capital announced the easing of some coronavirus restrictions though he warned that the fight against the outbreak was far from over in Southeast Asia's biggest city, Reuters reported.

Governor Anise Baswedan said from Friday some public transport could resume normal operations and houses of worship would reopen, though with restrictions. Restrictions on movement, in place since mid-April, would be extended.
"This is just a transition. Only when we're healthy, safe, and productive will we reach the end of our fight," Baswedan said in a video briefing.
Offices and malls would open in the city of more than 10 million people over the next two weeks, he said.
---
7:24pm — Dubai, UAE — Emirates, Etihad to resume transit flights after UAE lifts suspension
Emirates and Etihad Airways will resume some transit flights after the United Arab Emirates (UAE) lifted a suspension on services where passengers stop off in the country to change planes, or for refuelling.
Dubai's Emirates, one of the world's biggest long-haul airlines, said it would operate transit flights to 29 destinations in Asia, Europe and North America by June 15.
Abu Dhabi's Etihad, meanwhile, said it would carry transit passengers to 20 cities in Europe, Asia and Australia from June 10.
The suspension was lifted late on Wednesday for UAE carriers, more than two months after the Gulf Arab state halted all passenger flights in March as it introduced drastic measures to curb the spread of the new coronavirus.
---
7:18pm — George Floyd was infected with COVID-19, autopsy reveals
George Floyd, whose fatal encounter with Minneapolis police stirred a global outcry over racial bias by U.S. law enforcement, tested positive for the coronavirus, his autopsy showed, but the infection was not listed as a factor in his death.

The official cause of death, according to the full 20-page report made public on Wednesday by the Hennepin County Medical Examiner's Office, was cardiopulmonary arrest while Floyd was being restrained by police taking him into custody on May 25.
---
7:12pm — Beijing, China — Country eases flight curbs after United States targets its carriers
China will ease coronavirus restrictions to allow more foreign carriers to fly to the mainland, shortly after Washington vowed to bar Chinese airlines from flying to the United States due to Beijing's curbs on US airlines, Reuters reported.

Qualifying foreign carriers, about 95 of them currently barred from operating flights to China, will be allowed once-a-week flights into a city of their choosing starting on June 8, the Civil Aviation Administration of China (CAAC) said.
But considering some countries are still banning international flights, it estimated the number of international flights would increase by 50 to 150 per week while the average of passengers arriving per day would rise to 4,700, up from around 3,000 now.
The CAAC said all airlines will be allowed to increase the number of international flights involving China to two per week if no passengers on their flights test positive for COVID-19, the disease caused by the novel coronavirus, for three consecutive weeks.
If five or more passengers on one flight test positive for COVID-19 upon arrival, the CAAC will bar the airline from services for a week. Airlines would be suspended for four weeks if 10 passengers or more test positive.
---
7:06pm — Karachi, Pakistan — How can a lockdown be imposed in a city of 30 million people: Izharul Hassan
How can a lockdown be imposed in a city of 30 million people, MQM-P's Khawaja Izharul Hassan said while reacting to provincial health minister's speech.
Hassan, addressing a provincial assembly session, said: "Health minister's made a speech like she was campaigning for elections," adding: "How can a lockdown be imposed on people who live in a home of two rooms."
"You [health minister] did not shed light on the [coronavirus] policy, rather bashed federal government," he added.
---
7:00pm —  Berlin, EU — $2.7 billion fund to buy promising COVID-19 vaccines, say officials
The European Union is preparing to use an emergency 2.4-billion- euro ($2.7 billion) fund to make advance purchases of promising vaccines against the new coronavirus, EU officials told Reuters.
The EU rainy-day fund, known as the Emergency Support Instrument (ESI), would also be used to increase vaccine production capacity in Europe and offer liability insurance to pharmaceutical companies, officials said, confirming a Reuters report in May.
The EU's push follows moves from the United States to secure vaccines under development, including almost a third of the first 1 billion doses currently planned for AstraZeneca's (AZN.L) experimental COVID-19 shot.
An EU official said it was necessary to do as the United States was doing, even if this meant losing money as many of the vaccines under development are unlikely to be eventually successful.
The bloc is ready to take higher financial risks as it fears not otherwise having rapid access to a vaccine against the virus that has killed more than 385,000 people worldwide.
---
6:54pm — Peshawar, Pakistan — KP conducts 2,601 tests in a day

---
6:49pm — Dubai, UAE — As many as 659 new infections reported
The United Arab Emirates reported 659 new infections and three deaths from coronavirus, bumping the countrywide death toll to 273 and overall cases to 37,018, Geo News reported.
Meanwhile, 419 people recovered raising the total recoveries to 19,572.
---
6:43pm — Islamabad, Pakistan — Delay in issuing orders of doctors draws IHC's ire towards health ministry
The health ministry drew the Islamabad High Courts ire over the delay in issuing pending orders for the doctors and asked the health secretary to appear before it on June 12.
IHC Chief Justice Athar Minallah remarked that the health ministry was playing with the people lives and the court. He made the remarks while hearing a petition over a delay in issuing pending orders of the doctors amid the ongoing coronavirus pandemic.
During the hearing, the petitioner's lawyer contended that a section officer is above everyone in the ministry.
"Right now doctors are putting their lives on the line, why are you disturbing them during the coronavirus situation," the judge remarked during the hearing.
---
6:38pm — Madrid, Spain —  June 22 reopening of land borders still 'under study', source says
A Spanish government source said that a plan to reopen the country's land borders on June 22 is still being studied and will be discussed with France and Portugal, Reuters reported.
Portugal's Foreign Minister Augusto Santos Silva said he was "surprised" by the unilateral announcement of the land border reopening by Spanish Tourism Minister Reyes Maroto earlier.
Reversing Maroto's remarks, her ministry said in a statement that border controls could be extended beyond June 21 and international tourism would reopen on July 1.
---
6:32pm — India's urban COVID-19 outbreak is morphing into a rural health crisis
Rural parts of India have begun to see a surge in novel coronavirus infections, as millions of migrant workers returning from big cities and industrial hubs bring the virus home with them, according to data collected from seven Indian states.

Officials said the spike in cases was a fresh challenge for the country's health authorities, even as they struggle to check the outbreak in cities amid the easing of a months-long lockdown. Confirmed cases in India crossed the 200,000 mark on Wednesday. Some experts say that a peak remains weeks away.
Dr. Naman Shah, an epidemiologist and physician advising a federal government coronavirus task force, said rural outbreaks could be "devastating" given the inadequate number of doctors and health facilities.
"High levels of co-morbidity, high levels of under-nutrition and a weak health infrastructure, that's just the recipe for high mortality," said Shah, who is based in rural central India.
Read complete story here.
---
6:26pm — Islamabad, Pakistan — Special teams made for implementation of SOPs against virus: NCOC
The National Command and Operations Centre said on Thursday that special teams have been made for the implementation of the Standard Operating Procedures against the coronavirus as countrywide cases shockingly piled up third day in a row.
According to the NCOC, the spread of the virus can only be curbed due to the implementation of the SOPs.
The NCOC said that the teams will operate across all the provinces to ensure that the SOPs are being implemented, imposing a fine upon violation.
Read complete story here.
---
6:19pm — Karachi, Pakistan — GDA lawmaker slams PPP over coronavirus policy
Grand Democratic Alliance's Nusrat Sehar Abbasi said that if public hospitals in the province, as the health minister mentions, are up to the mark, then why are they taking help from private hospitals.
"Several [public] hospitals do not have ventilators and testing facilities," she said while addressing the provincial assembly's session.
Highlighting that there were "thousands of people" in the funeral of deceased PPP lawmaker Murtaza Baloch, she said that when the relative of a layman dies, the government prohibits them from even "seeing the deceased."
---
6:12pm — Karachi, Pakistan — Azra Pechuho says 19 labs in Sindh testing for COVID-19
Sindh Health Minister Dr Azra Pechuho said that 19 laboratories were testing for coronavirus in the province.
"For the treatment of patients, the provincial government has struck agreements with private hospitals," she said while addressing in the provincial assembly session.
"We have established a telehealth system," Pechuho said, adding: "The health department's staff has also been deployed at airports."
---
6:06pm — Karachi, Pakistan — MQM-P's Faisal Sabzwari testst positive for COVID-19
MQM-P's Faisal Sabzwari tested positive for coronavirus days after his daughters, wife, and parents tested positive.
"I have tested positive for coronavirus [...] I urge everyone to pray for my recovery," he said.
---
5:59pm — Ankara, Turkey — Flights to resume with 40 countries in June
Turkey plans to resume flights with around 40 countries in June and has reached preliminary agreements for reciprocal air travel with 15 countries, Transport Minister Adil Karaismailoglu said, Reuters reported.
Turkey largely sealed off its borders as part of measures to contain the coronavirus outbreak. Domestic flights resumed on Monday to some provinces as Ankara eased restrictions after a significant drop in infection rates.
Karaismailoglu said flights would resume in five stages in June, adding Turkey was in talks with 92 countries on resuming flights in a safe manner.
"We believe that we have left behind an important point in the battle against the virus globally. Now, we have to continue our global ties and trade," he said in a written statement.
Flights to Northern Cyprus, Bahrain, Bulgaria, Qatar and Greece will resume on June 10, he said. Flights to 17 destinations, including Germany, Austria, Croatia, and Singapore will restart on June 15. Flights to a further 16 countries will begin on June 20, 22 and 25, including to South Korea, Qatar, the Netherlands, Norway and Belgium, he added.
---
5:53pm — Administrations in Punjab take actions against SOPs violation
The district administration in Lahore taking action against violations of SOPs sealed at least 35 shops on Hall Road.
In addition, Deputy Commissioner Gujrat raided in several market across the city. He warned the traders that their shops would be sealed if SOPs were not followed.
Meanwhile, authorities in Faisalabad's Civil Lines area, taking action against violation of SOPs took out air from tires motorcycles and rickshaws.
---
5:46pm — Dublin, Ireland — Country seeks health officials' backing to speed up reopening plan
Ireland's government has proposed speeding up the reopening of parts of its economy to the country's top health officials and will make a decision, Prime Minister Leo Varadkar said, Reuters reported.
Ireland is set next week to enter the second of five phases that constitute one of Europe's most conservative plans to roll back a coronavirus lockdown. Hairdressers and hotels are not due to open until the fourth phase in late July, with pubs to follow in the final phase on Aug. 10.
"We have made proposals to the CMO (Chief Medical Officer) about bringing things forward from phase four to three and three to two. NPHET (Ireland's National Public Health Emergency Team) is considering those proposals and government will make a decision on that on Friday morning," Varadkar told parliament.
---
A million beers await drinkers as Europe's bars reopen
 As bars across Europe gradually reopen, up to a million free or pre-paid beers are waiting to lure back wary consumers.

Beer makers from global giant Anheuser-Busch InBev to smaller craft brewers have set up schemes for consumers to buy drinks in advance to support shuttered bars with, in some cases, the reward of free beer when the doors reopen.
AB InBev launched its first scheme "Cafe Courage" in Belgium and has since sold over 200,000 Stella Artois, Jupiler and other brands. It also started similar schemes in 20 other markets across Europe and from Brazil to Hong Kong, raising over $6 million for pubs, bars and restaurants.
World number two Heineken put the number of drinks sold through its various voucher schemes at 270,000.
Now the bars are opening, consumers have had their first chance to redeem coupons or vouchers.
Read complete story here.
---
5:35pm — London, UK — Virgin Atlantic says to restart some flights on July 20
Virgin Atlantic said it would restart some flights that have been grounded by the COVID-19 pandemic on July 20 and aimed to restore further services in August, Reuters reported.
The airline said that services to Orlando and Hong Kong from London Heathrow would resume on July 20, with flights to New York JFK, Los Angeles, and Shanghai set to restart on July 21.
---
05:06pm — Geneva, Switzerland — WHO resumes trials on controversial drug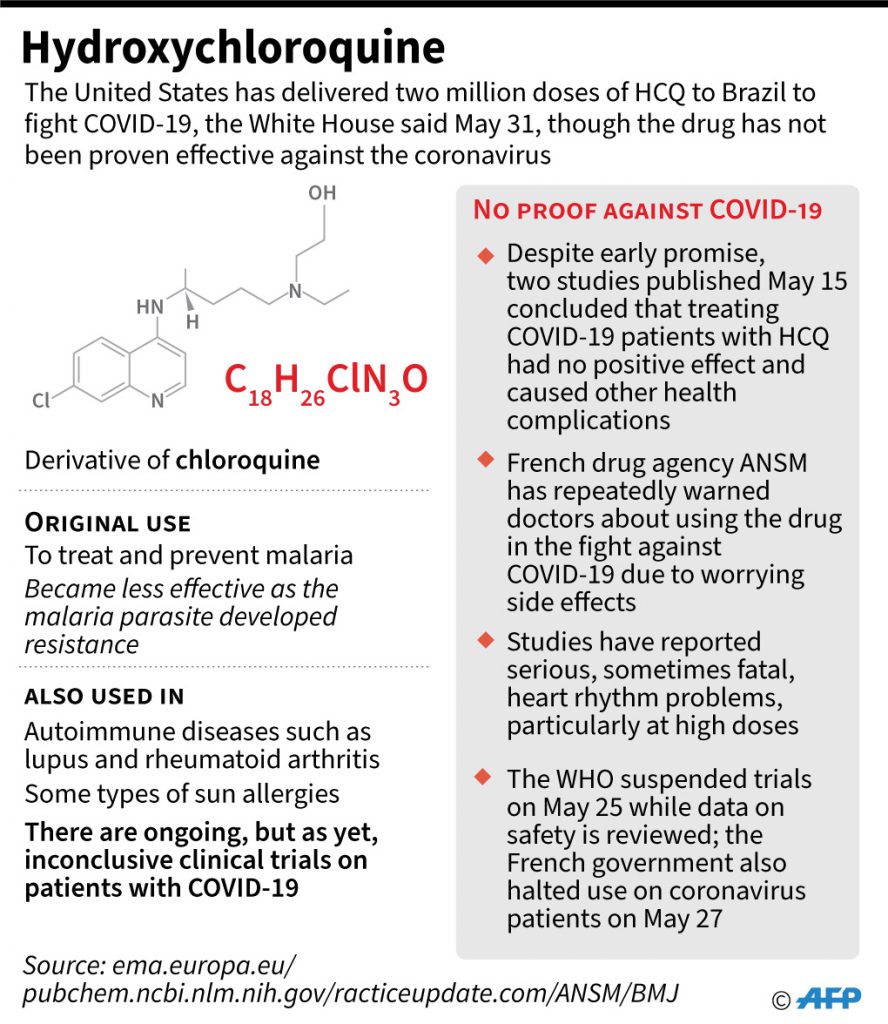 The World Health Organisation has said it will resume using a controversial drug in coronavirus trials.
The WHO has been holding clinical trials to find a treatment for COVID-19, which has killed more than 380,000 people and wrought vast economic damage since emerging in China late last year.
The UN agency paused trials of the drug hydroxychloroquine last week, citing a study in The Lancet medical journal that suggested it could increase the risk of death among COVID-19 patients.
But that study has come in for a steady stream of criticism, with even The Lancet now issuing an "expression of concern" to acknowledge the seriousness of the questions raised.
---
04:34pm — Karachi, Pakistan — 'Do not step out without a mask', Sindh chief minister warns

In a statement released by the Chief Minister House Sindh, Chief Minister Murad Ali Shah has urged people to wear masks when stepping out.
"Do not step out of your homes without a mask," he said.

---
4:00pm — Karachi, Pakistan — Sindh reports 1,667 new cases, 20 more deaths
Confirmed cases in the country jumped past 86,000 on Thursday after new cases were detected in Sindh.
According to Sindh Chief Minister Murad Ali Shah 1,667 cases were reported in the province in the past 24 hours taking the provincial tally to 34,577.
He added that 20 people have lost their lives as well. "The death from the virus in the province now stands at 575," Shah said.
The chief minister added 366 patients were in a critical condition in the province while 66 of them were on a ventilator.
"16,782 patents have recovered in the province so far," he added.
---
3:45pm — Moscow, Russia — Russia gets more US ventilators as cases climb
A planeload of 150 ventilators arrived in Russia from the United States on Thursday, Washington's embassy in Moscow said, to help fight the novel coronavirus in further medical aid collaboration between the two politically-estranged nations.
US Embassy Spokeswoman Rebecca Ross described the latest assistance as a "humanitarian aid delivery from the American people to the people of Russia".
The 200 ventilators delivered in total were part of a donation worth $5.6 million, she said.
"These US-made ventilators are the highest quality in the world, manufactured to meet local technical specifications, complete with Russian language instructions and ready to use," Ross wrote on Twitter
---
3:30pm — New Delhi, India — Top Indian bureaucrats hit by coronavirus
A top Indian civilian defence official has tested positive for coronavirus and is in-home quarantine, government officials said on Thursday, as the daily rise in infections hits a new high.
Defence Secretary Ajay Kumar is the highest-ranking official to have tested positive for the virus that has also affected officials in the finance, foreign and law ministries based in a sprawling set of buildings in central Delhi.
About three dozen staff in the defence, finance and law ministries that came in contact with infected staff have been advised to go on mandatory quarantine, the officials said.
"We have asked some of them to go on a compulsory 14-day home quarantine, then they will have to get tested before joining back," one official said. 
---
3:15pm — Karachi, Pakistan — Govt to take strict action against transporters violating SOPs: Awais Shah
Sindh Transport Minister Awais Shah has said the government will take strict action against transporters violating SOPs issued by the government.
"We are getting complaints that transporters are not following the guidelines issues," Shah said.
He also urged the public to follow the safety precautions put forward. "I appeal to the public to follow the SOPs and wear face masks," he added.
---
3:00pm — Jakarta, Indonesia — Indonesia reports 585 new coronavirus infections, 23 deaths
Indonesia reported 585 new coronavirus infections on Thursday, taking the number of confirmed cases in the Southeast Asian country to 28,818.
There were 23 new deaths, with coronavirus fatalities now at 1,721 since the outbreak started, said Achmad Yurianto, a health ministry official.
---
Robot dog hounds Thai shoppers to keep hands virus-free
---
2:25pm — Karachi, Pakistan— 123 passengers who arrived from Saudi Arabia test positive
---
Global coronavirus cases cross 6.52 million, death toll over 385,371
More than 6.52 million people have been reported infected with the new coronavirus globally and 385,371 have died, a Reuters tally showed.
Infections have been reported in more than 210 countries and territories since the first cases were identified in China last December.
---
1:40pm — Islamabad, Pakistan — Several markets to shut down over violation of SOPs
Several markets across the country will be shut down after they were found to be violating Standard Operating Procedures (SOPs) put out by the government to stem the spread of the virus.
According to Special Assistant to PM on Political Communication Dr Shahbaz Gill, the markets are in violation of the SOPs.
"An operation in this regard has been initiated in Punjab and Khyber Pakhtunkhwa," he said.
---
Is COVID-19 worse in the winter?
---
1:25pm — Karachi, Pakistan — Will not reopen schools on School Association's call: Sindh education minister
Sindh Education Minister Saeed Ghani has said the provincial government will not reopen schools on the call of the School Association.
Speaking to Geo News, the education minister said action will be taken against those school which reopen. "Under no circumstances will we take a chance on our children's health," he said.
"This is why we asked the parents to pay the school fees so that teachers can be paid salaries," he said. "Till the situation is not better, we will not reopen schools." 
---
1:10pm — Dubai, UAE — UAE to resume transit flights at its airports
The government of the United Arab Emirates said on Thursday the Gulf state would resume transit flights after suspending them in March.
The government did not say exactly when transit flights would resume in its announcement on Twitter.
---
COVID-19 new cases in the past week
---
12:55pm — Karachi, Pakistan —'Mixed messages', not public, to blame for violation of COVID-19 SOPs: CM Shah
Sindh Chief Minister Sindh Murad Ali Shah has blamed 'mixed messages' from the Centre and not the public, for the violation of COVID-19 SOPs across the country.
Speaking to media outside the NAB Rawalpindi office, Shah said that mixed signals had been sent regarding the coronavirus which had claimed more than a thousand lives across Pakistan.
"The entire world and our country are going through a trial at the moment," he said. "SOPs are not being followed at a lot of places and I will not blame the public for it. This is because of the mixed signals being sent to people. One person says it [COVID-19] is a dangerous disease while another says it is just flu, you will be fine after suffering a cold," he said.
Read the full story here.
---
12:35pm — Karachi, Pakistan — 42 beds HDU Ward established at Civil Hospital
---
Confirmed COVID-19 cases in the world 
---
12:00pm — Lahore, Punjab — Govt to take strict action against those not following SOPs
The Punjab government on Thursday announced it will take strict against those businesses which are not adhering to the government's guidelines regarding the coronavirus.
"Markets that do not follow the guidelines will now be forced to close. We try not to let coronavirus affect businesses, but the irresponsible behaviour of some people is forcing us to make tough decisions," the provincial government spokesperson tweeted.
---
11:45am — Bangkok, Thailand — Thailand reports 17 new coronavirus cases, no new deaths
Thailand reported 17 new coronavirus cases on Thursday and no new deaths, taking the total number of infections to 3,101, of which 58 were fatalities.
The new cases were Thai nationals in quarantine who recently returned from the Middle East, including 13 from Kuwait alone, said Taweesin Wisanuyothin, a spokesman for the government's COVID-19 Administration Centre.
---
Canada contributes $850,000 as response to Pakistan govt's COVID-19 Preparedness and Response Plan
---
11:25am — Wellington, New Zealand — NZ says July likely too early to resume travel with Australia
New Zealand rejected calls by business leaders on Thursday to restart flights to Australia within a month as too short a timeframe.
Foreign Minister Winston Peters said no plans had been agreed as the two countries continue to work on a blueprint to resume travel, adding that date "was too early."
New Zealand Prime Minister Jacinda Ardern said earlier this month that September was a more realistic date for the resumption of flights.
"It will be over to the Australians more than us because they have got the federal system and they are still not flying interstate," Peters told reporters. He added it was unlikely the first flights would be the Wellington-Canberra route, given there were more populated cities in each country.
---
Some may need debt restructuring, not just freeze: IMF chief
Some of the world's poorest countries and emerging market economies may need to restructure their debt in the future, the head of the International Monetary Fund (IMF) said, adding that simply freezing debt payments might not suffice.
IMF Managing Director Kristalina Georgieva said some emerging market countries that pursued prudent and sustainable debt policies were weathering the coronavirus crisis better than others, but a small universe of countries with high debt burdens would likely need help going forward.
She said the Fund had disbursed about $260 billion of its $1 trillion in lending power at this point, with emergency financing provided thus far to 63 of 103 countries that had asked for help since early March.
---
10:45am — Berlin, Germany — Confirmed cases rise to 182,764
The number of confirmed coronavirus cases in Germany increased by 394 to 182,764, data from the Robert Koch Institute (RKI) for infectious diseases showed on Thursday.
The death toll rose by 30 to 8,581, the tally showed.
---
NIH starts virtual training CDA Hospital in Islamabad on COVID-19 prevention
---
10:30am — New Delhi, India — India's death toll from virus climbs to 6,000
Confirmed cases in India climbed crossed 200,000 after a record number of 9,304 people tested positive for the virus, reported NDTV.
The total cases in the country stands at 2,16,919, including 6,075 deaths, data from the Union Health Ministry shows.
---
10:10am — Islamabad, Pakistan — Pakistan reports most number of cases over 24 hours
Pakistan on Thursday reported another record number of cases with 4,688 new cases recorded in the country over the last 24 hours.
The country also recorded 82 deaths compared to 67 deaths recorded on Wednesday.
The number of tests conducted in the country so far are 20,167 with 20,000 per day sampling.
---
9:30am — Islamabad, Pakistan —  Nationwide death toll climbs to 1,770
Death toll from the novel coronavirus climbed to 1,770 after more deaths were reported in the federal capital.
According to the national dashboard, four more deaths were reported in Islamabad in the last 24 hours to take the city's tally to 38.
---
9:30am — Islamabad, Pakistan — Islamabad reports 356 new cases
Confirmed cases in the country jump past 85,000 on Thursday after new cases were detected in Islamabad.
According to the national dashboard, 356 new cases were recorded in the federal capital in the last 24 hours, taking the tally to 3,544 in the city.
One more case was also recorded in Azad Jammu and Kashmir taking the region's tally to 285.