Coronavirus updates, June 16: Latest news on the COVID-19 pandemic from Pakistan and around the world
Nationwide confirmed cases jump past 151,000, death toll surpasses 2,800; global death toll tops 436,000
Updated Tuesday Jun 16 2020
The number of confirmed COVID-19 cases in Pakistan rose to 154,335 on Tuesday after new infections were confirmed in the country.
The province-wise break up of the total number of cases as of 11:32pm, June 16, is as follows:
Total confirmed cases: 154,335
• Sindh: 57,868
• Punjab: 58,239
• Khyber Pakhtunkhwa: 19,107
• Balochistan: 8,437
• Islamabad Capital Territory: 8,857
• Gilgit-Baltistan: 1,143
• AJK: 663
Deaths: 2,968
• Punjab: 1,149
• Sindh: 886
• Khyber Pakhtunkhwa: 731
• Balochistan: 89
• Islamabad Capital Territory: 83
• Gilgit-Baltistan: 17
• AJK: 13
More than 8.06 million people have been reported infected with the novel coronavirus globally and over 436,000 have died, according to an Reuters tally.
Read on for the latest updates from Pakistan and around the world.
---
Disclaimer: There may be some discrepancy in the number of confirmed cases reported at the country level due to differences in figures quoted by federal and provincial authorities.

Geo News is constantly gathering fresh information from concerned authorities and striving to keep our readers up to date with the most accurate information available.
---
Orange: General updates coming in from Pakistan

Red: Reports on new cases in Pakistan
Maroon: Reports on new deaths in Pakistan
Green: Reports on recovered patients in Pakistan
---
END OF LIVE UPDATES FOR JUNE 16
Live updates for June 17 to begin here.
---
11:56pm — Riyadh, Saudi Arabia — Infections rise to 136,315
Saudi Arabia recorded 41 more coronavirus deaths, taking the death toll to 1,052, Arab News reported.
The figures announced Monday by the Saudi health ministry showed the total number of confirmed coronavirus cases in the Kingdom has reached 136,315.

---
11:47pm — Islamabad, Pakistan — Authorities seal as many as 18 shops over violating SOPs 
---
11:43pm — Paris, France — France's COVID tracing app hard to link to others, EU official says
A coronavirus contact tracing app being introduced in France may not be able to connect with others across the European Union because it stores data centrally, EU Commission vice-president Margrethe Vestager said, Reuters reported.
The EU has been hoping that apps developed by member states to track infections will be able to link up when people move within the bloc, mapping the virus's spread better and so creating more security for a revival of travel and tourism. Member states agreed technical standards for this on Tuesday.
But France's approach, which allows central location tracking but has also raised privacy concerns, differs from that of Germany, Italy and others, which log contacts by Bluetooth signal on individual smartphones only.
"It's somewhat more tricky to develop the technical standards for interoperability between decentralised systems, as I think will be the general rule, and the centralised system that France has been aiming for," Vestager told the French parliament in a videoconference.
---
11:32pm — Lahore, Pakistan — Punjab reports 2,361 new infections and 68 deaths
---
11:27pm — Gilgit, Pakistan — GB imposes complete lockdown from June 17-21
Deputy Commisioner Gilgit-Baltistan said that a complete lockdown will be imposed in the district from 17-21 June.
"All the markets, business centers, and transports will reamin closed," he said, adding that shops of basic neccesisties will remain open.
"People should cooperate and refrain from leaving ther homes," he addded.
---
11:22pm — Washington, US — US bank profits plunge 70% on coronavirus loss provisioning
US bank profits fell by 69.6% to $18.5 billion in the first quarter of 2020 from the year prior as banks felt the economic impact of the novel coronavirus pandemic, according to data from a banking regulator.
The Federal Deposit Insurance Corporation reported that "deteriorating economic activity" caused lenders to write off delinquent debt and set aside billions of dollars to guard against future losses. Over half of all banks reported a profit decline, and 7.3% of lenders were unprofitable.
The new report, the first government survey of the industry since the pandemic shut down large parts of the economy, shows banks set aside $38.8 billion to cover potential loan losses in the future, up nearly 280% from the year prior. The amount of loans banks charged off as delinquent was up nearly 15%, driven by an 87% increase in charge-offs for commercial and industrial loans.
The amount of non-current loans rose 7.3% from the previous quarter, the biggest increase since 2010.
---
11:16pm — Quetta, Pakistan — Balochistan's cases at a glance

---
11:12pm — Islamabad, Pakistan — ICT's recovery rate reaches 35%
Islamabad's recovery rate reached 35% after 402 people recovered from the virus.

---
11:02pm — Gilgit, Pakistan — GB's cases at a glance
---
10:55pm — Gilgit, Pakistan — GB reports 21 infections
---
10:45pm  — Karachi, Pakistan — Dr Atta calls for a complete lockdown of virus hotspots
Chairman Prime Minister's coronavirus task force Dr Atta-ur-Rahman said that the actual number of patients have not been identified as random testing has not taken place.
Speaking in Geo News' programme "Aaj Shahzeb Khanzada Kay Sath" he said that the identified hotspots should be put under complete lockdown to stem coronaviurs.
"Coronavirus will spread, it will not stop [...] The numbers might surpass Asad Umar's numers," he said.
The scientist said that the areas where the virus is spreading should be sealed completely.
---
10:30pm — Airlines ban alcohol in response to coronavirus
---
9:59pm — Beijing, China — Education commission shuts city schools again over new virus outbreak
Beijing's education commission ordered the closure of the capital's schools again following a new outbreak of the coronavirus in the city of 21 million people.
The commission said on its WeChat social media account that all schools would resume online teaching from Wednesday and universities should also suspend the return of students.
---
9:48pm — Quetta, Pakistan — Balochistan reports four deaths, 110 new infections 
---
9:42pm — Mardan, Pakistan — Five neighbourhoods to be sealed tomorrow monrning
The deputy commisioner Mardan said that starting tomorrow morning five areas in the city would be placed under smart lockdown.
The government offical said that Dosehra Chowk, Jan Abad, Takht Bhai, tehsil road katlang, and sector A of Sheikh Maltoon Town will be placed under smart lockdown.
---
9:36pm — Copenhagen, Denmark — Black Lives Matter protester was infected with coronavirus, health minister says
Denmark's health minister urged people who took part in a large Black Lives Matter demonstration in Copenhagen to get tested for COVID-19 after one protester tested positive, Reuters reported.
Around 15,000 people took to the streets in Copenhagen on June 7 to protest against racism and police brutality, spurred by the killing of black US citizen George Floyd by a Minnesota police officer.
---
9:30pm — Peshawar, Pakistan — NDMA chairperson meets CM and governor KP to discuss coronavirus
---
9:06pm — Islamabad, Pakistan — ICT's cases at a glance
---
9:00pm — Brasilia, Brazil — WHO Americas director says COVID-19 pandemic still accelerating in the region
The World Health Organisation's regional director for the Americas Carissa Etienne said that the region is fast approaching 4 million cases of coronavirus and the pandemic continues to accelerate, Reuters reported.
Speaking in a virtual briefing from Washington-based Pan American Health Organisation, Etienne said Brazil accounts for 23% of the more than 3.8 million cases in the Americas and 23% of the almost 204,000 deaths in the region and "we are not seeing transmission slowing down."
---
8:54pm — Ottawa, Canada — Income support extended by 8 weeks, US border to remain closed, says Trudeau 
Canada will extend by eight weeks federal income support for those who lost their jobs amid the COVID-19 outbreak, and the border with the United States will remain closed to non-essential travel, the prime minister said, Reuters reported.
The Canada Emergency Response Benefit (CERB) had been put in place for those eligible for a maximum of 16 weeks, which meant that some people would have seen their benefits expire as soon as July.
Separately, Prime Minister Justin Trudeau said in a news conference that the US border restrictions would remain in place until July 21, confirming a Reuters story published last week.
---
8:48pm — Paris, France — French nurse: We cared for COVID patients, who will care for us? 
At the peak of the COVID-19 crisis in France, 29-year-old nurse Justine Debrie volunteered to work in a hospital coronavirus unit. Now she wants to know how the French state is going to recognise her sacrifice, Reuters reported.

"I don't know if the public really understood us," she said in her studio apartment in Paris, the day after completing a 12-hour shift in the Robert Debre children's hospital.
"We give them care, and we'll need care too, sooner or later. We're human beings too," she said.
On Tuesday, dressed in her hospital scrubs and carrying a sign she painted at her apartment, Debrie met up with colleagues outside her hospital and together they marched towards the health ministry headquarters.
They were protesting for better wages and working conditions from the French government.
Read complete story here.
---
8:42pm — Washington, US — Hilary Clinton urges people to follow 'FDA, not the president' as the institute pulls emergency authorisation for hydroxychloroquine
---
8:36pm — Heart disease, diabetes significantly raise risk of hospitalisation, death from COVID-19: US study
People with underlying health conditions such as heart disease and diabetes are six times more likely to be hospitalised with COVID-19 and have a risk of coronavirus-related death 12 times higher than otherwise healthy individuals, a US study found.
Men were more likely than women to have bad outcomes, and the prevalence of hospitalisations and deaths were highest among patients aged 70 years and older, according to a US Centers for Disease Control and Prevention (CDC) report that confirmed similar reports from outbreak hotspots in recent months.
"These findings are consistent with previous reports that found that severe outcomes increased with age and underlying condition, and males were hospitalised at a higher rate than were females," the CDC wrote in its report issued on Monday.
By analysing data from over 1.3 million COVID-19 patients between January 22 to May 30, the CDC found that the most prevalent underlying health conditions in more severe cases were cardiovascular disease, diabetes and chronic lung disease.
About 45% of patients who had underlying health conditions were hospitalised, compared with 7.6% of those without such chronic health issues. Death due to COVID-19 was reported in 19.5% of patients with health complications, compared with 1.6% of people who did not suffer from chronic illnesses.
---
8:30pm — Beijing, China — City government raises COVID-19 emergency response level to II from III
Beijing's city government raised its COVID-19 emergency response level to II from III, according to state media.
The Chinese capital has been battling with a fresh outbreak of the new coronavirus, with more than a 100 new cases confirmed in recent days.
---
8:24pm — Karachi, Pakistan — Sindh's cases at a glance
---
8:18pm — Kuwait and Bahrain urged to abandon 'highly invasive' coronavirus apps
Kuwait and Bahrain must stop using "highly invasive" COVID-19 apps which violate the privacy of hundreds of thousands of people by tracking them almost in real time, Amnesty International said.
The human rights group also slammed a Norwegian app, which health authorities said they would stop using on Monday after the country's data protection watchdog cited privacy concerns given the low spread of the new coronavirus.
"Authorities are essentially able to see movements in real time of anybody who has the apps installed," Claudio Guarnieri, head of Amnesty's Security Lab, which focuses on digital threats, told the Thomson Reuters Foundation.
"They would be able to tell where you are, who you are meeting, where you live, where you work ... or whatever it is that might tell something about you," he said, adding such information was open to abuse.
---
8:12pm — Washington, US — America narrows list of promising COVID-19 vaccine candidates to about seven
US President Donald Trump's administration is narrowing its list of promising experimental coronavirus vaccines to about seven from 14, the US Department of Health and Human Services said, Reuters reported.
The announcement is part of the administration's "Operation Warp Speed", the White House program to accelerate coronavirus vaccine development.
The New York Times reported earlier this month that the White House had selected five companies, including Moderna Inc, AstraZeneca Plc and Pfizer Inc, as the most likely candidates to produce a vaccine for the novel coronavirus.
---
8:06pm — London, UK — Death toll from confirmed coronavirus cases rises by 233 to 41,969
The United Kingdom death toll from confirmed cases of COVID-19 rose by 233 to 41,969, according to government data released, Reuters reported.
Earlier, a Reuters tally of official sources showed a toll of 53,077, taking into account cases where COVID-19 was mentioned on death certificates in England, Wales and Northern Ireland up to June 5, and up to June 7 in Scotland. 
---
8:00pm — Peshawar, Pakistan — KP adds 32 ventilators and 144 HDU beds for coronavirus patients
---
7:52pm — Zurich, Switzerland — Swiss economy expected to shrink by worst rate in decades
Switzerland's economy will suffer its worst downturn in decades during 2020 as the coronavirus pandemic damages output and jobs, the government said, but the downturn will be less severe than initially feared, Reuters reported.

Swiss gross domestic product will fall 6.2% this year, the State Secretariat for Economic Affairs (SECO) said, the worst downturn since 1975, when the country was hit by the aftermath of the oil price shocks.
Unemployment is forecast to rise to 3.8% this year, as foreign trade suffers, consumer spending shrinks and companies emerge slowly from shutdowns imposed to halt the spread of the COVID-19 virus.
Still, the forecast was a slight improvement from the 6.7% downturn in GDP foreseen by the Swiss government's economists in their April statement, and compares favourably with other European countries.
---
7:45pm — Abu Dhabi, UAE — 346 new infections reported
---
7:40pm — Islamabad, Pakistan — Pakistan cannot sustain complete lockdown: information minister 
---
7:32pm — Madrid, Spain — Spain may quarantine British tourists
Spain is considering imposing a quarantine on British travellers when it reopens its borders next week, in response to a similar policy at London's end, its foreign minister said.

Arancha Gonzalez Laya told the BBC she hoped Britain would lift its restriction, making a reciprocal Spanish one unnecessary.
"We will be in a dialogue with the UK to see whether or not we should be introducing reciprocity as they have different measures than the rest of the European Union," she said in an advance excerpt from current affairs programme HARDtalk.
Spanish Tourism Minister Reyes Maroto said the two countries would take a decision in their mutual interest in coming days.
Britons account for more than a fifth of the roughly 80 million tourists Spain receives every year.
---
7:26pm — Vienna, Austria — Stimulus package brings coronavirus measures to 50 billion euros
Austria's conservative-led government approved a fresh stimulus package on Tuesday that it said boosts the sum of its coronavirus-related economic measures to some 50 billion euros ($56 billion) and will further swell its debt pile, Reuters reported.
The new package consists of measures that were largely announced over the weekend, including a one-off top-up payment to unemployment benefits of 450 euros spread over three months, cutting the lowest income tax bracket to 20% from 25%, and a tax break for company investments of up to 14%.
It comes on top of 38 billion euros, or about 9.5% of last year's economic output, in aid for companies and workers first announced in March. After conflicting totals for the new package were announced, Chancellor Sebastian Kurz said it amounted to roughly 12 billion euros.
"We are returning towards normality faster than many other countries but it is still necessary to provide help...and to provide stimulus for growth so that the economy can bounce back as soon as possible," Kurz told a news conference.
---
7:20pm — London, UK — Dexamethasone hailed as 'major breakthrough' in COVID-19 treatment
Data from an ongoing trial showed Tuesday that administering low doses of dexamethasone, a generic steroid drug, to patients admitted to hospital with coronavirus reduced death rates by around a third among those with the most severe cases of infection.
The results, described as a "major breakthrough" by scientists leading the UK-led clinical trial known as RECOVERY, suggest the drug should immediately become standard care in patients treated in hospital with the coronavirus disease, the researchers said.
"This is a result that shows that if patients who have COVID-19 and are on ventilators or are on oxygen are given dexamethasone, it will save lives, and it will do so at a remarkably low cost," said Martin Landray, an Oxford University professor who is co-leading the trial.
Read complete story here.
---
7:13pm — Under 20s half as likely to contract COVID-19, new study finds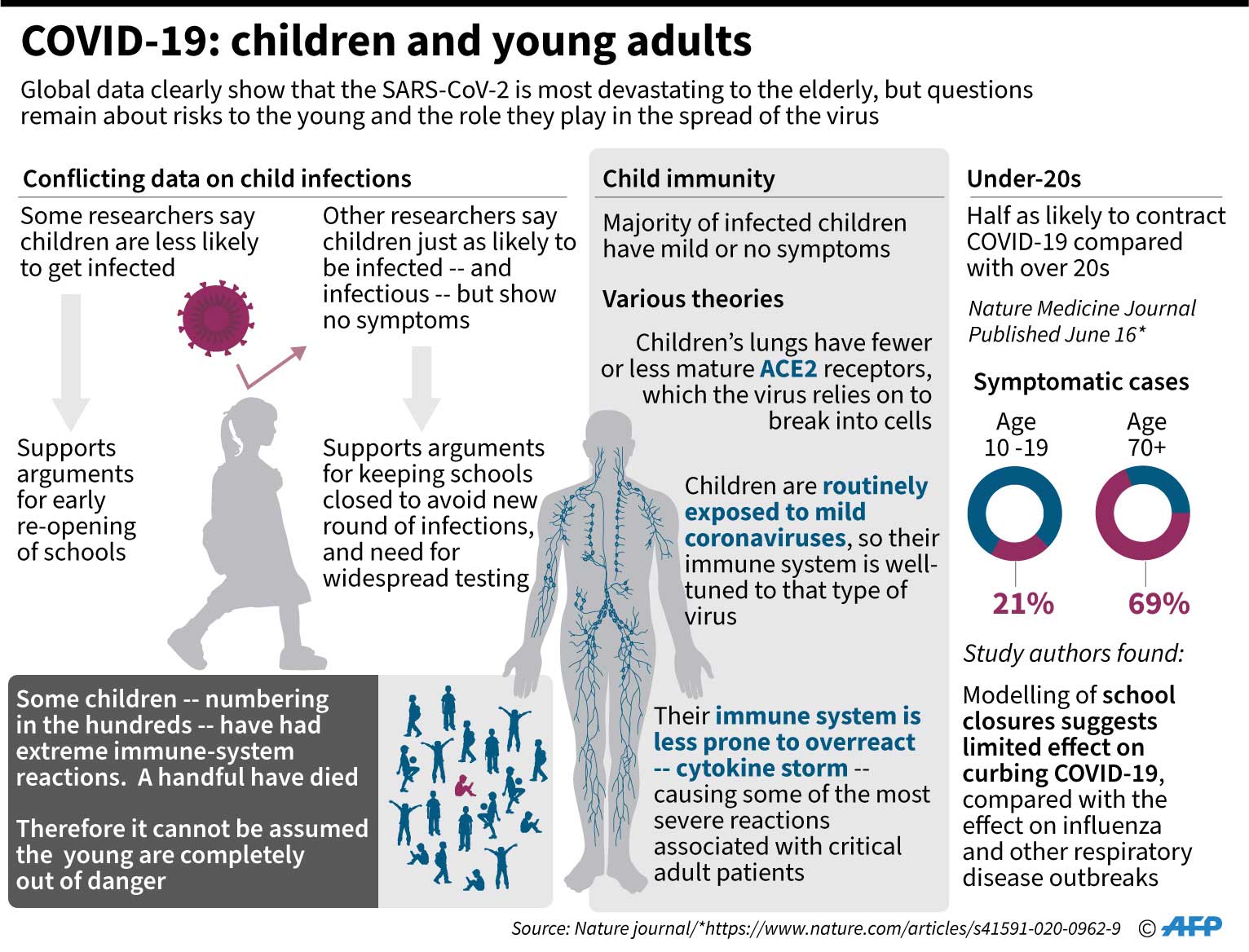 ---
6:49pm — Tehran, Iran — Virus deaths cross 9,000
---
6:41pm — Peshawar, Pakistan — KP reports 24 deaths, 635 new infections
---
6:35pm — Hyderabad, Pakistan — Plan to impose smart lockdown sent to provincial government
Deputy Commissioner Hyderabad said that a proposal consisting of 90 potential virus hotspots has been sent to the Sindh government.
According to the plan, no one will be able to enter and exit the areas after the lockdown is imposed, meanwhile, the shops granted exceptions will be able to operate from 7 am to 12 pm.
In addition, ambulances will be available in all areas where the smart lockdown has been imposed.
---
6:28pm — Karachi, Pakistan — Children, youth become victims of coronavirus in Sindh
Data from the Sindh Health Department revealed that the novel coronavirus has taken the lives of people ranging from 10-100 years.
According to the provincial health department, at least five children of age 10 have succumbed to the virus.
10 people of ages 11-20 have died of the virus, the department said, adding that 25 persons of ages 21-30 have succumbed to the virus.
Furthermore, the health department said that 48 people of ages 31-40 have died due to coronavirus, while 112 patients of COVID-19 aged 41-50 have lost their lives to the pandemic.
Meanwhile, 228, 229, and 137 people of ages 51-60, 61-70, and 71-80 have lost their lives battling coronavirus. Moreover, 42 people of ages 81-100 have died of COVID-19.
---
6:15pm — London, UK — Coronavirus patients to get dexamethasone steroid immediately
Britain will immediately start giving dexamethasone to coronavirus patients, after a trial showed the steroid saved the lives of one third of the gravest cases, Health Secretary Matt Hancock said, AFP reported.

"We're working with the NHS (National Health Service) so that the NHS standard treatment for COVID-19 will include dexamethasone form this afternoon," Hancock said.
---
6:02pm — Riyadh, Saudi Arabia —  Saudi faces perilous hajj call as virus spikes
Saudi Arabia is expected to scale back or call off this year's Haj pilgrimage for the first time in its modern history, observers say, a perilous decision as coronavirus cases spike, AFP reported.
Muslim nations are pressing Riyadh to give its much-delayed decision on whether the annual ritual will go ahead as scheduled in late July.
But as the kingdom negotiates a call fraught with political and economic risks in a tinderbox region, time is running out to organise logistics for one of the world's largest mass gatherings.
---
5:52pm — Paris, France — Steroid treatment saves one third of most severe COVID-19 cases: trial
The steroid dexamethasone has been found to save the lives of one third of the most serious COVID-19 cases, according to trial results hailed Tuesday as a "major breakthrough" in the fight against the disease, AFP reported.
Researchers led by a team from the University of Oxford administered the widely available drug to more than 2,000 severely ill COVID-19 patients.
Among those who could only breathe with the help of a ventilator, dexamethasone reduced deaths by 35 percent, and it reduced deaths of those receiving oxygen by a fifth, according to preliminary results.
---
5:43pm — Quetta, Pakistan — Balochistan extends lockdown for 15 days
---
5:30pm — Peshawar, Pakistan — Necessities to be available in areas where smart lockdown is imposed
Deputy Commissioner Peshawar said that shops of basic necessities, including, groceries, medicine, emergency services will remain open.
Only a congregation of five people will be allowed inside a mosque, he said, adding that the smart lockdown has been imposed in these areas as the cases are on the rise here.
The government official warned that action will be taken against those who will violate the law.
---
5:19pm — Peshawar, Pakistan — KP announces to train 1,000 doctors to tackle coronavirus 
---
4:55pm - Paris, France — Renault to cut 1,500 engineering jobs in France: union source
French carmaker Renault plans to cut 1,500 engineering jobs in France, a trade union source told Reuters on Tuesday.
The engineering job cuts are part of cost savings plans that Renault announced last month aiming to find 2 billion euros ($2.27 billion) in savings over the next three years.
Renault declined to comment.
The carmaker had planned to cut 15,000 jobs worldwide, including 4,600 in France.
---
4:50pm - Lahore, Pakistan — Punjab govt extends lockdown in province till June 30 
The Punjab government has extended the lockdown in the province till June 30, said a notification issued by the secretary of primary and secondary health care department.
However, the latest notification has allowed the University of Health Sciences to carry out supplementary exams. It has also allowed the university to carry out the final exams for BDS, BSS nursing, doctor of physical therapy and BSS allied health. 
---
4:40pm - Peshawar, Pakistan — KP govt NDMA partner to enhance health facilities in province 
---

Restrictions
 start easing up in Qatar 
---
3:50pm - Karachi, Pakistan — Pakistan's positive cases shoot past 150,000
Nationwide positive cases of coronavirus rose to 151,208 after new cases were reported in Sindh.
According to Sindh Chief Minister Murad Ali Shah, 2,287 people tested positive for the virus in the last 24 hours.
The new cases takes the provincial tally of positive cases to 57,868.
---
3:50pm - Karachi, Pakistan — Countrywide death toll rises to 2,872
Nationwide death toll from the coroanvirus rose to 2,872 after new deaths were reported in Sindh.
According to Sindh CM, 33 new deaths were recorded in province taking the provincial tally to 886. 
---
Swedish inventor makes the corona hat 
---
3:10pm - Berlin, Germany — German coronavirus smartphone tracing app goes live
Germany sought to mobilise the public on Tuesday to download a new smartphone app that seeks to help break the chain of coronavirus infections, one of several such apps in Europe that governments hope will revive travel and tourism.
The new Covid-Warn-App, which became available for download for Apple and Android phones overnight, uses Bluetooth short-range radio to monitor close contacts between people and issue a warning should one of them test positive.
"Everyone who downloads the app, and everyone who encourages friends to do so, is making a difference," Health Minister Jens Spahn told ZDF public television ahead of a launch event in Berlin.
Germany follows European countries like Italy, Poland and Switzerland in launching an app based on technology from Apple and Alphabet's Google that protects privacy by storing Bluetooth logs securely on devices.
The project nearly went off the rails in April as Berlin abandoned an initial approach that stored data on a central server — which privacy experts said could allow people's relationships to be spied on.
Still, public enthusiasm for the app is moderate - last week's Politbarometer opinion poll for ZDF found that 42% of people would download it and 46% would not, while 8% didn't have a smartphone.
---
2:45pm - Madrid, Spain — Spain may quarantine UK visitors, minister tells BBC
Spain is considering imposing a quarantine on British travellers when it reopens its borders next week, the foreign minister said, in response to a similar policy at London's end.
Arancha Gonzalez Laya told the BBC she hoped Britain would lift its restriction, making a reciprocal Spanish one unnecessary.
"We will be in a dialogue with the UK to see whether or not we should be introducing reciprocity as they have different measures than the rest of the European Union," she said in an advance excerpt from current affairs programme HARDtalk.
Britain, with more than 41,000 documented coronavirus-linked deaths, and Spain, with more than 27,000, have been two of the countries hardest hit by the pandemic.
Both, along with other European countries, are now easing lockdown restrictions, including border closures.
Spanish officials gave no mention of any quarantine curbs on Sunday, when the government moved forward the date for allowing European visitors back into the country to June 21 from July 1.
In recent weeks, Spain has caused confusion in neighbouring countries and exasperation in the travel industry by repeatedly changing the date and conditions for lifting the ban on foreign visitors it imposed in mid-March.
"I still don't know what I will do with my staff and it's June 16," Jorge Marichal, CEO of Canary Islands hotel group Inversiones Marylanza, said at a business event.
"We cannot work this way."
---
2:35pm - London, UK — UK COVID-19 death toll hits 53,077 including suspected cases: Reuters tally
The United Kingdom's suspected COVID-19 death toll has hit 53,077, according to a Reuters tally of official data sources that underline the country's status as one of the worst hit in the world.
The Reuters tally comprises fatalities where COVID-19 was mentioned on death certificates in England, Wales and Northern Ireland up to June 5, and up to June 7 in Scotland. It also includes more recent hospital deaths.
Unlike the lower death toll published daily by the government, the death certificate figures include suspected cases.
---
Here's how you can protect yourself and others from COVID-19
---
WATCH: EU nations reopen their borders to Europeans after months of coronavirus curbs
---
2:05pm - Moscow, Russia — Coronavirus cases near 550,000
Russia on Tuesday reported 8,248 new coronavirus cases, bringing its nationwide infection tally to 545,458.
The authorities said 193 people had died of the virus in the last day, raising the official death toll to 7,284. 
---
1:35pm - Islamabad, Pakistan — S Arabia to start relief flights from today
Saudi Arabia will start relief flights to Pakistan from today after getting approval from the Civil Aviation Authority (CAA).

According to a notification, the CAA has allowed Saudi airlines to start its operations from today to bring back stranded Pakistanis.
The airline will operate six special flights from 16-20 June to various cities of the country with the first flight landing in Islamabad today.
---
1:15pm - Karachi, Pakistan — IT minister Amin ul Haq tests positive for coronavirus 
Federal Minister for IT Syed Amin ul Haq has tested positive for the coronavirus, confirmed the MQM lawmaker on Tuesday.

The minister shared that he had a fever since last week which had turned into typhoid and had then had himself tested for the virus which came back as positive. 
He added that he had isolated himself as soon as h had a fever.
---
1:00pm - Hyderabad, Pakistan — DC Hyderabad says list of areas for lockdown finalised 
Deputy Commissioner of Hyderabad has said list of areas that need to placed under a smart lockdown has been finalised.
However, he added, the final list will be approved by the commissioner, adding that the lockdown will be imposed after being approved by the Sindh government. 
---
12:40pm - Faisalabad, Pakistan — District authorities finalises list of hotspots in city 
The district authorities in Faisalabad have finalised a list of coronavirus hotspots in the city, officials confirmed on Tuesday.

According to the list, 50 areas have been identified as hotspots, with district authorities recommending smart lockdown in over 25 residential areas of the city.
Officials said the final decision regarding the lockdown will be taken on the recommendation of the government and district coordination committee. 
---
12:25pm - New Delhi, India — Delhi's local health minister in hospital as infections surge in India
The health minister in Delhi's state government checked into hospital with high fever and was being tested for coronavirus on Tuesday as India reported more than 10,500 new infections that are threatening to overwhelm hospitals.
India has opened up businesses, public transport and shopping malls to resuscitate a battered economy but the ending of the nearly 70-day lockdown has come just as cases are rising at their fastest daily levels.
The total number of infections stood at 343,091, the world's fourth most after the United States, Brazil and Russia, the health ministry data showed. At least 9,900 people have died, far fewer than the United States and Brazil, but more than Russia.
Prime Minister Narendra Modi, who initially won praise for imposing a vast lockdown on India's 1.3 billion population early on in the pandemic, called state chief ministers for a video conference to discuss measures to deal with the surge in cases.
The big cities of Delhi, Mumbai and Chennai remain the worst affected.
"Due to high grade fever and a sudden drop of my oxygen levels last night I have been admitted to RGSSH (Rajiv Gandhi Super Speciality Hospital). Will keep everyone updated," Delhi's health minister Satyendar Jain said in a tweet. He would be tested for the disease and results were expected by later Tuesday, a member of Jain's party said.
Several senior officials from finance, foreign affairs and law departments that are all based in Delhi have tested positive over the past few weeks. Most have been working in offices from the beginning of the crisis.
Jain himself attended a meeting on Sunday where federal Home Minister Amit Shah and Delhi Chief Minister Arvind Kejriwal were present. It was not immediately known if Shah, seen as the most powerful member of the cabinet after Modi, was going to test.
Kejriwal had tested negative earlier in the month.
---
12:15pm - Karachi, Pakistan — DHO East recommends areas to be placed under lockdown
District Health Officer (DHO) East, in a letter, has recommended areas in Karachi that should be put under lockdown due to the rising number of coronavirus cases.

According to DHO East cases being reported in Pehlwan Goth, Gulzar-e-Hijri, Faisal cantonment, PECHS Block two, Soldier Bazar, Jamshed Quarter and Metroville are very high and should be placed under lockdown. 
---
12:00pm - Islamabad, Pakistan — Authorities developing plan to seal Sectors I-8, I-10: DC Islamabad 
Deputy commissioner Islamabad Hamza Shafqat tweeted on Tuesday that the the authorities in the federal capital's Sector I-8 and I-10 are formalising a plan to seal the areas due to rising coronavirus cases.
The DC shared that the notification regarding the lockdown orders will be issued in the next 24 hours.

---
11:40am - US lawmaker Ilhan Omar's father dies due to coronavirus
Father of Somalia-born US Representative Ilhan Omar died on Monday night of complications from the novel coronavirus, local media reported.
"It is with tremendous sadness and pain to say goodbye to my father," the Minnesota congresswoman tweeted late on Monday. "No words can describe what he meant to me and all who knew and loved him."
Omar and her father Nur Mohamed came to the United States as refugees in 1995 from Somalia during the country's civil war and eventually settled in Minneapolis, according to Politico.
Omar was elected along with Michigan Representative Rashida Tlaib in November 2018 making them among the first two Muslim women to serve in the US Congress.
The Minnesota representative did not respond to Reuters request for a comment.
---
11:20am - Peshawar, Pakistan — Four areas of Peshawar sealed under smart lockdown
Exit and entry points of four areas of Peshawar have been sealed under the smart lockdown strategy being pursued by the government.
The sealed areas are Ashrafia colony, Chana road, Danisahabad, and Hayatabad Phase one's sector I-1. The police have been deployed in the areas and markets have been shut down across the areas apart from milk stores, naanbais and medical stores.
Residents of the area have also been barred from exiting the area. 
---
11:00am - Karachi, Pakistan — DHO recommends smart lockdown in some areas of District Korangi and Malir
The District Health Officer (DHO) has recommended that a smart lockdown should be implemented in a letter sent to deputy commissioners of Malir and Korangi.
The DHO has recommended that a smart lockdown should be implemented in Korangi 2.5, 1.5, 4 and Mehran town as more than 2,400 cases have been reported from those areas. The letter also warned that cases are also rising in Shamsi society in Korangi, Saadat colony, Mardan chowk and Shah Faisal number 2.
The letter states that cases are also very high in Malir Khokhrapar, Kala Board, Landhi's UC 9, 11 and other areas. It adds that a smart lockdown should be imposed in these areas of the districts.
---
10:45am — Islamabad, Pakistan — Confirmed cases jump past to 148,000, death toll climbs to 2,839
Confirmed cases in the country climbed to 148,921 on Tuesday after Islamabad, and Azad Jammu and Kashmir (AJK) recorded new cases.
According to the national dashboard, 288 new cases were recorded in the federal capital and 16 in cases in AJK in the last 24 hours.
The country's death toll also climbed to 2,839 with Islamabad reporting five new deaths.
---
10:10am — Beijing, China — Beijing puts fresh curbs to stop spread of coronavirus
Beijing authorities imposed more restrictions to stop the spread of a fresh outbreak of coronavirus to other provinces, banning outbound travel of high-risk people and suspending some transportation services out of the city.
Beijing officials reported on Tuesday 27 new confirmed COVID-19 cases for June 15, taking the cumulative number of infections in the city's current outbreak to 106.
The outbreak has been traced to the sprawling Xinfadi wholesale food centre in the southwest of Beijing where thousands of tonnes of vegetables, fruits and meat change hands each day.
---
9:45am — Wellington, New Zealand — New Zealand confirms two new cases of coronavirus
New Zealand said on Tuesday that it has two new cases of the coronavirus, both related to recent travel from the UK, ending a 24-day streak of no new infections in the country.
New Zealand lifted all social and economic restrictions except border controls last week, after declaring it had no new or active cases of the coronavirus, one of the first countries in the world to return to pre-pandemic normality.
The health ministry said the new cases were related to the border as a result of recent travel from the UK. Both cases are connected, it said in a statement.
---
Global coronavirus cases reach over 8 million as outbreak expands in Latin America
Global cases of the novel coronavirus reached over 8 million on Monday, as infections surge in Latin America, according to a Reuters tally.
About 25% of those cases, or 2 million infections, are in the United States, though the fastest-growing outbreak is in Latin America which now accounts for 21% of all cases.
Brazil's COVID-19 cases and deaths have surged to make it the No.2 hot spot in the world, behind only the United States
---
Oscars 2021 postponed until April due to coronavirus
The organisers of the Oscars have shifted the date of the 2021 movie awards ceremony to April from February because of the coronavirus epidemic.
The Academy of Motion Picture Arts and Sciences said the Oscars, the highest honours in the film industry, would take place on April 25, 2021. It was originally scheduled for February 28.
---
New projection puts US COVID-19 deaths at over 200,000 by October
A new forecast projects 201,129 deaths due to COVID-19 in the United States through the beginning of October mainly due to reopening measures underway, the Institute for Health Metrics and Evaluation (IHME) at the University of Washington said on Monday.
The IHME raised its estimate by 18% from 169,890 and said Florida would be among the hardest-hit states, with an estimated 18,675 deaths, up 186% from a previous estimate of 6,559 on June 10.
The institute raised its estimate for deaths in California by 72% to 15,155 from 8,812 and increased its outlook for Arizona by 56% to 7,415 fatalities from 4,762.
---
8:40am — US, Washington — Trump touts hydroxychloroquine even as US revokes emergency use status
President Donald Trump has said other countries had provided great reports on the effectiveness of malaria drug hydroxychloroquine for treatment of the deadly coronavirus, complaining that only US agencies have failed to grasp its benefit.
His remarks, delivered to reporters at the White House, came hours after the US Food and Drug Administration revoked its emergency use authorisation for hydroxychloroquine to treat COVID-19, despite Trump's frequent praise of the drug's usefulness for staving off the disease.
---
8:30am — Rio de Janeiro, Brazil — Brazil registers 627 new COVID-19 deaths, 888,271 total confirmed cases
Brazil registered 627 new deaths from COVID-19 on Monday, the Health Ministry said, with a new total of 888,271 confirmed cases of coronavirus.
---
11:56pm/June 15 — Islamabad, Pakistan — 30% of COVID-19 patients recover in capital
---
11:17pm/June 15 — Karachi, Pakistan — Sindh calls for formulation of new policy to tackle coronavirus
Prime Minister Imran Khan should call an emergency meeting of the NCOC to formulate a new policy to tackle the coronavirus, Sindh government spokesperson Murtaza Wahab said.
Talking about what the Sindh government plans to do in light of the NCOC's recommendations, he said: "The province's 85% cases are from six districts of Karachi, while the situation is not alarming in Hyderabad, Ghotki, Larkana, and Sukkur — on an average they have 1,500 cases."
Speaking in Geo News programme "Aaj Shahzeb Khanzada Kay Sath", he said that infections had surpassed 10,000 in district East and 9,800 in South.
The hotbed of the virus in the province is Karachi, and pinpointing a neighbourhood in the metropolis will be hard for us, Wahab said.
"There are several institutions in Karachi which are under the federal government's control and we cannot impose restrictions on them if the Centre does not approve," he said, adding: "A unanimity of thought is needed [to tackle the disease]."
---
9:16pm — Islamabad, Pakistan — Smart lockdown necessary for economy: Dr Mirza
Special Assistant to the Prime Minister on National Health Services Dr Zafar Mirza emphasised that the smart lockdown is necessary for running the wheel of national economy, Radio Pakistan reported.
Dr Mirza said the government is not agreed with proposal of World Health Organisation for imposing 15 days lockdown and 15 days ease in it.
The SAPM said the government is providing all health facilities, equipments and enhancing the capacity building of hospitals.
Replying to a question, he said the government would increase the capacity of 1,000 ventilation beds in different hospitals in provinces.