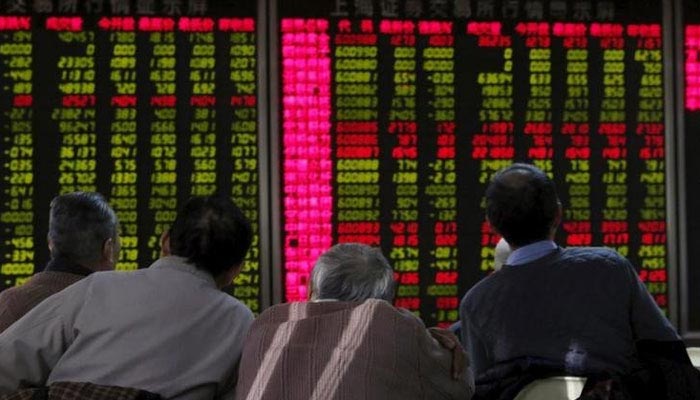 Approval of supplementary finance bill gives enough impetus to investors to start buying in droves.
KSE-100 index gains 418 points or 0.9% to settle at 45,763.45 points.
During the week, average volumes clock in at 356 million shares.
---
KARACHI: The stock market witnessed a bullish week as the government was successful in getting the supplementary finance bill approved in the National Assembly, paving the way for the International Monetary Fund (IMF) review, providing enough impetus to investors to start buying in droves. The KSE-100 index gained 418 points or 0.9% to settle at 45,763.45 points.

The market commenced the week on a positive note, however, the momentum shifted to the red zone on the back of a delay in the International Monetary Fund (IMF) review.
Alongside this, the resurgence of COVID-19 cases (especially of the Omicron variant) raised expectations of a potential imposition of restrictions and smart lockdown which affected the investment climate negatively during the week.
However, the sentiment once again turned positive after the Finance (Supplementary Bill) — termed as the "mini-budget" — was passed in the National Assembly despite strong protest by the Opposition, ending the uncertainty.
Moreover, auto numbers showed a massive growth of 96% (year-on-year) in the month of December 2021. Furthermore, a hike in Arab Light prices to $86.16 per barrel generated activity in the local exploration and production sector.

Investors also cheered the recovery of the Pakistani rupee which appreciated Rs176.07 against the US dollar in the interbank market.
Other major developments during the week were: Pakistan Telecommunication Company, Shanghai Cooperation Organisation (SCO) to explore collaborative opportunities; Cnergyico to acquire 57.37% stake in Puma Energy; Nepra allows the cheaper rate of Rs12.96 per unit for KE users; World Bank projects 3.4% GDP growth rate in FY22; circular debt touches Rs2.41 trillion mark; and Economic Coordination Committee (ECC) approves Rs100 billion payment to independent power producers (IPPs).
Meanwhile, foreign buying was witnessed this week, clocking in at $0.5 million against a net buy of $24.2 million recorded last week. Buying was witnessed in technology ($0.5 million), and power ($0.4 million).
On the domestic front, major selling was reported by mutual funds ($9.9 million), followed by companies ($2.4 million).
During the week under review, average volumes clocked in at 356 million shares (up by 12% week-on-week), while average value traded settled at $51 million (down by 12% week-on-week).
Major gainers and losers of week
Sector-wise positive contributions came from commercial banks (+328 points), miscellaneous (+54 points), chemical (+50 points), power generation and distribution (+47 points), and oil and gas exploration companies (+37 points). On the flip side, negative contributions came from cement (-67 points), technology and communication (-64 points) and fertiliser (-26 points).
Scrip-wise major gainers were HBL (+87 points), MCB (+73 points), Pakistan Services (+57 points), Hubco (+43 points) and Colgate-Palmolive (+39 points). Meanwhile, major losers were Systems Limited (-53 points), Lucky System (-38 points) and Engro Pakistan (-33 points).
Outlook for next week
A report from AHL predicted: "We expect the market to remain positive in the upcoming week."
"With the commencement of the result season, certain sectors and scrips are expected to stay under the limelight," it said, adding that any update with regards to the IMF's sixth review will have an impact on the market.
"The KSE-100 is currently trading at a PER of 5.2x (2022) compared to the Asia-Pacific regional average of 14.1x, while offering a dividend yield of 8.6% versus 2.3% offered by the region," the brokerage house stated.