Devastating floods in Pakistan and people's menstrual woes
Owing to acute dearth of knowledge, helping women and menstruating people manage their period with safety and dignity does not seem to be a priority
Updated Thursday Sep 01 2022
Period poverty and lack of awareness about reproductive health and menstrual hygiene affect millions of women, girls, and menstruating people in Pakistan. But the recent floods, which have wreaked havoc on more than half of the country, certainly aggravated the situation.

When Bushra Mahnoor, a student at the University of Punjab, learned that women and girls hailing from Balochistan's coastal district of Lasbela were forced to use tree leaves to manage their periods in the face of displacement, she was heartbroken.
Together with her friend Anum Khalid, a student at the Bahauddin Zakariya University in Multan, Mahoor decided to do something about the issue and came up with the idea of "Mahwari Justice" – a campaign to ensure menstrual hygiene for the flood victims.
"We are trying our best to reach out to the affected women, but there's only so much that we can do. Since we're not a non-governmental organisation, and we do not have a proper network, we do not have the means to help everyone, but we are trying our best," Mahnoor told Geo.tv.
While the two women behind Mahwari Justice — along with several other non-governmental organisations — are employing efforts to ensure the supply of period products to people affected by the floods, ignorance and the social taboo around the topic of menstruation have created hindrances.
As explained by Mahnoor, many people consider period products a "luxury" instead of a need. And when NGOs and philanthropists began to urge people to send sanitary pads along with food, clothing, and medicines to those affected by the floods, many social media users resorted to trivialising the matter, with some even accusing the relief campaigns of "working on an agenda."

In a bid to help the victims, the government has accelerated relief efforts as local and foreign donations have started pouring in. Not only that, but the nation has also joined hands with different governmental and non-governmental organisations working on the ground to help the victims by sending them relief goods, including food and clothing items.
But since there is an acute dearth of knowledge on how natural disasters affect people of different genders, helping women and menstruating people manage their periods with safety and dignity does not seem to be a priority.

The devastating floods in Pakistan in the aftermath of the monsoon rains have affected a whopping 33 million people across the country. Last week, the Government of Pakistan announced a national emergency in the country and termed the floods a "climate-inducted humanitarian crisis of epic proportions".
Statistics from the National Disaster Management Authority (NDMA) show that as of August 28, more than one thousand people lost their lives, 1,600-plus sustained injuries, 735,375 livestock were left dead, and 1,051,570 houses have been damaged. Due to internal displacement, more than 498,000 people are currently living in relief camps across Balochistan, Khyber Pakhtunkhwa, Sindh, and Punjab.
'Essential' yet 'overlooked'
ActionAid — an international charity that works with women and girls in poverty — explained that having access to period products is essential for menstruating people, especially those who have been struck by natural disasters.
In the absence of these products, they are "forced to use improvised methods to manage their periods, including torn pieces of clothing, rags, dirty rugs or sitting on old tin cans".
All the aforementioned methods are not only ineffective, uncomfortable, and unhygienic, but they can also lead to infections or embarrassing situations for the victims in case of leakage.
According to Sidra Khalid, Senior Research Officer in Gender and Social Inclusion at International Water Management Institute (IWMI), Pakistan, Menstrual Hygiene Management (MHM) is often overlooked in post-disaster response, even though it should be a standard part of all emergency responses.
"MHM materials are not luxury items but necessary for the health and well-being of all those who menstruate," she told Geo.tv.
Sana Lokhandwala, the co-founder of HER Pakistan — an organisation working on menstrual health education, service, and advocacy at the grassroots level since 2018 — agreed that in any humanitarian crisis, menstrual health needs are often ignored.

"During evacuation, dislocation or relocation, menstrual products might not be available, resulting in extended use of soiled products or bloodstained clothing. These unmet menstrual health needs then become a source of shame, self-consciousness, and embarrassment for menstruating women and girls. Menstruating girls and women are often at the receiving end of abuse and violence as well," she said.
On-the-ground situation
While many NGOs have mobilised their workers and volunteers to reach out to as many victims as possible, certain flood-affected areas, especially those in Balochistan and Northern Sindh, are still deprived of aid. And even if relief somehow reaches them, there is no noticeable presence of female volunteers on the ground to extend support.
For instance, owing to the floods, Tehsil Chhatter of the Naseerabad district, which lies in the centre-west of Balochistan, has been disconnected from its headquarters in Dera Murad Jamali for the last fifteen days.
According to a Geo News correspondent, who has been present in Naseerabad for coverage for quite some time, not a single female volunteer or relief worker could be seen on the ground.
Shedding light on the matter, Cadia Baloch of the Baloch Yakjehti Committee, a group which is actively collecting donations for the flood-affected people of Naseerabad and nearby tehsils, said that there is a dearth of female representation in relief operations due to several reasons.
"One of the explanations is that Naseerabad is highly patriarchal. Women traditionally remain confined to the four walls of their houses as not doing so is considered socially immoral and offensive to the family values, Baloch told Geo.tv.
Sharing her observation and knowledge of relief operations in different areas, Kalsoom Ranjha, the president of the women's wing of Al-Khidmat Foundation, said that there was certainly a shortage of female volunteers, especially in places like Sanghar, Dadu, Dera Ghazi Khan, Rajanpur, Hasilpur, and several parts of Balochistan.

"It's not culturally acceptable for women to be out of the houses in the aforementioned areas, and even when a woman volunteer is sent to those places, she has to face difficulties. However, whenever there is a need, the male volunteers of Al-Khidmat involve their female family members in their respective areas to talk to women about feminine hygiene and reproductive health." 
When asked about the immediate necessities of women in the flood-affected tehsils of Balochistan, Baloch said that right now, getting something to eat would be people's, especially women's, biggest priority.
"Pads and other feminine hygiene products are privileges for women of those remote tehsils," she maintained.
Sanam Noor — a volunteer collecting donations and relief materials for the flood-affected people of the Karim Bux Khoso village in Jacobabad district and Humayun village in Shikarpur district — agreed with Baloch.
"Women who have children and are in charge of families are more concerned about food and shelter. Pads for them are a secondary demand and they don't talk about it unless you ask. And even when you ask, they continue demanding food items." Noor said.
Ranjha also concurred and said that women living in remote villages, such as those hailing from Nari Shumali of Taunsa District in Punjab, were unfamiliar with the use of sanitary pads.
"When we offered them sanitary pads along with clothing items, they refused to accept them, saying they do not need 'kids' pampers' and said they preferred accepting food items instead," she revealed. 
Lokhandwala, however, stressed that period products should not be termed a privilege but a necessity.
"We need to understand that menstruation does not stop during disasters," she asserted, adding that since most relief workers and receivers of the relief packages are men, menstruation remains a taboo and menstrual health needs are conveniently neglected but they cannot be termed a privilege," HER Pakistan's co-founder said.
'One-size-fits-all approach will not work'
Khalid, while recognising MHM as a major need in disasters is crucial and the initiatives taken by different NGOs to help in this regard are worth appreciation, said those helping have to remember that in the context of the current flood situation, a one-size-fits-all approach will not work because women and those who menstruate have different needs and preferences.
"Right now, the conversation is around providing sanitary materials and what those should be, but MHM isn't just about materials being used – it is about disposal, cleaning, and the ability to change in privacy and dignity," the senior research officer at IWMI said while raising some pertinent questions.
"If you are donating pads, are you certain that menstruators in that area know how to use them? Or are you supplementing distribution with a brief demonstration on how to use and dispose of them properly?"
She added that case studies from Pakistani relief efforts have shown that in many areas of the country, men and women don't know what pads are or how to use them, and the distribution of pads led to men using them for other needs because they didn't have the awareness that they were sanitary materials.
"Further, how will the pads be disposed of? Are you also donating a bin with a lid to ensure proper disposal? Are pads being donated along with underwear and soap? These are all things to consider," she reasoned.
"Similar questions apply when donating reusable cotton cloth or cotton gauze. Is there clean water available for washing them? Is there a place to hang them dry in privacy? If they can't be properly cleaned, then we are putting menstruators at risk for UTIs and other infections due to wearing damp materials. Are soap or detergent and a bucket also being donated for washing and cleaning? What colour is the cloth being donated? In my work on an MHM project in Kyrgyzstan, I found that brightly coloured reusable cotton cloths were not favoured because they could not be discreetly hung in privacy. A dark-coloured cloth was preferred."
Khalid said the aforementioned pointers must be considered before donating.

"We need to ask ourselves: will this product make someone's life easier or harder? The question shouldn't be whether we should be donating pads or cotton cloth or gauze, but rather, is what we are donating needed, context appropriate to local norms, and will it be sustainable? Many relief and aid efforts are paternalistic in that they assume they know best what people want and need. A person menstruating knows best what they need. Consultation is key."
'Respecting agency'
While many organisations working on the ground maintain that assuming rural women do not know what a sanitary pad is an elitist idea, others maintain that women's knowledge related to the issue varies from area to area. All of them, however, agreed that irrespective of what they want to use, respecting women's agency is the most important thing, even in an emergency.
Narrating her experience of being involved in the relief operations in Sindh after the 2010 floods, Sana Saleem, journalist and co-founder at Bolo Bhi, said that at that time, most women she worked with were not open to using sanitary products as they had never used them before and didn't feel comfortable.
"However, it didn't take them long to understand that washing cloth and re-using it wasn't an option," she said. "But I think the most important thing I learned [during the relief operation] was that it's important to respect people's process and agency. We can't impose the safest way on anybody. It's their body and their right to make the choices they feel are right."
According to Yusra Junaid of the Tulip Welfare Organisation — another NGO actively working to collect relief items for the victims of the floods — in her experience, many people belonging to the tehsils of Sindh are not as aware or educated as those living in the villages of Punjab.
"As per our working and knowledge, most women belonging to the tehsils of Sindh do not prefer using sanitary pads or cotton. They use cloth. Therefore, we are sending them underwear and materials they need through medical camps established in some of the tehsils," she said.
Noor, speaking about her interactions with the farmer women of Karim Bux Khoso village, said that upon insistence, most women ask for clean cloth that can be reused. However, younger girls, who are shy but more open to the idea of pads and panties, want them to maintain privacy.
She, however, emphasised that assuming rural women do not know how to use pads was a "baseless premise."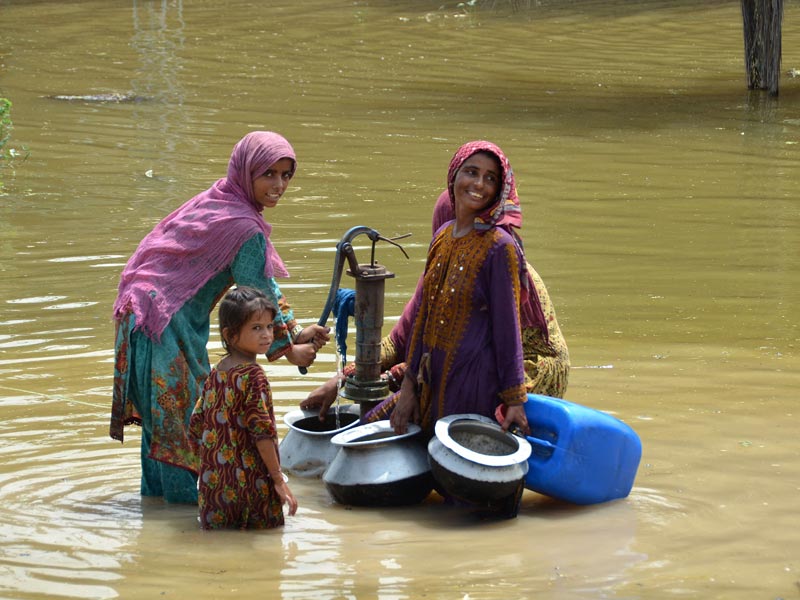 "Stop saying rural women don't know how to use pads. Don't reinforce the stereotype that they don't know and, therefore, are ignorant. They don't use pads because they are expensive, unavailable, unsuitable for the environment, or because they think they are a bad thing. They don't use them because they DON'T. Period."
Creating dependency?
Speaking to Geo.tv, Neha Mankani, the founder of Mama Baby Foundation— an organisation that provides women, newborns, and their families with emergency medical treatment and supplies — said that in her experience of working during emergencies in Balochistan, South Punjab, and Sindh, as well as working with refugee camps internationally, the way people operate during menstruation is very set.
"They've been doing things in a certain way for many years and to send them something which they have not used before and are not comfortable with will lead to wastage of resources. So, even when we send pictorials to women as to how to dispose of used pads by rolling them and throwing them in a trash can, there are no trash cans, so we are contributing to waste," she said, adding that if sanitary pads are something that people have not used before, it will be "very patronising to enforce your views on them."
Mankani also pointed out that creating dependency on period products, if people are not already using, them can be counter-effective and difficult for women because these products are pricey and not easily available in small tehsils.
"There is research done on this, that if you create dependency on something that people will not have access to later, then it creates an issue. We've seen in studies of refugee camps, where young girls were getting period products through donors for many years but then, the donations were gone so they didn't have access to those products anymore, which turned out to be very difficult for them".
Citing some grim examples from Kenyan villages, Mankani recalled how some young girls there had to exchange sex for period products because they wanted to just be clean and comfortable, but they couldn't afford it. 

"While people have good intentions when they try to help these destitute women, we need to think about [the long-term consequences] of what we are doing," she maintained.
Finding solutions
Khalid, who has worked in the development sector for nearly a decade with seven years of field-based experience, said that the current best practices in disaster response efforts would be to distribute hygiene kits or dignity kits.
"These include MHM materials — in cases where needs assessment cannot be done both disposable and reusable materials are included — cotton gauze, underwear, toothbrush, and soap. Depending on resources, some include towels and medicine, etc," she said, adding that it is also important to ensure that there is a place for disposal of these materials — be it a bin with a lid or digging a temporary hole in the ground until proper disposal systems are rehabilitated.
"Lastly, dignity is a key theme in MHM. Menstruators should be able to change and clean themselves in privacy and safety. Response efforts should also try to ensure that makeshift washrooms are set up in disaster-affected areas that are safe and accessible. MHM needs should be integrated into disaster response programmes from the beginning so that when disaster strikes, the resources are available."
She added that if NGOs, volunteers, and those who want to help are trying to figure out what materials menstruators should be using to manage their periods, the best thing to do is just ask them.
"You can conduct rapid needs assessments post-disaster, that includes asking women and those who menstruate what materials they need. It is a taboo topic in Pakistan, which is why it's important that staff or volunteers working on the ground be sensitised about MHM needs. A few seconds of embarrassment asking someone what material they need is worth it if it means they will be able to manage their period in a dignified way," she maintained.
Adding to the pointer, Lokhandwala said that Her Pakistan, while working round the clock to send all kinds of menstrual products and supplies to the flood-affected areas, has collaborated with various government, civil society organisations, and social activists to make sure menstruators have access to appropriate products during this time of crisis.
"We work closely with partners and local leaders present on the ground to find out what menstruators need and we send just that," she explained. "If they ask for sanitary pads, we provide that, and if they need reusable period products, we also ensure their availability. We are listening to people and serving them."
A volunteer, working with Tulip Welfare Foundation who requested anonymity, also said that the aim is to make menstruators comfortable and ensure they have something at their disposal.
"If people want to donate, we recommend sending cotton pads without wings or simply buy a cotton roll instead of buying branded sanitary pads that urban women mostly use," she said. "We are also urging people to send clean underwear of all sizes".
Ranjha of the Al-Khidmat Foundation said that her organisation was making sure to include sanitary pads in the relief packages along with food and other essential items.
"People coming to our camps in different parts of the country to donate items are also bringing sanitary pads along with them," she said, adding that some people have donated as many as 300 female hygiene kits for women. She added that the foundation is sending sanitary pads to places where women have specifically asked for them. 
Akin to that, the girls behind Mahwari Justice said they are also ensuring to send sanitary pads and napkins to places where people are actively demanding them, while alternatives like cloths and cotton pads are being sent to other areas along with pads.
While all the organisations and relief workers who spoke to Geo.tv extended their gratitude to people for their help — whether in the form of monetary donations or relief goods — they urged people to consider menstruation as a real problem instead of brushing the topic under the rug.
Volunteers like Mahnoor, who set out to help women on their own, said they even received backlash from their families that taunted them for not working for a "worthy cause".
"Unfortunately, when people have a choice to donate to other causes, they do not prefer donating towards the menstrual relief of women," she said. "But despite the hurdles we face, when we receive phone calls from women thanking us for our efforts, that keeps us motivated," Mahnoor added.
---
— Waqas Aalam Angaria of Geo News contributed to this story from Naseerabad, Balochistan.
---
For Donations
Mahwari Justice
Account Title: Bushra Mahnoor
IBAN: PK28BAHL0007098106427601
Account Number: 000709810642760
Bank's Name: Bank Al Habib
JazzCash and EasyPaisa: +923317601363
Website: https://www.gofundme.com/f/sanitary-pads-for-balochistan-flood-victims
Her Pakistan
Account Title: HER Pakistan
IBAN: PK65SAUD0000402010396533
Account Number: 2010396533
SWIFT Code: SAUDPKKA
Bank's Name: Silk Bank Limited
Branch: Sohrab Goth Branch
Branch Code: 0040
Website: https://herpakistan.com/donate/
Sanam Noor
Account Title: Sanam Noor
IBAN: PK04SCBL0000001150438701
Account Number: 01150438701
Bank's Name: Standard Chartered Bank
Tulip Welfare Organisation
Account Title: Muhammad Shamim
IBAN: PK68MEZN0001260100622854
Account Number: 01260100622854
Bank's Name: Meezan bank
Website: https://www.tulipwelfare.org/
        For foreign remittance:
Account Title: Junaid Hidayat
IBAN: PK80MEZN0001410102765021
Account Number: 01410102765021
Bank's Name: Meezan Bank
Mama Baby Foundation
Account Number: 1003-0981-083006-01-5
IBAN: PK89BAHL1003098108300601
Bank's Name: Bank Al Habib, Shahrah-e-Faisal, Karachi
Website: https://www.facebook.com/mamababyfund/
Al-Khidmat Foundation

Account Title: Al-Khidmat Foundation

IBAN: PK35MEZN0002140100861151

Account Number: 02140100861151

Bank Name: Meezan Bank Limited

Branch Address: Johar Town Branch Lahore

Branch Code: 0214

Swift Code: MEZNPKKA

Website: www.alkhidmat.org