Quitting city comforts, Karachi couple fixes free meals in floodlands
"We needed to do something," say Maria Mushtaq and husband Waheed Ali, who resolve to continue till money and supplies last
Updated Monday Sep 12 2022
Surging watercourse burst through their embankment and went rogue after an extreme monsoon lashed Pakistan for months on end, leaving behind a boggy trail of death, displacement, diseases, and deprivation for millions of those, who somehow rode out the disaster, but are unlikely to survive starvation as all the grain has gone with the floodwaters.
Though aid is pouring into Pakistan from all over the world, things are not moving as fast as they should because of the massive scale of the relief operation. The challenge of feeding the victims of a crisis of such proportions three-times a day every day is impossible even for the government to come to grips with; nevertheless, when true compassion is channelised smartly, miracles come to pass. Here is one.
Maria Mushtaq and Waheed Ali, a married couple from Karachi, have pulled off a gargantuan feat many would find extremely uncomfortable. They are feeding a minimum of 4,500 people one hot meal a day. It costs them an estimated Rs140/person, after adding all allied costs, according to Mushtaq. They are doing this in the flood-affected area of Khairpur, where day temperatures are high, the city is plagued by mosquitoes and flies and where gas, electricity and transportation services remain spotty and logistics extremely complex.
"It was heartbreaking to watch so much devastation and we kept thinking we needed to do something," said Mushtaq the owner of the famous dumpling place, in Zamzama, called Mariyah's Den. She was talking to Geo.tv over the phone from Khairpur.
Floods in Pakistan have affected some 33 million people and submerged one-third of the country. Since mid-June, over 1,300 people have died and more than 12,000 have been injured, as per the official tally. The provinces of Sindh and Balochistan have been the worst-hit, where entire villages have been inundated.
Nearly 66 districts in Pakistan have been declared "calamity-hit" by the government, of which 31 are in Balochistan, 23 in Sindh, nine in Khyber Pakhtunkhwa and three in Punjab.
The couple said that they are usually asked why they took up the challenge of cooking and feeding thousands of internally displaced persons on their own, when they could have opted for collecting and distributing rations instead. Ali, who has assisted relief work in the past as well, said he found the latter a little distasteful.

"People resort to chheena-jhapti and I find snatching ration bags very undignified," he told Geo.tv. He added that the couple also had the advantage of being in the food business. "People knew us. So, we knew we would be able to find support for our humanitarian venture," he said.

And they did.
In addition to their own funds, friends and relatives, from far and near, also offered financial support.
On August 28, they drove towards Khairpur, with two gas tandoors, donated by a fellow restaurateur, gas cylinders and large cooking pots. It took them six hours to reach the city. It then took them another two days to set up their kitchen at the Indus Resource Centre's (IRC) guest house.

"Our stay is free," said Mushtaq, "They [the Centre] cleaned up a yard for us to cook. We also use their pantry for storing our supplies."
The IRC has been working in this district of Sindh for the last 22 years and is well entrenched. Some of its initiatives include running 17 schools of its own, five government schools and 25 non-formal post primary education centres.
"I had to hire one cook and two helpers," Mushtaq explained. "The first day we served 2,000 displaced people at a camp, set up at one of the IRC's schools. The number of people we are feeding is increasing every day."
Mushtaq calls her little set up the "relief kitchen". She and her husband start work at 5:30am in the morning and the food is ready by 12:30pm.
The meal, which is a lunch, is served in two shifts. Women and kids eat first around 1:30pm and the men eat later. Everyone eats in groups of five, sharing a plastic plate. They can eat as much as they want, but doggy bags are not encouraged.
"The first time we served them a freshly-baked roti from the tandoor, they were very excited," recalled Ali. "They told us they had not had bread in 10 days, and the rice they had been getting was half cooked," he added.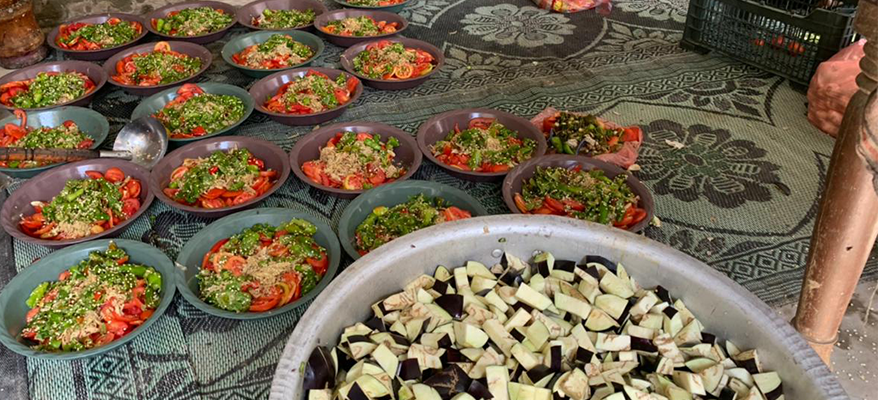 There are a total of 360,000 internally displaced people in Khairpur, as per the data of the Sindh Health Department, some of whom are forced to live in camps. But Mushtaq and Ali don't just provide for those living in shelters. They have recently also tried to reach people where accessibility may not be easy.
A few days back, they were informed of communities in Kot Diji that had been marooned and had sought refuge on the surrounding hilltops.
"The place is about 21 kilometres from Khairpur city, and can take a good half hour to reach," said Ali. "Once there, an army motorboat took us through the city's lanes and bylanes till we reached the edge of the mountains. The water was about 17 feet deep and I did not even have a life jacket; it was also quite scary because the possibility of bumping into submerged walls and rooftops was real and the stench of dead animals emanating from the water was terrible."
Ali found around 150 people in Kot Diji, and another 50 from a nearby village behind the hillock, living in tents on dry land next to their damaged homes. Beyond that was another village of about 200 people.
"That day we just gave them juice and rusks, as I didn't know how many people were there and what kind of help they needed," he said.
However, the next day, the duo went to the hillock with freshly cooked food for 400 people. "They had not eaten proper food for days," Ali told Geo.tv.
Even before the floods, 27 million people in the country did not have access to proper food, according to the charity Action Against Hunger.
Dr Abid Suleri, a social policy analyst, warns that floods have further aggravated Pakistan's economic woes.
"Besides loss of precious lives, livelihoods and infrastructure, floods would negatively affect Pakistan's food insecurity," he said, adding that initial estimates for losses are around $10-12 billion. "This amount is on top of what Pakistan has to arrange to manage its fiscal deficit."
Mushtaq and Ali understand how dire the situation is and they are in no hurry to return home, despite the heat, the flies and the mosquitoes. "We will continue till we run out of money and supplies," said Mushtaq.
---
Header image: Images from a camp for flood affectees set up by Karachi-based couple, Maria Mushtaq and Waheed Ali, in Khairpur, Sindh. — By Maria Mushtaq and Waheed Ali
---
Zofeen T. Ebrahim is a Karachi-based independent journalist.