Benchmark KSE-100 index closes at 40,927.95 points.
Depreciation of rupee against US dollar dampens investor interest.
Shares of 328 companies were traded during the session.
---
 KARACHI: The Pakistan Stock Exchange (PSX) remained under duress as the index extended losses from the previous session in the wake of growing political noise.
There was confusion over the former prime minister Imran Khan's hearing in a contempt of court case, which dented investor confidence in the bourse. Further depreciation of the rupee to a record low against the US dollar also dampened investor interest.
At close, the benchmark KSE-100 index closed at 40,927.95 points with a decrease of 37.63 points or 0.09%.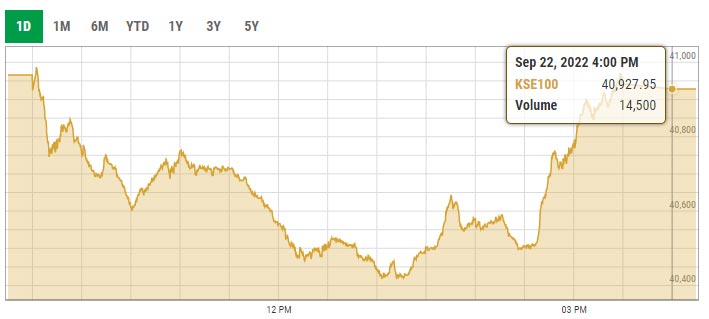 A report from Arif Habib Limited noted that the PSX witnessed a negative session due to prevailing political noise.
The benchmark KSE-100 index nosedived following the same trend from the previous session although in the last trading hour value buying was recorded.
Volumes continued to thrive on the main board whereas hefty volumes were observed in the third-tier stocks.
Sectors contributing to the performance included banks (-19.3 points), autos (-16.3 points), investment banks (-11.6 points), pharma (-11.3 points), and power (-11.2 points).
Shares of 328 companies were traded during the session. At the close of trading, 106 scrips closed in the green, 203 in the red, and 19 remained unchanged.
Overall trading volumes rose to 170.41 million shares compared with Tuesday's tally of 156.57 million. The value of shares traded during the day was Rs4.82 billion.
WorldCall Telecom was the volume leader with 19.95 million shares traded, to close at Rs1.14. It was followed by Cnergyico PK with 18.59 million shares traded, losing Rs0.06 to close at Rs4.86 and TRG Pakistan with 17.56 million shares traded, gaining Rs5.65 to close at Rs119.72.