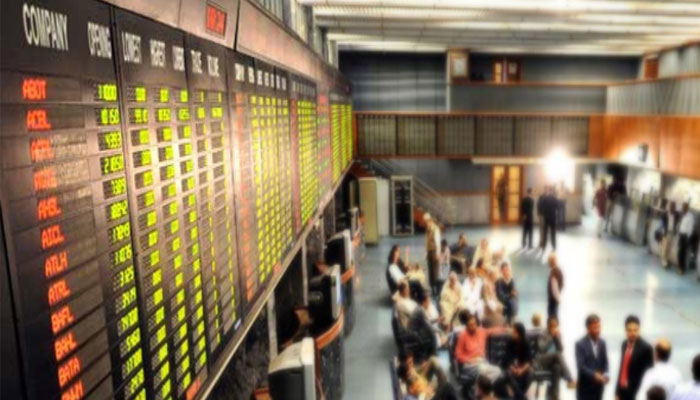 Political tumult panics investors into shedding holdings.
All sights set on IMF amid depleting forex reserves.
Macroeconomic concerns dampen sentiment.
---
KARACHI: Pakistan stocks Tuesday plunged to a 30-month low as the country's extremely riotous political situation freaked economy-wary investors into stampeding towards the exits, resulting in whopping losses, traders said. 

The KSE-100 Shares Index, the benchmark of the country's capital market, lost 1,378.54 points or about 3.47%, to close at 38,342.21 points.
Analysts say the dissolution of the Punjab Assembly and the prevailing crisis in the country amid continuous demand from Pakistan Tehreek-e-Insaf (PTI) for snap polls panicked the market into this vicious selloff.
The delay in the revival of the International Monetary Fund's (IMF) loan programme and the ongoing political uncertainty in the country caused the bloodbath in the stock market.
Prime Minister Shehbaz Sharif-led government has been under pressure to revive the IMF programme but the "harsh conditions" set by the Washington-based lender have made it almost impossible for the country's financial managers to proceed.
Meanwhile, the depleting forex reserves with the State Bank of Pakistan below the $5 billion mark — enough for less than three weeks of import — is making the investors jittery.
Talking to Geo.tv, Tahir Abbas, Head of Research at Arif Habib Limited, said the investment momentum was extremely negative.
The analyst pinned Tuesday's tailspin partly on the IMF loan impasse and partly on the political crisis.
"Players are unable to see any efforts made by the government to resume the programme due to which they are not taking fresh positions," he said.
Abbas added that news reports suggesting that the Khyber Pakhtunkhwa assembly would be dissolved today further dented investors' sentiment.
Khurram Schehzad, CEO at Alpha Beta Core, said the IMF programme stalemate —a consequence of Pakistan's dragging its feet on fulfilling the loan conditions— was one of the main triggers of the selloff as right now rapidly-depleting foreign exchange reserves were seemingly Pakistan's biggest economic problem.
"The political uncertainty has increased due to the dissolution of the Punjab Assembly. There is a question mark on the federal government whether it will remain in power or not. The preexisting negative sentiment has now worsened," Schehzad said.
He said the deeper the political uncertainty in the country, the higher the volatility in the market.
"However, if the government succeeds in reviving the IMF programme and reversing political uncertainty, the trend can take a turn for the better," the analyst said