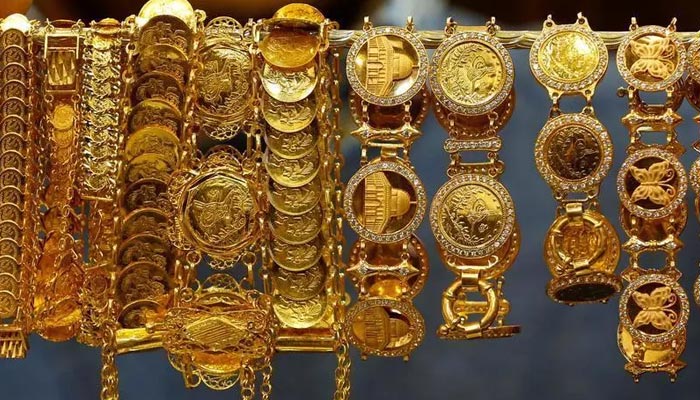 Gold price settles at Rs202,400 per tola.
Economic tensions shift investors' attention towards gold.
Silver price rise by Rs30 per tola to settle at Rs2,150.
---
Gold prices in Pakistan increased further on Wednesday after ongoing political unrest fired up the economic risks, driving investors towards the safety of precious metal that remains the best bet for some in uncertain times like these.

Data released by All-Pakistan Sarafa Gems and Jewellers Association (APSGJA) showed that the price of gold (24 carats) increased by Rs900 per tola and Rs771 per 10 grams to settle at Rs202,400 and Rs173,525.

Recent events show that gold remains a safe haven asset as it is able to benefit from market uncertainty.

Pakistan faces the renewed risk of recession amid a deepening political and economic crisis and a delay in the revival of the International Monetary Fund's (IMF) bailout programme which has also shifted investors' attention towards safer assets compared to riskier ones.
Cumulatively, the yellow metal gained Rs4,900 per tola during the last four sessions as the movement of Pakistani currency remained on a downward trajectory.
In the international market, gold reversed course and rose on Wednesday, as a tumble in Credit Suisse shares rekindled fears about the banking sector and hammered appetite for riskier assets. The per-ounce price settled at $2,150 after an increase of $30.
Gold prices hit an over one-month high on Monday as banking turmoil initially drove bets the Fed may even pause its rate hikes. But limiting inflows into gold on Wednesday, the US dollar advanced.
Meanwhile, silver prices in the domestic market rose by Rs30 per tola and Rs25.72 per 10 grams to settle at Rs2,150 and Rs1,843.27, respectively.