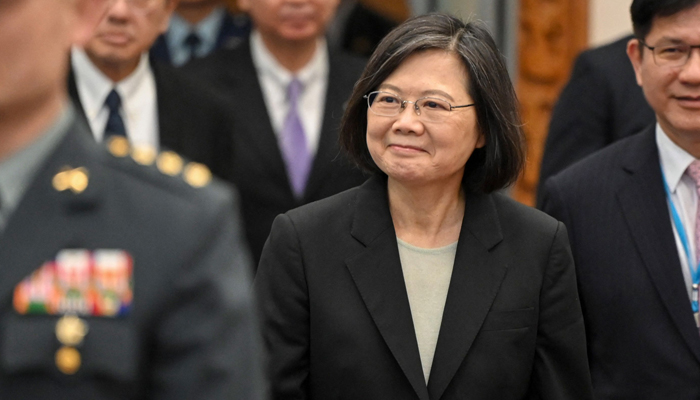 NEW YORK: Taiwanese President Tsai Ing wen arrived in New York on Wednesday for a visit that has triggered threats of reprisal by China if she meets with House speaker Kevin McCarthy — and US warnings for Beijing not to overreact.

Tsai is stopping over in the United States en route to Central America, where she will meet with the leaders of Guatemala and Belize to shore up ties with those diplomatic allies.
On her way back to Taiwan she will stop in California, where McCarthy had said he would meet her.
China claims the democratic island as part of its territory to be retaken one day and, under its "One China" principle, no country may maintain official ties with both Beijing and Taipei.
Beijing warned Wednesday that it was vehemently opposed to any meeting between Taiwan leader Tsai and speaker McCarthy and vowed to take "resolute measures to fight back" if it goes ahead.

The United States responded by saying China should not use Tsai's stopover as a pretext to act aggressively around the Taiwan Strait.
Taiwanese President was seen arriving at her hotel in New York, where dozens of pro-Beijing demonstrators waving China's red flag gathered boisterously while nearby a similarly sized group of pro-Taiwan people cheered and waved their banner and the US stars and stripes.
Xu Xueyuan, the charge d'affaires at the Chinese embassy in Washington, said she had spoken directly to US officials numerous times and warned them that Tsai's trip would violate China's core interests.
"We urge the US side not to repeat playing with fire on the Taiwan question," she told reporters, alluding among other things to last year's visit to Taiwan by then-House Speaker Nancy Pelosi.
Tsai's trip follows Honduras's decision this month to open diplomatic relations with Beijing, leaving Belize and Guatemala among just 13 countries that have official ties with Taipei.
After first visiting New York, Tsai Ing wen will meet her Guatemalan counterpart Alejandro Giammattei and Belize Prime Minister John Briceno in their respective countries, her office said.
She will then stop in Los Angeles on her way home.
McCarthy has said he will meet the Taiwanese president in his home state, although the talks are yet to be confirmed by Taiwanese authorities.
Pelosi's visit triggered an angry response from Beijing, with the Chinese military conducting drills at an unprecedented scale around the island.
Official vs unofficial ties
Analysts say the US stopover comes at a key time, with Beijing having ramped up military, economic and diplomatic pressure on Taiwan since President Tsai came to power in 2016, snagging nine of its diplomatic allies.
"Beijing's attempts to poach Taiwan's diplomatic partners will lead to Taiwan developing closer ties with the United States," said James Lee, a researcher on US-Taiwan relations at Academia Sinica.
The United States remains Taiwan's most important ally — and its biggest arms supplier — despite switching its diplomatic recognition to Beijing in 1979.
"The loss of official relations with third countries will be offset by a deepening of Taiwan's unofficial relations," Lee said.
Recent visits by a Czech delegation and a German minister were met with rebukes from Beijing.
One of Tsai's most prominent domestic opponents, ex-president Ma Ying-jeou, was in China on Wednesday, the first such trip by a former Taiwanese leader.
Diplomatic battleground
China has increased investment in Latin America, a key diplomatic battleground between Taipei and Beijing since the two sides split in 1949 after a civil war.
Taiwan accused China on Sunday of using "coercion and intimidation" to lure away its allies after Honduran Foreign Minister Enrique Reina and his Chinese counterpart Qin Gang officially launched relations in Beijing.
During the meeting, Qin formally invited Honduran President Xiomara Castro to visit China "at an early date."
The Honduran foreign ministry confirmed in a tweet Wednesday that Castro would "soon" make an official visit to China, with an eye toward "signing auspicious agreements between both countries."
One of the poorest nations in the region, Honduras made the flip from Taiwan to Beijing out of economic necessity, Reina had said earlier.
The move continued a trend in Latin America, with Nicaragua, El Salvador, Panama, the Dominican Republic and Costa Rica all switching diplomatic recognition to Beijing in recent years.
In addition to Guatemala and Belize, Taiwan still has official ties with a handful of countries in Latin America and the Caribbean, including Paraguay and Haiti.