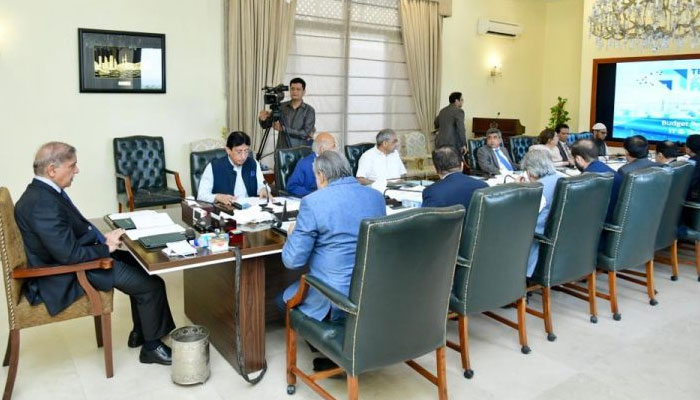 Premier Shehbaz constitutes body on fixed tax regime for IT sector.
PM Shehbaz approves establishment of special training IT zones. 
He sets $4.5 billion export target for IT sector in next year.  
---
In a bid to boost the country's IT exports, the federal government has decided to introduce a fixed tax regime for the sector in the budget 2023-24, slated to be presented on June 9 in the National Assembly.
This was announced by Prime Minister Shehbaz Sharif while chairing a high-level meeting to discuss budget proposals for Information Technology and Telecommunication sector, according to a statement issued by the PM Office media wing.
During the meeting, the premier directed the relevant authorities to include mega incentives for the IT sector in the upcoming fiscal budget to boost the country's IT export.
In addition to this, PM Shehbaz constituted a committee on the fixed tax regime, besides directing the body to submit its recommendations immediately.
The meeting also accorded approval in principle for providing special incentives to new business start-ups in the IT sector. Special concessions for the promotion of business and trade through modern technology were also approved.
The meeting also decided to take the initiatives that were crucial to encourage youth for starting their own businesses. The prime minister approved a major decision of creating special training IT zones for the promotion of entrepreneurship.
He said that the government would spend a huge amount on the training of youth in IT sector. Currently, a total of 45,000 people across the country were being trained in the IT sector, the premier added.
The PM further said that in the upcoming fiscal budget, the government would distribute 1,00,000 laptops among the youth on a merit basis.
During the previous tenure of the PML-N government, they had distributed laptops among the country's youth and by utilising this facility, the young people supplemented the foreign reserves during the Covid pandemic, he observed.
The prime minister further set a target for the IT sector to increase its export up to the tune of $4.5 billion for the next year.
In the meeting, PM Shehbaz directed to include all the IT related recommendations in the upcoming fiscal budget, adding the approval of IT-related recommendations in the next budget would create massive job opportunities for the youth.
He also directed the authorities to take measures which were essential to provide special guidance and government assistance to the youth for setting up new companies in the IT sector.
The PM also directed for organising IT sector road shows abroad to sensitize the world about the facilities being offered by the IT sector in Pakistan.