Pakistan's bittersweet journey across ICC Cricket World Cups
Updated Wednesday Sep 27 2023
Pakistan's journey at the Cricket World Cup has been nothing short of a captivating rollercoaster ride. Since their debut in the inaugural tournament in 1975, Pakistan has etched a compelling narrative of triumphs, heartbreaks, and unforgettable moments on the global cricketing stage. 
The team, often referred to as the "Men in Green," has displayed an uncanny ability to rise from the shadows and surprise the cricketing world with their sheer talent and unpredictability.
Throughout the years, Pakistan has tasted both the highs and lows of World Cup cricket.
They clinched their maiden World Cup title in 1992 under the charismatic leadership of Imran Khan — a moment that remains engraved in the memories of fans around the world.
The 1999 World Cup saw Pakistan reaching the final, only to fall short against Australia.
However, Pakistan's World Cup journey has also been marred by many underperformances and early exits, leaving fans and pundits alike scratching their heads.
The 2003 and 2007 editions were particularly disappointing, but the team's resilience and the emergence of new talents have kept the hope alive for future glory.
1975: A disappointing start
In 1975, Pakistan entered the World Cup fray, finding themselves in Group B alongside cricketing powerhouses — West Indies and Australia, as well as Sri Lanka. This maiden World Cup campaign was hosted by England, and Pakistan's performance in the group stage was a mix of promise and setback.
Their inaugural match was against Australia on June 7, 1975, at Headingley, Leeds. Australia posted a formidable 278/7 in 60 overs, with Ross Edwards contributing an unbeaten 80. Pakistan, in response, managed to reach 205, but Dennis Lillee's remarkable bowling performance (5/34) led Australia to a victory by 73 runs.
On June 11, Pakistan faced West Indies at Edgbaston, Birmingham. Pakistan put up a competitive total of 266/7, with Majid Khan scoring 60. However, West Indies narrowly secured victory with just one wicket to spare, thanks to a crucial unbeaten 61 by Deryck Murray and Sarfraz Nawaz's 4/44.

Their final group match on June 14 saw Pakistan playing against Sri Lanka at Trent Bridge, Nottingham. Pakistan posted an imposing total of 330/6, with Zaheer Abbas top-scoring with 97. Their bowlers then restricted Sri Lanka to 138, winning the match by a massive margin of 192 runs, with Imran Khan taking 3/15.
Ultimately, Pakistan finished third in Group B, earning four points and showcasing some promising performances.
1979: Semi-final contention
In the 1979 World Cup, Pakistan performed commendably in Group A, finishing second, and securing a place in the semi-finals.
Pakistan dominated Canada in their first match, bowling them out for 139/9 and then successfully chasing the target, winning by 8 wickets. Sadiq Mohammad was the star with an unbeaten 57 not out.
In their second match, Pakistan posted a challenging total of 286/7 against Australia, with Asif Iqbal scoring 61. Their bowlers then dismissed Australia for 197, securing an impressive 89-run victory.
In their final group stage match, Pakistan faced England in a closely contested match. Despite Asif Iqbal's 51, Pakistan could only manage 151. England won by 14 runs as Mike Hendrick took four crucial wickets.
In the semi-final, Pakistan went up against the formidable West Indies. Despite a valiant effort by Zaheer Abbas and Asif Iqbal, Pakistan fell short, losing by 43 runs.
1983: Mixed results
In the 1983 World Cup, Pakistan showcased their cricketing prowess in Group A alongside strong contenders like England, New Zealand, and Sri Lanka. The team, captained by Zaheer Abbas, displayed a mixed performance throughout the group stage.
Their opening match on June 9 saw Pakistan face Sri Lanka in Swansea, Wales. Pakistan set a daunting total of 338/5, thanks to notable contributions from Zaheer Abbas (82) and Mohsin Khan, who was named Player of the Match. Sarfraz Nawaz's bowling performance (3/40) helped Pakistan secure a 50-run victory.
However, Pakistan faced a setback in their second match against New Zealand on June 11. Despite Abdul Qadir's brilliant performance (4/21), Pakistan could only manage 186 in response to New Zealand's 238/9, resulting in a 52-run loss.
Their third group stage match took place on June 13th against England at Lord's, London. Pakistan posted 193/8 in 60 overs, but England successfully chased the target, winning by 8 wickets, with Zaheer Abbas being named Player of the Match.
In subsequent matches, Pakistan managed to secure victories against Sri Lanka and New Zealand but faced a disappointing loss to the West Indies in the semi-final, ending their journey in the tournament.
1987: High expectations at home
In the 1987 World Cup, Pakistan was considered one of the favourites to win the tournament as they played at home. They were placed in Group B, where they displayed their dominance with remarkable performances.
Pakistan started their campaign with a thrilling match against Sri Lanka at Niaz Stadium, Hyderabad. Javed Miandad's splendid century (103 runs off 100 balls) powered Pakistan to a total of 267/6, and they won by 15 runs as Sri Lanka fell short at 252.
Their next match against England at Pindi Club Ground, Rawalpindi, saw Abdul Qadir's brilliant bowling performance (4/31) helping Pakistan secure an 18-run victory. Rain interrupted the match on October 12, and the reserve day on October 13 was used to complete the game.
In a closely contested game against the West Indies at Gaddafi Stadium, Lahore, Imran Khan's bowling brilliance (4/37) contributed to Pakistan's one-wicket win. Saleem Yousuf was the star with the bat, scoring 56 runs.
Pakistan continued their winning streak, defeating England again at the National Stadium, Karachi. Ramiz Raja's century (113 runs off 148 balls) and Imran Khan's crucial bowling (4/37) ensured a 7-wicket victory for Pakistan.
In the final group match against Sri Lanka at Iqbal Stadium, Faisalabad, Saleem Malik's century (100 runs off 95 balls) and Abdul Qadir's bowling (3/40) led Pakistan to a convincing 113-run win.
Despite their strong group stage performance, Pakistan faced disappointment in the semi-final against Australia at Gaddafi Stadium, Lahore. Australia emerged victorious by 18 runs, with Craig McDermott earning the Player of the Match award for his 5-wicket haul.
1992: The historic triumph
The 1992 World Cup holds a special place in Pakistan's cricket history. Imran Khan's leadership guided Pakistan to a historic victory in a tournament that began with mixed results in the group stage.
The group stage witnessed wins against Zimbabwe, England, and Australia. However, a rain-affected match against England and a loss to India posed challenges.
In the knockout stage, Pakistan's resurgence led to victories against New Zealand and England in the semi-final.
In the final, they triumphed over England, securing their first World Cup title. This momentous triumph marked the end of Imran Khan's One Day International career, immortalising his legacy as one of Pakistan's greatest cricketing heroes and captains.
1996: Strong group stage, quarter-final exit
In the 1996 World Cup, Pakistan performed well in Group B. Victories against the United Arab Emirates, the Netherlands, and South Africa displayed their strength.
However, their journey was cut short in the quarter-final, where they faced India and lost. It was Javed Miandad's final ODI.
1999: Runners-up
Pakistan had a remarkable journey in the 1999 World Cup. Strong performances against Australia and New Zealand in the group stage highlighted their prowess.
In the semi-final, they faced an impressive opponent in New Zealand, securing a convincing win. However, Pakistan fell short in a one-sided final against Australia, finishing as runners-up.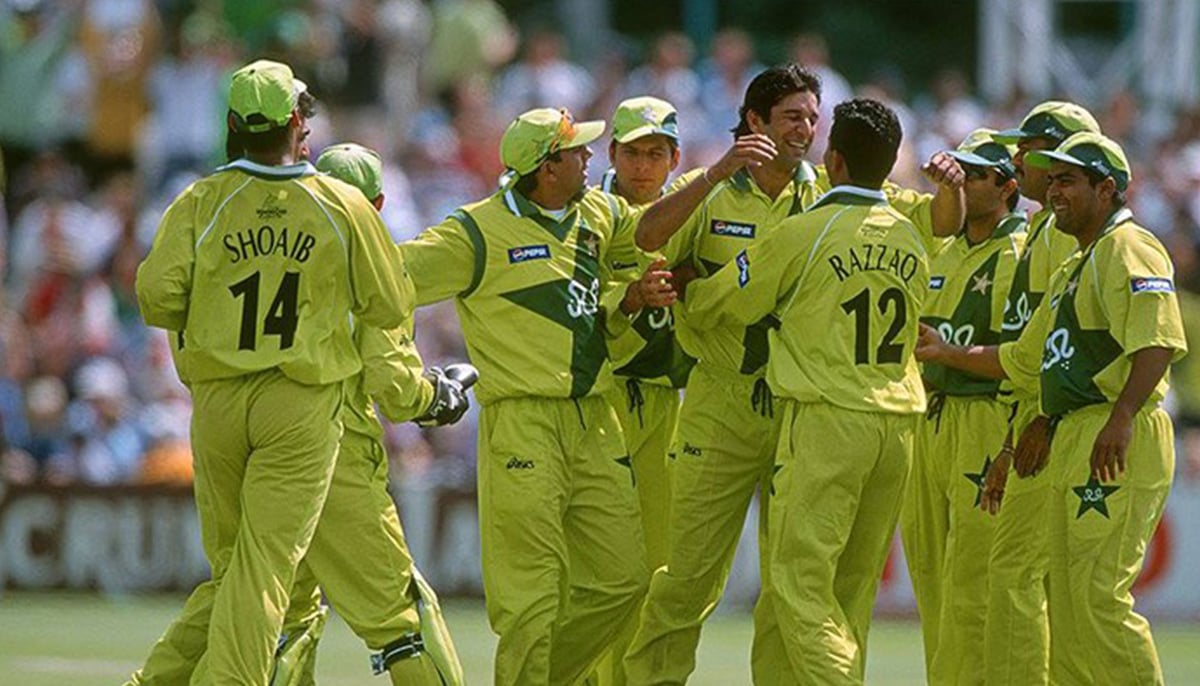 2003 and 2007: Challenging campaigns
The 2003 and 2007 World Cups were challenging campaigns for Pakistan. They couldn't excel in the next stage, facing setbacks and early exits in both tournaments.

In 2003, they only managed to secure two wins against the Netherlands and Namibia while The Men in Green had an upset against Ireland in 2007.
2011: Impressive group stage, semi-final loss
In the 2011 World Cup, Pakistan showcased strong performances in the group stage. Victories against Kenya, Sri Lanka, Canada, Zimbabwe and Australia secured their spot in the knockout stage.

In the quarter-final, they defeated the West Indies but faced a heartbreaking loss to India in the semi-final.

2015: Mixed performance
Pakistan's journey in the 2015 World Cup had moments of brilliance, including wins against South Africa and Ireland. However, inconsistency in the group stage early in the tournament and a loss to Australia in the quarter-final ended their campaign.
2019: Rollercoaster ride
In the 2019 World Cup, Pakistan experienced a rollercoaster of emotions. They began with a loss to the West Indies but bounced back with a win over England. 
Despite strong performances in the later part of the round robin where Pakistan claimed four straight wins against South Africa, Afghanistan, New Zealand and Bangladesh, they narrowly missed the semi-finals due to net run rate.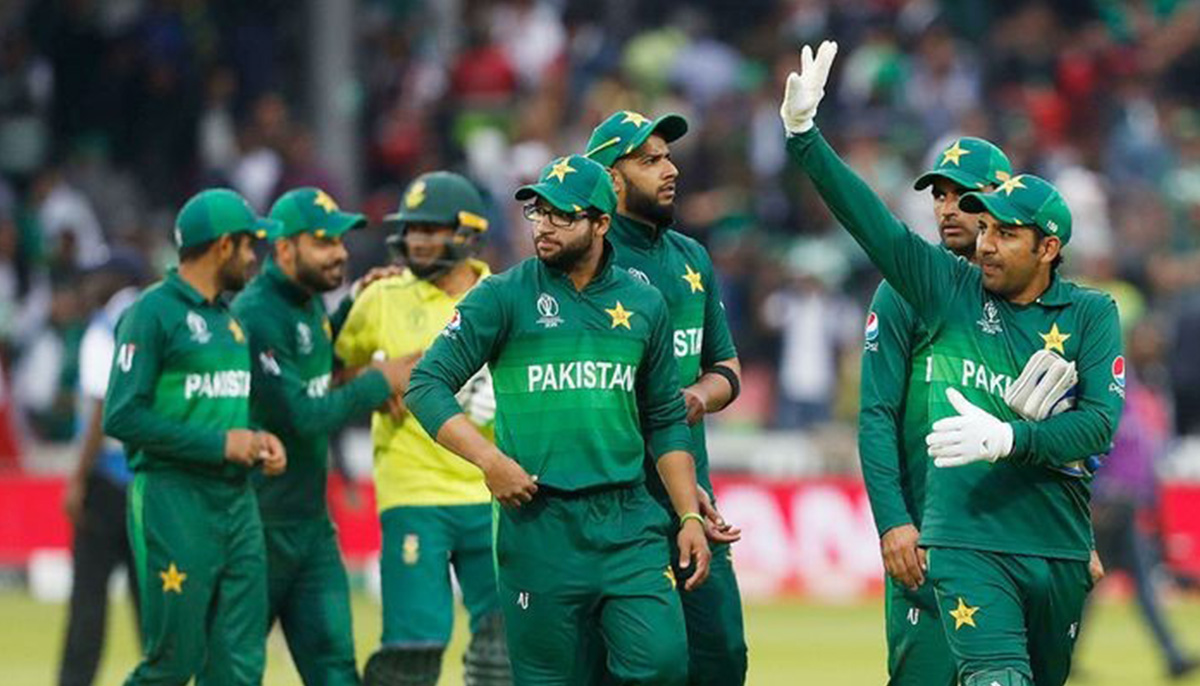 Pakistan's journey in World Cup cricket has been a testament to their resilience, talent, and unpredictable nature. As they continue their quest for cricketing excellence, fans around the world eagerly await their next chapter in this thrilling sporting saga.
---
Mohammad Ali Ahmed is a staffer at Geosuper.tv