Sufi legacy of 'Qawwal Gharana' preserved amidst bustling metropolis of Pakistan
Let us take you down to Karachi's Qawwal Gali, where live direct descendants of disciples of Indo-Persian Sufi singer, musician, poet and scholar Amir Khusrau
Updated Tuesday Nov 07 2023
Lived from 1253 to 1325, Amir Khusrau is considered the inventor of Qawwali and the instruments used to perform it. Even today the most venerated and authentic Qawwals trace their lineage to him.

This Qawwali dynasty primarily reached its zenith in the subcontinent, sprouting from the well-known 'Qawwal Bachchon ka Gharana' of Delhi, India. Meanwhile, in Pakistan, this dynasty is living amid the bustling streets of Karachi, and the place is recognised as Qawwal Gali (the street of Qawwals).
Qawwal Gali
The Qawwal Gali, a street located near a shoe market in Karachi's Garden East neighbourhood, is where the descendants of the most authentic historical Qawwals reside.
Being one of the busiest streets of the city which remain vivacious round the clock, the prominence of these streets clinched to further heights mainly because of the successors of Munshi Raziuddin.
With a Qawwal family residing in almost every house, five streets are named after the five most illustrious Qawwals namely Munshi Raziuddin, Moeen Niyazi, Kallan Khan, Jaafar Hussain Nizami, and Bahauddin.
These five distinguished Qawwals are the descendants of the 12 original pupils of Amir Khusrau.
These families have been residing there since the inception of Pakistan and have kept and built their legacy further from the same street.
The Qawwal families stay closely knit and remain constantly in a healthy competition wherein each family tries to outdo others.
Roots of Qawwal Bachchon Ka Gharana
Qawwali did not make its way beyond South Asia until the late 20th century when the descendants of the 12 disciples of Amir Khusrau continued to preserve the traditional dynasty of Qawwali. The most notable one among them was Mian Saamat Bin Ibrahim.
Among the many pupils of Mian Saamat Bin Ibrahim, the most remarkable was Mian Qutub Bakhsh who was also awarded the title of Tanras Khan by the last Mughal Emperor Bahadur Shah Zafar.
Tanras Khan in the late 18th century set the foundations of the Delhi Qawwal Bachchon Ka Gharana, also known as Delhi Gharana.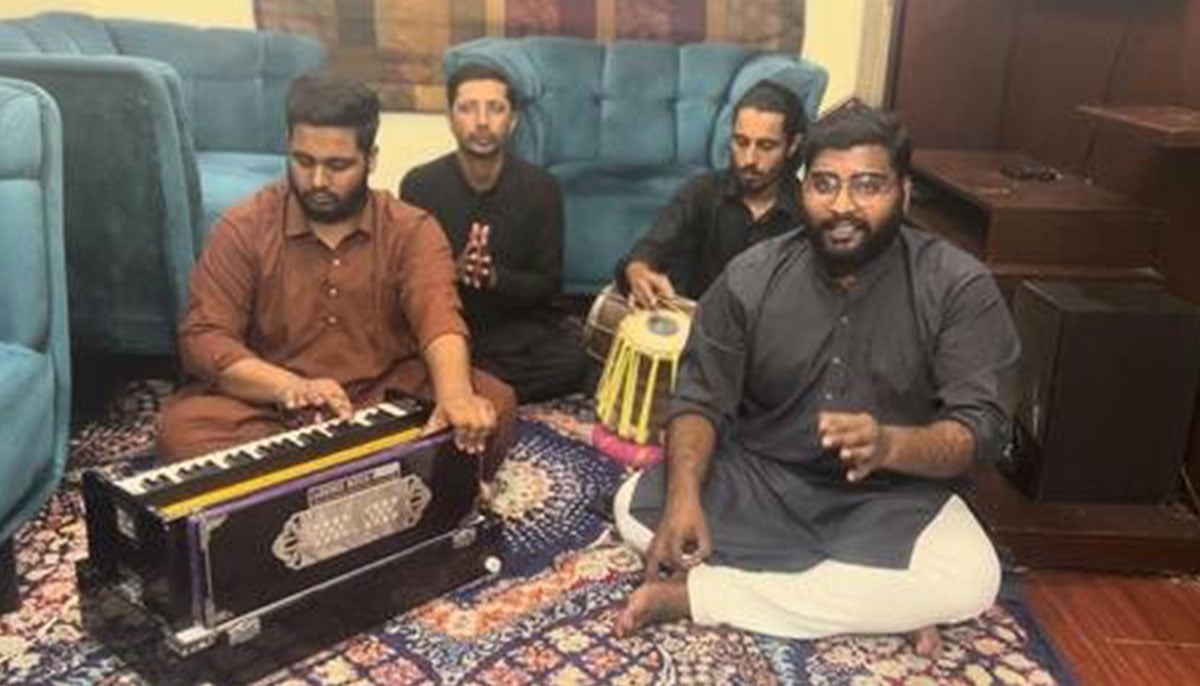 His family tree further expanded and his successors shined around the globe, and the finest gem that stood out among others was Ustad Munshi Raziuddin who migrated to Pakistan shortly after the independence of Pakistan. Munshi Raziuddin was succeeded by his four sons namely Fareed Ayaz, Abu Muhammad, Ghulam Akram and Ali Akbar Razi.
Ali Akbar is the youngest one, while his elder brothers, Fareed Ayaz and Abu Muhammad remain more in the limelight as they've been featured in Coke Studio too.
Nevertheless, Ali Akbar Razi, too, is playing vitally in training his children to follow in the footsteps of Munshi Raziuddin and keep intact this rich heritage.
Munshi Raziuddin's heritage
Ali Akbar Razi, the youngest son of Munshi Raziuddin said, "Our father took permanent residence in Karachi, Pakistan just one year after the independence, and decided to start his own journey by forming a Qawwal clan comprising his immediate family."

Holding his father in very high regard, he shared that his father didn't only have a good grasp of the art of Qawwali, but had impeccable command over classical vocalisation and hundreds of compositions belong to his repertoire.
His contribution to the legacy of Qawwal earned him the Pride of Performance by the government in 1990, added Ali Akbar.
While reflecting on his relationship with his father, Ali Akbar spoke highly of him and said he found him complete, as a father and as a teacher.
"Allah had blessed my father with the immense knowledge of so many subjects such as music, religion, Quran, Hadith, sects, and many languages," he proudly said.
Keeping his father's name high by performing all around the world, he is also contributing to the growth of the modern-day generation of Qawwals by virtually teaching the art of Qawwali to students globally.
Even though he can afford to live in a better place, he continues to live in the Qawwal Gali as this street is where he started his journey with his father.
He also mentioned that his father had strict principles when it came to teaching the art of Qawwali.
"I started my career when I was five years old," he said. "Back in 1976 we were facing problems before our performances. When we had to perform, we were always a member short. Sometimes a dholak (drummer) was missing and sometimes a harmonium player. So my father decided to teach me dholak and that's where my journey began."
Being a well-read person, the 55-year-old Ali Akbar also explained the origin of the word 'Qawwali' while shedding some light on its history.
"There is a word Qaul (saying) and the person who repeats the Qaul is referred to as Qawwal," he explained. "Qawwali is actually a fabricated word and an extension of the word Qaul."
"With the passage of time, like everything, Qawwali has also evolved but the way it is being performed nowadays can be called anything but not Qawwali," he lamented while expressing distress over the fading essence of Qawwali.
Successors of Ali Akbar Razi
Apart from their academic educations, Ali Akbar Razi has been teaching his sons the art of Qawwali to keep the glory of his father's legacy alive.
Ali Akbar, having extensive knowledge and understanding of music, isn't the type of personality to be impressed easily. However, Abu Turab, the younger son of Ali Akbar, shared a rare instance when he got his back tapped on by his father.
"About seven years back, when I was very young, I played harmonium while performing with my father at an event. That was the first time my father praised me and patted my back." Abu Turab said.
"We have performed in many countries and everyone enjoys Qawwali in his own style," said Fattah Ali, the eldest son of Ali Akbar. "Some listen to it quietly with respect and some just lose control of their selves and become revellers," he added.
Fattah added that they need to buy the best variants of the required instruments to provide quality in the performance, as they cannot compromise on the quality.
"The harmoniums which we use during performances are mostly imported from India," Fattah mentioned. "It costs over Rs100,000, and depending on the quality, may cost even more."
The Qawwal Gali, as iconic as it sounds, is a place deprived of basic living necessities.
"There is a lot of load-shedding in our area which hinders our practice sessions," Fattah said. "Also, there is a sewerage problem due to which our Qawwal Gali has become a pool with stagnant, dirty water. This is a big reason that people are unaware of this culturally rich street," Fattah noted.
---
 Syed Saif Ul Hassan is a staffer at Geo.tv. He tweets @syedsaif__
---
— Header and thumbnail illustration by Geo.tv