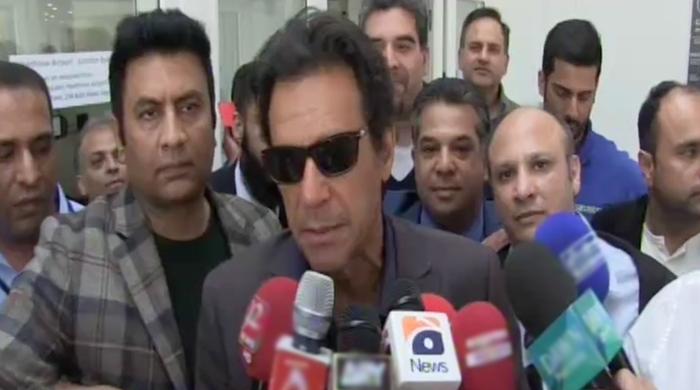 LONDON: Pakistan Terheek-e-Insaf (PTI) Chairman Imran Khan confirmed to journalists while answering questions in London on Friday, that he too owned an offshore company which he created in 1983.
Answering questions posed by Geo News, Imran Khan confirmed that he made his offshore company in the days he was playing county cricket. He added that he had made the company to avoid paying taxes as he wasn't a resident of UK.
Imran Khan has been the strongest critic of the incumbent government in Pakistan and had stated in April that the "Only reason ppl open offshore accts through Panama is to either hide wealth, esp ill-gotten wealth, or to evade tax or both."
Imran Khan, former cricketer turned politician, told journalists in London his accountants had advised him that if he was going to sell his property, being a non-resident he would have to pay heavy taxes. To avoid paying those heavy taxes, the PTI chief said the property was owned through an offshore company.
Until Imran Khan's confirmation his party's spokesman Naeemul Haq kept insisting that the said property was always owned in the name of Imran Khan.
According to the United Kingdom's official land registry records, Imran Khan's property – a flat in South Kensington was registered in the name of 'Niazi Services Limited' of Jersey, Channel Island, on May 3rd 1984.
According to the records, the flat was sold in March 2003 for GBP 715,000.
Earlier on Friday, TheNews reported that 'Niazi Services Limited' was registered in the jurisdiction of Jersey, Channel Island on May 10, 1983 with company code 26211 on the address Langtry House, La Motte Street, St. Helier, Jersey, according to the documents obtained from Jersey authorities after paying legal fees.
Jersey of Channel Island is one of the most famous havens for offshore companies and is also named as one of the 'jurisdictions' of offshore havens in recently released database of International Consortium of Investigative Journalists (ICIJ).
To read the story published in TheNews click here