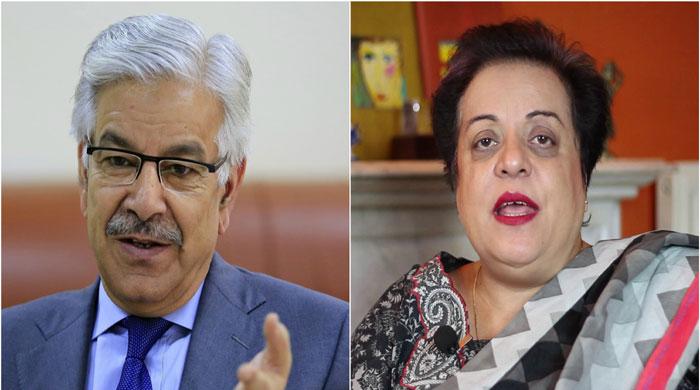 ISLAMABAD: The Pakistan Tehreek-e-Insaf reacted strongly on Wednesday over Minister of Power and Water Khwaja Asif's behavior in the national assembly where he called PTI leader Shireen Mazari a 'tractor'.
Asif was praising the government for reducing load shedding in Ramzan when Mazari interrupted him. "Thank God citizens are doing Iftar, Sehri and performing Taraweeh in peace. Citizens are breathing a sigh of relief due to reduced load shedding," he said.
Asif told the House that the present government has added 2665 MW additional electricity in the system during the last three years.
The opposition booed Asif on which speaker Ayaz Sadiq asked the opposition to wait patiently for their turn, and then specifically asked Shireen Mazari to remain seated. When Mazari refused to do so, and continued interrupting Asif's speech the speaker asked Asif to continue his speech.
An irritated Asif asked the speaker to request this "tractor trolley to shut up". He mocked Mazari's voice and said, "Can you make this male voice female sounding?"
PTI leader Shah Mehmood Qureshi protested in the assembly. He said that Asif's words were "extremely inappropriate". "Khwaja Asif should take back his words. He should apologize," Qureshi said.
Things got uglier when an official statement from PTI spokesman Naeemul Haq called for a public hanging of Khawaja Asif. "Khwaja Asif should be hanged vertically and hit with shoes 25 times every day," he said.
Perhaps Mazari handled the issue most sensibly. Speaking to Geo News outside the National Assembly Mazari said, "Khwaja Asif should learn to respect women. If a male opposition member protests it is considered okay, but if a female member speaks up he gets offended."