Almost every citizen is well aware of how the country's Armed Forces carry out a display of power at the military parade on the morning of Pakistan Day.
Many people promptly wake up to watch the live coverage on their televisions, but late risers often miss out on the fun and passion felt during the ceremony. We have decided to take you through a visual story of what has happened since dawn on this special day.
In line with the annual tradition, the day commenced with fervour, as 31- and 21-gun salutes were conducted in Islamabad and the provincial capitals, respectively, following which was a joint parade of the three military forces – Pakistan Army, Navy, and Air Force. The Tri-Services of People's Liberation Army of China, Saudi Special Force's contingents, and Turkish Janissary Military band also took part in today's activities.

Pakistan's President Mamnoon Hussain (C/R) inspects a guard of honour during a Pakistan Day military parade in Islamabad on March 23, 2017/AFP/AAMIR QURESHI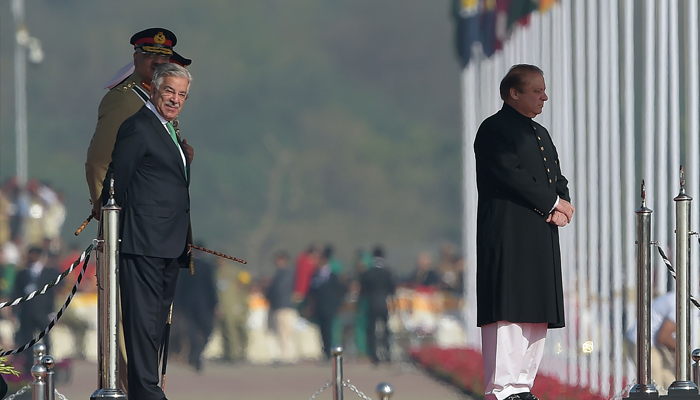 Pakistan's Prime Minister Nawaz Sharif (R) and Defence Minister Khawaja Asif (L) wait for the arrival of President Mamnoon Hussain during a Pakistan Day military parade in Islamabad on March 23, 2017/AFP/AAMIR QURESHI

Pakistan's President Mamnoon Hussain (C) rides a horse-drawn carriage escorted by presidential guards as he arrives at the venue for a Pakistan Day military parade in Islamabad on March 23, 2017AFP/AAMIR QURESHI

Pakistan's Prime Minister Nawaz Sharif (2R) arrives at the venue for a Pakistan Day military parade in Islamabad on March 23, 2017/AFP/AAMIR QURESHI

Pakistan's Prime Minister Nawaz Sharif (R) shakes hands with Chairman of The Joint Chiefs of Staff Committee General Zubair Mahmood Hayat (2R) during a Pakistan Day military parade in Islamabad on March 23, 2017/AFP/AAMIR QURESHI

Pakistani soldiers march past during a Pakistan Day military parade in Islamabad on March 23, 2017/AFP/AAMIR QURESHI

Pakistani army soldiers march past during a Pakistan Day military parade in Islamabad on March 23, 2017/AFP/AAMIR QURESHI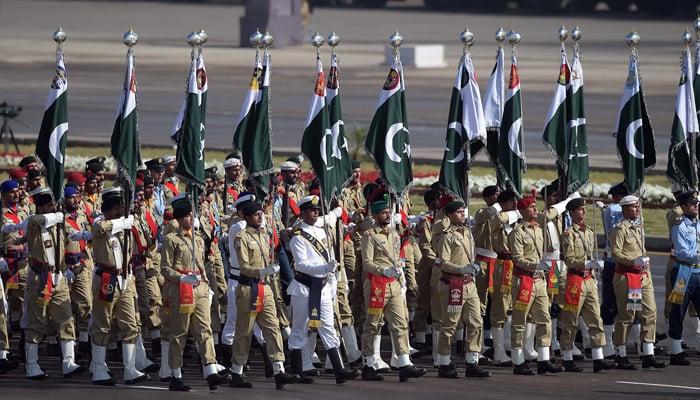 Pakistani forces soldiers march past during a Pakistan Day military parade in Islamabad on March 23, 2017/AFP/AAMIR QURESHI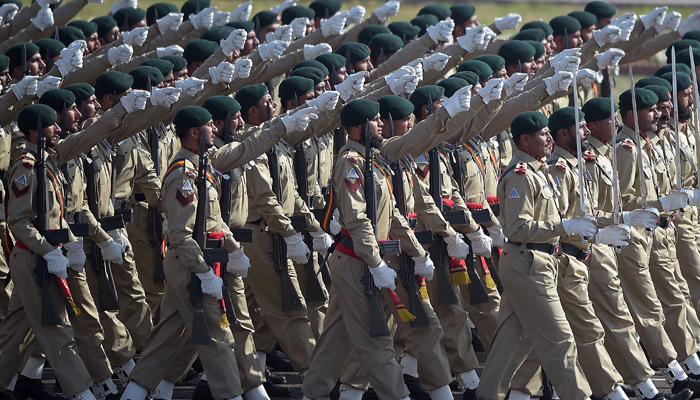 Pakistani soldiers march past during a Pakistan Day military parade in Islamabad on March 23, 2017/AFP/AAMIR QURESHI

Pakistan Air Force soldiers march past during a Pakistan Day military parade in Islamabad on March 23, 2017/AFP/AAMIR QURESHI

Pakistani border soldiers march past during a Pakistan Day military parade in Islamabad on March 23, 2017/AFP/AAMIR QURESHI

Female Pakistani soldiers march past during a Pakistan Day military parade in Islamabad on March 23, 2017/AFP/AAMIR QURESHI

Female Pakistani army soldiers march past during a Pakistan Day military parade in Islamabad on March 23, 2017/AFP/AAMIR QURESHI

Female soldiers of Pakistan's Air Force, Navy and Army march past during a Pakistan Day military parade in Islamabad on March 23, 2017/AFP/AAMIR QURESHI

Pakistani troops from the Special Services Group (SSG) march during a Pakistan Day military parade in Islamabad on March 23, 2017/AFP/AAMIR QURESHI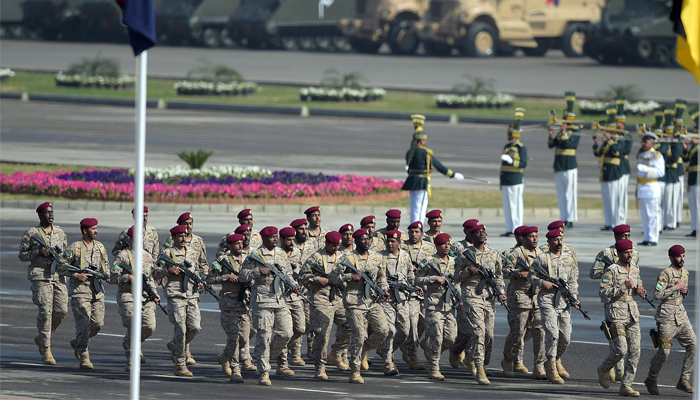 Saudi Arabian special troops march during a Pakistan Day military parade in Islamabad on March 23, 2017/AFP/AAMIR QURESHI

Chinese troops march during a Pakistan Day military parade in Islamabad on March 23, 2017/AFP/AAMIR QURESHI

Chinese troops march during a Pakistan Day military parade in Islamabad on March 23, 2017/AFP/AAMIR QURESHI

Pakistan's tank crews steer their vehicles during a Pakistan Day military parade in Islamabad on March 23, 2017/AFP/AAMIR QURESHI

Pakistan's tank crews steer their vehicles during a Pakistan Day military parade in Islamabad on March 23, 2017/AFP/AAMIR QURESHI

Pakistan's tank crews steer their vehicles during a Pakistan Day military parade in Islamabad on March 23, 2017/AFP/AAMIR QURESHI

Pakistani military personnel stand beside short-range Surface to Surface Missile NASR during a Pakistan Day military parade in Islamabad on March 23, 2017/AFP/AAMIR QURESHI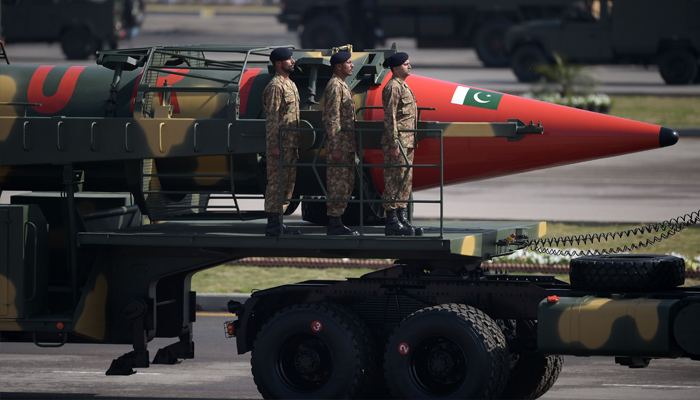 Pakistani military personnel stand beside a Ghauri nuclear-capable missile during a Pakistan Day military parade in Islamabad on March 23, 2017/AFP/AAMIR QURESHI

Pakistani military personnel stand beside Babur stealth cruise missiles during a Pakistan Day military parade in Islamabad on March 23, 2017/AFP/AAMIR QURESHI

Pakistani military personnel stand beside a Shaheen III surface-to-surface ballistic missile during a Pakistan Day military parade in Islamabad on March 23, 2017/AFP/AAMIR QURESHI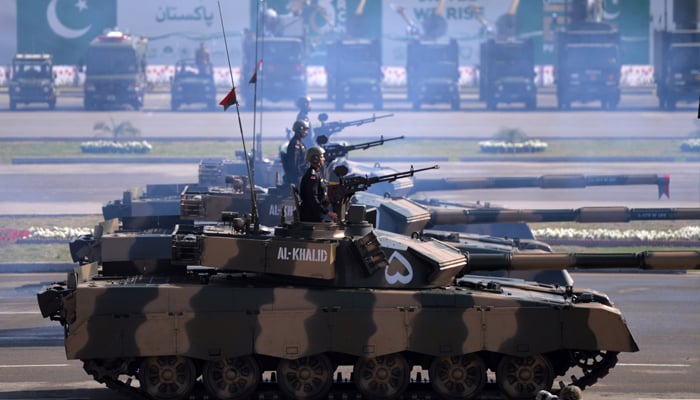 Pakistani military troops drive Al-Khalid tanks during a Pakistan Day military parade in Islamabad on March 23, 2017/AFP/AAMIR QURESHI

Pakistan's tank crews steer their vehicles during a Pakistan Day military parade in Islamabad on March 23, 2017/AFP/AAMIR QURESHI

Pakistani military personnel stand beside Air Defence System during a Pakistan Day military parade in Islamabad on March 23, 2017/AFP/AAMIR QURESHI

Pakistani military personnel stand beside Air Defence System during a Pakistan Day military parade in Islamabad on March 23, 2017/AFP/AAMIR QURESHI

Pakistan's tank crews steer their vehicles during a Pakistan Day military parade in Islamabad on March 23, 2017/AFP/AAMIR QURESHI

Pakistani F-16 fighter jets fly past during a Pakistan Day military parade in Islamabad on March 23, 2017/AFP/AAMIR QURESHI

Pakistani jets fly past during a Pakistan Day military parade in Islamabad on March 23, 2017/AFP/AAMIR QURESHI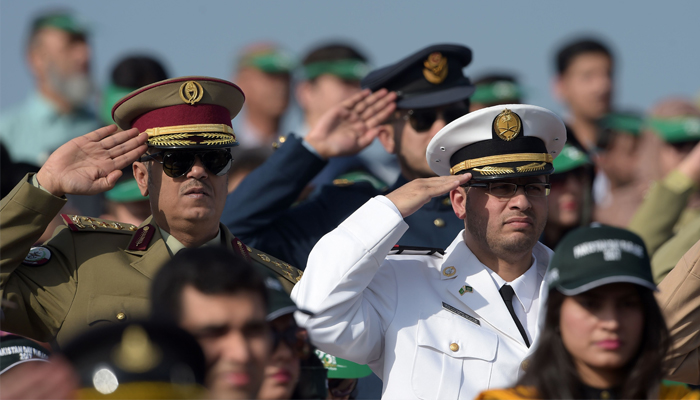 Foreign military officials salute during a Pakistan Day military parade in Islamabad on March 23, 2017/AFP/AAMIR QURESHI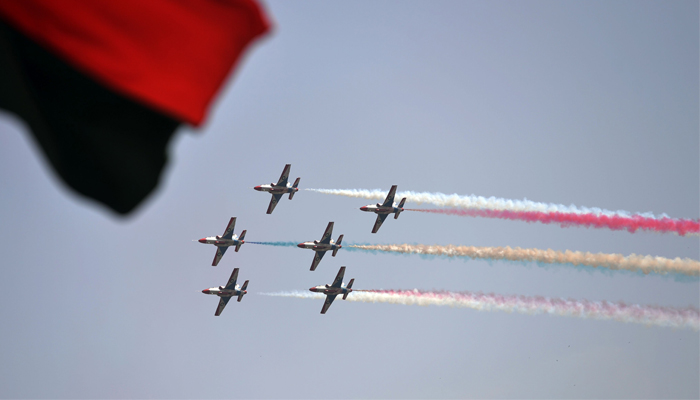 Pakistani jets perform aerobatic manoeuvres during a Pakistan Day military parade in Islamabad on March 23, 2017/AFP/AAMIR QURESHI

Pakistani jets perform aerobatic manoeuvres during a Pakistan Day military parade in Islamabad on March 23, 2017/AFP/AAMIR QURESHI

Pakistani jets perform aerobatic manoeuvres during a Pakistan Day military parade in Islamabad on March 23, 2017/AFP/AAMIR QURESHI