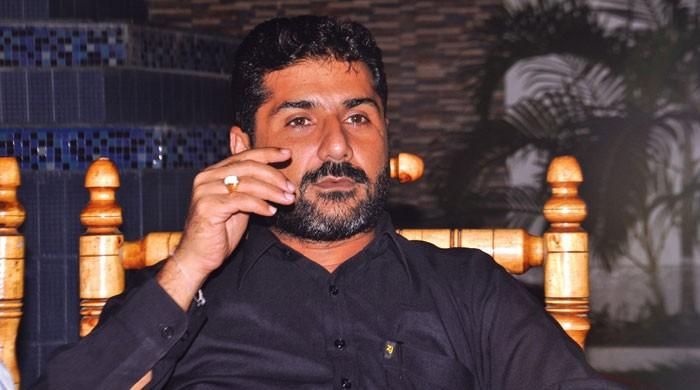 Clad in an immaculate, starched white Shalwar Kameez with a Baloch dastur (turban) on his head, Sardar Uzair Jan Baloch, the kingpin of Lyari gang war, would once gleam with an aura of invincibility while riding his Land Cruiser in the narrow lanes of the locale.
The elusive gangster, who managed to dodge the law enforcers during the Lyari operation, was nabbed by the Rangers on January 30, 2016. Pictures of a feeble looking Uzair, donning a Sindhi topi, were splattered across the media manifesting how the mighty had fallen.
A little over a year later, the gangster has now been taken into custody by the Army for leaking "sensitive information to foreign agencies" among a myriad of previous charges including murder, extortion, target killing, possession of illicit weapons, drug dealing, kidnappings for ransom, gambling, and others.
Beginnings
Uzair Baloch's entry into the world of criminals and gang war is no less than a movie; a scorned young man powered by the thirst to take his father's murderer to task.
His father, Faiz Muhammad alias Mama Faizu, a well-known transporter, was kidnapped for ransom by Arshad Pappu, the son of Lyari gang leader Haji Lalu. Following a brief scuffle, Pappu shot Faizu, who eventually bled to death.
After the incident, Uzair joined the gang of infamous cousin, Rehman Dakait. Soon, Uzair's threat started to loom across the streets of Lyari. After Rehman's killing in an alleged shootout with police, Uzair was unanimously chosen as his successor.
In March 2013, Uzair was said to have 'avenged' his father's death in the most gruesome of ways possible. Arshad Pappu and his three accomplices were allegedly brought to a Lyari playground, where the gangsters' death was turned into a spectacle with a massive crowd witnessing the violence and capturing videos of the bodies being desecrated.

Photo released by Rangers following Uzair Baloch's arrest in January, 2016.
Criminal record
The new Lyari gang lord, with a head money of Rs2 million, was first booked in a murder case in 2004 under section 302 (55/2004) at the Kalakot police station.
This led to a string of other charges being brought against him and he was eventually wanted in over 55 cases. In 2005, he was arrested by the late Superintendent of Police Chaudhry Aslam, but was later released on bail.
After the launch of the Lyari operation, the kingpin fled the country. He was reportedly arrested in the United Arab Emirates, but was released in April, 2015, after Pakistani authorities failed to secure his custody.
Eventually, under mysterious circumstances, he reappeared on the outskirts of Karachi, from where he was arrested by the Rangers in January last year.
During his 90-day physical remand, Baloch is said to have confessed to 197 murders, including the deaths of 12 traders during carnage in Shershah scrap market, ordering the collective murder of Haji Aslam and his five sons, and the kidnapping and murder of his rival, Arshad Pappu, and accomplices.

Photo: Vice News
Financial assets
Uzair's four-storey mansion, equipped with a swimming pool and a mini waterfall fountain in the garden, does not even come close to his other possessions. His JIT report revealed that he owns assets worth billions of rupees in Pakistan, Dubai, Muscat, and Iran.
Among them, he has a house worth 1.1 million dirhams in Dubai, registered in his brother-in-law's name, along with an office in Dubai International City worth 0.5 million dirhams.
In Muscat, the gangster is said to own a bungalow and a plot worth 0.9 million and 0.6 million dirhams respectively, both of which are registered in the name of his friend Shakir. He also owns Rs10 million property in Chabahar, Iran, which is registered in the name of his relative Jaleel.
The JIT report says he has more than 1million dirhams in his four bank accounts in Dubai, three of which are in the name of his wife. Along with a balance of Rs1.5million in his wife's bank account, he owns one acre land worth Rs40 million in Chakiwara. He also owns 16 acres of land in Hub's Raees Goth area.

Uzair Baloch picture with PPP leaders, including Faryal Talpur, Qaim Ali Shah, and Zulfiqar Mirza
Discord with PPP
Uzair Baloch's controversial links to the ruling Pakistan People's Party in Sindh have time and again made rounds on national media. While the PPP has categorically denied all such reports, their connection has been supported by pictures and videos.
Earlier, a video footage had surfaced which showed former Sindh Chief Minister Qaim Ali Shah, following his post-election oath-taking ceremony, going to a dinner party organized by Uzair Baloch. He was also joined by other PPP leaders, such as Sharmeela Faruqi, Shehla Raza, Faryal Talpur, and Saeed Ghani.
Yet, the party leaders have denied their affiliation with the gangster. In an interview on May 20, 2015, PPP co-chairman Asif Ali Zardari told Geo News senior journalist Hamid Mir that "Uzair Baloch was never a part of the PPP".
Similarly, other party leaders such as Maula Bux Chandio, Khursheed Shah and Nisar Khuhro have also denied any links with him.
Contrary to the PPP's stance, Uzair Baloch and his brother Zubair Baloch had time and again claimed that they were provided with weapons by the PPP. According to them, the arms and their permits were given by the PPP to ensure that the Muttahida Qaumi Movement – who until a couple of years back was considered the most powerful political party in Karachi – is not able to penetrate into Lyari.
Uzair had also replaced Rahman Dakait as the head of the People's Aman Committee, which was said to be allied with PPP leaders in Lyari. It was subsequently banned by the PPP provincial government on October 11, 2011 for carrying out militant activities under the cover of charity.
Espionage charges
Earlier this morning, the Pakistan Army's media wing announced that they had taken custody of Baloch in accordance with the Pakistan Army Act and the Official Secret Act – 1923.
The announcement, coming almost a year and a half after his arrest in a Rangers operation on the outskirts of Karachi, said Baloch was charged with espionage and leaking sensitive security information to foreign intelligence agencies.
He was held in 90-day preventive detention by the Rangers, who later handed him over to police.
In interrogation during the period following his arrest, Baloch is said to have confessed to having contacts with spies of foreign intelligence agencies.
A JIT report, a copy of which is available with Geo News, says Baloch provided "secret information regarding army installations and officials to foreign agents which is a violation of the Official Secrets Act 1923".
Sources say Baloch now awaits trial in a military court after which he will be handed out the appropriate punishment for his crimes.