KARACHI: A 27-year-old man Umair Shahab, identified as the son of Deputy Inspector General (DIG) Peshawar Shahab Mazhar, was reportedly killed by a police guard in Karachi late Friday night, officials and relatives said.
According to the initial post mortem report, it is possible that the DIG's son died because of a heart attack following attempt to suffocate him through rope, revealed hospital sources. A sample has been sent for chemical test to confirm the cause of death. Moreover, there is a minor rope mark on the deceased's neck but there were no sings of any kind of violence on the body.
The suspect had prepared for the murder in advance by buying a rope and gloves, police told Geo News.
"The guard also tried to murder DIG Peshawar's wife," a police spokesperson said. "The switchboard in the deceased's mother's room was splattered with blood."
SP Clifton Dr. Asad Malhi denied the claims that there was an attempt to murder other family members.
"The suspect Faqir Muhammad was posted at the DIG's residence for a period of six months," police sources stated.
As per an earlier statement issued by SP Clifton, Umair was killed over a monetary dispute.
Umair and the guard, Faqir Muhammad, allegedly had a scuffle before the former was killed, Aijaz said, confirming that the suspect had been taken into custody.
The deceased's father, DIG Shahab Mazhar, accused the police guard of murdering his son. He denied any monetary dispute between his son and the accused guard.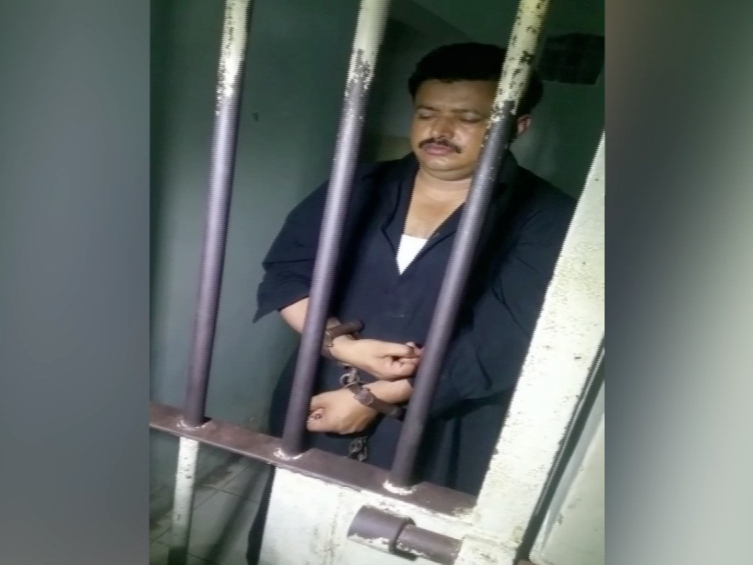 Pictured is suspect, Faqir Muhammad, locked up inside police station
The senior police official, presently stationed in Peshawar, claimed the guard threatened his family and demanded money from them. Shahab added that his wife and two daughters were at home when the incident occurred.
The arrested guard, Faqir Muhammad, said that he needed Rs200,000 to send back home in his native village. However, when he asked the owners, they refused to give him the money, according to the guard.
"Meanwhile, Umair came and I had a scuffle with him," he claimed, adding that "Umair tried to kill me, but got himself killed when I resisted".
The suspect was recruited in Kashmore police in 2002 and had been deployed on security of the DIG's residence since 2016, police said.