Pakistan's labour laws are protecting no one
Updated Tuesday Jun 20 2017
Last week, Khaadi, a leading fashion brand in Pakistan, and its protesting employees came to an agreement. In a written settlement, the brand promised better wages and benefits to its 6,000 plus workers. The matter was settled, at least for Khaadi.
But elsewhere – at sweatshops and backyard factories in the country – it remains unaddressed and unreported.
Trampling over labour rights isn't exclusive to any one indigenous brand. Exploitation, at large and small-sized firms, is rampant and also very easy to get away with.
There are over a hundred laws that govern Pakistan's labour market, but all are either out-of-date or ill-conceived.
Take the example of The Factories Act, 1934, which deals with companies with 10 or more workers, and applies mostly to textile firms. This Act, although a comprehensive piece of legislation, dates back to the colonial period and is over 70 years old. The law has been revisited and revised as the Sindh Factories Act, 2015.
However, labour rights and trade union activists insist that the new law is nothing more than a "copy and paste" of the previous bill.
70 and counting 
Admittedly, Pakistan's labour laws provide some protection to workers. At least on paper, they ensure minimum wages, health and safety benefits, overtime pay, registration with the Employees Old-Age Benefits Institution, and social security. But similar to the Sindh Factories Act, 2015, most laws do not account for the use of technology and digital bookkeeping in today's globalised world. This is particularly important since most factories now have computerised records and rely on technology and machines.
For Karamat Ali, the executive director for Pakistan Institute of Labour Education and Research (PILER), these laws are "archaic".
"They do not account for mechanisation, use of advanced chemicals or raw materials," Ali tells Geo.tv. "They need to be amended to include a deeper understanding of capacity, as well as skill, and mechanical advancement and enhancement."
Comprehension and implementation aside, the laws are flawed on an even more basic level. "The legislations have typographical errors," says Majyd Aziz, the president of the Employers Federation of Pakistan (EFP). That, he adds, shows how much time, thought, and attention was paid to this crucial piece of legislation meant to protect Pakistan's 69 million labour force.
The others
One glaring paradox is third-party vendors. Large companies often outsource their production to suppliers not directly associated with their brand in order to slash costs.
"Such third-party contracts are illegal," explains Saeed Ghani, former adviser to the Chief Minister Sindh on Labour and Human Resources.
"Its prohibition is not exclusive to the textile industries, rather all sectors and industries are required to abide by it."
Ghani further rubbishes the suggestion that the current labour laws require revision.
"The Sindh Act has not had enough time to be fully implemented. One must recognise that implementation is also dependent on the support from employees, owners and society."
Not everyone agrees with Ghani's line of thinking. There seems to be a clear divide between labour activists on whether such contracts are indeed a contravention of the law. While the National Trade Union Federation (NTUF) and PILER echo Ghani's stance, Aziz from the EFP insists it "isn't illegal, technically, as long as the contractor ensures the workers are paid a minimum wage and registers them for the EOBI".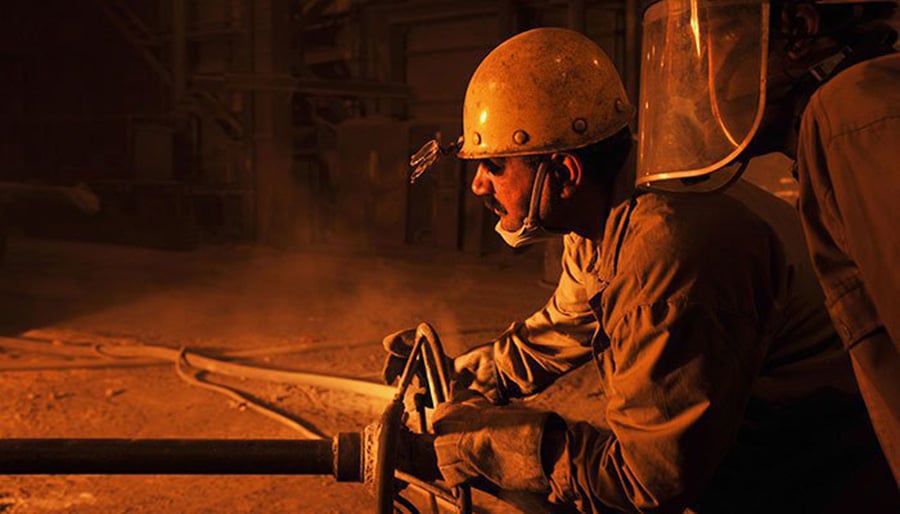 What's in a name?

A key point of dispute between Khaadi and the workers was the usage of the word employee. Khaadi distanced itself from the protesting men and women since they were hired on contract through a third-party, while the protesters identified themselves as employees of the brand.
Despite repeated attempts, Khaadi did not respond to requests for comment.
So, were they or were they not workers of Khaadi?
Under law, contracts by definition should not be longer than 90 days. Anything above and beyond is considered a permanent stint. For example, if a person works at a garment factory sewing clothes all year round, his or her job will no longer be a seasonal one. The contractor will be required to offer the worker a permanent position.
"What most employers do, slyly, is draft contracts for 89 days and then keep renewing them," Nasir Mansoor, NTUF's deputy secretary general, tells Geo.tv. "The factories never issue official letters of employment. This leaves workers without official documentation, pension, or fall-back."
But what if the contract, inadvertently, crosses the 90-day restriction? Do workers then become regularised?
"It depends on the contract," says Supreme Court Bar Association President Rashid A Rizvi. "In several private organisations, workers have been working for more than five, six, or even seven years, but have not been regularised. Such situations are in direct violation of Articles 3 and 4 of the Constitution of Pakistan."
Labour department, where art thou?

Pakistan's provincial labour departments are tasked to enforce and promote awareness of employment standards, such as minimum wage, hours of work, public holidays, and to keep a check on violators.
For the labour department to act, it needs to receive a complaint, explains Ghani. Even the complaint must come through a designated labour union. The labour department, surprisingly, does not entertain grievances by individuals.
Here is the problem with this approach. Less than one per cent of Pakistan's labour force is unionised. "When the voice of our labour is this weak, you cannot expect them to be able to defend themselves, let alone fight for their rights," adds Zulfiqar Shah, joint director at PILER.
Simply put, unions are bad for companies. Factory owners actively discourage workers from organising themselves, as that would directly raise the cost of doing business. With a collective bargaining power, workers can then demand better wages and other benefits, which would otherwise be denied.
A member of the industry, who asked not to be named, defends companies' decision to steamroll unions.
"Look! If you have 1,500 people working for you, it's like being responsible for an entire village," he says. "Alternatively, if you outsource small chunks of the supply chain to smaller contractors, then the electricity, water, food becomes someone else's problem and not yours. How the suppliers meet the deadlines is not our problem any longer."
Pay up
Legally, a workday in Pakistan should be no longer than eight hours, including a one-hour break for lunch. For this, the state-mandated minimum wage is set at Rs15,000. Overtime must not exceed two hours per day, which should be accordingly compensated. Yet, none of these rules are followed. In most factories, workers toil for over nine hours, with hurried lunch breaks.
Ali*, who works in a textile factory, tells Geo.tv that he and his colleagues were previously earning Rs13,000 which was raised to Rs15,000 after this year's federal budget was unveiled. While the government had envisaged the minimum salaries to be extended to unskilled labourers, they are instead only being offered to the skilled force.
"These workers of the textile industry classify as skilled labour," argues Mansoor. In other words, they should already be taking home more than Rs15,000.
Even with the minimum wage, workers are hard-pressed and unable to sustain a household, seeking other opportunities to work after hours. This leaves them exhausted and vulnerable to further exploitation.
Pakistan's once-booming textile industry has been crippled by rolling power shortages. It has been struggling for a few years now to compete in regional exports. Fortunately, it received a respite after Pakistan secured GSP-Plus status, which will allow its export goods to enter the European Union market at zero tariffs. In an ideal situation, some of these benefits would have trickled down to the workers. But they didn't.
Short on hands
Going by international labour laws, factories should be inspected annually to ensure the protection of workers' rights. But Pakistan is short on hands and even shorter on motivation.
Today, there are 547 inspectors for over 350,000 factories. Even more abysmal are the number of female inspectors, 17 in total, for the large number of women employees in garment factories.
Doing business in Pakistan might be cheap, but there is a dark side to it that few are willing to talk about.