70 years of Pakistan's film industry
A look at the good old days of the Pakistani film industry, which gave us immortal tunes, self made stars, and award-winning directors
Updated Monday Aug 14 2017
The film industry in Pakistan is as old as the country itself. It has seen the best of its days, but sadly, the present situation is nowhere near to what it had been.

The good old days had given Immortal tunes, excellent films, self made stars and award-winning directors, but mostly depended on individuals.
The initial decade (1948-1957):
Despite lack of equipment and resources, country's first film, Teri Yaad, was released in August 1948. Nasir Khan, brother of the famous actor Dilip Kumar, was the hero, with Asha Posley playing his love interest. Pakistan's first Golden Jubilee film, Sibtain Fazli's Dupatta, was released in 1952. The film was also appreciated in India at release. It had Noor Jehan as lead, while the music was composed by Feroz Nizami, who had earlier composed for Noor Jehan-Dilip Kumar starrer Jugnu in undivided India five years back. Like Nizami sahab, musicians Ghulam Haider, Rasheed Atre, GA Chishti and Khwaja Khurshid Anwar, opted to Pakistan and played an important role in establishing the industry.
Many stalwarts from India, namely Munshi Dil, Shaukat Hussain Rizvi, Fazli brothers, also migrated, and by the end of the 50s, Pakistan had its set of directors. A young Allauddin, who played the role of Nargis's father in Mela (1948), remained active for over 30 years, performing memorable roles in his career. The struggling days of the industry would have been different, if there had been no Santosh Kumar or Sabiha Khanum. The 'first couple' of the industry eventually tied the knot after giving hits like Do Aansoo (1950), Ghulam (1953) Qatil, Inteqaam (1955), and Sarfarosh (1956). Actor Sudhir was labeled an action hero with hits like Baaghi (1956) and Akhri Nishan (1958), while Syed Kemal, a replica of Indian superstar Raj Kapoor, came on the scene with Thandi Sarak (1957). He could dance as well as made you laugh. Phenomenal Rise of Aslam Pervez, first as a hero and later as a villain, was termed legendary in any phase of life.
The peak years (1958-1967):
It is credited as the golden period of the industry. With limited ban on Indian films, local productions thronged. Field Marshall Ayub Khan's rule had restrictions on nearly everything, but it was the creative team of director Khalil Qaiser- music composer Rasheed Attre- writer Riaz Shahid who accepted the challenge and gave out exceptional films like Shaheed (1962), Firangi (1964) and Hukumat (1967) until Qaiser's death in mysterious circumstances.

The eldest brother of the Fazli clan, after being forced out of his job by President Ayub Khan, turned to film making, producing Chiragh Jalta Raha (1962). The film gave the industry faces such as Zeba, Deeba and Muhammad Ali, who were to shine in the coming days.
Indian films were completely banned in cinemas after the War in September 1965. Local films got an audience to itself, as late Shabab Kairanvi's production house churned out quick films, to cater for the loss. The era also saw the rise of Waheed Murad and Nadeem, from Armaan (1966) and Chakori (1967) respectively. Armaan was country's first Platinum Jubilee film and second super-hit film from the team of Waheed Murad-Pervez Malik-Sohail Rana-Masroor Anwar. Chakori was the biggest Urdu film from East Pakistan, which had earlier given films like Chanda (1962), Talaash (1964) and the first color film Sangam (1964). West Pakistan's first Colour film Naela, directed by Sharif Nayyar, was released a year later. Naela had Santosh Kumar paired with Shamim Ara, who went on to become the country's first lady producer and director. Pakistan's first film to be shot abroad, Rishta Hai Pyar ka (1967), was filmed in Europe. It had Waheed Murad and Zeba in the lead. Jaan Pehchaan, country's first ever co-production, was produced the same year by Mohsin Shirazi. Muhammad Ali was his choice for the lead while Shahpara was imported from Iran to play the love interest. Ali and Zeba tied the knot in 1966 in real life, and went on to become country's most celebrated pair for nearly 40 years.
The sixties saw a shift in music scene as well. Nisar Bazmi, Sohail Rana, Lal Muhammad-Iqbal and Robin Ghosh took over while Ahmed Rushdi, Masood Rana and Mehdi Hassan displaced Munir Hussain and Saleem Raza. Noor Jehan was given tough competition by Mala, Naseem Begum and Runa Laila while legendary music composer Khwaja Khurshid Anwar ventured into production and gave hits like Ghunghat (1962), Chingari (1964) and Humraaz (1967), with an equally amazing soundtrack.
From a living dream, to a nightmare: (1968-1989):
Thriving in the late 60s, Pakistan film industry was rubbing its shoulders with their Indian counterpart. Rising star Nadeem gave tough competition to establish actors Waheed Murad, Kamal and Muhammad Ali. Kamal bowed out gracefully in early 70s, Muhammad Ali took to character roles by then, but Waheed Murad stayed till his death. The year 1970, saw another Pak-Iran co-production, 'Jane Bond: Operation Karachi' , where Raza Fazli, an Iranian actor/ producer vows Pakistan's top model Rakshanda Khattak who played the female version of famous British Spy James Bond.
Riaz Shahid, father of current filmstar Shaan Shahid, produced and directed Zarqa (1969), Gharnata and his last film Yeh Aman (both in 1971), highlighting struggles of nations around the world. Zarqa, starring her wife Neelo, went on to become Pakistan's first diamond jubilee film.
With the separation of East Pakistan in 1971, the film industry suffered dearly. With this disconnect, atmosphere of 'competitiveness' was gone forever. Pakistani cinema also got deprived of a major market and production centre as there was no place for Urdu films in Bangladesh. Firdausi Begum, Bashir Ahmed, Subul Das were the casualties from the music department, while the production department lost gems like Captain Ehtisham, Mustafeez and Zahir Rehan. Music composer of many hit Urdu films produced in West, Muslehuddin, opted to settle in U.K. with his West Pakistan wife Naheed Niazi after the tragic split.
Pakistan's greatest film 'Aina' (1977) was released amid political turmoil. It was a time when the country was going through the worst political crisis. It began with the general elections in March, the movement from opposition parties that followed and the eventual takeover by Army Chief Zia-ul-Haq in July. 'Aina' was directed by Nazrul-Islam, Shabnam was the heroine while her husband Robin Ghosh, the music composer. All three started their careers from former East Pakistan. Shabnam formed a hit pairing with Nadeem which continued till late 80s, while the soundtracks from Robin Ghosh's movies Bandish (1980), Nahin Abhi Nahi can still give competition to the current movies produced in Pakistan.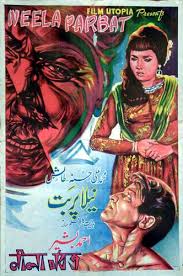 The 'Islamization' by military dictator Zia-ul-Haq began in the 80s. This was the second blow in recent times to the industry after the failure to counter the influx of films on VCR. People from an entire locality could watch an Indian film at home on a rented VCR for 100 rupees, while taking a family of 4 to watch a Pakistani film would cost around the same. This was followed by new Censor laws and entertainment taxes, resulting in the closure of some cinemas, while many were turned into shopping centers.

Deaths of iconic figures like Santosh Kumar, Waheed Murad, Allauddin, Aslam Pervez, Khurshid Anwar and Ahmed Rushdi in the early 80s heralded the beginning of the end. A vacuum was created which was filled by Punjabi and Pashtu films. In a desperate attempt to keep the studios running, these films were dubbed in Urdu. The experiment of double version films failed, further distancing the audience further from cinemas. Region's first sci-fi film Shanee (1989) gave hope to the viewers, but the industry could not capitalize on its success.
The Revival:
There were mini-revivals for the ailing industry in 1995 with Syed Noor's Jeeva , Shamim Ara's Munda Bigra Jaaye and Javed Shaikh's Mushkil, but it was legendary TV producer Shoaib Mansoor who was successful in bringing people back to the cinemas with Khuda ke liye (2007) and Bol (2011).

The Indian films were being allowed to screen in mid-2000s in Pakistan theatres and cinema business was thronging, but those who ruled the films in 80s, instead of improving their quality, went into hibernation.
It is finally people from TV who are trying hard to uplift the industry with some success. With Indian films getting major screenings at multiplexes, Pakistan industry needs to do a lot more to attract audience. The current crop of film makers have, on one hand, to fight technology as well as to come up with a script as powerful as Riaz Shahid's, music as sweet as Nisar Bazmi's, performances as natural as Nadeem and Shabnam's and direction as thought provoking as Pervez Malik's.