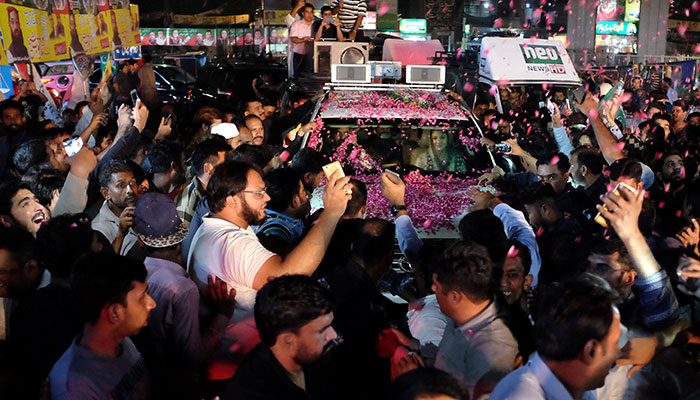 By-elections normally are of little significance, and often result in low turnout. But some by-elections gain political significance like the one being held on Sunday in NA-120 constituency, on the seat which fell vacant after the disqualification of former prime minister Nawaz Sharif. He was disqualified by a five-member Supreme Court bench, which is now hearing his review petition on a day-to-day basis. Its outcome would have a far-reaching political impact.

The NA-120 by-election can be called the mother of all by-elections for more than one reason. This election would set the tone for the future political discourse as some well-informed sources revealed that in the post-SC verdict, efforts underway for a new-look PML, from certain quarters and beside the PML-Q, some veteran Leaguers are also trying to work on an alternative of the PML-N.
Many were not expecting the kind of reaction Nawaz Sharif had shown and that too against the advice of some veterans. His decision to fight a political battle though involved lots of risk for his and his family's political future, it also brought most of the PML-N legislatures behind him and, at least, at the moment, the party looks intact. However, the outcome of NA-120, as well as the final verdict in cases against Sharifs, would also determine which way the PML-N would go and whether it would remain intact by 2018 or not.
The turnout as well as the margin of victory and defeat would also have its importance, as this by-election is being held in the backdrop of the SC verdict in Panama case and after Nawaz Sharif's marathon rally from Islamabad to Lahore via GT Road.
Therefore, in many ways, it is not merely an election for the PML, but also for the PTI and its chairman Imran Khan, whose political future is also linked with Sharif's political future. NA-120 would also determine as to how far voters of Sharif's own constituency has been influenced by the Panama verdict. The victory certainly would not be seen as defeat of the SC, though the PML-N would certainly portray it in the same way. Cases are decided on evidence and not on voters' wishes, some legal experts say. But, cases of popular leaders are often seen political and not from legal perspective.
For parties like the PPP or Jamaat-e-Islami, NA-120 is a test to reassess their own standing and position compared with those in 2013. Interesting would be the presence of religious party, Jamaatud Dawa's new political party, Milli Muslim League (MML), who at present is backing an Independent candidate. For the first time, the JuD is supporting electoral politics and it's for the first time its supporters would cast their votes.
Secondly, it has its importance because its outcome may give new political lease to Sharifs, whose political fate still hangs in the balance due to the cases and the one likely to come up in days and weeks to come. Victory in Sunday's poll would make Sharifs politically strong before the next political round.
Thirdly, it is a make or break for political career of Maryam Nawaz, daughter of Nawaz Sharif and Kulsoom Nawaz, who despite criticism from within the party and the cases against her, led the campaign.
Nawaz Sharif or the PML-N had never lost this seat and most of political pundits and surveys give clear edge to Mrs Nawaz over the PTI's energetic Mrs Yasmeen Rashid, who created history in 2013 by pulling around 54,000 votes against Sharif's 91,000. It was highest vote by any candidate who had contested against Sharif since 1988.
But, this by-election will also set the tone for the political future of Maryam Nawaz. For one reason or the other, she has run this campaign on her own. Although, she herself claimed that she enjoyed complete backing of her uncle Shahbaz Sharif, his son Hamza Shahbaz, some political pundits believe that by winning NA-120, she wants to silence her critics within the party and also likes to prove herself as a strong campaigner for the 2018 electioneering. Any upset in this election or even close margin would cause colossal damage to the future politics of Sharifs, not only Nawaz Sharif but also Shahbaz Sharif and their children. It may also be a good launching pad for the opposition leader Imran Khan before the general elections.
Defeat at home often been considered as defeat in politics particularly in a country like ours where family politics has dominant role for decades. Although Sharifs are neither feudal nor this constituency belongs to any rural area, and is situated in the heart of Punjab, highly educated and urbanised, Lahore. Yet, Sharifs are in total control of the constituency for over three decades.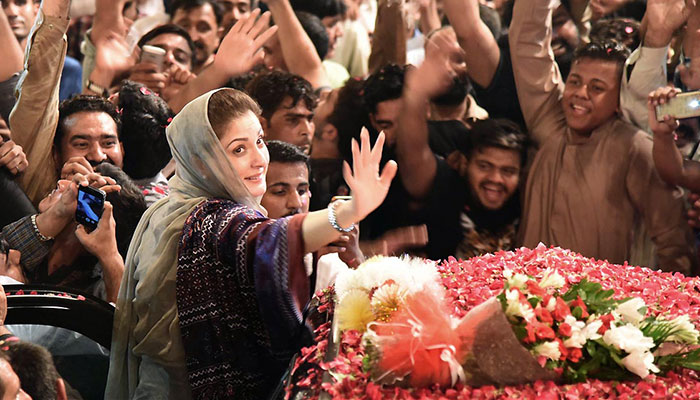 Thus, for Maryam Nawaz, it is more than just a by-election. It's an electoral and political debut for her. She is campaigning single-handedly and that too against all odds, facing criticism both from outside and within the PML-N.
This is also for the first time that she is campaigning amid reports of intra-family rivalries, cases in progress against her and the Sharifs. Despite being in the government, tides are against the PML, and major political developments in the coming weeks and months would set the tone for the 2018 polls.
Therefore, the PML-N not only like to retain its position and send strong messages to more than one quarters about its position and popularity, but also to keep its own 'House in Order'. It looks like an election of a Sharif, by Sharif and for Sharif. Defeat or even close margin victory is not an option for Maryam Nawaz or the PML-N.
For Imran Khan and PTI, victory here would not only bury Sharifs' political future but also improve its chances in the next elections. Imran would also be satisfied if his candidate, Yasmeen Rashid loses by a close margin, say around 5,000-6,000 votes against 25,000 to 30,000. Defeat by big margin would cause major setback for Imran's political future and may upset some other political planers, too.
---
The writer is a senior columnist and analyst of Geo, The News and Jang.
Twitter: @MazharAbbasGEO
Originally published in The News