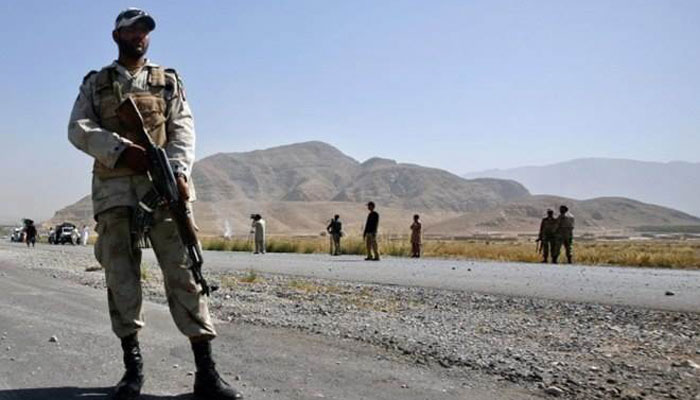 Pakistani security agencies have done a remarkable job as far as war against terrorism is concerned, but there are areas where we have not done enough and also areas where we have not made any progress at all. Areas like political and economic stability, in education and health sectors as well.

Jhal Magsi blast at a shrine was just a reminder of the areas which need to be addressed more seriously. Jhal Magsi blast, second on the same shrine in three years, and the biggest blast since devastating blast at Lal Shahbaz Qalandar, clearly indicates that we have not done enough to protect shrines.
Instead of addressing these issues of serious nature, our policymakers looked confused and self-contradicting. Even the top leaders of the ruling Pakistan Muslim League-N (PML-N), like Foreign Minister Khwaja Mohammad Asif and former interior minister Chaudhry Nisar Ali Khan gave contradictory statements over the US demand of 'do more'. Only through unity, you can win the war.
Pakistan should be proud of its efforts and the international community needs to appreciate the role played by Pakistan Army in the war against terrorism from 2002 to 2017. It would be unjust not to give credit to the political leadership, whether under former president Asif Ali Zardari or former prime minister Nawaz Sharif for making national consensus on these operations, from Swat to North Waziristan.
Massacre of children at Army Public School Peshawar had practically shaken the nation that Pakistan has left with no other option but to completely eradicate terrorism and those local and global networks which have made our soil a safe haven.
Pakistan has already paid heavy price even more than any other country in the world for its role in war against terrorism. Not only loss of over 70,000 people including over 20,000 security personnel and officers, but also lost a former prime minister Benazir Bhutto. Head of the state, former president General (retd) Pervez Musharraf and head of the government, former premier Shaukat Aziz survived suicide attacks. Even political parties like Jamiat Ulema-e-Islam (JUI-F), Pakistan People's Party (PPP) and Awami National Party (ANP) in particular also paid heavy price. Parties like the PPP, ANP and MQM could not campaign for 2013 elections after series of attacks on their leaders.
But, Pakistan as a nation showed strong resolve to fight terrorism and even the strongest critics like Pakistan Tehreek-e-Insaf (PTI) Imran Khan backed the operation after the APS Peshawar attack.
With the war still far from over, it would also be an understatement if we say, "We have done enough." No, neither we have done enough nor the world has done enough. In fact, the US-led coalition because of its 15 years old policies has escalated the war and both terrorism and extremism, in particular, have increased since 9/11. What happened in Iraq, Syria and Afghanistan, in no way had helped.
Therefore, the world particularly the US needs to do more, to correct its historic wrong, when it came to overall review of policies from Middle East to Afghanistan, from Iraq to Syria. This dose not mean that this war is over for Pakistan. Rising extremism had threatened our society and we are still confused over our possible counter-narrative. Both civil and military leadership have to sit together to take some bold decision as to how to address the issue of rising influence of non-state actors, in our society.
Where we need to do more are areas like providing speedy and early justice system, massive reforms in education sector on war footing, developing public schooling culture instead of private education, revolutionary reforms in the health sector to uplift government hospital. There is also a need for social and cultural revolution, promotion of sports at all levels and healthy extracurricular activities.
All this is only possible in a stable political and economic system, something which we are seriously lacking at the moment. Political and economic instability often leads to confusion and uncertainty in the country.
Interior Minister Ahsan Iqbal's emotional speech in the National Assembly may have a lot of substance in it, but the government won't react, they act. If all this is happening under his nose, it is his responsibility to take action. What he has said had been said by successive rulers in the recent past, but through half-hearted action, the government would not be able to tackle this grave situation.
Two important developments have taken place in the last two weeks. Successful visit of army chief, General Qamar Bajwa to Afghanistan, his meeting with Afghan President Ashraf Ghani and equally important visit of Foreign Minister Khwaja Mohammad Asif to the US, second in few weeks. Pakistan's civil and military leadership have to take some key decision in the backdrop of the existing tension between Pakistan and US, particularly over Afghanistan.
Soon after his return from Kabul, army chief presided over all-important meeting of the Corps Commanders, which lasted for seven hours. Unlike in the past no, official press release by the ISPR was released but, sources said, the meeting discussed the prevailing external and internal security matters. After Pakistan's initial reaction over the changing US policy towards Afghanistan and demand for 'do more; and Pakistan's response.
Foreign Minister Khwaja Asif, who has faced criticism from certain section of society over his recent comments during an interview regarding Pakistan's efforts and demand for 'do more,' left for US to meet high US official at the Ministerial level. This visit has taken place weeks after Pakistan decline to meet top US official in Islamabad, in what said to be a soft dissent from Pakistan over the recent remarks of US President Donald Trump, followed by a drone attack.
Pakistan's major concern towards the changing US position has been the Indian influence on the US in dealing with Pakistan as in relation to Afghanistan. This perhaps, would not be acceptable to Pakistan and the visit of the army chief to Afghanistan and Khwaja Asif to US, apparently for the same purpose.
Pakistan's biggest dilemma in this long war against terrorism has been our confusion over the manner in which this difficult non-conventional war should be fought.
We were confused when we entered in this war against terrorism, and we are confused today, after 16 years or more. Yes, we had done a lot, perhaps more than any other country, but if this war is not yet over and needs years to reach any conclusion, there is always a need to do more, not only for Pakistan but for the world. The way forward for us is to remove the basic confusion in ourselves about this war and extremism, which has threatened our society.
If our policymakers remain confused and political leadership, public opinion divided, we would not be able to remove the confusion of others. Therefore, there is a need for civil and military leadership to come on one page, and remove basic confusion in our fight against terrorism and more difficult challenge of extremism.
Therefore, the confusion reflected from the contradictory statements of those who were supposed to remove this confusion and unite the nation. If we have not learnt any lesson from the massacre of our children in Army Public School, Peshawar, and still looking for ' if and buts,' we are adding towards a serious problem.
Yes, the world has not done justice with us and US-led coalition is need to, 'do more,' but, at the same time we are our best judge as what we had done and where we need to, do more. This divided position within the country is 'dangerous,' as on the one hand there has been alarming rise in the extremist mindset in the absence of any counter narrative and as a result it has now reached in our campuses and in the society, and on the other hand our failure to remove our basic confusion.
Pakistan for years has problems in dealing on four fronts. (1) Global terror networks like al-Qaeda and now Daesh, (2) Sectarian outfits, which have also taken roots within the country, (3) Ethnic and separatist groups, and (4) Kashmiri jihadi outfits.
If we really want to make Pakistan a more tolerant society and win the real war against terrorism and extremism, there are areas where we need to, do more, not for US or any other country, but for Pakistan.
The state needs to decide which narrative would ultimately prevail, State or non-state actors. Therefore, the civil and military leadership will have to sit, think and come out with counter-narrative and with one voice, failure is not the option in this war.
The article was originally published in The News.
Originally published in The News