LONDON: Pakistani journalists and members of the British Pakistani community held protests in three cities to condemn the attack on The News senior reporter Ahmad Noorani and called on Pakistani authorities to arrest and punish the unknown attackers.

The protests were held in London, outside Pakistan High Commission; Birmingham, outside Pakistani consulate and in Manchester.
Journalists from Pakistan Press Club UK, Pakistan Press Club UK-International, Pakistan Journalists Association, International Pakistani Journalists Organisation (IPJO) gathered outside the Pakistan High Commission and held a protest for two hours, terming the attack on Noorani an act of terrorism aimed at curbing freedom of media. 
Representatives of Pakistan People's Party, Awami Workers Party, APML and PTI-Kashmir also attended the protest.
Journalists at the protest said that truth cannot be suppressed by attacking the ones who are impartial and courageous and gave examples of recent attacks on Matiullah Jan and Azaz Syed. 
They said that Matiullah Jan came under attack and no action has been taken while Azaz Syed was intercepted and roughed up in Islamabad. 
They said that journalists from various media houses – who do critical reporting – have been branded corrupt and social media is routinely used to incite hatred and negativity against them, leading to physical violence in some cases.

During their speeches, journalists said that the attack on Noorani was extremely unfortunate and tantamount to an attack on the freedom of expression. They added that sent a shiver down the spine of working journalists across Pakistan and had made them fearful for their safety and welfare. 
They said that journalists have a long history of fighting for press freedom in Pakistan and have rendered sacrifices during martial laws as well as democratic rules.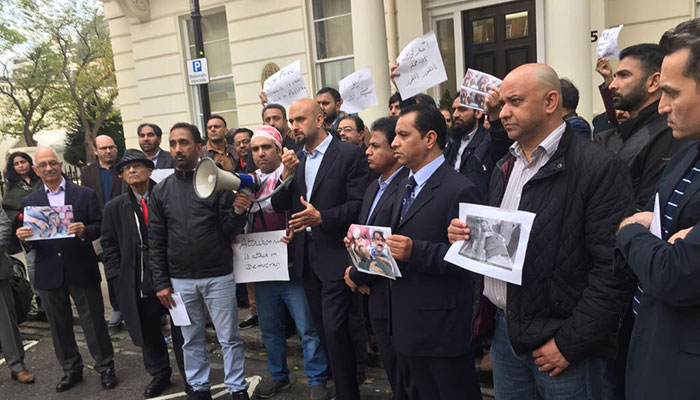 The journalists present at the protest applauded Noorani for his work and said that Noorani has a history of exposing wrongdoings through his excellent journalistic work and has brought a good name to Pakistan all over the world as his work showed that the tradition of genuine and fearless journalism was gaining strength in Pakistan.
Journalists called on the Pakistani authorities to take immediate action against the culprits.