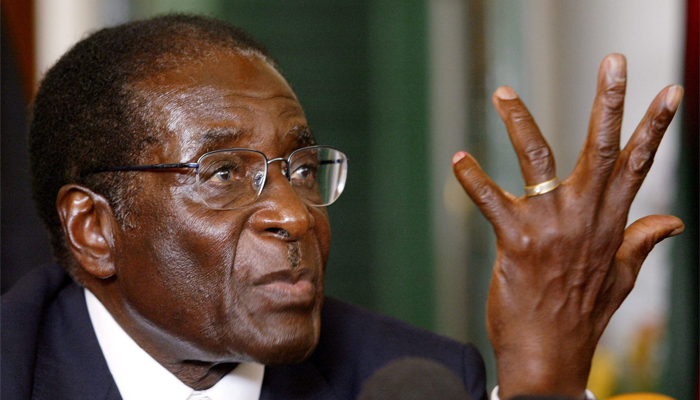 HARARE: Zimbabwe was on a knife's edge on Thursday after the military seized power in what it dubbed a targeted operation against "criminals" in the entourage of President Robert Mugabe, who has ruled the southern African nation for almost four decades.
It was not clear whether the apparent military coup would bring a formal end to the 93-year-old Mugabe's rule. The main goal of the generals appeared to be preventing Mugabe's wife Grace, 41 years his junior, from succeeding him.
Local media reported South Africa's defence and state security ministers — dispatched by President Jacob Zuma as regional envoys — arrived in Zimbabwe's capital city Harare on Wednesday night and were expected to meet both Mugabe and the military.

Their ultimate goal was not clear.
Zuma earlier called for "calm and restraint" and asked the defence forces "to ensure that peace and stability are not undermined in Zimbabwe" — South Africa's neighbour that has lurched from crisis to crisis over the past two decades.
The South African presidency said Mugabe had told Zuma over the phone that he was confined to his home but was otherwise fine and the military said it was keeping him and his family safe.
Mugabe, still seen by many Africans as a liberation hero, is reviled in the West as a despot whose disastrous handling of the economy and willingness to resort to violence to maintain power destroyed one of Africa's most promising states.

He plunged Zimbabwe into a fresh political crisis last week by firing his vice president and presumed successor, Emmerson Mnangagwa, 75 - known as the "Crocodile" — for showing "traits of disloyalty".
The generals believed that move was aimed at clearing a path for Grace Mugabe to take over and said on Monday they were prepared to "step in" if purges of their allies did not end.
Tanks blocked roads after dark and soldiers with automatic weapons kept up their patrols, but the situation appeared calm.
Whatever the final outcome, the events could signal a once-in-a-generation change for the former British colony, a regional breadbasket reduced to destitution by economic policies Mugabe's critics have long blamed on him.
'Not a coup d'etat'
Zimbabwe's military has told regional leaders its move to seize power from President Robert Mugabe was not a coup, Moussa Faki Mahamat — the head of the African Union Commission — said on Wednesday.

On a visit to Washington for talks with US Secretary of State Rex Tillerson, Faki said he had not spoken to Mugabe.
"The military have reassured us this is not a coup d'etat. The African Union is against any unconstitutional change of government," he added.

Zimbabwe's military seized power early on Wednesday saying it was targeting "criminals" around Mugabe, 93, who has ruled Zimbabwe since independence in 1980.
'Only targeting criminals'
Mugabe's decades-long grip on power appeared to be fading as military vehicles blocked roads outside the parliament in Harare and senior soldiers delivered a late-night television address to the nation.

"The president... and his family are safe and sound and their security is guaranteed," Major General Sibusiso Moyo said, slowly reading out a statement.
"We are only targeting criminals around him who are committing crimes... As soon as we have accomplished our mission we expect that the situation will return to normalcy."
Moyo said, "This is not a military takeover of government".
But the generals' actions posed a major challenge to Mugabe.
Tensions between Mugabe and the military establishment, which has long helped prop up his authoritarian rule, erupted in public over recent weeks.

The ruling ZANU-PF party on Tuesday accused army chief General Constantino Chiwenga of "treasonable conduct" after he criticised Mugabe for sacking vice president Emmerson Mnangagwa.
Government silence 
Mnangagwa's dismissal left Mugabe's wife Grace, 52, in prime position to succeed her husband as the next president — a succession strongly opposed by senior ranks in the military.
As the situation deteriorated overnight, prolonged gunfire was heard near Mugabe's private residence.
On Wednesday, the TV state broadcaster played liberation struggle songs, while many citizens in Harare shopped at markets, drove to work or queued outside banks despite the turmoil.
The US embassy warned its citizens in the country to "shelter in place" due to "ongoing political uncertainty".
South Africa urged Zimbabwe to resist any "unconstitutional changes" of government and said it was sending envoys to Harare on behalf of the SADC bloc of southern African nations to help resolve the impasse.
President Mugabe and Grace made no public comment and their exact whereabouts were not known, while government and army spokesmen were not available to comment.
"The government's silence on the military deployments seem to confirm that President Mugabe has lost control of the situation," Robert Besseling, of the London-based EXX Africa risk consultancy, said.
Mugabe is the world's oldest head of state, but his poor health has fuelled a bitter succession battle as potential replacements jockey for position.
In speeches this year, Mugabe has often slurred his words, mumbled and paused for long periods.
His lengthy rule has been marked by brutal repression of dissent, mass emigration, vote-rigging and economic collapse since land reforms in 2000.
Grace's ambitions
Speculation has been rife in Harare that Mugabe had sought to remove army chief Chiwenga, who is seen as an ally of ousted Mnangagwa.
Mnangagwa, 75, was previously one of Mugabe's most loyal lieutenants, having worked alongside him for decades.
Earlier this year Zimbabwe was gripped by a bizarre spat between Grace and Mnangagwa that included an alleged ice-cream poisoning incident that laid bare the pair's rivalry.
Grace has become increasingly active in public life in what many say was a process to help her eventually take the top job.
She was granted diplomatic immunity in South Africa in August after she allegedly assaulted a model at an expensive Johannesburg hotel where the couple's two sons were staying.
As the economy collapsed since 2000, Zimbabwe was engulfed by hyperinflation and was forced to abandon its own currency in 2009 in favour of the US dollar.
The country, which has an unemployment rate of over 90 per cent, is due to hold elections next year with Mugabe pledging to stand for office again.